Feature
As it happened: Day 3 of 2017 testing from Spain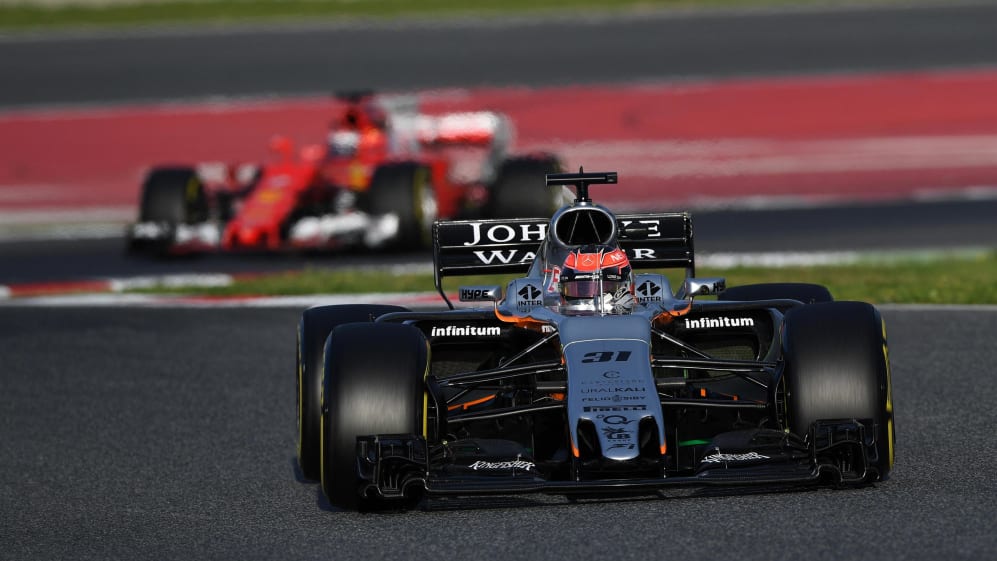 Finally the wait is over. The opening Grand Prix of 2017 may still be a month away, but this week we get to see this year's cars driven in anger for the first time - and already we know they are lower, wider, faster and noisier!
This page - updated throughout the day, with newest posts at the top - brings you the key news and information from the first test session of the year at the Circuit de Barcelona-Catalunya...
RECAP
- Bottas sets new benchmark time on ultrasofts
- Vettel finishes a quarter of a second off, despite using softs
- Stroll hits the barriers, while Palmer, Sainz and Vettel also bring out red flags
- Exhaust issues disrupt Red Bull's afternoon
Day three at a glance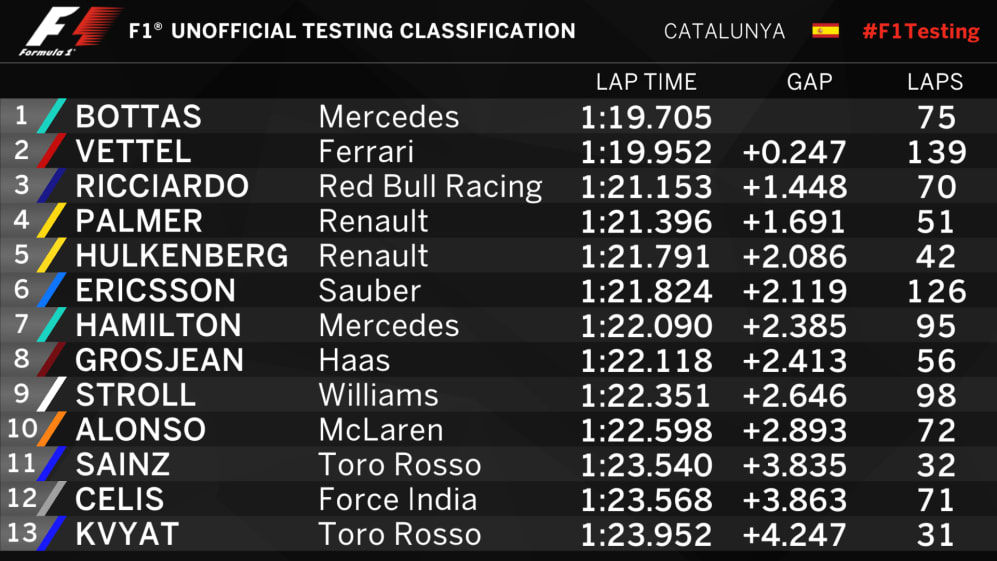 Ultrasofts pay off for Valtteri Bottas, who sends Mercedes back to the top of the timesheet, a quarter of a second ahead of the soft-shod Ferrari of Sebastian Vettel.
It wasn't as smooth down at Williams, where rookie Lance Stroll suffered his second and third incidents in two days, or at McLaren, who managed mileage but were only 10th despite being the only other team to set their best time on the ultrasofts.
For a full report, step this way...
Tomorrow follows a slightly different format, with Pirelli soaking the track to simulate wet-weather running in the morning. A new challenge for the drivers, and more data to gather for the teams - and you can follow it all here on F1.com. See you then.
Early red for Ferrari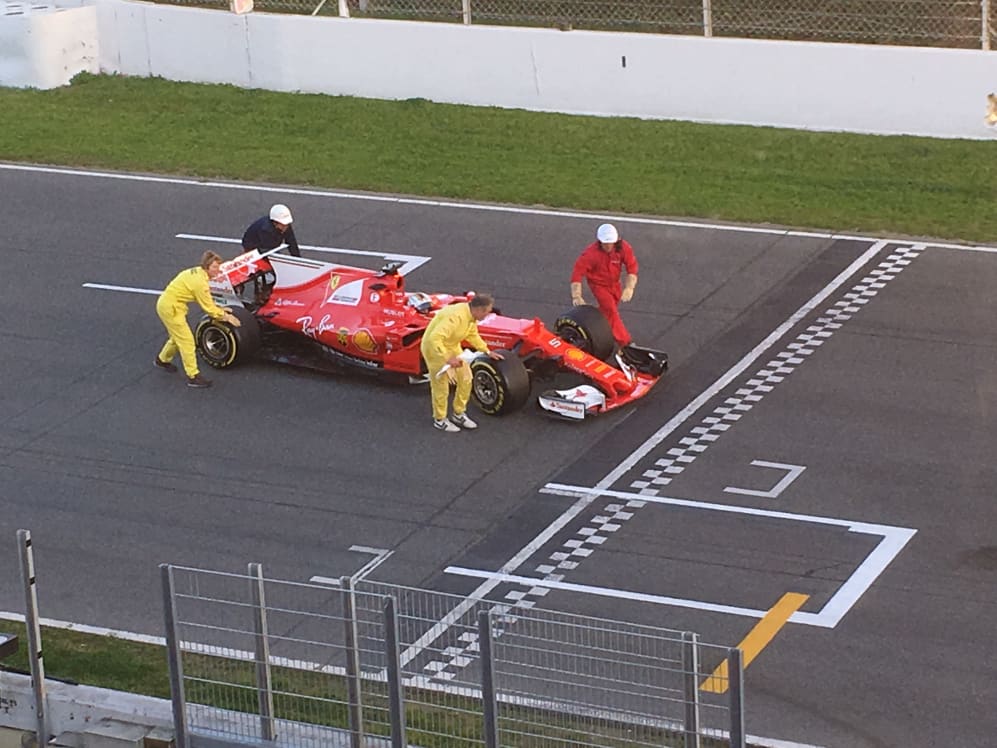 The red flags fly shortly before the close of play - and it's for Sebastian Vettel. A planned out-of-fuel run perhaps? The German coasts down the main straight and is quickly picked up by the marshals, who wheel him across the finish line and into the pit lane.
His Ferrari crew are waiting with the covers, but a few intrepid photographers are determined to get some sneaky shots of the Ferrari - leading to an amusing dance-off as one of the Scuderia's crew tries to block a dodging lens from having clean shot.
Hamilton continues to pile on the miles for Mercedes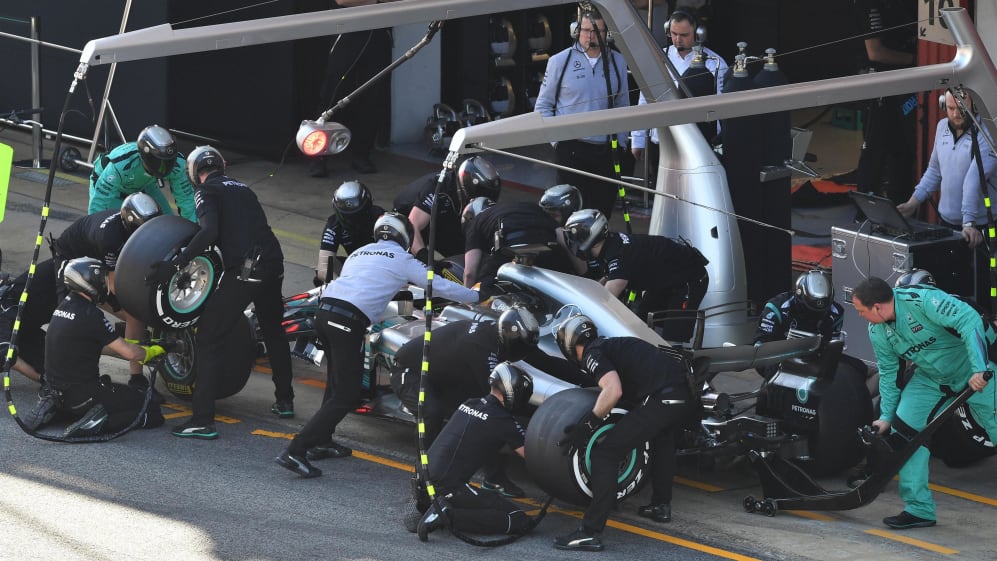 It's been another trouble-free day of running for Mercedes, who continue to accumulate massive mileage. Having taken over from Bottas at lunchtime, Lewis Hamilton has spent the afternoon doing long runs - and is now closing on 100 laps. The world champions have also done a fair bit of pit stop practice in preparation for the season opener.
No more running for Williams
Oops! Error retrieving Twitter post
Williams have been forced to call an early end to their running for the second day in a row following Lance Stroll's off earlier on. The FW40 is now back in the garage and being assessed ahead of Felipe Massa's scheduled day in the car tomorrow.
Red Bull's progress slowed
Oops! Error retrieving Twitter post
Daniel Ricciardo completed 48 laps this morning, but he's tacked on just 19 more this afternoon as Red Bull work to solve a technical issue on the RB13.
Centurions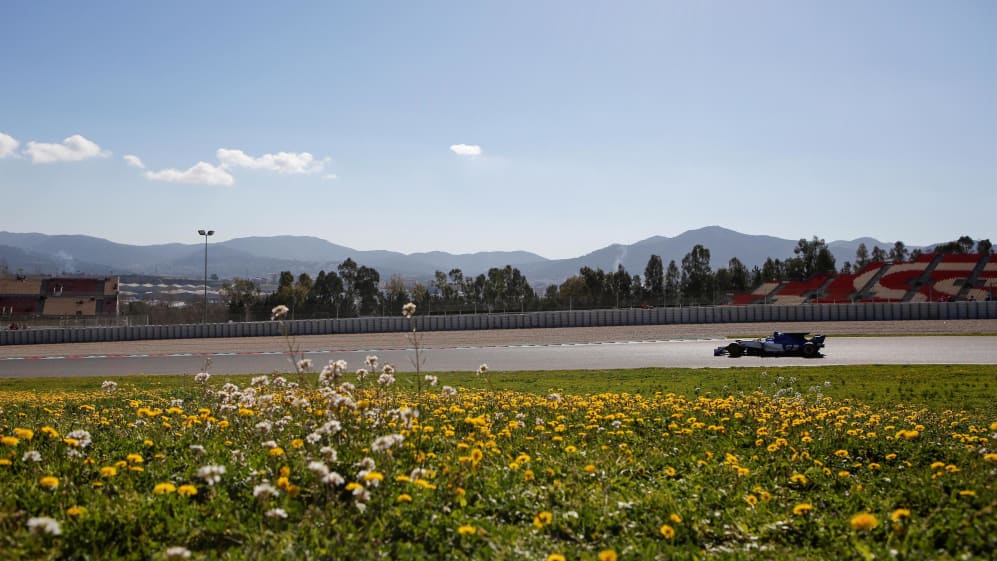 As the clock winds down towards the end of the session, we have two drivers into triple digits in the lap count - Ferrari's Sebastian Vettel and Sauber's Marcus Ericsson. The latter (pictured above) is currently fifth on the timesheet courtesy of a supersoft run this morning.
Sainz and Stroll bring out the reds in quick succession
The afternoon proceedings are brought to a halt not once but twice as we have two red flags in quick succession.
Carlos Sainz, having just surpassed team mate Daniil Kvyat's morning lap tally, is the first to err, beaching his STR12 in the gravel at Turn 4. Then, no sooner had the track gone green again, Lance Stroll (above) loses it coming out of Turn 5 and hits the barriers. That's the third incident in two days for the Williams rookie, following spins yesterday and this morning.
Vettel up to second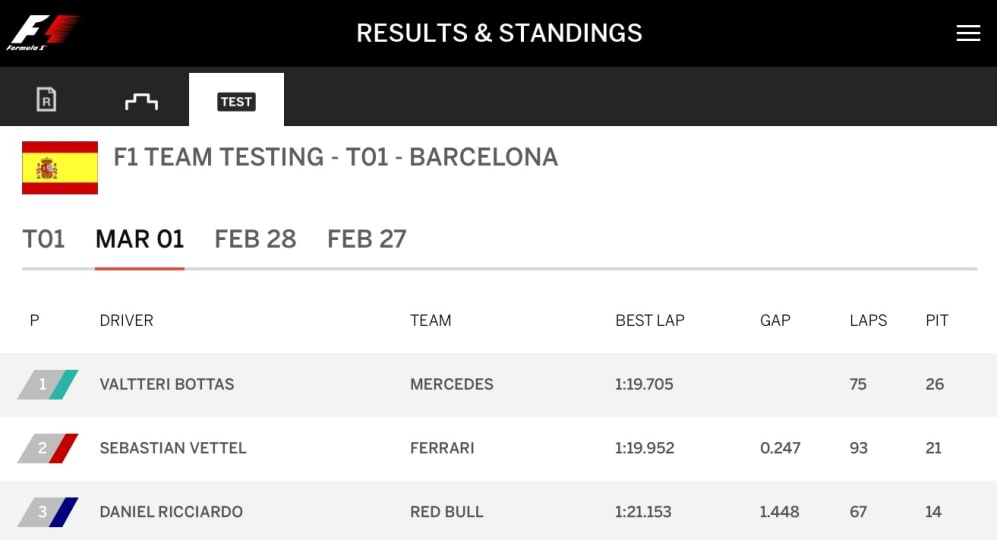 Ferrari fit Sebastian Vettel's car with soft tyres and with them the German vaults into second place on the leaderboard, becoming the second driver this week to dip below the 1m 20s barrier. His time is around a tenth faster than Bottas went on the same rubber earlier on which is an encouraging sign for the Scuderia, even without knowledge of fuel loads.
Don't forget, for minute-by-minute timesheet updates, download the Official F1® App and go to Results & Standings > TEST. For more information, click here.
Signs of encouragement for McLaren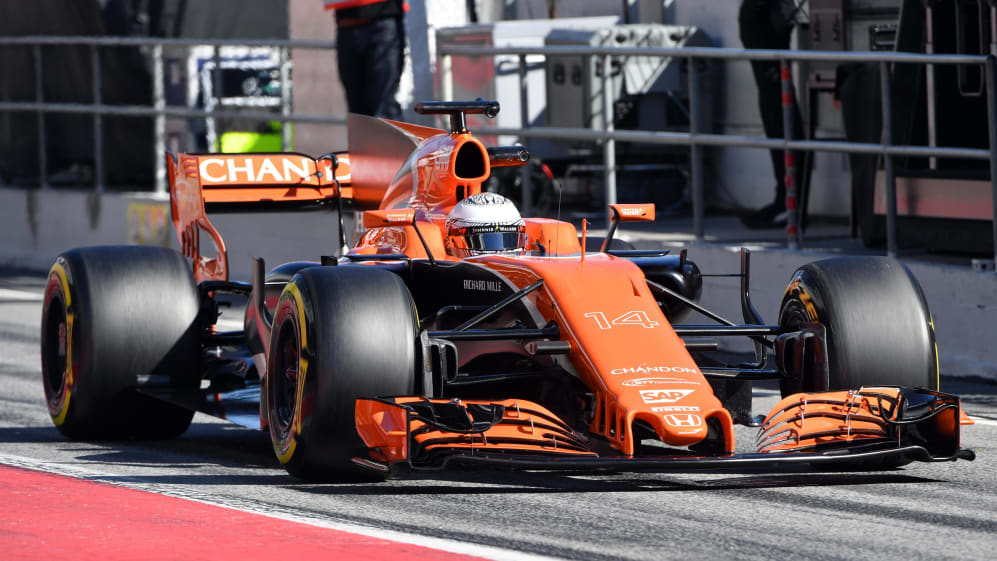 Fernando Alonso has now surpassed his lap tally from day one and is closing on the 40 laps clocked up by team mate Stoffel Vandoorne yesterday. After all their issues over the first couple of days, McLaren could really do with putting some decent mileage on the Honda-powered MCL32.
All change please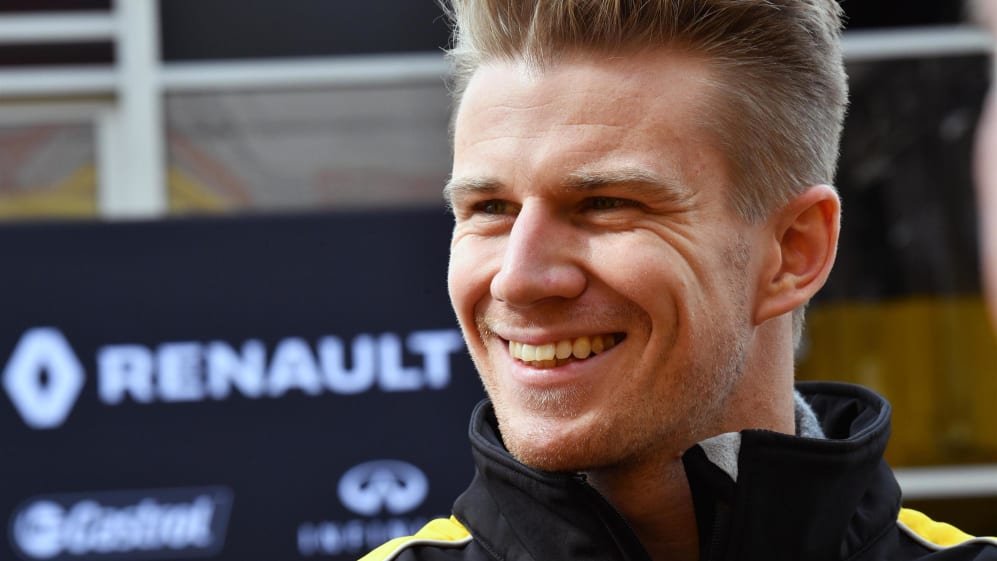 The afternoon session gets underway. Mercedes have been swapping drivers at lunchtime all week, but today Renault and Toro Rosso are also following their lead - so it's Hamilton in for Bottas, Hulkenberg for Palmer, and Sainz for Kvyat. Find out here what Hulkenberg has had to say on his running so far this week.
Palmer's morning hiccup
Oops! Error retrieving Twitter post
Mercedes the lunchtime leaders once more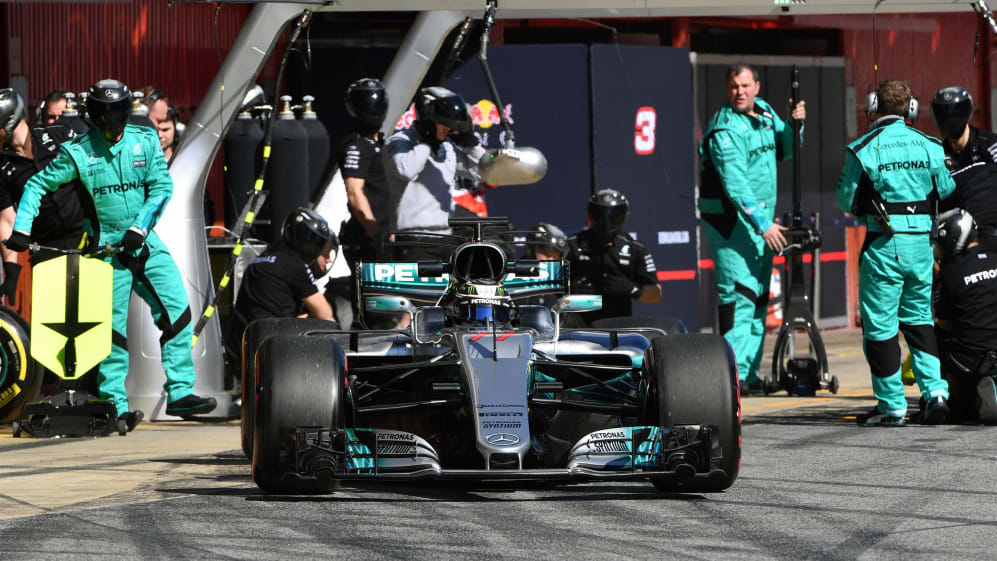 We've reached the lunch break on the third day, and once again it's Mercedes who dominate the headlines. Not only has Valtteri Bottas clocked the most laps of anyone – 75 – he's also shown ominous pace, with his ultrasoft run unofficially the fastest lap ever seen on this layout of the Barcelona circuit.
Red Bull sit second on the leaderboard, with Daniel Ricciardo completing a solid haul of 48 laps, while Jolyon Palmer did well to recover to 51 laps and third place after spinning his Renault early on.
And speaking of spinners, it appears Lance Stroll might have had another spin to add to his off yesterday. The Canadian's Williams was in the gravel as the chequered flag came out…
Wriggle room at Haas
Oops! Error retrieving Instagram post
Ever wondered where a driver's feet lay in an F1 car? Haas and Romain Grosjean have produced a handy guide...
Webber-beater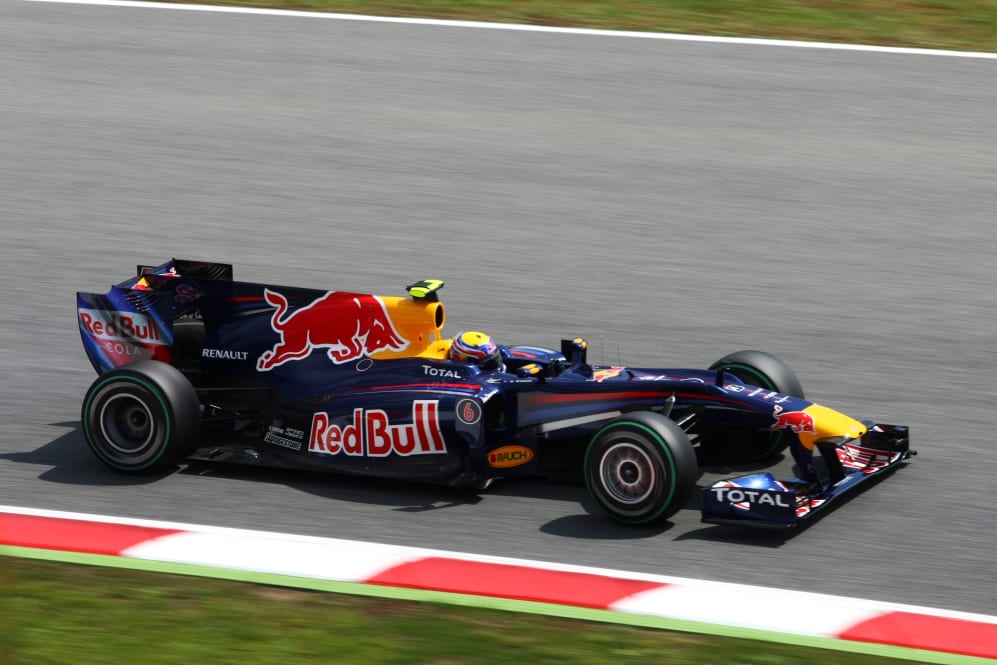 Since Barcelona's layout change in 2007, the fastest lap set on the circuit during a race weekend came in 2010 courtesy of Red Bull's Mark Webber - a 1m 19.995s in qualifying...
...except Valtteri Bottas has just eclipsed that. It's unofficial, of course, but the Finn has bolted on the ultrasofts and clocked 1m 19.838s!
It's an imperious lap from the Silver Arrows, putting them 1.7s clear of the field. But there's every reason to believe times will fall much further. F1's official tyre suppliers Pirelli say that, according to their simulations, we might see times in the 1m 18s bracket before the eight days of testing are up.
A new benchmark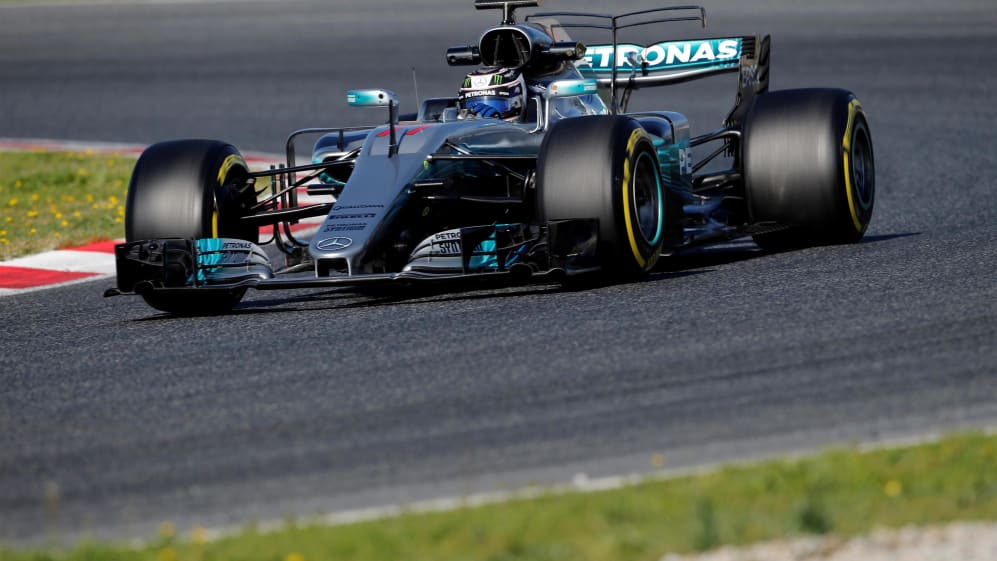 Bottas continues to fly - he's now worked his way down to 1m 20.107s on the soft tyres, which is comfortably the fastest time seen in testing so far. Remember, the Finn will hand over the W08 to team mate Lewis Hamilton this afternoon.
Mercedes back on top
Oops! Error retrieving Twitter post
A stint on the yellow-marked soft tyres sends Valtteri Bottas to the top of the timesheet at the morning's halfway point - the Finn is now 0.5s clear of Vettel in second.
Stroll, meanwhile, is showing no apprehension following yesterday's spin - he's up to third, fractions ahead of Alonso in fourth.
Red Bull, however, are keeping their powder dry - Ricciardo has clocked 17 laps but is ninth overall, 7s down.
McLaren recovering ground?
Oops! Error retrieving Twitter post
Fernando Alonso is still yet to set a time today, but he has managed 12 installation laps - adorned with all manner of sensors - as part of a detailed run plan over at McLaren. A smoother morning than on days one or two, so far at least...
As we approach the two-hour mark Palmer, Grosjean and Stroll are also yet to set a time so far, all have managed just 11 laps between them. Sebastian Vettel is top of the pile - he's on 30 laps, and is also quickest with a 1m 21.609s.
Stroll back in action
Oops! Error retrieving Twitter post
Just under an hour and a half into the session, and Williams hit the track, and in a change to their original line-up it's Lance Stroll and not Felipe Massa who's behind the wheel. The Canadian rookie managed just 12 laps yesterday after accident damage from a spin forced the team to end their programme at lunchtime. Some parts were sent back to the factory for repair, but the car is now back together and Stroll has the chance to get some serious mileage under his belt.
Vettel sets the pace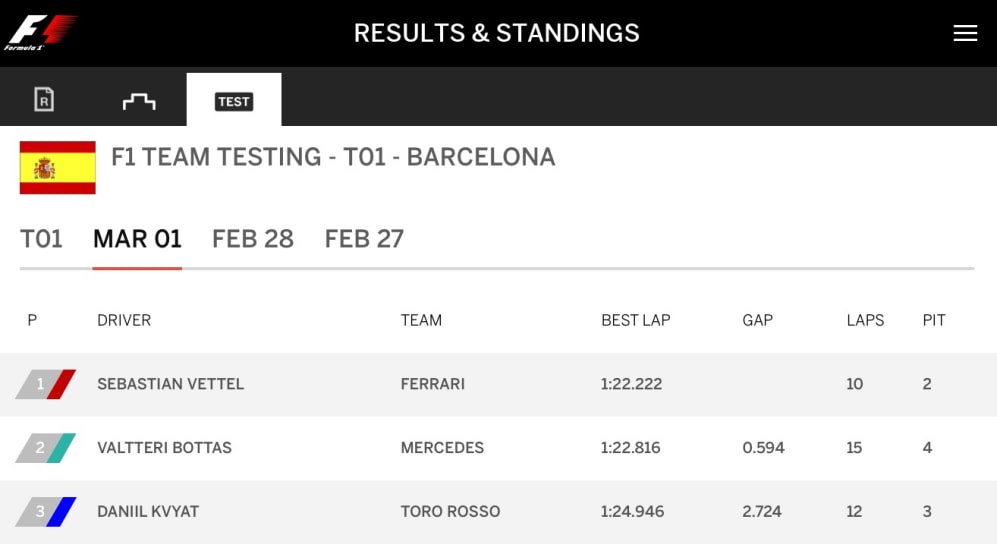 An hour gone, and Sebastian Vettel is the current pacesetter, the German's medium-tyre effort eclipsing Valtteri Bottas' time on supersofts - though we don't know what fuel loads each was running. Don't forget, for minute-by-minute timesheet updates, download the Official F1® App and go to Results & Standings > TEST. For more information, click here.
The times to beat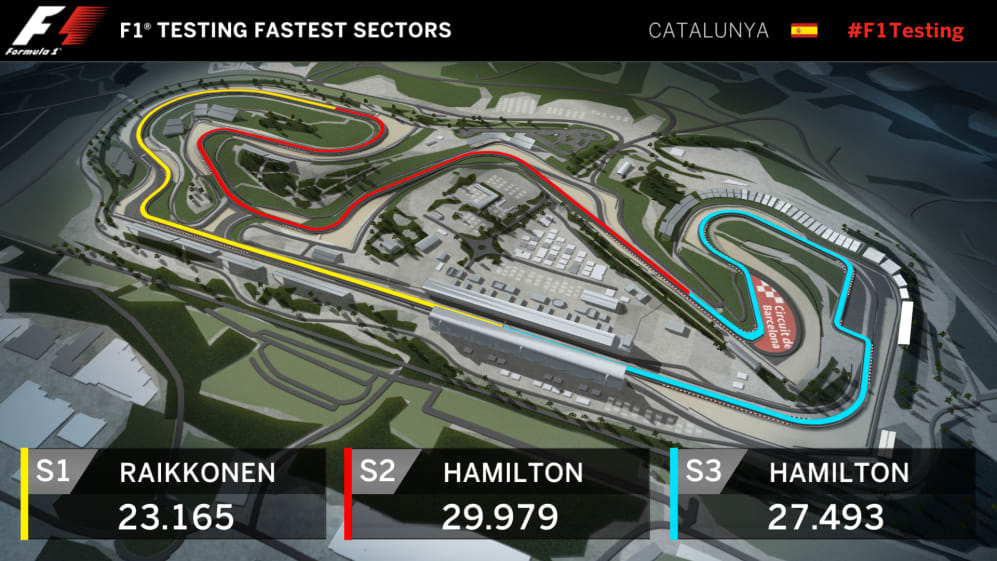 Yesterday saw Kimi Raikkonen set the fastest lap time in Spain since 2013, though if you look at the best sector times of the day the Finn was only fastest through the first. In the other sectors it was Lewis Hamilton who set the standard. Will we see someone string together three similar sector times over a single lap today?
Palmer spin halts Renault progress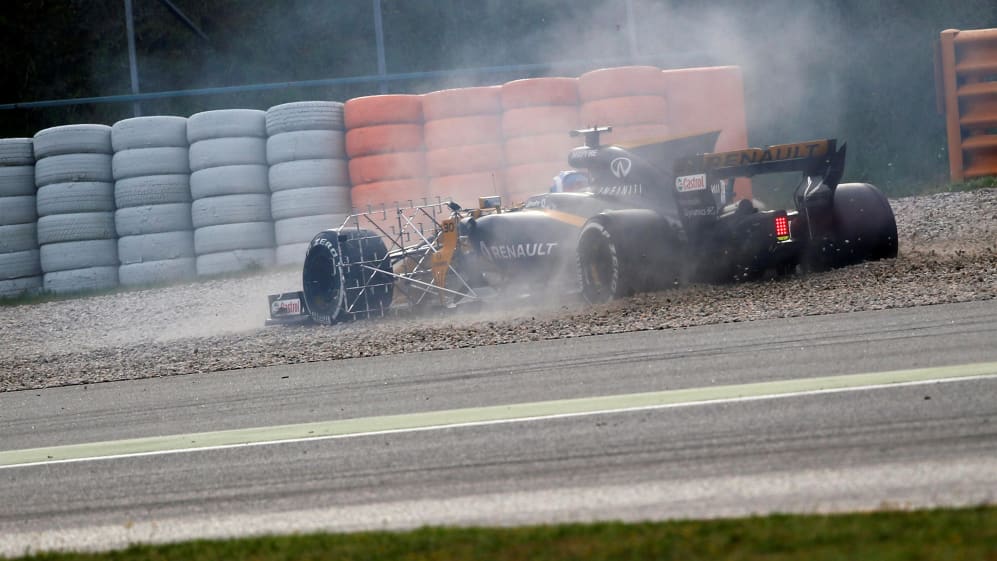 The red flags are out within the first hour as Jolyon Palmer spins his sensor-shod Renault into the gravel at Turn 3. A far from ideal start for the Briton, who yesterday referred to his R.S.17 as "a hell of a lot better than last year's car".
A champion watches on
Oops! Error retrieving Twitter post
There's a familiar face in the Mercedes garage as Valtteri Bottas kicks off his morning programme - reigning word champion Nico Rosberg, the man the Finn has replaced at the Silver Arrows. We wonder if there are any conflicted emotions...
Vettel looking to pick up where Raikkonen left off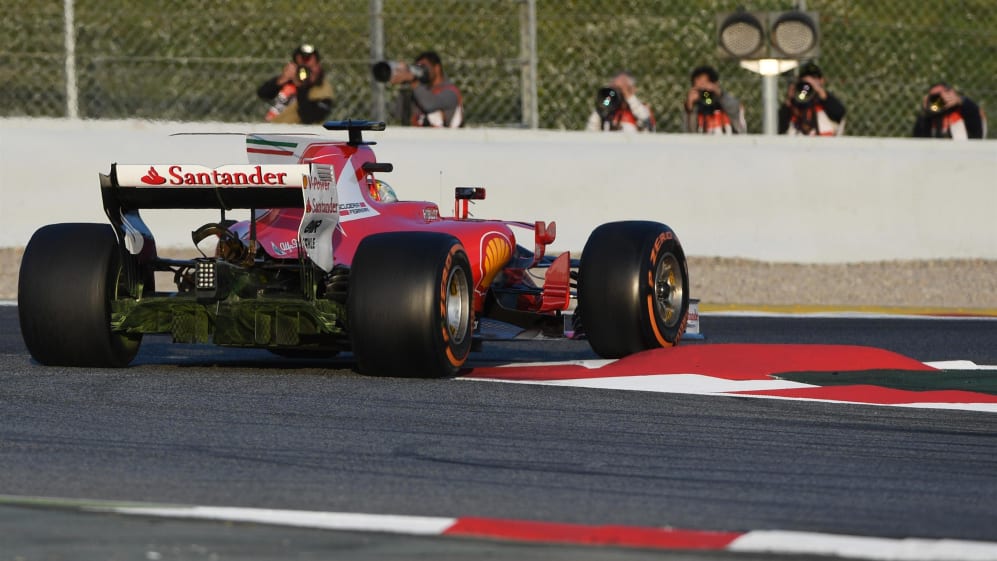 Kimi Raikkonen's first day at the wheel of Ferrari's new SF70H could not have gone much better yesterday, with the Finn clocking the fastest time and completing over 100 laps. Sebastian Vettel takes over at the wheel for the Scuderia today - will his day be as productive?
In the cockpit today
Wednesday's provisional driver line-up is as follows, with Romain Grosjean getting his first real taste of the new Haas, and Force India tester Alfonso Celis set for his maiden outing in the VJM10...
| TEAM | DRIVER |
| --- | --- |
| Mercedes | Valtteri Bottas (am) / Lewis Hamilton (pm) |
| Red Bull | Daniel Ricciardo |
| Ferrari | Sebastian Vettel |
| Force India | Alfonso Celis |
| Williams | Lance Stroll |
| Mclaren | Fernando Alonso |
| Toro Rosso | Daniil Kvyat |
| Haas | Romain Grosjean |
| Renault | Jolyon Palmer (am) / Nico Hulkenberg (pm) |
| Sauber | Marcus Ericsson |