Engine modes giving Force India a performance boost in Baku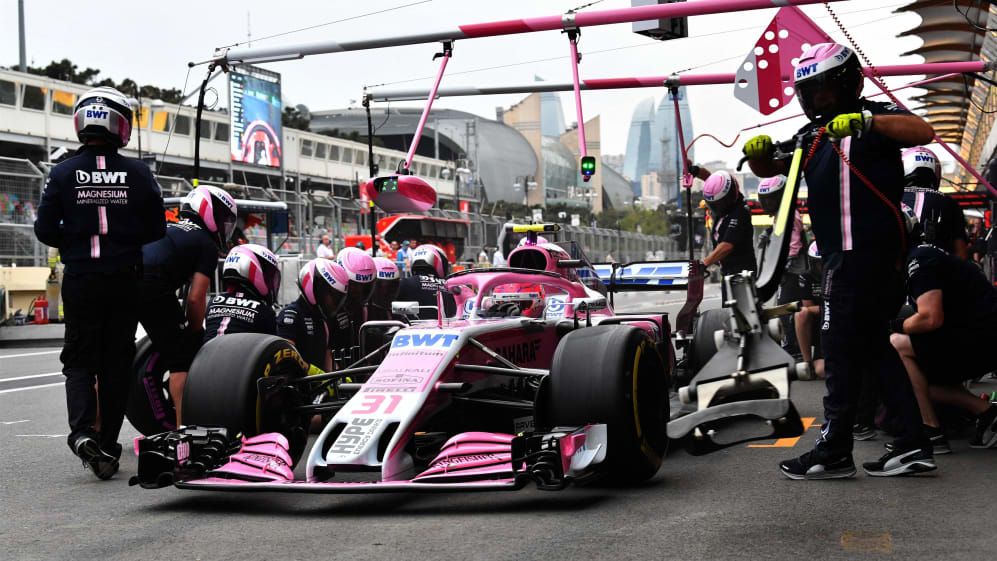 After three races last year, Force India had 17 points and were fourth in the constructors' championship. At the same point this year, they have just one point and lie ninth. But there were signs in Baku that the team are back on the pace thanks to updates and more power from their Mercedes engine.
Sergio Perez and Esteban Ocon were third and fifth respectively in first practice. They followed that up with 12th and seventh in the second session, as Force India demonstrated they should have the performance to compete for points with both cars on Sunday.
"The car seemed to be a bit better," Chief Operating Officer Otmar Szafnauer said. "The drivers are a little bit happier. Top 10 should be achievable now.
"The first session was basically an aero testing session with both cars trying some development parts.
"All the data we collected will help us learn more about the car's behaviour and where we can find more performance going forward.
"You always bring updates that the tunnel and CFD have given you an indication are going to be better than what you have now and by a significant amount.
"But that's not reality. This is reality. You have to bolt them to the car and see if it correlates. Our correlation has been really good."
Szafnauer also revealed that Mercedes have made a more powerful engine mode available for the works team as well as their customers Force India and Williams this weekend.
"Mercedes sometimes, rightfully so, will restrict the more potent modes that we run to a limited amount of time or laps," he said. "That's because of the way they go about developing.
"They will validate from a reliability standpoint those modes to a point where they think that they're safe to run – and then they let us all run those.
"Then they'll go back during the season and have an increase on those modes, so you can run a higher mode for longer, and then they will stick that on the dyno and validate to make sure the engine will hold.
"When they are happy, then they increase the modes. And they've done that here. [It's worth] a tenth [of a second] maybe. Half a tenth in qualifying.
"It's a bit of a longer qualifying mode. During the race, we run two modes. The race-plus mode as we call it. Everyone calls it something different. The quicker race mode, we can run it longer now.
"They increased it by a significant amount of kilometres. Maybe 20-30km longer. It's lap time at the end of the day."
Force India scored a podium with Perez in Baku in 2016 and were in a strong position to repeat the feat last year until those hopes evaporated when Ocon and Perez collided. However, even with new engine modes at their disposal, a tilt at the rostrum might be beyond them this year...