Exhaust issue limits McLaren running on Day 2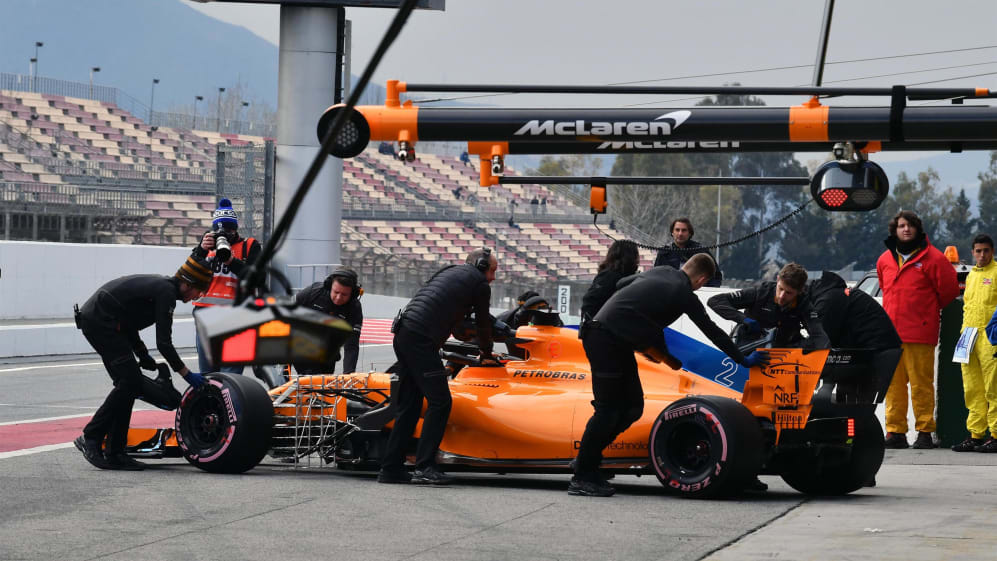 Last year, McLaren managed just 69 laps across the first two days of pre-season testing. Their tally after the same time period this year stands at 88 after the team were once again limited in their running – this time because of an exhaust clip issue.
Having already lost out on the majority of running on the opening morning of the test on Monday when Fernando Alonso spun off due to a wheel nut failure, McLaren were struck down by further issues on Tuesday afternoon.
Stoffel Vandoorne had managed 32 laps in cold conditions by 1.00pm local time - with the lunch break in Barcelona cancelled to maximise running opportunities - but he added just five laps to that total and finished the day in the garage after the car was seen with some burn marks on its rear bodywork in the afternoon.
However, despite the setback the Belgian was far from dismayed with his day's work. "Unfortunately we had this small issue with the exhaust clip just after lunch which obviously detached the exhaust and blew a lot of hot air on some of the wiring looms," he said. "One of those wiring looms was the brake wire as well, so the team took a precautionary check which obviously meant things took a bit longer than expected. All in all it's been a positive day with a lot of thing learned and it was not a big problem."
With air temperature barely reaching 5C throughout Tuesday's running and snow falling during the afternoon session, Vandoorne highlighted the conditions as being of bigger concern during his first day in the MCL33.
"Obviously it was very nice to get back in the car after the winter, it felt like I hadn't left the cockpit so that was positive I think. Mainly what held us back was the weather conditions, obviously very cold and damp circuit, so that took a while to get the running started for everyone.
"So we took the opportunity to do some rake works and gather some aero data during this time, and after that the track got in a reasonable condition and we managed to do a few proper runs and try and understand a bit more the car we have this year. The first impression is very positive, felt very comfortable, no surprises - some good learning done.
Despite the conditions, the Belgian was still encouraged after using the Renault power unit in anger for the first time.
"So far very positive," Vandoorne added of the work with Renault. "There are no big things to say really, everything feels nice, drivability feels very good, every settings we change are working as expected, so so far there's nothing much to tell."