Hamilton: 'What a lap' from Bottas!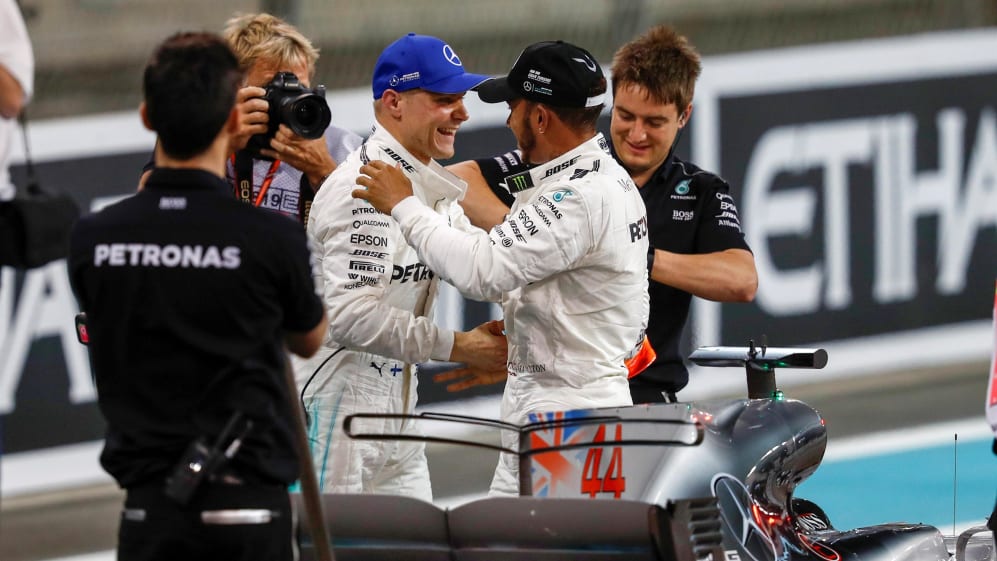 Lewis Hamilton was full of praise for Valtteri Bottas after his Mercedes team mate beat him to pole position in Abu Dhabi on Saturday. Just 0.172s separated the two men, who dominated the Yas Marina Session.
Bottas's fourth P1 grid slot came despite the Finn abandoning his final Q3 run, after which he saw Hamilton fail to improve with his final time, the world champion getting a dramatic-looking snap of oversteer as he exited the last corner.
"What a lap!" said Hamilton of his team mate's effort. "He just had an incredible qualifying and congratulations to him.
"I gave it everything, but I seemed to have lost a little pace going into qualifying, just overall, just little bits here and there. I was up, I think, a tenth and a half out of Turn 1 and then I lost it in Turn 5 or 6.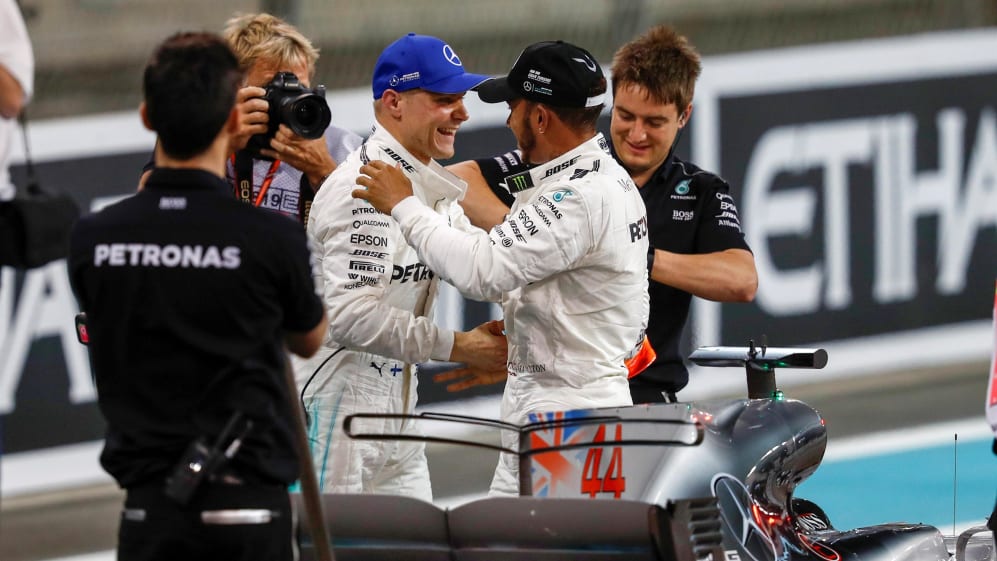 "Valtteri did an exceptional job, so I'm really, really happy for him."
Bottas had struggled to match Hamilton's pace on Friday, finishing over half a second down on the Briton, but he closed the gap dramatically in final practice before edging ahead when it mattered most.
"Today, things were really getting better and better for me during the practice session and qualy," he said. "I just managed to find time here and there, it was all under control and I felt very good in the car. The Q3 run-one lap was really good and it was enough for pole, so I'm really happy."
It is Bottas's second successive pole position. He started first last time out in Brazil – only to be beaten into the first corner by Ferrari's Sebastian Vettel, who went on to victory.
"Yeah, I was so gutted in Brazil, being on pole and missing the win," he added. "So yeah, I have a clear target for tomorrow."
If Bottas can stay ahead on Sunday, it would be his third Grand Prix win – and one which could give him the runner-up slot in the 2017 drivers' championship, depending on where Vettel finishes the season finale.