I don't blame Bottas for collision – Vettel
When Valtteri Bottas collided with Sebastian Vettel as they fought for second place in Hungary, for a second it looked like there could be big championship implications. However, the German escaped the contact unscathed and afterwards did not have a bad word to say about his rival's actions...
On aging rubber, after pitting early in the race to cover off Kimi Raikkonen's early stop, Bottas was struggling for lap time and Vettel, on fresher ultrasoft tyres, caught him quickly. The Ferrari driver attacked around the outside of Turn 2 and when Bottas tried to defend on the dirty inside line, he locked up and slid into Vettel.
The Mercedes driver suffered front wing damage, and later collided with Daniel Ricciardo in a separate incident as he nursed damage. But Vettel avoided picking up a puncture, allowing him to take second behind race winner and championship leader Lewis Hamilton, while Bottas finished fifth.
"Obviously I felt all of a sudden that I got hit from behind," said Vettel. "I think for him there wasn't really anywhere to go. I don't blame him.
"I think he had no grip, obviously when you're so close it's very difficult to stop the car and I think he locked up and we made contact. For me, I realised straight away that I had a much better run and my rears were in better shape.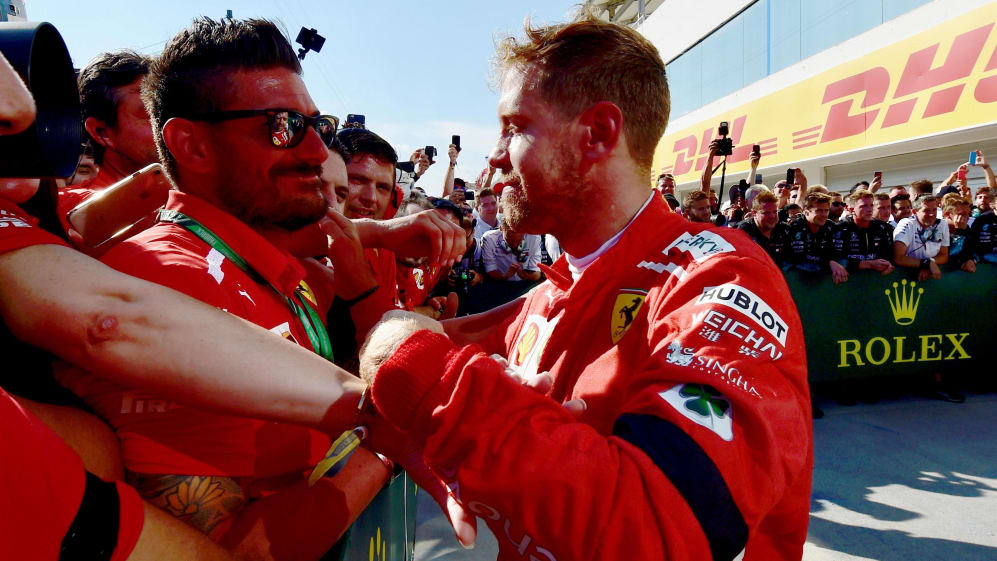 "I got the inside track out of Turn 1 and I had DRS so I was quite comfortable into Turn 2 and knowing that I'd got him and I wanted to make sure that I don't overshoot the braking. But as soon as I hit the brakes and a little bit later, about when I turned in, I felt the contact from behind."
Vettel now trails Hamilton by 24 points, one short of a race victory, heading into F1's summer break. However, the German concedes he could have faced a bigger deficit if circumstances had been different.
"I checked in the mirrors, I saw he was there and then obviously I was lucky that I could catch the car and also lucky with the contact that I didn't get a puncture," he said.
"The team told me straight away that the tyres look fine. Then I had a feel but the car was fine until the end."
Last season, it was Vettel who led Hamilton going into the summer break, but Hamilton who came out on top in the end. Will we see a similar switch before the end of the year? Vettel will certainly be hoping so...