'It was the will not to give up' – Hamilton on qualifying push
Back in 1986 Alain Prost desperately tried to push his McLaren, which had spluttered to a standstill out of fuel, over the Hockenheim finish line. A mere 32 years later, another champion – Lewis Hamilton – evoked memories of that iconic moment as he tried in vain to salvage his qualifying session at the same circuit, after his car ground agonisingly to a halt in Q1.
Hamilton had already qualified for Q2 when he reported a gear shift issue over team radio. He limped on, but him Mercedes team were quick to confirm a hydraulics problem, telling him to park up to avoid damaging his power unit.
The four-time world champion, who is set to start Sunday's race from a distant P14 at best, jumped out of his car and started to push before ultimately realising he was fighting a losing battle.
"I didn't really understand exactly what had happened," Hamilton said of the incident. "So in my mind I'm like 'get the car back to the track' but they [the team] asked me to turn the car off.
"I jumped out and I wanted to see if I could push it back. I saw there was leaking oil and everything, so I knew I had to stop and let them put the car away somewhere. It was the will not to give up – I just wanted to keep pushing."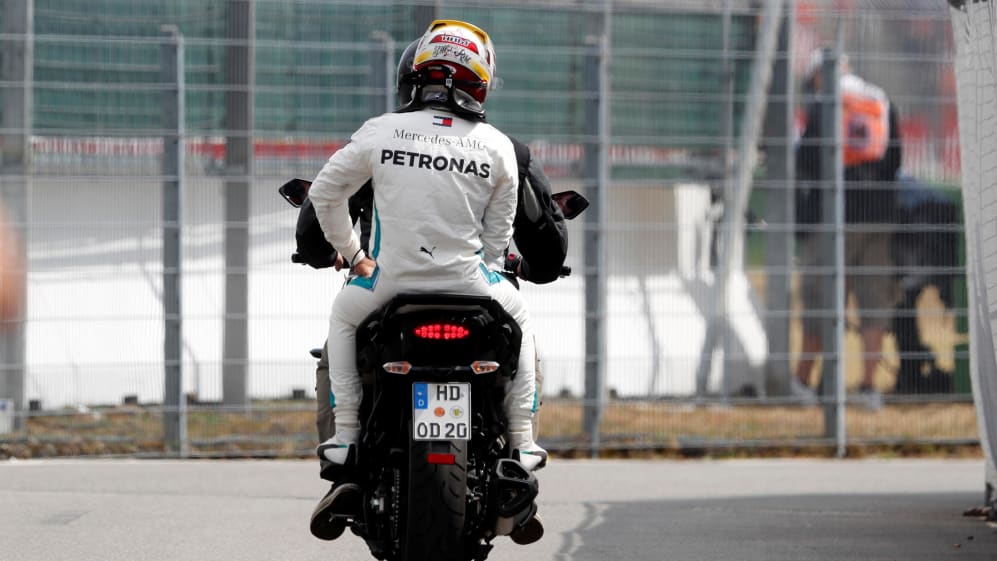 Seemingly very emotional, Hamilton knelt by his stricken Silver Arrow for several moments before returning to the pits. Just before he'd stopped, Hamilton was shown running wide at Turn 1, all four wheels of his car temporarily leaving the ground as he re-joined the track over the run-off kerbs.
Mercedes chief Toto Wolff admitted the incident was likely to have played a part in the Briton's stoppage, although the team wouldn't know for sure until the car was returned to the pits and examined.
"The issue was we seem to have damaged a bit in the car jumping over the kerbs and that caused a hydraulic leak," he said, "but the car is just coming back so we need to check if that was really the case."
In Hamilton's absence, his team mate Valtteri Bottas split the Ferraris to take second on the grid behind championship leader Sebastian Vettel.
"It was a mega lap, particularly the last sector," said Wolff of the Finn's final Q3 flyer. "He put it all together but at the moment it's not good enough performance wise – we just need to get the car and the engine on to a higher level.
"At the moment we are losing on the straights, but I don't want to sound sour about it – we just need to improve.​"
Going into Sunday's race, Hamilton trails Vettel by eight points in the race for the 2018 drivers' title. Mercedes, meanwhile, are 20 points behind Ferrari in the constructors' stakes.