Kvyat 'a passenger' in Turn 1 collision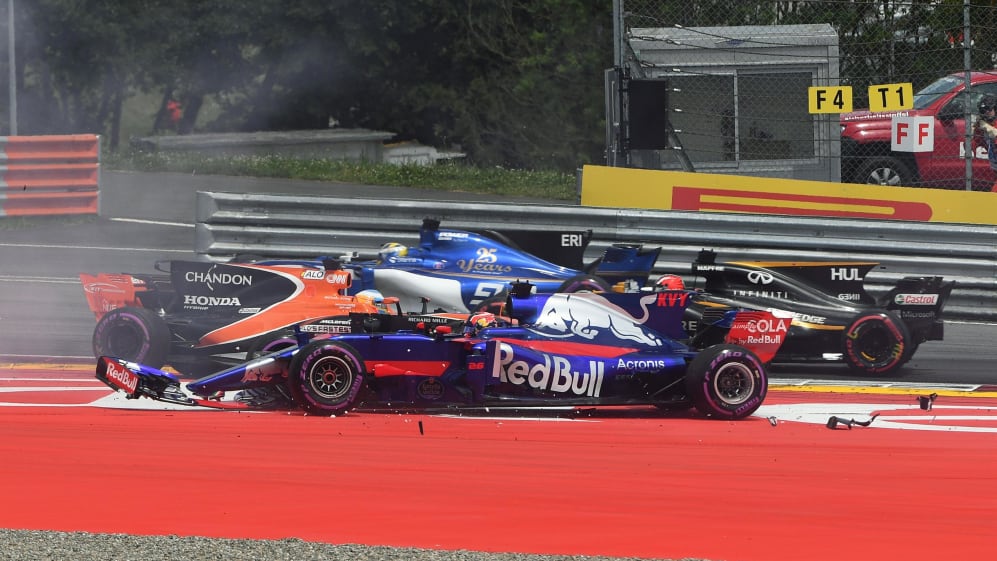 Daniil Kvyat says he and Toro Rosso need to study his opening lap collision in Austria, after admitting he was effectively a passenger once his brakes locked on the run down to Turn 1.
The Russian speared into the back of Fernando Alonso's McLaren, which in turn tipped Red Bull's Max Verstappen into a spin. The latter pair were eliminated, and while Kvyat was able to continue, damage and a drive-through penalty for causing the collision left him three laps down at the flag.
"I think we need to look into it, because we tried to do our best in terms of brake balance for Turn 1, but I'm not sure it helped," Kvyat explained afterwards.
"It felt like I locked the rear, then locked the front - and then all four wheels slide and you're just a passenger.
"Very disappointing of course, [I] just couldn't avoid the car in front of me. Very upset, but now don't see any option other than turn the page and move on. I don't see anything else."
Red Bull team principal Christian Horner said his team would also move on from what he labelled a 'simple' racing incident.
"He's not going to be judged on that move – that's a racing incident," Horner said when asked if Kvyat's crash could jeopardise his future with Red Bull.
"I think he's been having a pretty good season. We've got plenty of time, but I can't see any reason why Red Bull would want to change him at this point in time. Let's see how things pan out."
Governing body the FIA determined that Kvyat was 'wholly to blame' for the contact with Alonso, and handed him two penalty points on his Superlicence as a result. Kvyat now has seven points over the past year - with 12 in a 12-month period leading to an automatic one-race ban.