Sainz sees 'few positives' despite Monaco point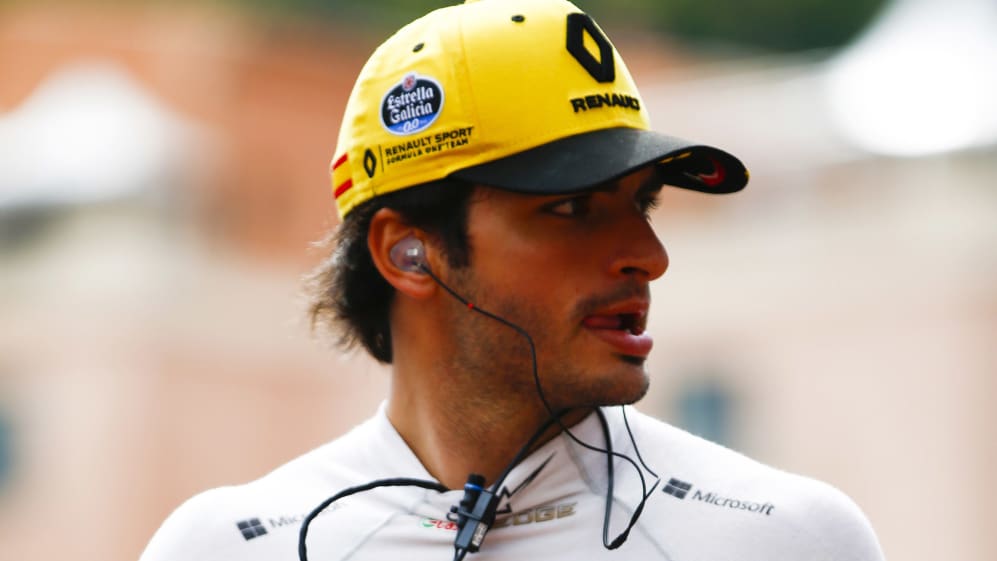 Even a point at the end of a difficult race was no solace to Carlos Sainz, who said there were "no positives" to take away from Monaco this weekend.
Renault introduced updated bargeboards as part of a high downforce aerodynamic package in Monaco, with Sainz - who only got the new parts on Saturday morning - delivering an impressive qualifying result to start from eighth on the grid. With team mate Nico Hulkenberg missing out on Q3 but able to start on the ultrasoft tyres as a result, Sainz - who was on the hypersoft at the start - dropped back to tenth and even let Hulkenberg through as part of team strategy before engaging in a fight with Max Verstappen.
"I think that's not really part of my race, it was just a consequence of not being on the right tyre at the right time all the time," Sainz said of allowing Hulkenberg to pass. "I was suffering a lot of graining in the front tyres, which is something we need to look at, because to put on the ultrasoft tyre on lap 15 didn't make a lot of sense I don't think… Not a lot of positives to take home from this one."
Having let Hulkenberg through into what was eighth place at the time, Sainz then had to defend from Max Verstappen as the former Toro Rosso team mates went wheel-to-wheel for a number of laps. One lap after Sainz cut the Nouvelle Chicane in defence, Verstappen then got ahead at the same place but also failed to fully make the corner – although Sainz was resigned to Verstappen's move after the race.
"I think there was not much we could have done," he said. "If he was on the limit or out of the track limits I don't really care, he was a lot quicker and I was just struggling a lot out there."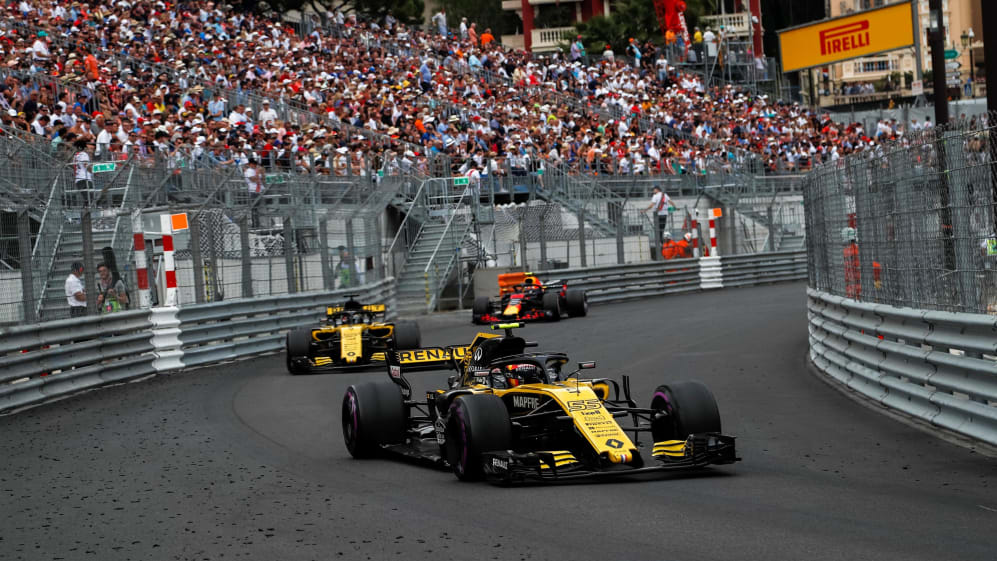 With both Renault drivers scoring points as Hulkenberg crossed the line in eighth, the team held on to fourth place in the constructors' standings while moving six points clear of McLaren. Although happy with such a result, managing director Cyril Abiteboul admits the race has left a number of issues for Renault to address.
"It's been a mixed weekend," Abiteboul said. "The overall result is good; two cars in the points and a good cushion in fourth in the championship. But a race like this one exposes more of our weaknesses.
"Carlos did his best with the strategy, but experienced more severe tyre degradation than expected on his set of ultrasofts. We have to thank him for playing the team game and helping us with the result today. Nico's first tyres came back to life so we could implement the strategy that we had planned and he could secure eighth.
"Despite the fact it is a much better result than last year in Monaco, we were not as competitive as recent races and more work needs to be done on tyre management and understanding, as in the current situation we are almost better to start P11 and have a free tyre choice than to start within the first 10 with the qualifying tyres. Clearly some teams ahead of us managed to make it work, so it is possible."
Although he was unhappy with the way his weekend turned out, Sainz did at least climb one place in the drivers' standings, moving to ninth, one place - and six points - behind team mate Hulkenberg.