Schumacher says he was 'trying to learn rather than impede' Vettel after racing with his mentor at Silverstone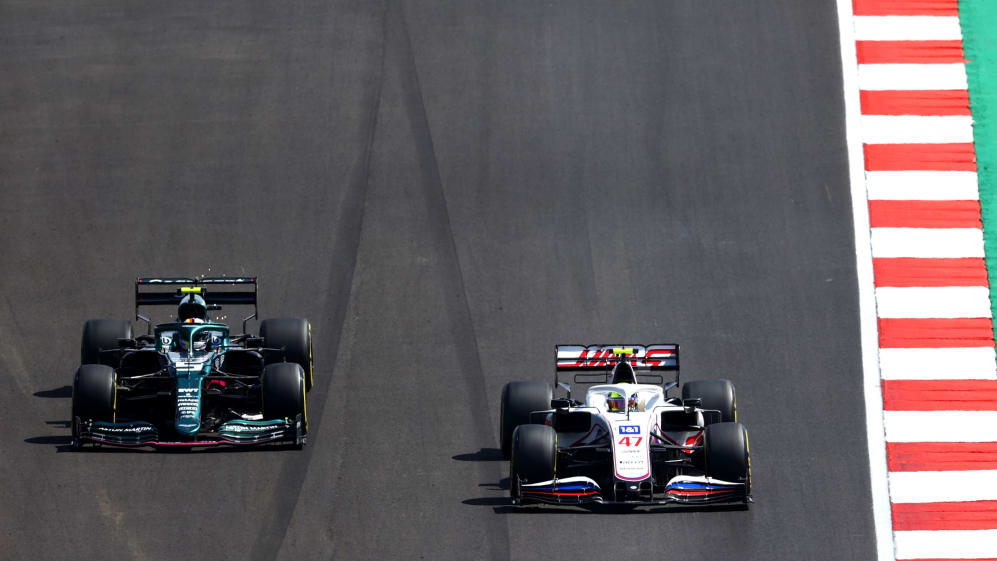 Even in a difficult race there can be plenty to learn for rookie drivers, and Mick Schumacher was trying to do exactly that from Sebastian Vettel at Silverstone.
The Aston Martin driver suffered a spin early in the race when fighting with Fernando Alonso, dropping him to the back of the field. That set up the situation where he and Schumacher were fighting for position on track but the Haas rookie says he saw an opportunity to analyse his mentor's driving up close in a race situation rather than try to prove a point against Vettel, who had a quicker car.
"Obviously unfortunately I saw that his race didn't go as planned either, that's very unfortunate," Schumacher said. "Therefore I didn't challenge him in any way because I knew he was going to go faster. So I was rather trying to learn from him than impede him."
British GP Facts & Stats: Hamilton breaks yet another F1 record with his 99th career victory
I was rather trying to learn from him than impede him.
Schumacher's own race was a tough one as he was beaten by team mate Nikita Mazepin for only the second time this season, something he attributes to being too conservative when it came to his tyre management in Sunday's high temperatures.
"It was not easy. I think we were unfortunately struggling a bit with tyres and the approach that we had. We'll probably have to learn from it and try to come back stronger in Budapest again.
"We as a team were trying to not overheat the tyres in the first few laps, and it seems like Nikita was pushing a bit harder in the first few laps and still managed to keep his tyres in the window. So that's something I will have to analyse why and how, because there was a lot of margin for me to go faster."
READ MORE: Hamilton vs Verstappen - We round up all the opinions after their controversial British GP clash
It was a close race between the two Haas drivers with Mazepin coming out on top by just 1.5 seconds and the Russian was pleased with the way he handled the heat throughout the race.
"Yeah it was tough," Mazepin said. "Very hot - it felt like we are racing in Africa not in England to be honest! But good for us I think. The weekend has been positive.
"We obviously weren't able to change the car as much as other weekends and I think we found a very good set-up early on in the weekend which perhaps wasn't ultimately the best thing in qualifying but worked quite well on a track that was degrading like this. So it was good."
READ MORE: 'I'd rather fight than finish P11 or P12' says Raikkonen as he and Perez escape penalty after late collision