Williams uncertain of running on final day after Stroll crash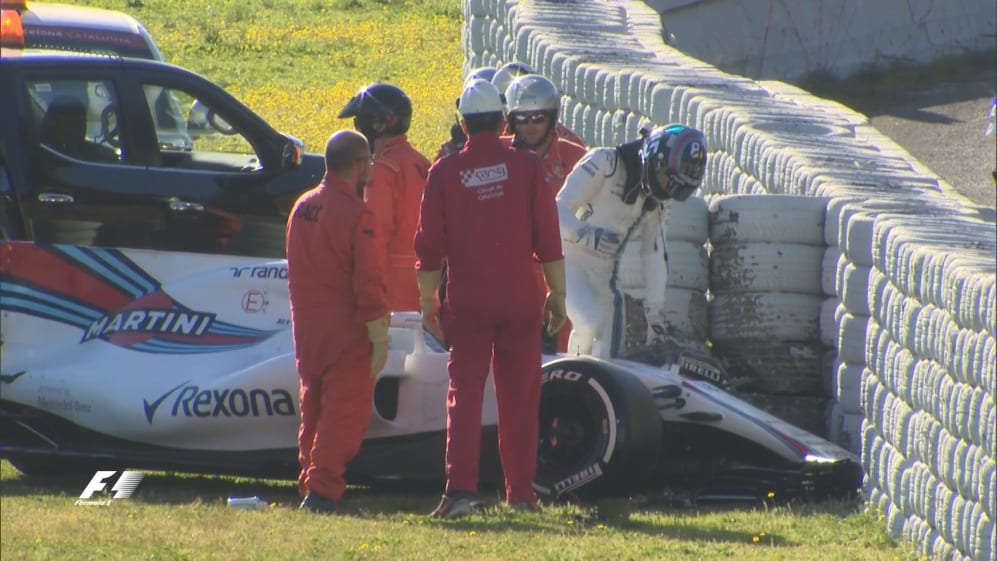 Williams have admitted that there are 'question marks' over whether they'll be able to run on the final day of this week's test at Barcelona following Lance Stroll's accident on Wednesday.
Stroll hit the barriers exiting Turn 5 in the afternoon session, damaging the front and left-hand side of his FW40, just hours after new parts had been flown in from the UK by private jet following a separate off by the Canadian rookie on Tuesday.
"We're still assessing all of the damage," Williams' Head of Performance Engineering Rob Smedley told reporters. "There was a little bit of damage to the left-hand side of the car, so we're still having a look at it.
"Honestly I can't make a full judgement call on what has been damaged and what the contingency will be from this point onwards until we've had a little more time to think about it.
"There's a question mark [over whether we'll run on Thursday] but obviously we'll be doing our utmost to get out – it's a really important day of testing for us. We had a good day learning about the car and obviously we're desperate to continue that for tomorrow onwards. So our aim is to get the car out."
Oops! Error retrieving Twitter post
Stroll's crash was his third incident in two days of running, but Smedley says that no blame should be apportioned to the 18-year-old.
"The feedback on today was that Lance was out on cold tyres on an out lap with a load of fuel in the car and the tyres stepped away from him, and he was an innocent victim of that happening," Smedley said.
"What should have been a fairly innocuous sideways moment brought him around into the barrier and there was some damage. But that happens and we expect it to happen – there's no blame on his part.
"He shouldn't feel he's let the team down – otherwise we're living in some kind of terrible blame culture and we don't want that.
"I wouldn't even call it a mistake that Lance made today – he was going for an upshift, he was on cold tyres… Felipe [Massa] once or twice on day one made almost exactly the same type of mistake, and that's a guy with 15 years' experience.
"It's for us to try to understand how to rebalance the car, how to get the tyre working - even in tricky situations on those cold out laps - to help the driver in those situations. Nobody stands back and says 'that's your bit and you're to blame' - absolutely not, there's no blame to apportion here at all. The main focus as usual is 'how did it happen? How do we stop it happening again?'
Stroll finished the day with the ninth quickest time, having completed 98 laps.