Video
The best onboard action from Austria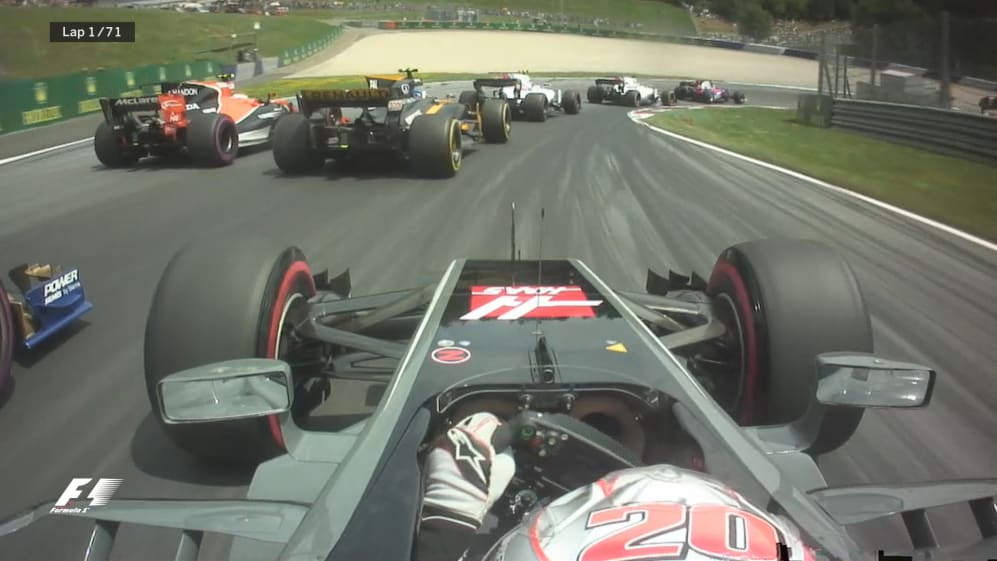 The middle of Sunday's race may have been more tactical, but the start and the finish we jam packed with action. Here's our selection of some of the must-see moments you might just have missed - all from the driver's perspective...
Williams were left bemused when Felipe Massa and Lance Stroll were unceremoniously dumped out of qualifying at the Q1 stage on Saturday, especially given their previous form in Spielberg, which included a fabulous 1-2 on the grid in 2014. But in the race Massa and Stroll put things right by climbing seven places each to earn Williams a first double points finish of the year – and they did it largely off the back of superb opening laps. Riding with Massa you can see the wily veteran benefits not only from an excellent start, but by expertly ducking inside the carnage at Turn 1. Within the next few hundred metres the Brazilian then picked up a further two places, blowing past Stoffel Vandoorne's McLaren on the approach to Turn 3 before nipping inside Jolyon Palmer's Renault as the Briton outbraked himself into the hairpin. From 17th to 10th in less than half a lap - that's what you call leaning on all your experience…
Last year a misjudged approach to Turn 2 in Russia (which put him on a collision course with Sebastian Vettel) ultimately led to Daniil Kvyat losing his Red Bull seat to Max Verstappen. It's unlikely there'll be such dramatic consequences for the Toro Rosso driver after he made a similar error of judgement at the start of Sunday's race, though it's a little ironic that Verstappen was one of the drivers to pay the price for the Russian's Sochi-like heavy lock-up. As this three-way split screen shows, neither Alonso (who made a trademark brilliant getaway before diligently checking his mirrors) nor Verstappen (whose failing clutch caused him to be painfully slow off the line) could do anything to avoid their fates, with the Spaniard's car pinballing helplessly into the Dutchman's. Kvyat would receive a drive through penalty for causing the crash – a punishment Alonso said later was 'a little bit small' given he believed the Russian had taken an 'unnecessary' risk.
Daniel Ricciardo's firm but fair defence of Lewis Hamilton may have secured him third place in Austria, but it was this decisive opening lap move on Kimi Raikkonen that put the Australian in position to score a fifth consecutive podium finish. As you can see, having nosed inside the Finn at the first corner – and come extremely close to rubbing wheels – Ricciardo's Red Bull was then outdragged by Raikkonen's gruntier Ferrari on the run up the hill to Turn 3. But knowing it might be a case of now or never, Ricciardo wasn't to be denied, sending one up the inside under braking for the tight right-hander and forcing Raikkonen wide. The Australian can't rest however - Haas's Romain Grosjean gets the run on both Ricciardo and Raikkonen exiting the right-hander, helping him pull ever so slightly ahead on the run down to Turn 4. Ricciardo - not for the last time - is inch perfect on the brakes, and Grosjean is kept at bay...
Kevin Magnussen's opening lap in Austria packed in more highs and lows, passes and incidents than many drivers experienced in the entire Grand Prix. It started with the Dane – competitive all weekend in Spielberg – rocketing off the line in a Bottas-like manner, but that good work was quickly undone when he was tagged by McLaren's Stoffel Vandoorne heading into Turn 1 and then had to take avoiding action as the Alonso-Verstappen-Kvyat accident edged towards him. Back in 15th - the position he had started - Magnussen would lose another place to Nico Hulkenberg out of Turn 3 before a superb two-corner surge saw him brilliantly dispatch three cars with apparent ease. The net result of all that action? Two places gained from where he'd started…
He may have been worried about his tyres, but you wouldn't have known it from the way Lewis Hamilton was pressing Daniel Ricciardo's Red Bull in the closing stages of Sunday's race. As Nico Rosberg found to his cost in the same race last year, it's not easy to resist the three-time world champion when he's in 'Hammer time' mode, but with perfect positioning of his car and a similarly careful application of throttle and brake, Ricciardo was able to fend off a DRS-assisted Hamilton on the penultimate lap and stay on course for fifth successive podium.
Were it not for the mid-race drive through penalty he received for ignoring blue flags, Stoffel Vandoorne might well have scored his first points of the season in Austria, such was his solid pace all weekend. As it was, the Belgian racer came home in 12th, though this around-the-outside pass of Marcus Ericsson's Sauber at Turn 4 did at least demonstrate that he's lost none of the skills that were so evident as he romped to the GP2 series title in 2015.