Ocon hails 'amazing feeling' after surging from P16 to P4 in Las Vegas as Gasly laments 'pretty chaotic' issue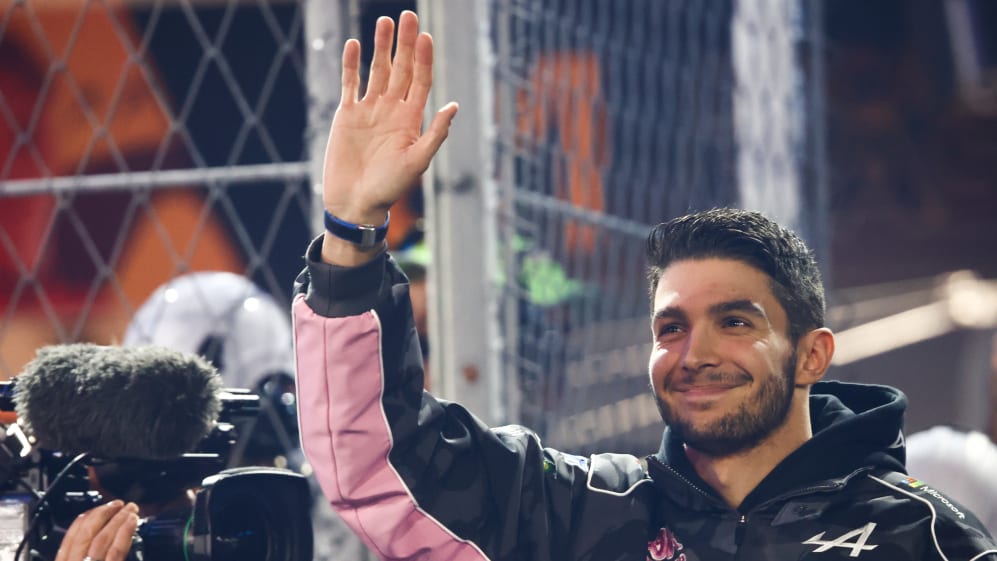 Alpine started the Las Vegas Grand Prix with Pierre Gasly in P4 and Esteban Ocon out of the points. But the drivers' roles were reversed in the race, as Ocon came home in fourth – while Gasly was left to finish a disconsolate P11.
Ocon had been crestfallen on Friday night after dropping out in Q1 in qualifying, eventually lining up P16 on the Las Vegas Strip Circuit grid.
But the Frenchman – sporting a Deadpool-inspired helmet this weekend – avoided the Lap 1 chaos to leap up to P8 on the opening tour, before showing strong pace throughout the race to climb to fourth by the end of the night.
READ MORE: Verstappen beats Leclerc and Perez to victory in action-packed Las Vegas Grand Prix
"It's an amazing feeling!" said Ocon. "I'm again alive, you know, after yesterday… Yesterday we were injured but the healing power of the Deadpool helmet made the difference today! It definitely was a crazy race. We stayed away from the graining, from the degradation that everyone had [on the tyres] and managed to come back from P16 to P4. It just feels awesome."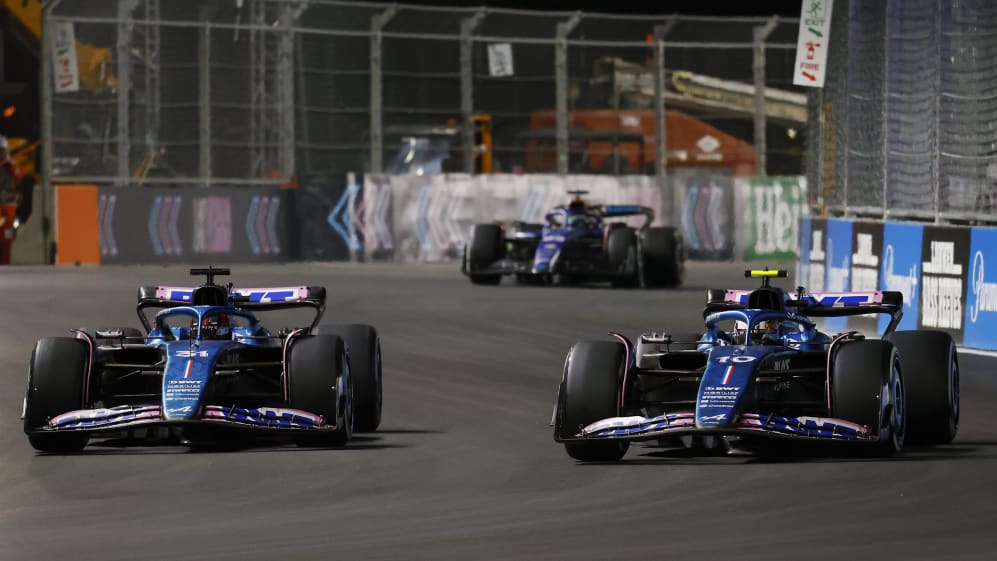 Asked how he'd managed to get everything right on race day, Ocon replied: "Never stop believing. We knew that this weekend was very strong for us, in terms of just achieving things, getting the car where we wanted. We've been super-strong on tyres this weekend.
IN PHOTOS: Check out the eye-catching liveries and special driver helmets at the Las Vegas Grand Prix
"Unfortunately, we saw what happened yesterday and that's why we didn't qualify so well. This track is very good for overtaking, we knew we could use our pace in a straight line to get by and that's what we've done. So, super proud of the team, what they've done this weekend was extraordinary, in qualifying and in the race, so we can be proud of ourselves.
"It's been... five to six races, since Singapore really, that the planets didn't align for us," added Ocon, who scored more points in Las Vegas (12) than he had in the previous eight rounds (11).
"Today finally things turned around and we managed to score an awesome result. I hope we can keep going like that until the end of the season, finish in Abu Dhabi on a high, and if we can do so it would be a good end of the season."
Gasly looked to be Alpine's danger man heading into the race, after securing his best qualifying of the season. But having sat in P3 at the Lap 29 Safety Car restart after a strong opening to the race, Gasly blamed a switch to hard tyres for his fall to an eventual P11 – having had a thrilling battle with Ocon en route.
"I think we had a great start, running in fourth, I think even third at some points," said Gasly, who also reported a battery issue mid-race. "But fitting that set of hards was pretty chaotic for us; I grained the tyres quite early on, and just had no pace for the majority of the second part of the race. I tried to defend as much as I could but it's quite frustrating, I must say, after such a good [qualifying].
READ MORE: Verstappen says charge through the field for Las Vegas GP win was 'a lot of fun'
"But on the other side, I think as a team there are a lot of positives to take from the weekend. Yesterday we managed to put one car in P4, today we put another car in P4 in the race, so we need to build on that.
"We'll always review and see if there are things slightly better that we could have done. But we had a limited amount of data. We'll review obviously but I don't think it was the main issue, mainly the tyres, so we've got to understand what happened."
Alpine head to the season finale assured of a lonely P6 finish in the 2023 constructors' standings – two places lower than in 2022 – with fifth-placed Aston Martin 153 points up the road, and seventh-placed Williams 92 points adrift.