'The car is cursed' – Ricciardo vents after second-straight DNF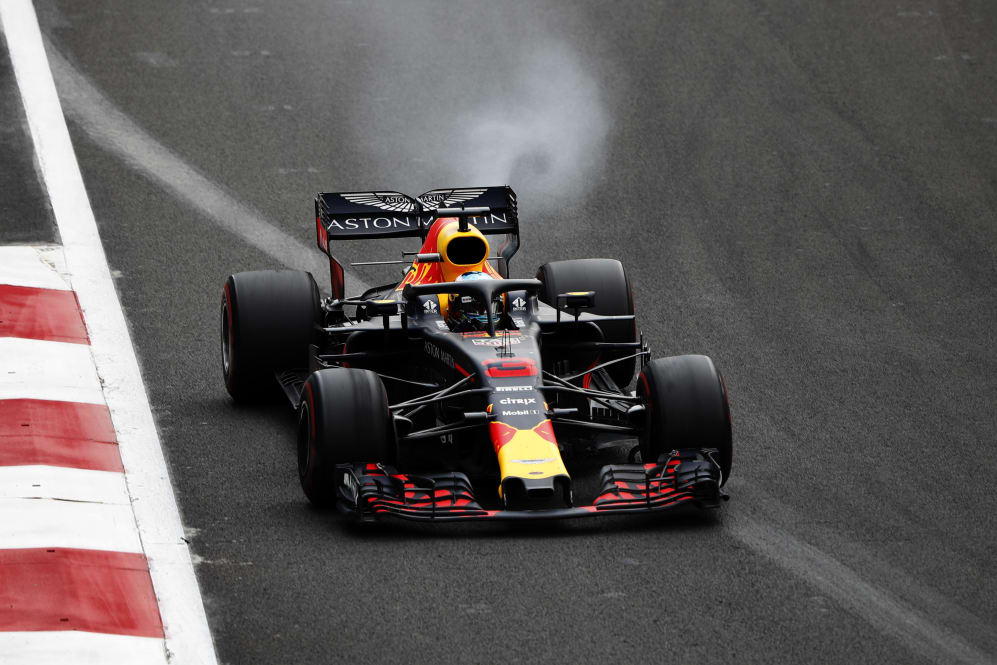 Following his retirement at the United States Grand Prix, a melancholic Daniel Ricciardo lamented the fact that he was running out of races to try and score podiums for Red Bull before he leaves the team at the end of the year. But in Mexico, that sadness was replaced by anger, as Ricciardo suffered his seventh mechanically-related DNF of the season – and admitted that he was more than ready to hand over his car to Pierre Gasly for 2019…
Ricciardo had brilliantly denied Max Verstappen the chance of becoming the youngest ever F1 pole-winner on Saturday, producing a peach of a lap around the Autodromo Hermanos Rodriguez to record the third pole position of his own career.
And though a poor getaway off the line handed the advantage back to Verstappen when racing got underway on Sunday, Ricciardo was running a strong second – albeit hectored by the Ferrari of Sebastian Vettel – and with the chance of giving Red Bull their first one-two since the 2013 Brazilian Grand Prix, when an ominous trail of smoke started coming from the back of his RB14 going into the lap-ending stadium section on lap 61. And by the time he'd crossed the line for lap 62 and headed into Turn 1, the game was up, once again, for Ricciardo. Another race, another scooter ride back to the paddock…
"I don't even think frustration is the word anymore," a disgusted Ricciardo told the press. "Helpless I think is the best word. Another problem with this car. It hasn't been a clean weekend for so long. Even today, you know the starts have been good all weekend – the practice starts. For the race start, it's all over the place with the pre-start. And just, things are happening on a Sunday which I have no more explanation for. I don't know, the car is just… I'll let Gasly drive it, I'm done with it."
Ricciardo's eighth non-finish of the season is by far the worst record of any driver in 2018, with the result that the Australian has had to watch as his early-season title hopes – off the back of race wins in China and Monaco – have crumbled to dust. And following his fourth retirement in the last seven races, Ricciardo admitted that finding the motivation to even turn up to the remaining Grands Prix in Brazil and Abu Dhabi was a tough ask at the moment.
"Everything just feels hopeless," he said. "I honestly… don't see the point coming on Sunday. I don't see the point doing the next two races. I haven't had a clean race all weekend in so long. I'm not superstitious or any of that bull****, but the car is cursed."
As if all that wasn't bad enough, Max Verstappen's 25 points in Mexico to Ricciardo's zero means that Ricciardo is now guaranteed to finish as the sixth and lowest runner of the top three teams in the 2018 drivers' standings. And after a year that initially promised so much, it seems that the last chapter of Red Bull and Ricciardo's story together is in danger of becoming seriously blighted.