'Valtteri was a real gentleman' – Hamilton reflects on Mercedes team strategy
Lewis Hamilton truly earned his wins in Italy and Singapore after putting in a pair of superlative drives. But the championship leader was quick to recognise he owed victory in Russia to team mate Valtteri Bottas, who dutifully followed team orders and ceded position – even if it left a bad taste in the mouth of both drivers...
Bottas had put in a rousing drive on Saturday to take his second pole position of the season, before leading off the line and settling into a comfortable lead over Hamilton early on in the race. After the pit stops – and following a brief but hair-raising battle between Hamilton and Sebastian Vettel – the Mercedes drivers were back to formation flying, Bottas in second, Hamilton in third, the net leaders of the race just waiting for the long-stinting leader Max Verstappen to pit.
But then, with a degree of inevitability came the call for Bottas to make way for Hamilton. Bottas did as he was told, moving smartly out of the way in Turn 13, but huffed down the radio afterwards when Hamilton failed to make inroads into Verstappen's lead.
As the race drew to its conclusion, Bottas came back on the radio again. "How are we going to finish the race?" "Positions stay as they are. We'll talk about it after the race," came the reply. Bottas had officially had his wings clipped, and Hamilton duly swept over the line to record his eighth win of the season, 25 points in his pocket and a full 50-point advantage over Vettel in the championship race, after the Ferrari driver had finished third. But smiles and high fives were in short supply as both Mercedes drivers entered parc ferme…
"Difficult day," brooded Bottas afterwards. "Obviously a good result for us as a team. We got maximum points, but personally, as everyone saw, it was quite a difficult race."
If Bottas was downcast, his team mate was hardly elated either.
"It's actually quite a difficult day," said Hamilton. "Valtteri did a fantastic job all weekend and he was a real gentleman to let me by. He's now not fighting for the championship as where we are. It's just been such a great weekend for the team. The team have done such exceptional job to have this advantage on Ferrari and have a one-two. Usually, you'd just be elated, but I can understand how difficult it was for Valtteri.
"But really, he did a fantastic job today and deserved to win. But championship-wise, as a team, we're trying to win both championships, and today, it was a real team effort."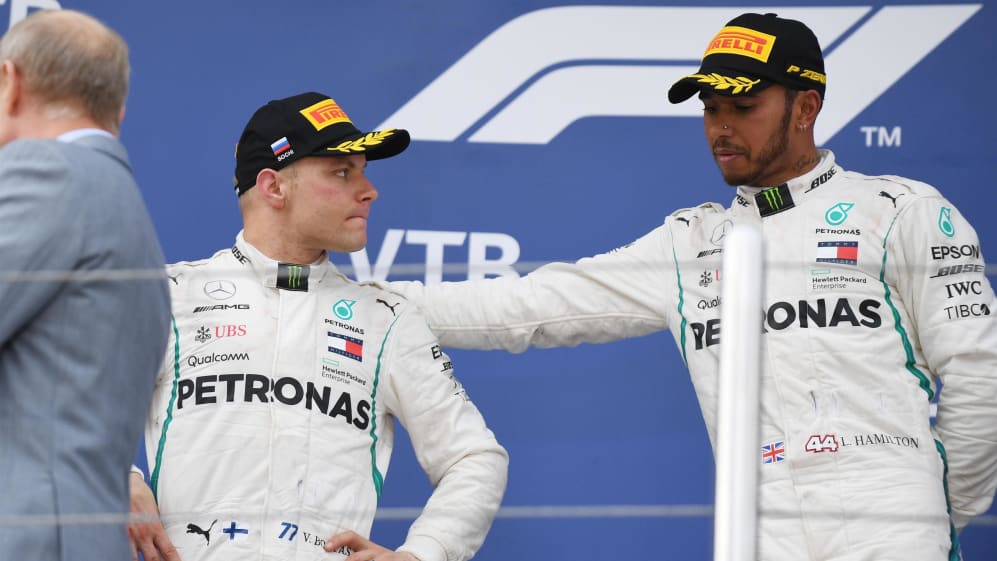 "Not what I wanted"
In the official FIA press conference later on, Hamilton elaborated on how the team orders scenario had played out during the race.
"I said 'just tell him to speed up', so they told me on the radio that Valtteri's going to let you go, which is not what I wanted," he said.
"Naturally, passing him did not feel good in that instant, in Turn 13. I didn't know what was planned for the end… but I knew that the team wanted it to end that way, if they'd made that call and been on the phone to me then they wanted it to end that way. But honestly, it's very hard to find the right words.
"It's a very strange feeling. We've had a one-two, we've dominated as a team this weekend, the team have done an incredible job and it's never, ever in my whole life how I've wanted to win a race. But that's why I just want to shine it onto Valtteri because there's not many team mates who would do something like that."
The man ultimately responsible for the Mercedes drivers' switcheroo was Team Principal Toto Wolff – and the Austrian himself admitted that, while the situation had been far from ideal, a tight fight with Ferrari throughout 2018 had left him with little choice.
"Today we should be over the moon with a one and two, and fundamentally we are, but we also feel that it went against Valtteri," he said. "It would have been a race win for him and we changed it.
"Valtteri's such a tremendous team player. Lewis was far back and we told him to switch position in Turn 13 and he did it immediately and this is what, within the team, you want to have, because you need to rely on those guys, in the same way they have to rely on us. This is what makes it feel even worse, but a win is a win with 50 points advantage feels good."