Feature
10 of the best injury comebacks in F1 history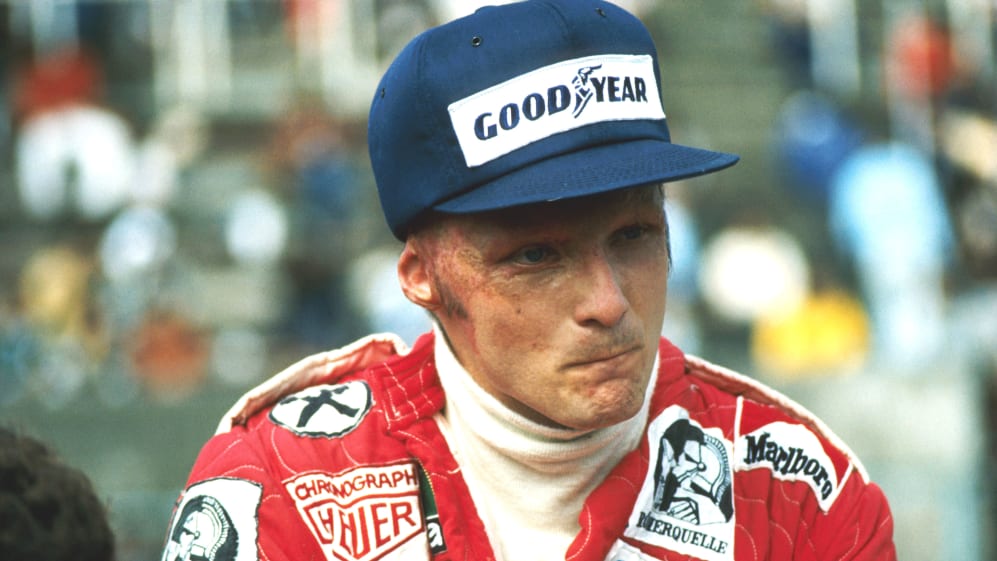 2019 will see Robert Kubica start his first F1 Grand Prix since a rallying accident in 2011 left him with life-changing injuries. But while the Pole's comeback story with Williams is set to be one of the greatest in the sport's history, he's by no means the first driver to overcome adversity and make it back into an F1 cockpit. Here are 10 other inspiring injury comeback stories from the annals of Formula 1 racing...
Niki Lauda
The blood from his wounds was still soaking into Niki Lauda's balaclava when he made his return to F1 racing at Monza six weeks after his near-death experience at the German Grand Prix. There, Lauda had been driving through the fast Bergwerk left-hander when his Ferrari had twitched left then speared right into the barriers, the impact causing the car's fuel tanks to rupture. Eventually pulled from the flaming Ferrari with burns to his face and having inhaled toxic smoke, Lauda spent the following days being treated for his burns and having his lungs vacuumed – a procedure that, yes, is as grim as it sounds.
After listening to some uplifting Bob Marley while out running during his rehab (apparently), Lauda announced that he planned to return to F1 racing, against Enzo Ferrari's wishes, at the Italian Grand Prix. During Friday's running at Monza, Lauda was racked with fear, abandoning his day's programme and heading back to his hotel after just one lap in his 312T. But then, on Saturday, having decided to build his speed gradually, Lauda ended up out-qualifying both his team mates – Carlos Reutemann having been drafted in by Enzo Ferrari as a replacement for the Austrian – before finishing a brilliant fourth in the race. Lauda might have finished higher, too, had he not fallen back to 12th on the first lap. Apparently, no one had thought to tell him that the starting procedure had changed while he'd been away…
IN SHORT: One of the great comeback stories of any sport. No wonder Ron Howard decided to turn Lauda's plight into a movie, 2013's Rush.
Michael Schumacher
Michael Schumacher had got about 40 seconds into the 1999 British Grand Prix when his season's championship hopes – and his right leg – took a big hit. Blasting into Stowe corner, Schumacher's rear brakes failed, sending him spearing into the barriers at over 160 km/h. The accident left Schumacher with a broken tibia and fibula on his right leg, injuries which saw him miss six Grands Prix, his place taken by Mika Salo.
Back in the car for the first ever Malaysian Grand Prix, the racing world watched closely to see if the crash had dulled the Schumacher magic. It hadn't. Fastest in second practice, in qualifying Schumacher simply made his rivals look a bit silly, putting his F399 on pole position by 0.947s from team mate Eddie Irvine, and over a second quicker than the next non-Ferrari runner. The Kaiser was back. And as if he hadn't re-endeared himself to Ferrari enough in qualifying, Schumacher then dutifully fell back to second in the race to allow Irvine – who was still in contention for the championship – to take the win. The following season, with Irvine now replaced by Rubens Barrichello, Schumacher would go on to claim the first of five straight championships with Ferrari.
IN SHORT: Schumacher demonstrates his Terminator-esque ability to rebuild himself, come back to the sport and absolutely take his opposition to pieces.
Mika Hakkinen
As he was heading into the Turn 8 flick at Adelaide during qualifying for the 1995 Australian Grand Prix, a deflating rear-left Goodyear caused Mika Hakkinen to lose control of his McLaren MP4/10. He hit the concrete wall, protected by just a single layer of tyres, hard, his head rag-dolling around in the cockpit, smacking the steering wheel and knocking Hakkinen out. With the Finn's jaw locked shut and his face starting to turn the colour of the Finnish-blue siniristilippu stripes on his helmet, emergency workers performed a trackside tracheotomy that undoubtedly saved his life.
With a fractured skull and damage to his inner ear, the Finn then began an agonising winter break. Owing to nerve damage, his eyes had to be taped shut to allow him to sleep, while he later admitted that his only joy in the first few weeks of his recovery came from his nurses turning the valve that mainlined a fresh dose of painkillers into his battered system. By February of 1996, though, Hakkinen felt strong enough to drive, and McLaren arranged a private test of the new MP4/11 for him at Paul Ricard. Despite only being able to smile with half his mouth (again, the result of nerve damage), 87 days after his accident, Hakkinen managed 63 laps of the French circuit, his fastest over half a second quicker than Michael Schumacher had gone in his new Ferrari F310 the day before. The Finn was duly declared fully fit for the 1996 season – and having successfully avoided Martin Brundle's first-lap horror smash in the Melbourne season-opener, he finished fifth on his return to F1 racing.
IN SHORT: The injuries above and below are all nasty, but the psychological hammering a fractured skull can impart is truly horrible. Hakkinen showed true grit to get himself through the winter of 1995-96 – and his pair of F1 titles two years later were his reward.
Juan Manuel Fangio
Juan Manuel Fangio was used to feats of endurance, having learnt his legendary car control during Dakar Rally-like slogs through South America in the '30s and '40s behind the wheel of hot-rodded Chevrolets. But the task of driving from Lyon to Milan for the non-championship 1952 Grand Prix of Monza, just hours after competing in a road race in Northern Ireland, proved an endeavour too far even for Fangio. Having not slept for 48 hours, Fangio arrived at Monza 30 minutes before the race was due to begin. Once it had, he managed two laps and 15 overtakes before his sleepy synapses failed him going through the second Lesmo corner, his Maserati clipping the inside kerb before somersaulting off into the parkland.
Fangio's neck and back were broken, and his 1952 season over. But after recuperating at home in Argentina, building up his fitness with his mother's home cooking and marathon sessions of beach football, Fangio returned to F1 racing for 1953, qualifying second and just 0.7s behind Alberto Ascari's Ferrari at the first race of the season in Buenos Aires. He capped off his year, fittingly, with victory at Monza, his only win of the campaign, to end up an impressive second in the standings to Ascari. From then, though, there was no stopping Fangio, as he went on a run of four straight championships from 1954 to 1957, before calling it a day at the end of 1958.
IN SHORT: Fangio never recovered full mobility in his upper body. And yet, despite the accident happening when he was 41, El Maestro's best days in F1 were, remarkably, still ahead of him.
Felipe Massa
Freak accidents don't come much more freaky than the one that happened to Felipe Massa at the 2009 Hungarian Grand Prix. Lapping the Hungaroring just behind his compatriot Rubens Barrichello during qualifying, Massa was struck on the helmet by a spring that had detached itself from the rear suspension of Barrichello's Brawn. The metal spring hit Massa as he was circulating at around 250 km/h, fracturing his skull and knocking him unconscious, his F2009 ploughing straight on into the tyre wall. After emergency surgery on his potentially life-threatening injuries, Massa was eventually flown back to Brazil, where a steel plate was inserted into his skull.
Following his rehab, Ferrari arranged for the Brazilian to test a 2007 Ferrari on GP2 tyres at Fiorano, where Massa declared to the press that he felt as good "as if the incident never happened… I'm the same bastard as before." After sitting out the remainder of 2009, Massa was back in the saddle at the start of the 2010 season – yet despite his punchy pre-season declarations, there were those who had their doubts as to whether Massa could, or would, ever recover fully from his injuries. They needn't have worried. At the Bahrain season-opener, in his first qualifying session back, Massa outpaced new team mate Fernando Alonso by over three-tenths of a second to line up second on the grid, the position he'd finish in come the end of the race. Seems that he was the same bastard after all.
IN SHORT: The shocking images from Massa's accident made F1 fans glad that the Brazilian had simply survived it. That he went on to show across eight more F1 seasons that he was still an incredibly quick racing driver was the icing on the cake.
Martin Brundle
The 1984 Dallas Grand Prix came within a surgeon's knife swipe of costing Tyrrell driver Martin Brundle his racing career. Arriving off the back of a stunning second place in Detroit, in qualifying for the Dallas race – around a "joke" of a track, in Brundle's words – a puncture on the English driver's 012 saw him smash into the concrete walls at the chicane. The impact ripped the front off the car, breaking both of Brundle's ankles and feet. With Professor Sid Watkins having to work quickly to stop the amputation-happy American surgeons lopping one of his feet off, Brundle eventually made it to a Harley Street clinic in London, and was recovering well when he found out that Tyrrell had been chucked out of the 1984 championship, after lead weights had been discovered in their cars' water tanks. Double bummer.
Still, Brundle recovered sufficiently to be re-signed with Tyrrell for 1985. Although Tyrrell were on a predominantly downward trajectory, Brundle finished a gritty eighth in his first race back in Brazil. And despite the fact that the injuries he suffered in Dallas still give him pain to this day, Brundle went on to have a lengthy Grand Prix career driving for the likes of Benetton, Ligier and McLaren, as well as winning the 1988 World Sportscar Championship with Jaguar.
IN SHORT: Brundle remains in no doubt that his crash cost him a career as a true F1 front-runner. But the fact that he still managed so lengthy a career in the sport is a testament to how good a driver he was.
Johnny Herbert
Johnny Herbert was the Max Verstappen of late '80s junior single-seater racing, garnering interest in his signature from the likes of Ferrari, Williams and Benetton. But then, in August 1988, his career trajectory was cruelly blown off course in a sickening F3000 crash at Brands Hatch. Nerfed off the track by rival Gregor Foitek, the front of Herbert's Reynard impacted with a concrete bridge support before ricocheting back across the track and smacking into the Armco. With the front of Herbert's car having been ripped off in the first hit, his legs were left to take the full impact of the second, leaving him with multiple fractures of his lower legs, ankles and feet.
It took months of stingingly painful rehabilitation to get Herbert to a point where he could drive again, but Benetton's Peter Collins kept the faith when others wouldn't, signing the plucky Englishman to drive in the 1989 season opener in Rio. There, just seven months after the accident and despite still needing sticks to walk properly (although he was forbade from bringing them to Brazil by Benetton's new commercial director, Flavio Briatore) Herbert astounded the F1 paddock by finishing an incredible fourth on his F1 debut, crossing the line less than three seconds adrift of Alain Prost's second-placed McLaren.
IN SHORT: For a driver to survive a crash so gruesome it actually caused one attending marshal to vomit, and then go on to produce a debut performance like Herbert managed in Brazil… well, you've got to doff your cap to that.
Graham Hill
At the 1969 United States Grand Prix, running some experimental tyres came dangerously close to having fatal consequences for Graham Hill. By lap 89 of the Grand Prix, the prototype rubber was caput, and as Hill passed the Lotus pit to start lap 90, he gave a sign that he'd be coming in for fresh tyres the following lap. Seconds later, the right-rear on his car burst. Hill's Lotus 49B went cartwheeling off the track, with Hill – who'd had to remove his seatbelts a few laps earlier to push-start his car after spinning on oil – flung awkwardly out onto the grass. The accident broke his right knee, dislocated his left one and tore the ligaments in his legs.
Typically breezy Hill insouciance – while in hospital, he'd asked his doctor to have a go at straightening the left leg he'd damaged in a motorbike crash 21 years earlier to make life easier for his tailor – covered up how nasty the accident had been, while typical Hill grit saw him rehabilitate himself sufficiently to make the 1970 season start in South Africa. There, the 41-year-old Hill bravely battled from 19th on the grid in his privately-entered Rob Walker Lotus 49C to a point-scoring sixth by the end of the race.
IN SHORT: Already a two-time world champion with five Monaco Grand Prix wins to his name, Hill – who had to be lifted out of the car at the end of the race by his mechanics – credited his 1970 South African Grand Prix comeback drive as one of his best races ever.
John Surtees
For all of his years spent haring around the world on two wheels, it was while driving sportscars that John Surtees suffered the worst accident of his career. Over in Canada in 1965 to race Lola's 7.0-litre V8-powered open-top racers at Mosport, Surtees had gallantly offered to take team mate Jackie Stewart's car out for a spin, as the Scot was unhappy with its handling. Then, as Surtees was pounding down Mosport's home straight, the front upright of the car shattered. The Lola hit a guard rail, flipped over and landed on its driver, smashing Surtees' femur, splitting his pelvis and damaging his kidneys. Surtees was taken back to London where, after being pulled into shape by the famed surgeon Dr Urquhart and his rugby-playing registrar – the two men literally tugging at either end of the 1964 champion until the four inch difference in his leg length had been reduced to three-quarters of an inch – Surtees began the long road back to fitness.
Ferrari – who'd covered the insurance-less Surtees' medical bills – had a small, V6-engined recovery car made up for its leading driver, which he spent a sore few weeks hammering around the Modena autodrome before returning to front-line driving duties for the start of the 1966 season. After leading his first F1 race back at Monaco before being forced into retirement – you can spot him heading off Stewart in John Frankenheimer's legendary Grand Prix film – Surtees went on to take one of the finest victories of his career at the horribly wet following race in Spa, winning out from Jochen Rindt by a full 42 seconds.
IN SHORT: To go from your worst ever accident to your greatest four-wheel performance in nine months – especially after being 'Stretch Armstrong-ed' back to health by your doctors – takes some doing.
Gerhard Berger
If you're going to crash your road car off a remote Austrian back road, try and make sure you've got a pair of doctors driving along in the car behind you. Gerhard Berger learnt this valuable life lesson in the winter of 1984, after his first season of F1 racing with ATS. Driving back from his family's haulage business one night, Berger swerved to avoid another car pulling out of a petrol station, spun off the road, and was thrown through his car's window, landing halfway into a river. In a merciful twist of fate, the car behind Berger was indeed occupied by two helicopter doctors, who correctly diagnosed Berger's broken neck and stuck him on infusions pulled from the boot of their car.
Following some riskily innovative surgery, Berger made a strong recovery, and after declaring his fitness to Arrows team boss Jackie Oliver in a London restaurant – Berger apparently whipping off his neck support before Oliver arrived and spending the meal with his head propped up on his hands to disguise the muscle wastage in his neck – Berger was signed up for the 1985 season. Although Arrows were far from a front-running team, Berger ran as high as seventh at the Rio season-opener before his suspension failed. He'd end the year with points at the final two races in South Africa and Australia, while the first of Berger's 10 F1 race wins would come the following season, after the Austrian switched teams to Benetton.
IN SHORT: The first of several crashes that threatened to derail Berger's F1 career, but somehow never managed. It's no wonder the Austrian genuinely believes there's a divine power looking out for him…