Feature
2017 season review - Hamilton proves 'four-midable'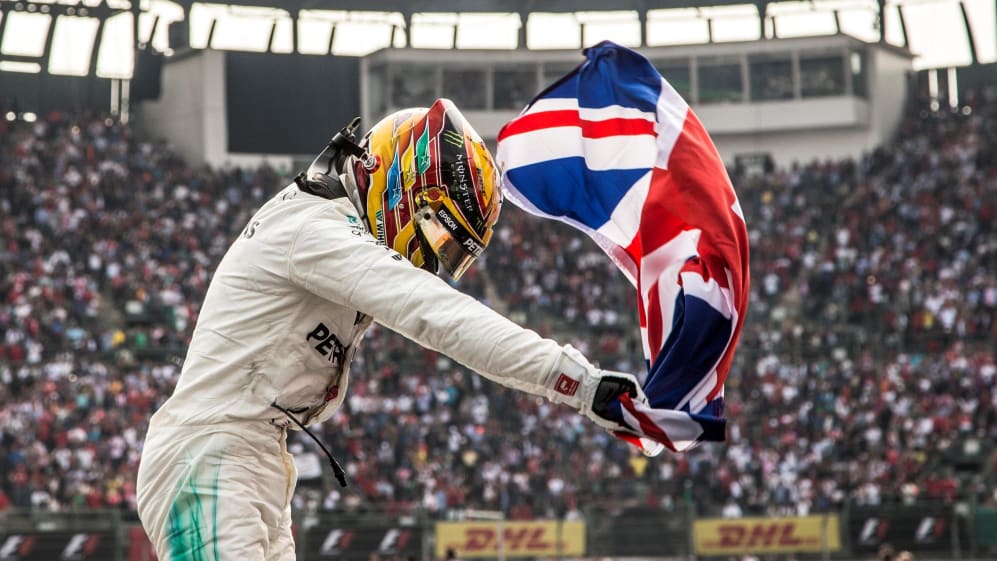 There's no denying that the 2017 FIA Formula One World Championship season made for compelling viewing, with Ferrari's revival providing a welcome shot of adrenaline to the very heart of F1 as it ended three years of turbo-hybrid domination by Mercedes...
Early promise
One of the greatest aspects was that the signs were there right from the first day of testing in Barcelona, as word spread like a wildfire that Ferrari were 'Quick'.
The Mercedes F1 W08 exuded all the elegance we have come to expect, its antecedents clear in every sleek, evolutionary line and every inch of its long wheelbase. It was a silver arrow, through and through.
The Ferrari SF70 was less pretty, somehow stubbier yet purposeful, with its completely different aerodynamic sidepods and bodywork adding its own unique stamp of thoroughbred toughness.
And, another great thing, it would transpire that the lap times that Sebastian Vettel and Kimi Raikkonen recorded at the Circuit de Catalunya were representative. Mercedes hadn't been sandbagging, and nor had Ferrari been grandstanding with low-fuel runs.
Headline news: Mercedes really did have a fight on their hands at last!
Bigger, wider, faster
The new rules package introduced for 2017, which created heavier (up from 702 to 722 kg) but more powerful and grippy cars, played a key role in helping Ferrari to break through.
Pirelli's range of tyres were 25 percent wider than 2016's in a successful search for a big increase in mechanical grip to go with significant aerodynamic changes. The fronts were almost the width of the previous rears, rising from 245 mm to 305, while the rears increased from 325 to 405. And making their familiar compounds – the hard, medium, soft, supersoft and ultrasoft – softer still, yet capable of being pushed harder and longer by the drivers, resulted in some great racing and a slew of new track records.
The overall width of the cars increased from 1800 to 2000 mm, facilitating a new front wing that increased from 1650 mm wide to 1800, the width that was mandated between 2009 and 2013. The wing also has a stylish swept-back shape in plan view, and the length of the nose section was increased slightly. Lower-mounted rear wings, increased in width from 750 to 950 mm, also helped the aesthetics. With greater freedom in the bargeboard and sidepod areas too, a new breed of F1 car emerged which not only looked better but was faster and much, much more satisfying for the drivers, who loved them.
Shark fins on engine covers made their first appearance since 2009, allied to controversial engine cowling-mounted T-wings.
With a higher race fuel allowance - up from 100 kg to 105 kg - engine power increased, amid various restrictions on internal componentry and the weight of the MGU-K and MGU-H elements of the energy recovery systems. The unloved engine token development system was shelved, leaving teams free to bring design enhancements during the season so long as they did not exceed their allowance of four engines per driver for the 20 races. Inevitably, many did, and the unprecedented number of associated grid penalties became an embarrassment for some...
Italian renaissance
Ferrari's tremendous improvement was masterminded by technical director Matteo Binotto, whose leadership made the black horse prance again as a genuine challenger. To their enduring credit, Toto Wolff and Niki Lauda at Mercedes had let Lewis Hamilton and Nico Rosberg race, despite some moments of acrimony, but now everyone had what they wanted: inter-team as opposed to intra-team competition. F1 was a two-horse race, and there is nothing better for a sport than having the two biggest teams slogging it out, weekend after weekend.
And that, pretty much, is how the season developed until October, when the wheels started to come off the Ferrari challenge.
Ferrari seize the initiative
Sebastian Vettel and Ferrari underlined their strength with a shock victory in the season opener in Melbourne's Albert Park, when he beat the Mercedes of Lewis Hamilton and his new partner Valtteri Bottas by 9.9s. Think of a much-hyped boxing match where the reigning champion gets knocked down in the first round.
Ferrari ought to have won the race in 2016, but screwed up their strategy. This time they dominated - and set the alarm bells ringing in Mercedes' chassis and engine camps in Brackley and Brixworth.
It soon became apparent that while the Ferrari worked well on most tracks except perhaps the very fastest, the Mercedes didn't like low-grip surfaces and tight corners. Later, insiders would refer to the F1 W08 as a 'diva', and certainly every effort was made by the engineers to find her sweet spot and keep her happy there.
Hamilton hit back with a win in China, but Vettel beat him again in Bahrain. And for the first time in Russia, Hamilton failed to get as much out of his car as Bottas, and the Finn emerged as a title contender by saving Mercedes' face with a narrow victory over Vettel as Hamilton struggled home only fourth.
Hamilton bounced back with a great triumph over Vettel in Spain, beating him fair and square after overtaking the Ferrari on the track, but things were still close and Vettel remained at the top of the points table after dominating the Monaco Grand Prix. Again, Hamilton struggled to get his car set-up right, and shockingly could manage no better than seventh place.
By that stage it appeared that Ferrari had a hand on the title trophy, as the SF70 appeared to have so few weaknesses. Hamilton went to Canada in desperate need of a win, and on the 10th anniversary of his first-ever success in his rookie season, he got a very strong one. But Vettel finished a fighting fourth after a first-lap clash with Red Bull's Max Verstappen, which kept him 12 points ahead.
Seb under stress
The Azerbaijan Grand Prix in Baku changed the dynamic. Vettel betrayed the pressure he was under when he unaccountably lost his head and banged into the side of his arch-rival's Mercedes while they were running behind the safety car. He was torn apart in the media where he was deemed lucky to avoid a race ban, but he still kept the points lead after a loose headrest cost Hamilton victory. Instead, the honours went for the first time in 2017 to a hitherto disappointing Red Bull, courtesy of a great opportunist's drive by the popular Daniel Ricciardo. Adding to the odd nature of this one, Bottas snatched second on the last lap after recovering from early dramas with fellow Finn Kimi Raikkonen, and Canadian rookie Lance Stroll drove a blinder to complete the podium in only his eighth appearance for Williams.
Hamilton said that Vettel had disgraced himself, while a beaming Ricciardo admitted that he was giggling like a schoolboy on his slow-down lap. Neither of the title rivals was.
Red Bull weren't quite back at the front yet, though it was clear that renewed focus from Adrian Newey on the aerodynamic front, allied to some decent development from Renault on the power unit, was gradually bringing the RB13 into play. Bottas narrowly beat Vettel again in Austria where Hamilton was once more only fourth; then Hamilton hammered everyone on his home ground at Silverstone, as Vettel slumped to a tyre-troubled seventh. But Ferrari scored a solid 1-2 in Hungary to send Vettel into the summer break well in command with 202 points to Hamilton's 188.
The run to the title
Belgium marked a turning point. Mercedes were expected to dominate at the majestic Spa-Francorchamps, but Vettel matched their speed in a tense race in which Hamilton played a racer's cunning card.
It seemed inevitable that Vettel would sail past after stalking him mercilessly, but when his one main chance came on the 34th lap after a safety car period, Hamilton backed him up at precisely the right moment. Vettel, in his faster Ferrari, got very, very close to the back of the Mercedes on the run down to Eau Rouge, but as Hamilton feathered his throttle Vettel got a mite too close, too soon, and had to lift momentarily. Hamilton had thus ensured that he could not be slipstreamed out of the lead as they climbed the Kemmel hill to Les Combes at the top of the circuit, and thus went on to stay just far enough ahead to take a crucial triumph. The scores were now Vettel 220, Hamilton 213.
That signalled a spree for Hamilton. Mercedes thrashed Ferrari on their home ground, and he took the championship lead from Vettel for the first time. He then won his third race in a row after Vettel, Verstappen and team mate Raikkonen came together in a clumsy start in Singapore, where Mercedes were expected to struggle again. That was the beginning of the rot for Ferrari.
In both Malaysia and Japan reliability issues with turbo manifolds and spark plugs cost Vettel dearly. As Hamilton added another 68 points between Marina Bay and Suzuka, Vettel's score was only 12.
Interestingly during this interlude, Verstappen beat Hamilton fair and square after overtaking him in Malaysia, but after catching and passing Vettel in Texas Hamilton was all set to clinch the title in Mexico. He didn't do it the way he wanted to, after being out-qualified by Vettel and Verstappen, and had to fight up to ninth after the German hit him on the opening lap and cut his right rear tyre, but the two points he won that day secured him his fourth title a race after Mercedes had wrapped up their fourth manufacturers' crown.
New stars rise…
As Kimi Raikkonen remained an echo of his old self, Valtteri Bottas rose well to the occasion as the suddenly retired Nico Rosberg's replacement and scored those two early victories. He then endured a bruising batch of less than stellar races before his victory under the most intense pressure from Hamilton in Abu Dhabi suggested that he could yet develop into a genuine contender. Whether that was a product more of new champion Hamilton easing off, rather than a personal step forward, remains to be seen.
Verstappen truly came of age as an F1 winner in 2017, and if Red Bull continue their progress and Renault get sufficient qualifying power to match Ferrari and Mercedes, he and Ricciardo will make it a three-horse race next season.
Others shone in 2017, none more so than Sergio Perez and Esteban Ocon at Force India. The management dealt very intelligently with their on-track altercations as the team continued to punch way above their weight. Nico Hulkenberg and Carlos Sainz were strong at Renault towards the end of the year when Jolyon Palmer had been replaced, but the reliability of the French firm's power unit was at times woeful.
Williams had their moments before finally saying goodbye to Felipe Massa who did such a good job for them, but need a completely new technical approach to their car, while McLaren and Honda's performance was as poor as predicted. But when Fernando Alonso gets a Renault engine in what was clearly one of the best chassis, he should fly and Stoffel Vandoorne will go with him.
And it was musical chairs at Toro Rosso. Sainz made an early exit to replace Palmer at Renault, and Daniil Kvyat lost out to rookie Pierre Gasly, who was then joined by fellow newcomer (but former Red Bull junior) Brendon Hartley - both of whom are retained for 2018.
…and legends grow
But arguably the biggest feature of the 2017 title fight was Hamilton's calmness and commitment and his ability always to bounce back stronger after defeat. His remarkable year saw him break Michael Schumacher's record for pole positions, and brought his victory tally to 62. Vettel, meanwhile, remained a victim of his own occasional hot-headedness, but it's the difference in their characters that is a key part of their appeal.
And because of them F1 is set up for a wonderful 2018 season in which, for the first time in history, two drivers will be fighting for a fifth title. The question now is who – if anyone – can stop them…