Feature
5 reasons why F1 Manager is the perfect way to pass the time during the F1 break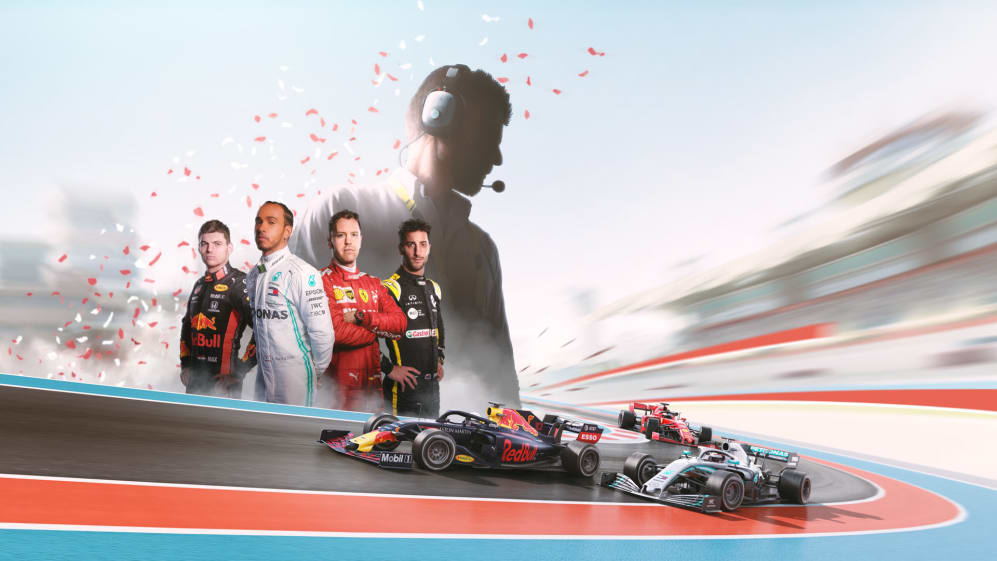 With Formula 1 on hold at the moment thanks to the coronavirus outbreak, we know you might be looking for a way to pass the time. Well, we have the perfect distraction for you: why not take control of your own team, take on the world and prove you've got what it takes to be the next Toto Wolff or Christian Horner in the F1 Manager game for iOS and Android?
As the boss you'll get the make all the big calls, master the art of race strategy and instruct your drivers on how to win, with the aim of making yours the best F1 team in the world. Here's five reasons you should give it a try...
1. It's quick and free to play!
Races last a fraction of their real-world counterparts, meaning that you can jump into F1 Manager whenever you have 10 minutes to kill.
And it's free to play – with optional in-app purchases – so success isn't dependent on your wallet. You'll compete against another player on a full grid, but all that matters is who finishes highest between you and your rival.
Compete in enough races and you'll be gifted a race crate of parts and money, and every few hours you'll gain a free crate to upgrade your team and drivers even further.
2. It has all the official F1 teams, drivers and circuits
F1 Manager includes every official circuit, team and driver from the 2019 world championship season so you can race to your heart's content at Spa Francorchamps, Monaco, Silverstone and more, with Lewis Hamilton, Max Verstappen, Sebastian Vettel and all the rest of the real F1 stars featured as well.
And there will soon be a 2020 update for the game that will bring in the new roster of drivers, the new-look AlphaTauri team, and new venues Vietnam and Zandvoort.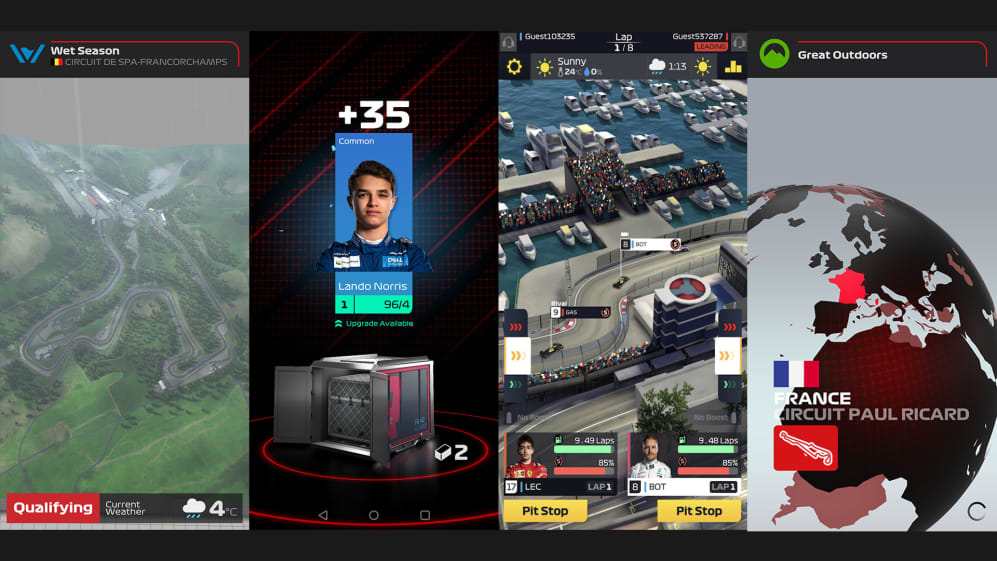 3. You can customise your own team and livery
Stand out from the crowd by creating your team and choosing your own unique colour scheme. Replicate a classic livery from F1's past, or go bold with a trio of clashing colours never seen before on the grid. It's all up to you as Team Principal of your very own F1 outfit.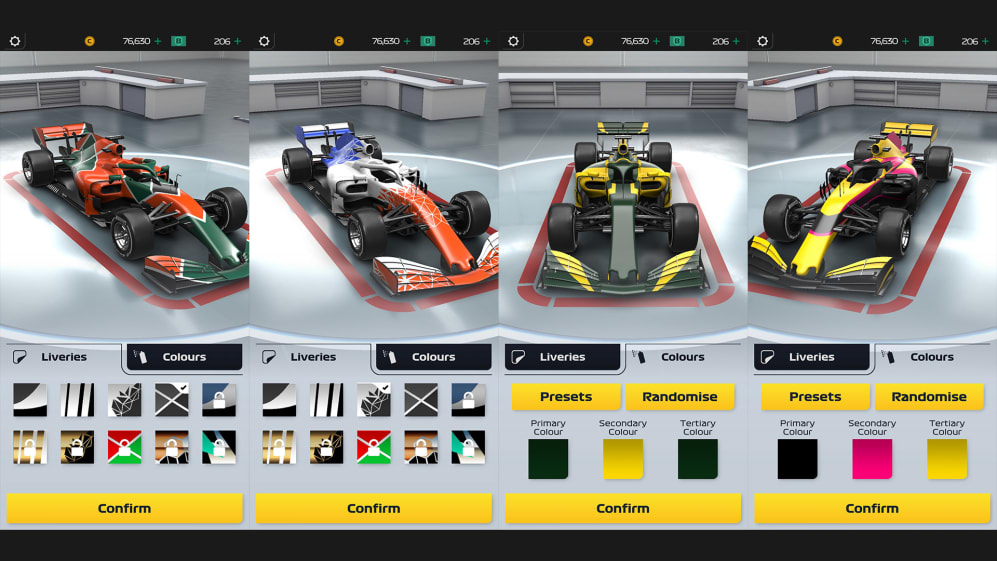 4. You can use your superior strategy skills to win
Races may be short in F1 Manager but bad weather, Safety Car periods, crashes and reliability issues still strike. Pick the right moment to pit for tyres and you can gain time over your rival. Even if you qualified behind them, there's always a chance to pick up places with a cunning strategy.
As a simplified version of Formula 1, each race features three tyre compounds – a soft, hard and wet tyre, and you can instruct your drivers to conserve fuel and tyres, push hard, or drive as normal – and tyre wear differs from circuit to circuit.
Win, and you'll level up, unlock new races and more prize money to improve your team. After every race, you'll be given a crate with parts, money and driver cards in it. Gain enough cards and you'll be able to upgrade your drivers' stats.
Each part has its own characteristics, increasing power, aero, grip or reliability – and some can increase or decrease your average pit stop time – so choose wisely.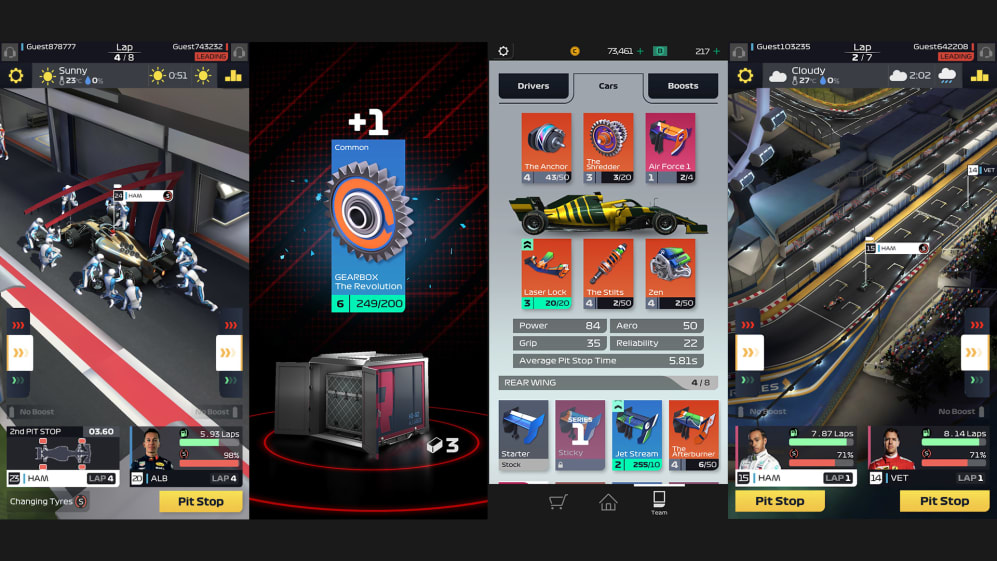 5. You can compete against the world
With hundreds of thousands of downloads already, plenty of fans are already playing F1 Manager all over the world. Once you join them, you'll be placed into leagues and it's then up to you to get to the top of the leaderboard – and get promoted into better divisions with bigger prizes on offer.
With a 2020 update coming soon, join now and make your mark in F1 Manager.
Download F1 Manager for Android