Alpine drivers leave Saudi with contrasting fortunes after 'intense' wheel-to-wheel battle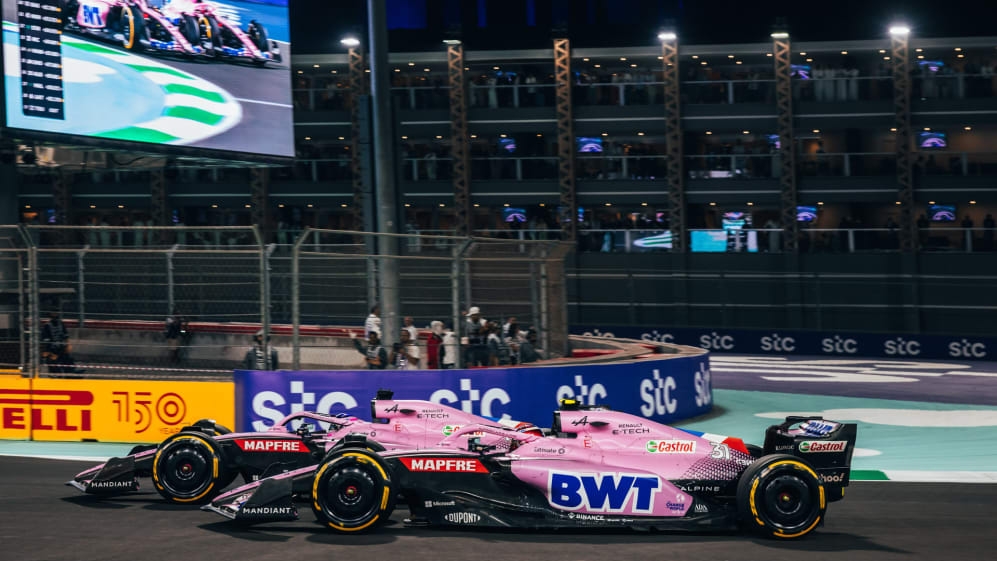 It was a tale of two races for Alpine on Sunday as Esteban Ocon finished sixth, just a tenth ahead of Lando Norris, while Fernando Alonso retired from the race and was left wondering what could have been at Jeddah.
The Grand Prix began with a brilliant wheel-to-wheel battle between the Alpines, Ocon and Alonso jostling aggressively but cleanly before the Frenchman was told to back off by his team. And neither driver was sour about the situation, both clearly excited to take each other on around the high-speed street circuit.
READ MORE: 'I don't regret the move' says Albon – despite grid penalty for contact with Stroll
"Yes it was good. Obviously very intense," said Alonso. "We had also in Bahrain another fight so… My car for whatever reason today felt a little bit faster that Esteban's car so I had relatively more pace, tried to overtake and pull away, which is what I did, and concentrate on Bottas – he was very fast as well."
Ocon added: "It was hard but fair racing. With Fernando, I know how far I can go, he knows how far he can go as well. It's been a nice one. We need to keep going in that direction because it boosts the team performance that we are racing so closely."
The French driver – having lost out on a podium here in 2021 as Valtteri Bottas pipped him on the line – managed to fend off Norris by a tenth and take P6, calling it "revenge" for last year's loss to the Finn.
"Well, I regained the position this year, so a bit of revenge from last year – but it was good racing for sure with Lando. Good racing the whole race. It's been two very solid weeks for us, with a lot of points, so I am pretty pleased with how it has gone the last two weeks," said Ocon.
READ MORE: Aseel Al Hamad and Abbi Pulling become first women to drive an F1 car in Saudi Arabia
As for Alonso, he ended up retiring on Lap 35 with an as-yet-undisclosed issue for Alpine, losing out on a likely seventh-place finish.
"I don't know exactly what happened, we are still investigating but we lost power and eventually the car stopped. So, let's see what we can find. The race was good until that point. We were fast, we felt competitive but unfortunately, we lost a lot of points today," said the two-time champion.
READ MORE: How Verstappen solved the tyre puzzle to win in Saudi Arabia
"We lost a lot of points today, and we gave points to other teams, but the season is early," he concluded.
Alpine sit fourth in the standings after two solid races, with the Australian Grand Prix up next.