Angry Verstappen 'could have fought for third' before traffic issues
With seconds to go in qualifying for the Chinese Grand Prix, the penultimate straight at the Shanghai International Circuit looked more like a gridlocked highway than a race track, as the drivers jostled to find the optimum position. But with clock ticking down, Red Bull's Max Verstappen found himself getting overtaken by his rivals, and wound up missing his shot to improve his time from earlier in the session.
Verstappen was following the Ferrari of Charles Leclerc into the hairpin as he prepared for his final Q3 lap. But with the Dutchman moving slowly and time ebbing away, Sebastian Vettel appeared to be given the hurry up by the Ferrari pit wall, shooting around the outside of Verstappen, before the two Renaults of Nico Hulkenberg and Daniel Ricciardo followed him through.
READ MORE: Bottas beats Hamilton to pole by just 0.023s as Mercedes lock out front row in China
Verstappen stayed stewing in his car as his rivals accelerated away, Ricciardo just crossing the line before the red lights flashed up to signal that the Red Bull driver would be unable to improve. Verstappen also tripped up his team mate Pierre Gasly, preventing him from going after a better time, while the two Haas cars also failed to post laps.
It was all enough to leave Verstappen – who claimed he'd just been trying 'to be nice' – as one unhappy F1 driver when he faced the press after qualifying.
"We were just trying to follow the Ferrari in front of me and just trying to be nice. I could have overtaken him but it's not what you do in qualifying.
"It's like an unwritten rule that you just agree that if you get to the last sector, you just stay behind each other. And I was playing nice, staying behind Charles… and suddenly, out of the hairpin, they just start to overtake you. So it's not nice but I'll remember it and next qualifying, if it comes up, I'll know what to do.
"But it's annoying as we could have fought for third today but we'll just have to do some more overtaking [in the race]."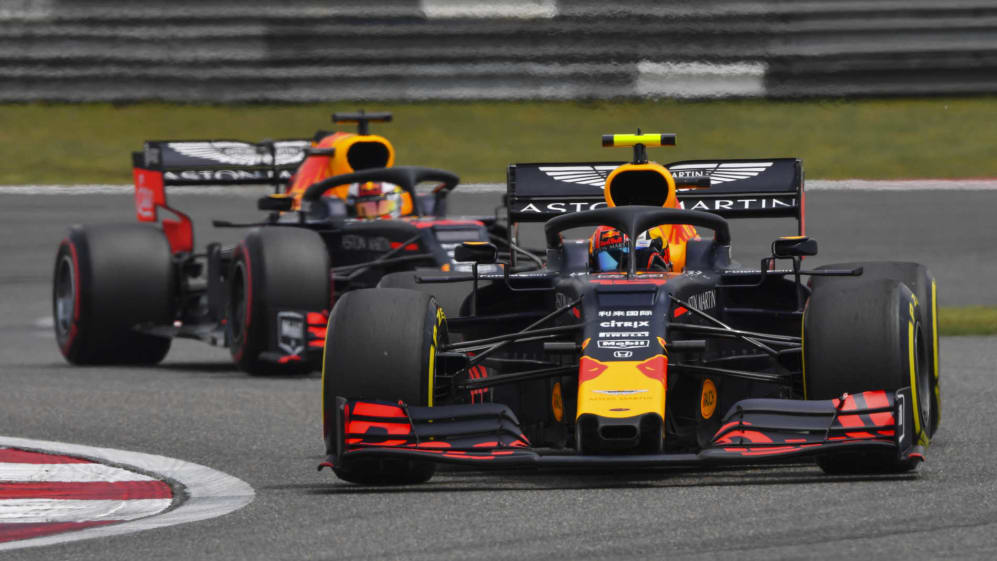 Vettel at least used his overtake on Verstappen to good effect to claim third on the grid behind the two Mercedes. And when asked about the Verstappen incident in the post-qualifying press conference, he predictably saw it differently…
"Everybody… timed it around the same, so we all left for same spot," said Vettel. "If you were at end of train, which I was, it was difficult. When they said I only had 10-second margin, I had to think of something. I don't know if others weren't told. If everyone sped up, we would have all made it. I prioritised at that moment to make that up. It felt like others were not aware."
Red Bull team boss Christian Horner was left to watch his two drivers claim the third row of the grid, Verstappen in fifth ahead of Pierre Gasly, who made his first Q3 appearance of the year despite claiming that he was still "fighting" with his RB15 as he ended up 0.841s off Verstappen's pace.
"It's a shame," said Horner. "It would have been a good opportunity to try and improve there. We could have made the second row today.
"We managed it in the previous two sessions in that first run, so it just means we'll have to race harder tomorrow."