'Apologies don't change anything' – Norris hits out at Bottas as Finn admits he created 'a mess'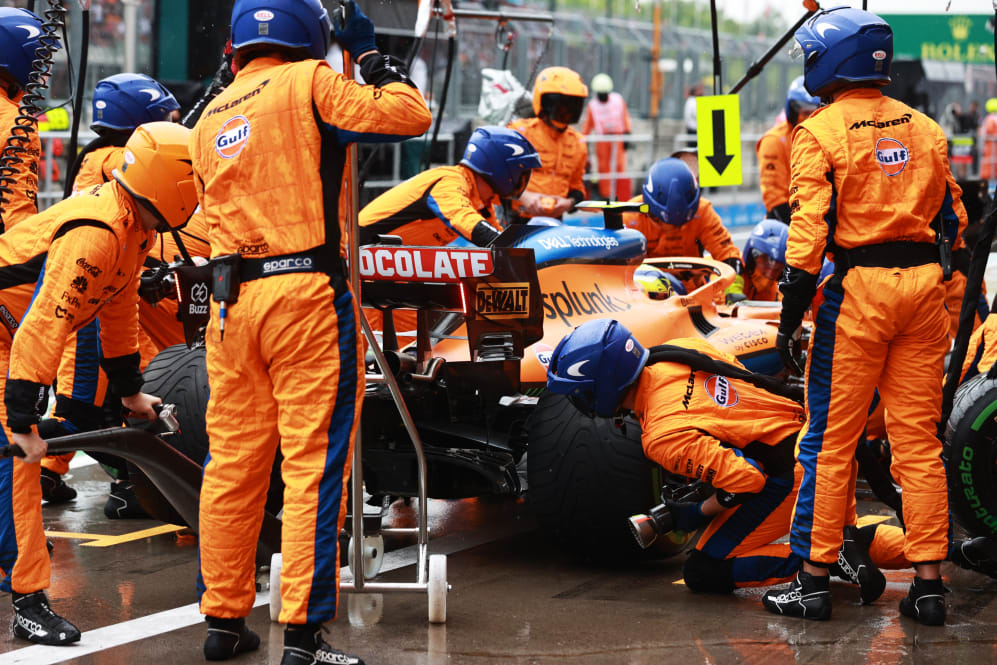 Lando Norris came into the Hungarian Grand Prix on a McLaren record run of 15 straight points finishes. But any chance of extending that streak was ended within seconds of the start when he was hit from behind by Mercedes' Valtteri Bottas and sent careering into Max Verstappen's Red Bull, picking up so much damage that his car had to be retired. And afterwards, Norris wasn't too interested in apologies from the Finn…
As the race got underway in tricky damp conditions, it looked like Norris - who started P6 - had played a blinder as he jumped Bottas, Pierre Gasly and Sergio Perez to challenge Verstappen for P2 into Turn 1.
But then Bottas, trying to make amends for his poor start from the front row, got his braking all wrong and ran into back of the Britain's orange car, triggering a crash that would involve not only Norris but both Red Bulls.
"It was probably one of my best starts that I've done into third place and then such a small touch in the braking zone can have such a big effect just because you're braking so on the limit, the grip's so low, one small increase in speed and everything's gone," explained Norris.
"Obviously Bottas outbraked himself and hit me then I was a passenger all the way into Max. It sucks but nothing I can do at the end of the day. My job was very good, it was a very good start and I did everything I needed to do. Through no fault of my own I'm here, sadly, talking to you."
Norris was able to continue and return to the pits with the rest of the field under red flag conditions, but once McLaren had assessed the damaged he'd sustained, they had no choice but to retire his car before the race resumed.
"At first it was a puncture and they obviously checked everything and saw a lot of floor damage and whatever, and we got the car back into the garage and then when we took the covers off, the whole thing was broken.
"They tried and the boys did a good job trying to fix everything and get everything ready. We gave it our best shot but too many things were in the drain for us to continue."
Before speaking to the media, Norris had spoken briefly to Bottas – who retired with damage, along with Perez who was also caught up – but the disappointed Briton said the Finn's apologies did little to console him.
"There's not much to say is there? It's not my fault, like, to be honest he [Bottas] just came over to me then and apologised – but apologies are nice, but it doesn't change the result or anything, so it's Lap 1 of the race, no one has to do anything stupid but that's what they did today. So just ruined it."
For his part, Bottas accepted that he had caused "a mess".
"I had a poor start," rued the Finn, "Wheelspin off the line, and lost places, and then braking into first corner I was right in the gearbox of Lando and I just locked the wheels. So probably being that close didn't calculate quite right the braking point, locked two wheels, hit him, and then it was a mess."
The only silver lining for Norris is that with Bottas, Perez and Leclerc all retiring along with him, he leaves Hungary with his third place in the drivers' standings still secure.