Report
Verstappen completes stunning comeback win in Austria with last-gasp Leclerc pass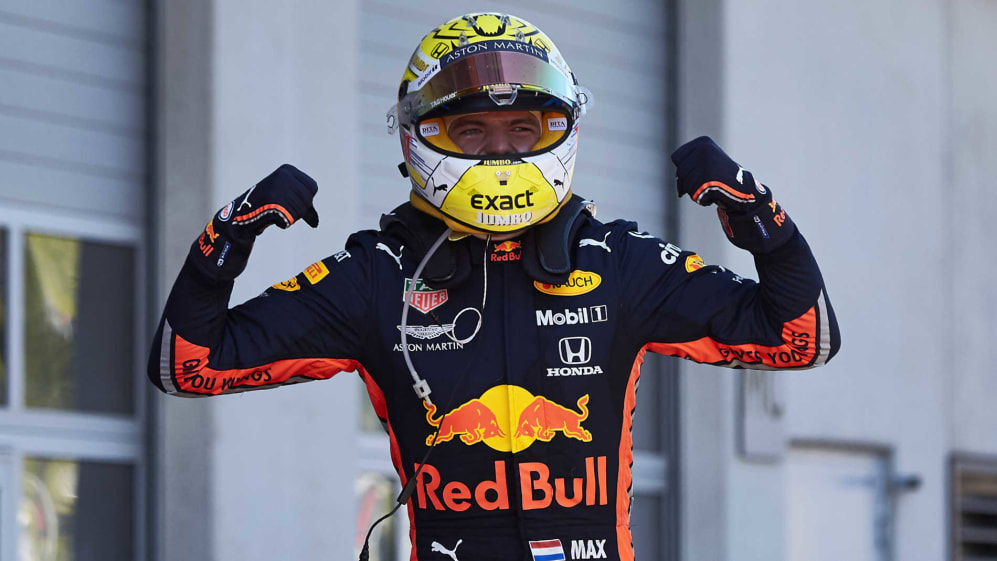 Charles Leclerc came agonisingly close to becoming an F1 race-winner in Bahrain – and he was denied that honour again at the Austrian Grand Prix after being overtaken two laps from the end by a brilliant Max Verstappen, who closed out his second win in two years at the Red Bull Ring.
The two drivers enjoyed a fantastic late-race scrap before the Red Bull driver nipped past long-time race leader Leclerc at Turn 3 on Lap 69 of 71, the duo banging wheels as Leclerc ran off the road.
Although the stewards later deliberated over the legality of the move, they decided to take no further action, allowing the Dutchman to hold onto the sixth win of his career, and the first for a non-Mercedes runner in 2019, while Verstappen's efforts also ensured Honda's first victory since 2006.
READ MORE: Verstappen says his car 'came alive' in stunning Austrian GP comeback
Valtteri Bottas finished third on the road for Mercedes, while a late overtake on Lewis Hamilton saw Sebastian Vettel finish fourth after making a two-stop strategy work, with Hamilton coming home in fifth, the first time he's finished outside the top two this year.
Behind Hamilton, Lando Norris was a fantastic sixth for McLaren, holding off the Red Bull of Pierre Gasly, while Carlos Sainz, having started at the back of the grid, was eighth, ahead of the two Alfa Romeos of Kimi Raikkonen and Antonio Giovinazzi, the Italian scoring his first ever F1 point.
FORMULA 1 MYWORLD GROSSER PREIS VON ÖSTERREICH 2019
Austria
2019
Race results
POSITION
TIME
POINTS

1

Max

Verstappen VER

Red Bull Racing

1:22:01.822

26

2

Charles

Leclerc LEC

Ferrari

+2.724s

18

3

Valtteri

Bottas BOT

Mercedes

+18.960s

15

4

Sebastian

Vettel VET

Ferrari

+19.610s

12

5

Lewis

Hamilton HAM

Mercedes

+22.805s

10
AS IT HAPPENED
If you'd predicted how the race was going to finish from watching the start, you'd have got it badly, badly wrong. The two drivers on the youngest ever F1 front row suffered two very different getaways, Leclerc easing away perfectly from his second career pole, while Verstappen bogged down horribly. As the anti-stall kicked in, Lewis Hamilton was forced to veer wildly around the struggling RB15, with Verstappen eventually slotting into P7 by the end of Lap 1, having briefly been behind his team mate Pierre Gasly.
Bottas slipped into second place through Turn 1 behind Leclerc, while a cheeky Lando Norris nipped around the outside of Hamilton to briefly hold third before being repassed by the Mercedes. Vettel enjoyed a fine start from ninth too and was sixth by the end of the first lap, while his old Ferrari team mate Kimi Raikkonen was impressive too, muscling past Norris on Lap 1 to run as high as fourth.
With a McLaren and an Alfa Romeo running the top five, the early laps were characterised by some fantastic battles, as the faster cars behind tried to force their way through the plucky upstarts. Norris and Raikkonen put up staunch defences, but ultimately neither were unable to resist the superior speed of Vettel and Verstappen as they came through.
Up at the front, by Lap 20 it was Leclerc from Bottas from Hamilton from Vettel from Verstappen. Two laps later, Bottas was brought in by Mercedes, with Ferrari covering off their rivals by calling in Vettel. But as the German pulled in, there was panic in the Ferrari pit as a radio communication issue meant the mechanics were ate out of the garage with the tyres as their driver sat stationary in his box – one of those mechanics then very lucky to avoid being hit by Bottas the Finn powered out of his pit box behind. Vettel got away after a 6.6 second stop, emerging in P8 to Bottas' P4 – and he had it all to do again to get back up to the front.
Leclerc had a much slicker stop a lap later, emerging P3 as Hamilton led. But all was not well in the #44 Mercedes, with Hamilton reporting front wing damage that was causing his lap times to drop off dramatically. A worried Mercedes decided to combine his Lap 31 pit stop with a front wing change – impressively managing the feat in 11 seconds. Following Verstappen's pit stop a lap later, once the frontrunners had all pitted – and Vettel and Hamilton suffered their respective issues – the order was Leclerc, Bottas, Vettel, Verstappen and Hamilton, with Carlos Sainz and Daniel Ricciardo yet to stop in P6 and P7. Lando Norris was in eighth but a net P6, the rookie driving an impressive race having repassed Raikkonen on Lap 15, and keeping Pierre Gasly behind him in the Red Bull.
In the other Red Bull, Verstappen was the man on the move. Despite the power advantage of the Ferrari, the Dutchman saw off Vettel for P3 on Lap 50, to the delight of the massive Dutch contingent at the Red Bull Ring – with Ferrari then reacting by bringing Vettel in for a second stop for soft tyres, dropping him to fifth behind Hamilton – while on Lap 56, Verstappen overcame an exhaust sensor scare to pass Bottas for second on the run up to Turn 3.
With Leclerc now just five seconds up the road in the lead, Verstappen could clearly sniff a second straight win in Austria, and duly began setting a blistering pace in his pursuit. With nine lap fresher hard tyres than his Monegasque rival, by Lap 68, he was in a position throw one up the inside of Leclerc into Turn 3.
He was past and into the lead, but Leclerc fought back brilliantly around the outside of the corner to retake the place before the drivers reached Turn 4. The writing, however, was on the wall for Leclerc, and when they approached the same corner a lap later, Verstappen moved decisively to the inside. As the pair teetered around the apex, they banged tyres, with Leclerc forced off into the run-off area – but the place was Verstappen's.
There were incredible scenes as the Dutchman then swept through ahead of Leclerc and closed out his second straight victory in Austria, and the first for the Red Bull-Honda partnership – Honda's first since 2006 – after the stewards ruled post-race that the fight between the pair had been a racing incident and not deserving of a penalty.
A disgruntled Leclerc was thus left to come home second, having been so close to taking his first victory after driving brilliantly all weekend. A late move around Turn 4 saw Vettel take Hamilton for P4, justifying Ferrari's decision to attempt a two-stopper. That meant that, having won every race so far this year, the Mercedes runners could only finish third and fifth, with Hamilton failing to win for the first time in five races.
Behind, it was a fantastic day for McLaren, Lando Norris finishing sixth while Carlos Sainz drove brilliantly to come home in P8 after his back-of-the-grid start.
The key quote
"Wow! After that start I thought the race was over but we just kept pushing hard, I was quite quick so the pace was actually not too bad but I had quite a bad flat spot on my first tyre, and then after the pit stop we were flying.
"Of course extremely happy for the whole team and also for Honda – we just started working together this year but to win here is incredible." – Max Verstappen
What's next
After back-to-back races in France and Austria, F1 returns at the British Grand Prix at Silverstone on July 12-14. Sebastian Vettel won there last year for Ferrari – and having once again come so close to victory, how dearly the Scuderia would love to repeat that Silverstone win there in 2019.