Feature F1 Unlocked
BARRETTO: Why the Las Vegas Grand Prix could be the greatest show on Earth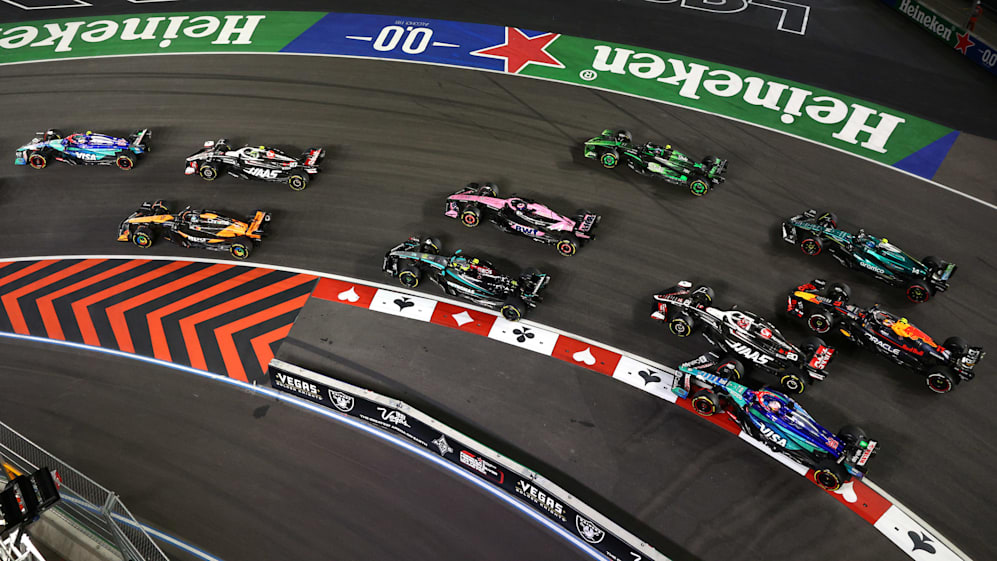 The wait is almost over. After almost 40 years, Formula 1 is heading back to one of the world's most famous cities – Las Vegas, better known as the entertainment capital of the world. They say that everything is possible in Vegas – and if the plans we've seen for the all-new Grand Prix are anything to go by, the same mantra can be applied to the latest addition to the F1 calendar…
If you want an example of just how big the organisers of the Las Vegas Grand Prix are going with this event, you need only head over to the inside of Turns 7, 8 and 9 where you'll see a 110m-tall, high-tech giant golf ball-shaped amphitheatre called the Sphere, which is bedecked head-to-tow with LED screens – 1.2 million of them, no less.
WATCH: Formula 1's drivers get set to roll the dice at the Las Vegas Grand Prix
Across the 580,000sq-ft surface, a plethora of images can be beamed from rotating globes and moving geometric designs to a giant eyeball and ambitious fireworks display. Inside, you'll find a 18,600-seater stadium that is backed by 160,000sq-ft 16k screen that can transport you to any location in the world. It's a remarkable feat of engineering.
At the other end of the track, you'll find a brand new, permanent four-level pit building – on Harmon Avenue and Koval Lane – that runs the length of three American Football Stadiums. That makes it the largest of its kind on the F1 calendar.
Around 13.75 miles of stainless-steel cable was used in the perimeter handrail system and 20,382 cubic yards of concrete needed between the building and the retaining walls. That beast of a building will house the teams, garages and a plethora of hospitality suites.
On the roof, you'll find a 28,000sq-ft video screen in the shape of the F1 logo. When powered on at night – qualifying takes place at midnight on Friday with the race at 10pm on Saturday – it will clearly be visible to aircraft above. The screen features a remarkable 22,000 LED modules, which if placed end to end would be long enough to lap the Las Vegas track (at 6.2km) 2.5 times.
That building will be just one of the hundreds of locations that will play host to an anticipated 100,000 daily F1 fans at the Grand Prix – with Steve Hill, President of the Las Vegas Convention and Visitors Authority, expecting 120,000 visitors from outside of Vegas on what is their second slowest weekend of the year.
For the hoteliers, they say that means at least 60,000 additional rooms sold and a projected direct economic impact of the race totalling an eye-watering $1.2billion.
READ MORE: Spectacular star-studded opening ceremony to kick-off Las Vegas Grand Prix weekend
Once in the city, race goers will be spoilt for choice with viewing spots. Aside from the thousands of hotel rooms that have a view of the track – including the 2km stretch of the famous Vegas strip that is part of the layout – there are 18 temporary grandstands popping up, alongside 10 hospitality structures and 12 ticketed zones where you can be part of the action.
Plenty of restaurants and bars have terraces that straddle the circuit and thus offer a prized view, but these will have long been booked up.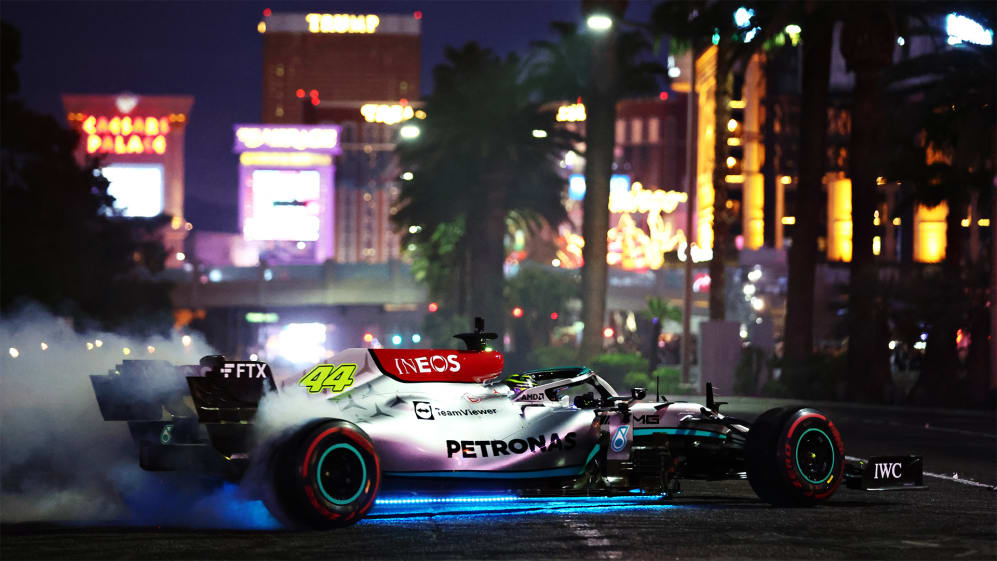 Before the weekend even begins, the worlds of F1 and golf will collide with the inaugural Netflix Cup, streamed live on the platform. The matchplay tournament, held at the Wynn Golf Club, will feature F1 racers Alex Albon, Pierre Gasly, Lando Norris and Carlos Sainz, playing alongside golfing pros Ricky Fowler, Max Homa, Collin Morikawa and Justin Thomas.
The racing event will then kick off with, as you'd expect, a star-studded show in the form of a 30-minute opening ceremony, taking place on the grid. Andra Day, Bishop Briggs, J Balvin, Journey, Keith Urban, Steve Aoki, Thirty Seconds to Mars and will.i.am are all set to perform at the glittering show on Wednesday.
READ MORE > BUXTON: Why Las Vegas will finally get the Formula 1 race it deserves in 2023
All 20 drivers will make an appearance, while the Blue Man Group and Cirque du Soleil will perform, too. It's expected to be quite the spectacle with 1,000 drones lighting up the sky, 100 field performers wielding large LED flags and the 30,000-strong crowd wearing PixMob bracelets.
It'll then be time for the focal point of the weekend – the track action. The custom-designed 17-turn circuit went through more than 30 iterations before designers landed on the final sequence. It runs for 6.1km making it the second longest circuit on the calendar, behind Belgium's Spa-Francorchamps and ahead of Saudi Arabia's Jeddah Corniche Circuit.
Simulations suggest it will deliver 50 laps of adrenalin-filled, fast-paced racing action. Running counter-clockwise, drivers will hit top speeds of around 342km/h, with an average speed of 237km/h, making it one of the fastest races on the calendar. That means teams will be bringing their low downforce Monza/Spa-spec aerodynamic packages.
It's reasonably wide for a street circuit, the track width varying between 12m – which is the length of a London double decker bus – and 15m. In theory that should allow the cars to go side-by-side more easily compared to at a track like Monaco.
IN NUMBERS: The facts and figures behind the new Las Vegas Grand Prix
It's largely flat, though there is a small 2% incline at Turn 14, near the Cosmopolitan Hotel, and a 3.5% decline at the pit entry near Turn 17. There's also a bit of a quirk with the starting grid formed on a slight curve, rather than being dead straight.
It was quite the project to get the track into F1-spec shape. Between five and 10 inches of existing asphalt – on well-trodden and pothole filled roads - had to be dug up and replaced with 60,000 tonnes of baselayer paving.
There was an additional 43,000 tonnes of intermediate and race layer paving required to get the final smooth racing surface that will welcome the 10 teams and 20 drivers this coming weekend.
Though Las Vegas is an oasis of glittering and neon lights that will deliver an assault on the drivers' senses as they navigate the track, greater visibility was required, hence the addition of 1,750 temporary light units dotted around the fringes.
READ MORE: 'There's something about Vegas' – Hamilton predicts 'incredible' Las Vegas race
Watching the drivers navigate this exhilarating circuit, at the dead of night, with a plethora of lights – dramatically more than you'll find in Singapore or Saudi Arabia – will be a spectacle never seen before in Formula 1.
Even when the sessions end each night, Vegas will keep going. It's a 24-hour-a-day, seven-days-a-week party city. Whether it's catching a show, grabbing a bite to eat, a drink on the terrace or a visit to one of the many casinos, there's always something going on.
It's the city that never sleeps – and will have a new headliner in town this weekend when F1 roars into life. Bring. It. On.
To read on, sign up to F1 Unlocked for free
You'll unlock this article and get access to:
Live leaderboard data
Epic experiences and rewards
Money-can't-buy competitions