Report
REPORT: Vettel defeats Hamilton in Belgium to narrow title race
After being defeated in consecutive races going into F1's annual summer break, Ferrari hit back in style as the season roared back into life in Belgium, with Sebastian Vettel brilliantly overhauling title rival Lewis Hamilton before leading the Mercedes driver home to eat into his points advantage.
Vettel decisively claimed the lead on what was a chaotic first lap of the Grand Prix, in which a late-braking Nico Hulkenberg triggered an enormous crash at Turn 1 involving Fernando Alonso and Charles Leclerc. Kimi Raikkonen and Daniel Ricciardo, meanwhile, also picked up what would ultimately prove race-ending damage in a separate incident.
Once in front, Vettel didn't cede his advantage at any point, expertly managing the pace to claim his 52nd career victory and 107th podium – two stats that surpass the great Alain Prost's records. More importantly, he stemmed the flow of his title rival's momentum, taking seven points out of Hamilton's championship lead to trail the Briton by just 17 points heading to Ferrari's home race in Italy.
Hamilton was left to minimise the damage, driving a strong race to finish second – although he ultimately didn't seem to have the pace to match the Ferrari around the power-sensitive 7.004km Spa track.
Meanwhile Max Verstappen delighted the hordes of Dutch fans who'd crossed the border to watch their hero race by claiming a surprise third place – very much a welcome result, given Red Bull's struggles for pace around the Spa track throughout the weekend.
The man on the move throughout the Spa race was Valtteri Bottas, with the Finn making his way up from P17 at the start of the race – having taken engine penalties for a new Mercedes power unit – to P4 by the end of the race with a string of incisive passes, including taking Brendon Hartley's Toro Rosso around the outside of Eau Rouge.
Racing Point Force India enjoyed an impressive – ahem – debut race as well, claiming fifth and sixth with Sergio Perez and Esteban Ocon after they'd started the race fourth and third respectively.
How the race unfolded…
It didn't take long for the drama to unfold when the lights went out, with a massive incident that looked eerily similar to the infamous 2012 first lap crash. With Nico Hulkenberg massively locking up his Renault's tyres going into the tight first corner at the start of the race, the German driver careened into the rear of Fernando Alonso, whose McLaren was sent flying over the Sauber of Charles Leclerc. All three drivers were out on the spot, with Alonso later remarking that the new-for-2018 head protection had been "a very good thing today". The scrape marks of Alonso's McLaren MCL33 on Leclerc's halo would seem to back that assessment up…
Further around La Source, Daniel Ricciardo, squeezed by the Toro Rosso of Pierre Gasly, tagged the Ferrari of Kimi Raikkonen, leaving the Finn with a puncture and rear wing damage that would see him forced to retire on lap eight. Ricciardo, meanwhile, was pulled back into the Red Bull garage, had his front and rear wings changed and was sent back out two laps down, managing 31 laps before Red Bull decided to call it a day for the Australian. To cap off the action, Valtteri Bottas was seen to rear-end Sergey Sirotkin's Williams off the line. The Russian escaped major damage, but the Finn was forced into an early pit stop for a nose change and fresh rubber.
The Safety Car was deployed, but crucially not before Sebastian Vettel had out-dragged polesitter Lewis Hamilton down the Kemmel Straight – as well as rebutting a challenge from the charging Force India of Esteban Ocon – to claim the race lead in a moment that would define the race.
Once the Safety Car came in at the end of lap four, Vettel and Hamilton both made a decent job of the restart, but Vettel held onto the lead before unleashing his signature move that we saw so often in his Red Bull days, banging in a string of quick laps to eke out an advantage of nearly four seconds over Hamilton.
Behind, Force India's hopes of challenging for a podium were quashed by Max Verstappen, who pipped first Ocon and then Sergio Perez down the Kemmel Straight to make it up into what became a lonely third place – but a lofty one too, considering that Verstappen had expected no better than fourth ahead of the race.
The second crunch point between Vettel and Hamilton came during the pit stop window. Hamilton was brought in on lap 22, coming out behind the Red Bull of Verstappen, while Vettel was called in by Ferrari a lap later. For a moment, it looked like Hamilton might use Verstappen to effectively tow him into the net race lead on his outlap.
In the event, although Hamilton put in a mighty third sector while Vettel was in the pits, the Mercedes driver was ultimately held up behind Verstappen into La Source, allowing Vettel to emerge into the lead. From there, Vettel was able to dictate the pace at the front, cruising around to his fifth victory of the year, and his first since Silverstone back in early July. That haul of 25 points brings the gap to Lewis Hamilton in the drivers' standings down to 17 with a maximum of 200 still on the table before the end of the season.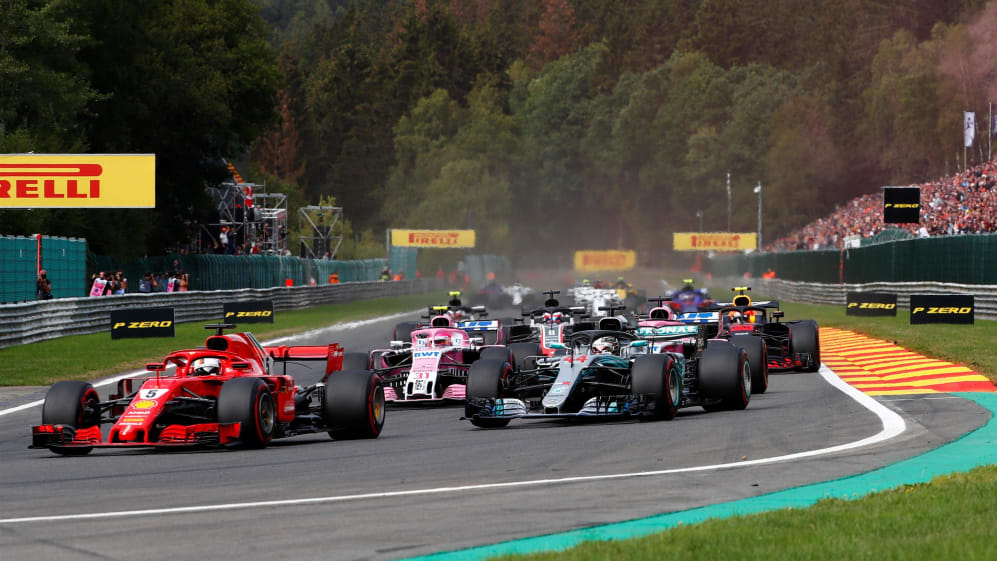 It will have been an especially pleasing victory for Ferrari. Not only was it their first at Spa since 2009, but, with both Ferrari and Mercedes having unveiled their Spec 3 engines at Spa, the victory will be seen by the Scuderia as a technological defeat of their rivals. After the race, a slightly dazed Hamilton confirmed as much, giving a clear assessment of Mercedes' deficit to Ferrari.
"He drove past me like I wasn't even there on the straight," said Hamilton, referring to Vettel's lap one pass. "So we need to keep pushing to see if we can catch up…" That will be especially worrying for Mercedes given that we now head to Monza, both Ferrari's home turf and a notorious power circuit.
Others to have a happy day at Spa were Haas, who overcame their pace issues from Friday and Saturday's practice sessions to claim a double points finish, with Grosjean in seventh and Magnussen in eighth. Elsewhere, Pierre Gasly will have been chuffed with ninth, while in Leclerc's absence, Marcus Ericsson held up his end of the bargain for Sauber, bring the C37 10th after a solid afternoon.
Stoffel Vandoorne, meanwhile, heads away from his home race with the ignominy of having been last in every single session of the weekend, having finished 15th out of 15 classified runners.
The key quote
"I had great start. Not sure Lewis saw me, he pushed me quite far to left. But I knew my chance would be later on up the hill, and I think I timed it well. Obviously last year I was always ending up short. It was better this year, we had a bit less wing. Timing is crucial and I managed that perfectly I thought... With the safety car then, it was the other way round. I thought, 'well I got that done and now I've got the safety car'. Had a good restart, very good exit of T1, kept it clean. It was tricky with the headwind raking for the first turn. After that, a very smooth race. Lewis pushed hard, especially the first stint towards the end, he was very fast. Second stint, I could turn everything down and control the pace. Great weekend." – Sebastian Vettel
The stats that matter
Sebastian Vettel moves past Alain Prost to claim third on both the all-time podium finishes list and the all-time winners' list, with 107 rostrums and 52 wins.

Vettel also started the race tied with Prost for laps led around Spa – 85 – so has now pilfered that one off the Frenchman too.

It was Ferrari's first win at Spa this decade, with Kimi Raikkonen having last won for the Scuderia in 2009.

It was Lewis Hamilton's seventh podium in Spa – but only his first time finishing in P2 here.

Hamilton has now started more races for Mercedes than he did for McLaren – 111 vs 110.

With Racing Point Force India F1 Team starting the Grand Prix with zero points, they've already moved ahead of Williams in the constructors' standings, and are just one point off Sauber after coming away from the weekend with 18 points.

Kevin Magnussen scores his first ever points at Spa with eighth place.

It was the first time in Pierre Gasly's career that he's scored points in consecutive races.

Charles Leclerc has now retired on lap one for two races in a row.
DRIVER OF THE DAY – Sebastian Vettel
DHL Fastest Lap
Valtteri Bottas 1m 46.286s (lap 32)
What's next?
Hold onto your hats, because we're straight off to Monza for the 68th Italian Grand Prix next weekend. Will Ferrari manage to go back-to-back and take their first victory at 'La Pista Magica' since 2010?