Podcast
BEYOND THE GRID: Andrea Stella on Norris and Piastri's greatest strengths and his mission to transform McLaren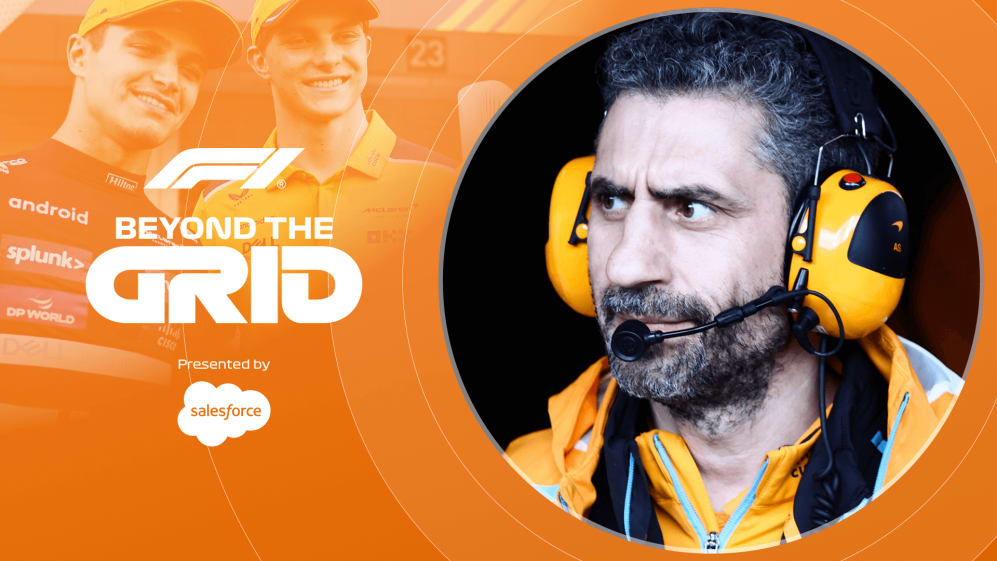 On this week's episode of Beyond The Grid – brought to you by Salesforce, the Global Partner of F1 – McLaren Team Principal Andrea Stella joins the show to discuss a phenomenal first season in charge.
So much has changed when you compare where the famous team finds themselves now versus their difficult start to the season. After finishing outside of the points in five of the first eight races, both Lando Norris and Oscar Piastri are now fighting for podiums almost every week and earning rave reviews.
BEYOND THE GRID: Vitantonio Liuzzi on racing for Red Bull, a sour exit from Toro Rosso and beating Michael Schumacher
Both have been on the podium at the last two races in Japan and Qatar, while Piastri won the Sprint in Lusail to earn even more praise in what has already been an impressive rookie season.
So how have McLaren produced such an incredible turnaround in performance? In his chat with host Tom Clarkson, Stella gives a revealing insight into the culture he's creating at the team, and how his experience of winning World Championships with Michael Schumacher at Ferrari can help him transform McLaren into a winning machine once again.
You can also hear why he describes Schumacher as the 'emotional engine' during their time together, what made Ferrari so dominant back then, and why they weren't able to repeat that success once Fernando Alonso came on board at the team.
BEYOND THE GRID: George Russell on his belief in Mercedes, being pushed by Hamilton and much more
Stella also tells us Norris and Piastri's greatest strengths, what fans can expect from the Papaya outfit in 2024, and much more.
To listen to Stella's Beyond The Grid interview, hit go on the player above or head here to catch it on your preferred platform.
Visit Salesforce.com/F1 to learn more about how Formula 1 wows fans and grows its global fanbase with Salesforce.