Podcast
BEYOND THE GRID: Charles Leclerc on driving Schumacher's Ferrari, his title hopes, and how he switches off from F1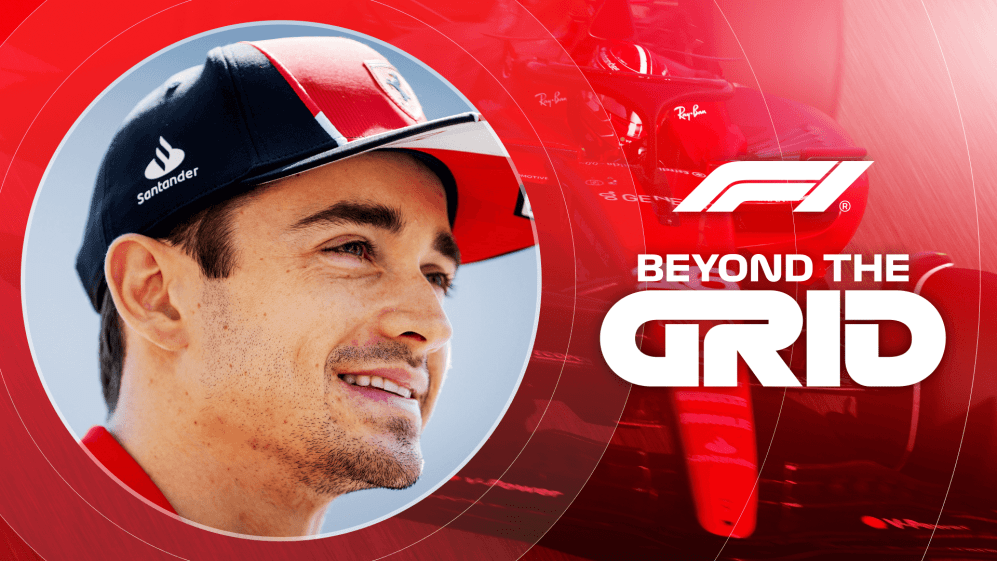 The first Beyond The Grid episode of 2023 is here and it's one you won't want to miss. In this week's podcast Ferrari's Charles Leclerc talks pre-season preparation, driving a Michael Schumacher title-winning F1 car, playing music and much more...
Last year was Leclerc's best F1 season so far, but he and Ferrari fell short of championship glory as Red Bull broke records and took the titles by storm. So, it's no surprise that winter was busy for Leclerc – though he also found time for some fun in Schumacher's 2003 Ferrari F2003 at Yas Marina.
BUXTON: Why 2023 has all the ingredients to be an outstanding F1 season
"This was really incredible," he says. "We went to Abu Dhabi and it was like a karting day with Formula 1 cars. So [we had a] 2017 car and his [Schumacher's] 2003 car and we jumped from one car to the other whenever we wanted. And we did that for the whole afternoon, which was incredible.
"The 2003 car is very, very special. On the other hand, it also shows me how much progress there was from 2003 to now in terms of downforce. The downforce that we have in today's car is absolutely incredible and I think it's very difficult to understand how much progress there has been made from 2003 to now.
"Having said that, the weight of the 2003 car – it's just so fun to drive in the low speed corners."
Oops! Error retrieving Twitter post
Leclerc also opens up about his hobbies on the podcast – music being one of them. He even plays us a tune on the piano...
"I love it because it helps me not [think] about anything else than what I do at that moment, which is play piano, play music. It helps me to disconnect from everything else.," he explains.
F1 NATION: New cars, new drivers, new season – It's our Bahrain GP preview podcast
"And, especially in a season where things sometimes get tough, but even if they don't get tough, even if they are very happy and everything is going well on track, I think it's great disconnecting from racing sometimes, and piano is the best way that I found for me to think about something else and relax myself."
With the season opener looming this weekend in Bahrain, the biggest matter at hand is of course where Ferrari will fit into the title fight – and where their rivals stand.
"I'm sure Mercedes will be in the fight. I heard loads of good things during the winter break of Aston Martin, but it's still to be seen. I mean, they were quick for the first day, but again, you don't know their fuel level, you don't know the engine modes, you don't know you don't know much. So it's very difficult to comment for now," said Leclerc.
For much more, listen to the full podcast in the player above or head here to catch Beyond The Grid with Charles Leclerc on your favourite platform