Podcast
BEYOND THE GRID: 'We learn the most when we lose' – Wolff hopes rivals will 'regret' Mercedes' 2022 struggles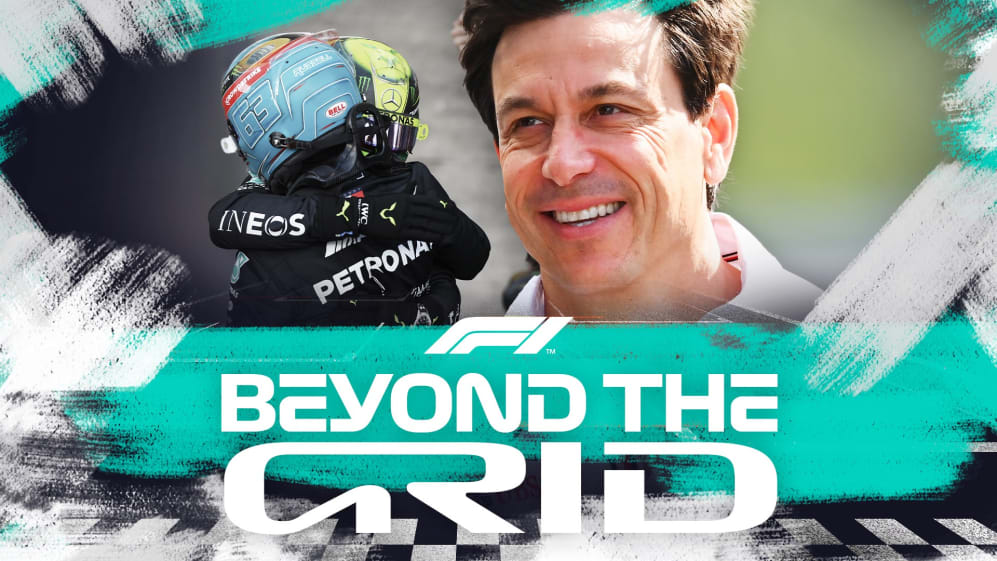 Toto Wolff has taken the opportunity to reflect on Mercedes's past, present and future during an appearance on F1's Beyond The Grid podcast, with the Austrian team boss looking to guide the squad back to regular race wins and title glory after a challenging 2022 campaign.
Having wrapped up eight consecutive constructors' championships and seven drivers' crowns from 2014 to 2021, F1's rules reset for 2022 saw Mercedes fall behind Red Bull and Ferrari in the pecking order and spend most of their season working through chronic car issues.
Asked by Beyond The Grid host Tom Clarkson if this year represents Mercedes's 'annus horribilis', Wolff said: "In terms of performance, you can say after eight consecutive constructors' titles, coming out of the blocks being half a second off – and I'm being rather on the optimistic side – was certainly something you needed to get used to.
READ MORE: Mercedes rename road at team HQ 'Lauda Drive' in tribute to three-time world champion
"We talked about it these last eight years, how we would react if that were to happen – how would we cope with losing? Inevitably we knew that one day it's going to happen, and here we are.
"I'm particularly proud of the team, how we have recovered through the season, because it wasn't a one-race blip. It wasn't that there was a clear trajectory that was going up only; we had good races and then we fell back. At the end, I think we're much closer to our rivals, the front-running cars, than we were at the beginning."
Wolff then stressed his belief that "you have to fail and get it wrong to prosper" and hopes the lessons learned will stand Mercedes in good stead as F1's latest regulation era develops, adding: "At the end, it comes back to the sentence, 'The days we lose are the days our competitors will regret', because we learn the most. Hopefully the future will be proof of that."
As for what he feels Mercedes can achieve next year, Wolff is hopeful – while taking nothing for granted – of rejoining the fight at the front on a regular basis, having had to settle for a single late-season victory when the W13 hit form.
"I'm always a half empty glass guy, and I see the risks. As a matter of fact, if you're trying to be logical, Red Bull was very dominant throughout the season. It's going to be very difficult to have a development slope that is steeper than theirs, and also Ferrari – but I believe in the organisation," he commented.
READ MORE: 'It's been the best season of my career' – Russell insists Mercedes have 'a lot of positives' to take from 2022
"Fundamentally, it's not about a lack of downforce, but a problem in making that downforce work on the car. With our learnings, the values in the team, the empowerment and the no blame culture, I think we will be back in a more potent form next year – hopefully winning races on merit and fighting for the championship. But is it a given? Certainly not."
To hear Wolff's wide-ranging Beyond The Grid interview – which includes more details on Mercedes's 2023 car, his assessment of Russell's first season with the team and the latest regarding contract talks with Hamilton – hit go in the player above, or head here to catch it on your preferred platform.