Ferrari have halved qualifying deficit and greatly increased pit stop consistency, according to Binotto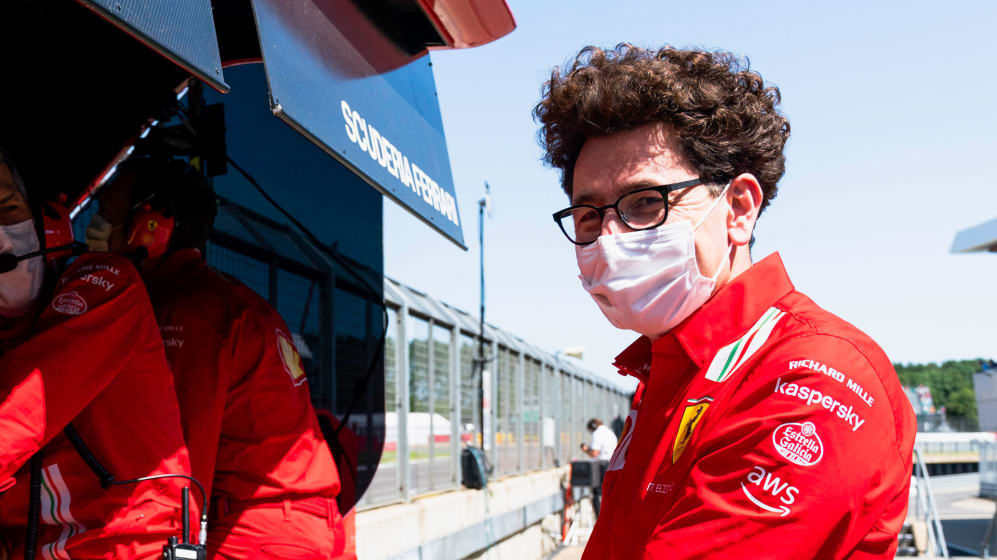 Mattia Binotto has already praised his pair of drivers as the best line-up on the grid, but the Ferrari Team Principal has also said that his team have managed to halve the qualifying gulf between themselves and the top teams from 2020 to 2021.
The team boss acknowledged that, with 163 points after 11 races, Ferrari have doubled their haul of points over this point in 2020 and already eclipsed last year's points total – while challenging for third in the standings – but offered an extra metric that proves his squad have improved from last year.
READ MORE: Ferrari boss Binotto rates Mick Schumacher's progress in first year of F1 against pre-season objectives
"If we look at the lap time, the pure car performance, let's say quali last year – because we are all at the maximum performance… if we take the average of the entire season we were 1.4s off the pole and today we are 0.7 [seconds]. So, 0.7 is still a distance, it's not negligible, we are fully aware of it, but still, I think we halved the gap to the best.
"It's encouraging, because… the direction is the right one. We are third in the constructors' and equal points to McLaren, which again, is showing, somehow in that respect, progress."
It's not just on track that Ferrari have improved but in the pits, as Binotto praised his team's consistency when it comes to wielding their wheelguns.
"As we say, I think it's not only about pure performance; our objective is to try to improve in all of the areas in 2021 and if I'm judging all the areas we may take, for example, as well, the pit stop," continued Binotto.
"On the pit stop for example I always say that a good pit stop is below three seconds to green so as well, the driver leaving the pitlane. Maybe three seems a high number but I always say in strategy it's important to try to be consistent, not only fast… because if your stop may last four point five, five seconds, or six seconds that puts us in a [difficult] situation.
READ MORE: WATCH: The top 10 fastest pit stops in 2021 so far – who's top of the stops this season?
"If we look at… how many times we have been below three seconds in 2021 so far: 84%. Last year? 48[%]. So here again, showing that in terms of team pit crew, mechanics in terms of pit stops, we are certainly improved our pit stop time and our pit stop quality… there is only one team that is doing better than us in terms of percentage below three seconds," he added.
On 163 points so far, Ferrari have it all to do to take third in the championship as they sit level with fourth-place McLaren ahead of the Belgian Grand Prix.