Brown explains McLaren car's fluctuations in form ahead of Monaco after Miami GP 'sucked'
McLaren CEO Zak Brown says the team's point-less outing in Miami "sucked" but is optimistic that their performance in Monaco and the races that follow will improve, believing they will have "a strong second half of the year".
Miami saw both McLaren drivers finish outside the points for the third time this season – following point-less races in Bahrain and Saudi Arabia – with Lando Norris and Oscar Piastri taking the chequered flag in 17th and 19th, respectively.
READ MORE: McLaren to run one-off 'Triple Crown' livery at Monaco Grand Prix as part of 60th anniversary celebrations
While Norris was hit from the back by AlphaTauri's Nyck de Vries at the start, McLaren's problems were exacerbated by Piastri suffering what he described as a "major failure" on his brake-by-wire six laps into the Grand Prix.
Reflecting on that weekend on the latest episode of the F1 Nation podcast, Brown admitted to Tom Clarkson and Natalie Pinkham that, while he and his team were disappointed by their performance in Miami, they are excited by the prospect of improving at Monaco and in the races to come.
"Miami sucked – clearly disappointing," said Brown. "We are getting to know more about our car, and we understand why we weren't where we needed to be in Miami.
"So, the first step if you have an issue is understanding it versus scratching your head being confused.
"I think we will go alright in Monaco; we obviously came to the table with an underdeveloped car at the start of the year. We knew that we called our shot, and it turned out we knew we weren't going to be where we want to be.
"But the exciting part is we think we are going to get a lot better. For Monaco, not a lot of development, so I think it is going to be more the second half of the year. But we've run well at Monaco, and we think it's a track that suits our car more than Miami.
READ MORE: McLaren share progress across several key areas in latest sustainability report
"So, I think we should be okay, but it's very tight through the field. So, you only need to be off by a tenth or two to be right towards the front, or right towards the back."
Despite not having scored points in Bahrain, Jeddah and Miami, McLaren did finish in the top-10 in Melbourne and Baku.
When asked why the MCL60 has been inconsistent by Tom Clarkson, Brown responded: "I think race cars can be temperamental in their characteristics.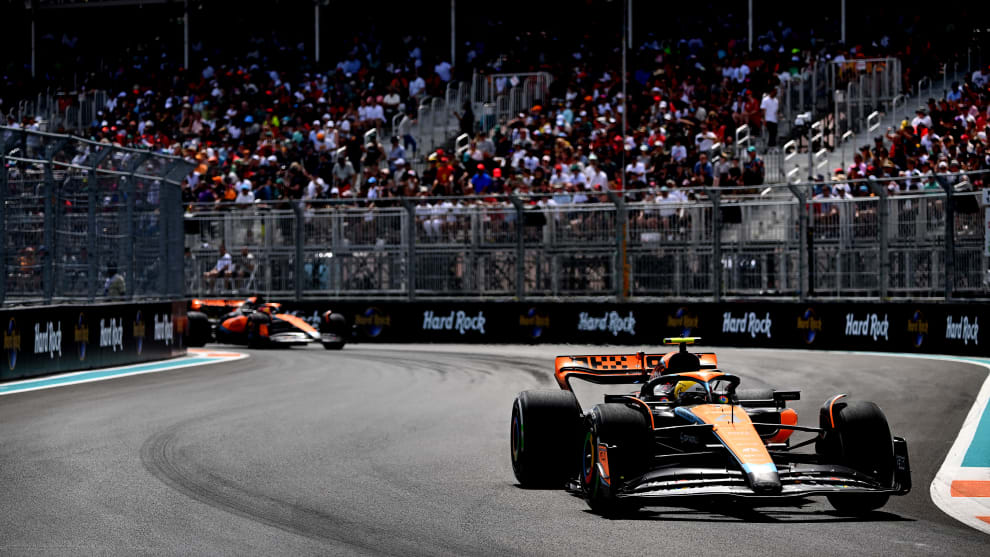 "Obviously, the great race cars are good in all conditions. We have a car that doesn't like a lot of heat, it's kind of rear limited. Miami was hot, it's a new circuit and it kind of lacked some grip as a new circuit would.
TECH TUESDAY: McLaren's aggressive solutions to the challenges of 2023
"Miami was a circuit like Bahrain that doesn't suit our car. Obviously when we get a better car you want to smooth out where our high and lows are and kind of have a better average.
"I think Monaco will be better, we feel good about Montreal, and we will start having some more significant developments around Austria and the British Grand Prix. Hopefully [we're] on track for a strong second half of the year."