'Cloud nine doesn't get close to where I am' – Hamilton on title number 6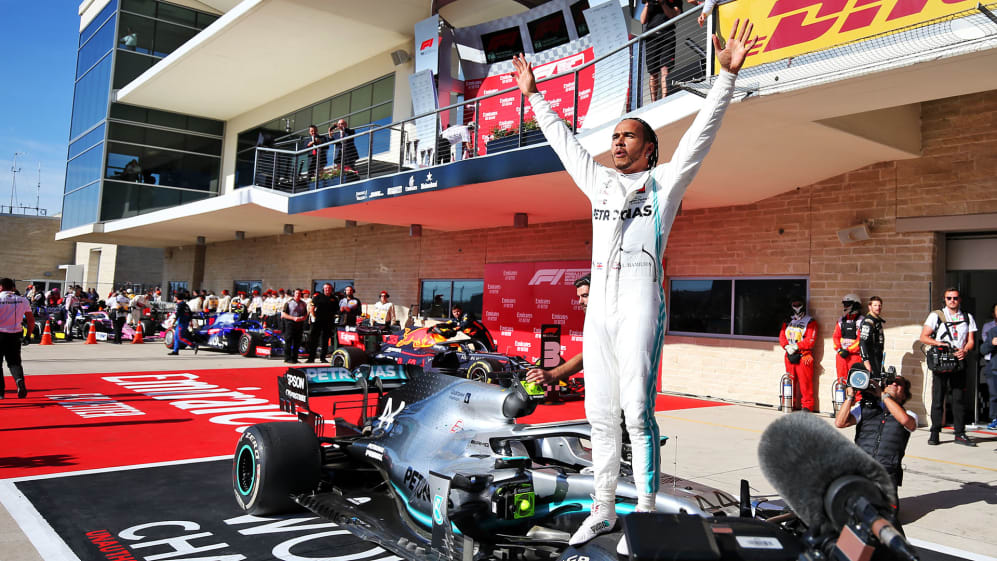 History has been made: Lewis Hamilton has stepped out of the great Juan Manuel Fangio's shadow to join Michael Schumacher as one of only two drivers in history to have won as many as six F1 world championship titles.
In a campaign that has seen the Briton fight every inch of the way for race wins, steadfastly refusing to think only of points for the championship, it was fitting that Hamilton sealed a fifth crown in six years with another bullish drive in Austin, even if he eventually had to settle for second in the US Grand Prix behind Mercedes team mate and title rival Valtteri Bottas after just failing to make a one-stop strategy work.
READ MORE: Bottas wins in Austin as Hamilton crowned champion again
"Cloud nine doesn't even get close to where I am – I'm somewhere far above that," said Hamilton as he tried to take in the magnitude of his accomplishment.
"Right now it's hard to understand what I'm feeling to be honest. Naturally just pure happiness."
'Hardest year I can remember'
This season will be remembered as one where Hamilton underlined his credentials as the greatest all-round driver on the grid – and undoubtedly one of the best of all time.
Armed with a Mercedes W10 car he immediately felt at one with, the 34-year-old set himself on course for back-to-back title defences with a red-hot opening half of the season in which he won seven of the first 10 races, seemingly having raised his game once more to another level.
Ferrari, who had been expected to lead from the front after pre-season testing, came on strong in the second half, but perennially a threat, even when he wasn't winning, Hamilton comfortably kept them and team mate Bottas at arm's length to wrap up the title with two races to spare.
But if he made it look easy, Hamilton admitted it had been anything but. "This has been the hardest year that I can remember. It's really hard for people probably to fully appreciate that because obviously they're not with me all the time and understand the ups and downs that go on in an athletes mind.
"But it's been so challenging, working with the guys [team], the fitness side of things, the healthy side of things, the travelling that we're doing, the ups and downs we've been experiencing. I would say more so the ups and downs outside the sport has been even more challenging."
'A privilege to drive for Mercedes'
2019 is Hamilton's seventh season with Mercedes, the team that have guided him to five of his six titles. Unsurprisingly, Hamilton reserved special praise for them, as well friend and former colleague Niki Lauda – the man who tempted Hamilton to the Silver Arrows, and who passed away earlier this year.
"I'm really, really grateful to everyone back at the factory, everyone who has supported me this year within the team, who have worked so hard to enable us to do what we do," said Hamilton
"It's such a privilege and an honour to work for this team, to be able to go out there and have the platofm to put in petrformances in like that today.
"I miss Niki so much, I know today he'd be taking his cap off. Yesterday he would have been saying he was paying me too much (laughs) but today he would have taken his cap off. I wouldn't have been able to do this without Niki, so he's here with us in spirit."
'As fresh as can be'
When the dust settles from this latest triumph, the question will inevitably turn to whether Hamilton can match Schumacher's tally of seven world titles – a record that when set in 2004, many thought was untouchable.
Fifteen years later, Hamilton has put himself within reach of that milestone. And with his powers showing no signs of diminishing, few would bet against him being firmly in the hunt for making more history this time next year.
"I don't know about championships, but as an athlete I feel as fresh as can be right now. I'm ready for the next race – these next races we won't let up, we'll keep pushing."
And that's Hamilton in a nutshell: relentlessly seeking victory. Just one of the attributes that makes him so special…