Cross-threaded wheel nuts caused Haas double DNF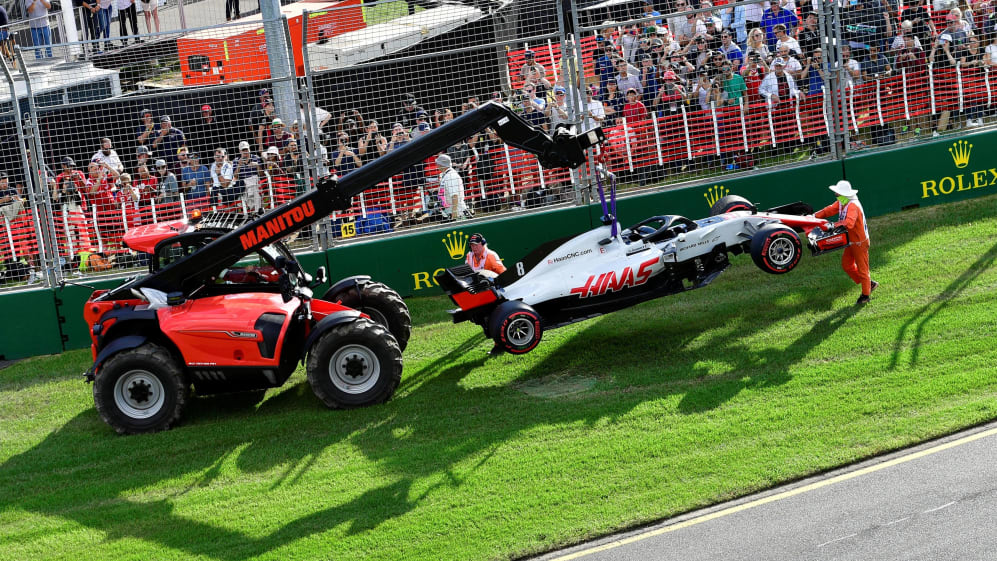 Mercedes picked them out as the dark horse and for the early part of the Australian Grand Prix, it looked as if Haas would live up to that billing. But then a "freak" incident hit…
Kevin Magnussen and Romain Grosjean were running fourth and fifth respectively at Albert Park, putting Haas on course to score their best-ever result since joining the F1 fray in 2016.
However, in a catastrophic few moments for the American team, both cars retired on the lap following their respective pit stops, losing them a potential 22 points, which is just shy of half their entire tally in 2017.
Haas team principal Guenther Steiner said the wheel nuts were cross-threaded on both cars, meaning the tyre wasn't fixed correctly before each departed their pit box.
"It was just a bad pit stop," said Steiner. "The wheelnut was on but it was cross-threaded. That doesn't tighten the wheel up but for the mechanic, it feels like it is tightened and it wasn't.
"Sometimes, these pit stops, they are so quick you have no time to check it and they didn't check. It wasn't correctly on. These things happen. What can you do?
"It's unbelievable to have the same problem in two stops, one on the front wheel, one on the rear wheel. Even if it's not believable, it's real. It happened.
"It's very disappointing end to the day for us. But the pace was good, the car was running. It is still a feel good story as we're up with the big boys."
Steiner said a combination of factors, including not enough pit stop practice, led to the problems during Sunday's race in Melbourne.
"This weekend was very intense for us, we had issues in FP1 and FP2," said Steiner. "We didn't have many spares so we didn't do a lot of practice.
"We didn't do a lot of pit stop practice, we did the minimum. That could be one of the reasons.
"What we need to do and this is what we have discussed is that when we get to Bahrain to start as quickly as possible to practice there.
"A lot of people who are part of the pit crew are leaving early to set up out there so you never have a full crew. If you train with a half crew, it's can be even worse.
"You have to focus on Thursday to put the pit stop practice in."
Magnussen added it was "so heartbreaking to finish like that" but vowed Haas will "fight back and do it all again".
Haas were fined €10,000 for the unsafe pit releases with the punishment noting "the team ordered the car stopped immediately, and the driver stopped as fast as he safely could".