Feature
Crypto.com Overtake King Award 2022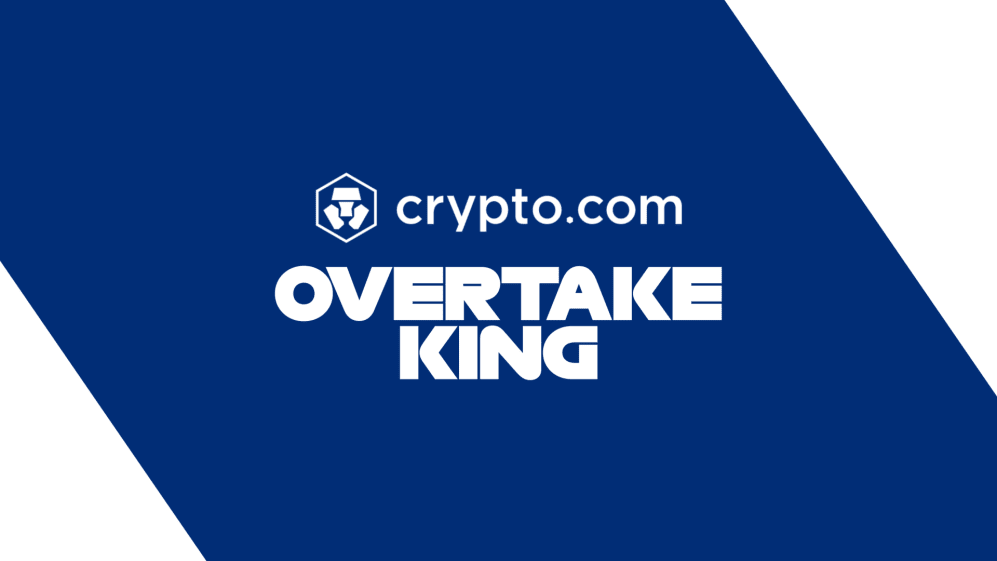 For 2022, F1 and Crypto.com are letting you, the fans, be the judges of the best on-track action, with the Crypto.com Overtake King Award. At each Grand Prix, F1 fans can vote via social media for the boldest and bravest manoeuvre of the day – with that driver earning the Overtake King Award.
With one winner per round, at the end of the 2022 season, each and every winning moment will then be pitted against one another, with the fans again voting for their absolute favourite on-track move of the season – and with that driver being crowned the 2022 Crypto.com Overtake King.
Season Winner - Sebastian Vettel: United States
After 22 enthralling rounds, you chose Sebastian Vettel's last-gasp pass on Kevin Magnussen at the United States Grand Prix as the best move of 2022, earning the retirement-bound four-time champion the overall Crypto.com Overtake King crown in his final F1 season.
Round 22 - Abu Dhabi: Zhou Guanyu
Alfa Romeo's Chinese rookie Zhou Guanyu ended his first Formula 1 season in style by picking up your vote for winning out in this high-speed tussle for 12th place with Williams' Alex Albon on the very last lap of the 2022 finale around the Yas Marina Circuit.
Round 21 - Brazil: George Russell
Mercedes' George Russell had an unforgettable weekend in Sao Paulo – victory in the F1 Sprint, a maiden Grand Prix win and the fastest lap to boot. And it was moves like this one on reigning world champion Max Verstappen that paved the way to that success.
Round 20 - Mexico: Lance Stroll
A disappointing qualifying combined with a three-place grid penalty meant that Lance Stroll started last in Mexico City. But when the lights went out, the young Canadian didn't hang around, a stunning start lifting the Aston Martin star five places by the end of Lap 1.
Round 19 - United States: Sebastian Vettel
For the second time in three races the plaudits go to Sebastian Vettel, the German veteran seemingly relishing his racing more than ever. "I have to say it was some driving," commented Kevin Magnussen, the man on the receiving end. Couldn't agree more.
Round 18 - Japan: Lance Stroll
This kind of precision start would be remarkable enough in the dry, let alone on a soaked Suzuka grid where visibility was notable by its absence. It took Lance Stroll and his Aston Martin from 19th to 11th place on the opening lap in Japan. Brave stuff indeed.
Round 17 - Singapore: Sebastian Vettel
He may be a handful of races away from F1 retirement, but Sebastian Vettel has lost none of his killer instinct when it comes to overtakes, as this remarkable sequence of passes – pulled off on an unforgivingly spray-strewn and wet street circuit – shows.
Round 16 - Italy: Lewis Hamilton
While Lando Norris and Pierre Gasly were engrossed in their battle for position through Monza's first chicane, lurking behind was a seven-time world champion, just waiting to pounce on any opportunity. When he saw one, he didn't need asking twice.
Round 15 - Netherlands: Mick Schumacher
Close friends off-track, Mick Schumacher and Sebastian Vettel certainly got pretty close on-track during the Zandvoort race. The younger of the two Germans won out in this wheel-to-wheel dice, displaying inch-perfect judgement to move ahead of the four-time champ.
Round 14 – Belgium: Esteban Ocon
In scenes reminiscent of Mika Hakkinen's famous move on Michael Schumacher at Spa over 20 years ago, Ocon found his way past not one but two rivals as they duked it out down the Kemmel Straight, first following Pierre Gasly past the Aston Martin of Sebastian Vettel, before hanging tough around the outside of his fellow Frenchman through Les Combes.
Round 13 - Hungary: Daniel Ricciardo
The McLaren man has not been putting in as many passes as he'd like of late, but this one – actually, let's make that two – in Budapest was a blinder. Yes, the squabbling Alpine team mates aided Ricciardo's cause, but this was opportunistic overtaking at its very best.
Round 12 - France: Fernando Alonso
We didn't have to wait long for the move you chose as your winner from Paul Ricard. Starting seventh for his Alpine team's home race, Fernando Alonso got one of his trademark lightning getaways, helping him pick off not one but two cars through the opening turns.
Round 11 - Austria: Charles Leclerc
Given that Charles Leclerc had to overtake Max Verstappen on track not once, not twice, but three times en route to his Austrian Grand Prix win for Ferrari, it's perhaps no great shock that one of those passes got your vote. Here it is, in all its aggressive glory.
Round 10 - Great Britain: Lewis Hamilton
Silverstone threw up some amazing battles, but unsurprisingly you voted for this stunning three-way scrap between Mercedes' Lewis Hamilton, Red Bull's Sergio Perez and Ferrari's Charles Leclerc. Calling on all his experience, it was the seven-time champ who emerged in front.
Round 9 - Canada: Charles Leclerc
He may have managed only P5 at the flag, but Ferrari's Charles Leclerc was his usual precision self when it came to carving his way through the pack in Montreal. You voted for this combination of bravery and accuracy as he despatches Alfa Romeo's Valtteri Bottas through the Circuit Gilles-Villeneuve's final turns.
Round 8 - Azerbaijan: Sebastian Vettel
The punishing Baku City Circuit does not provide much room for error, which makes this precision move from four-time champion Sebastian Vettel all the more impressive. The Aston Martin man bravely muscles his way around the outside of Yuki Tsunoda through Turn 3, giving himself the inside line into Turn 4 to complete an amazing pass on his AlphaTauri rival.
Round 7 - Monaco: Pierre Gasly
The hardest F1 track to overtake on? Got to be Monaco, right? Apparently no one had told Pierre Gasly, the Frenchman pulling off more than one audacious pass in tricky conditions around the rain-sodden streets of Monte Carlo. This superb move on Daniel Ricciardo coming into the Swimming Pool section got your vote.
Round 6 - Spain: Lewis Hamilton
Having dropped to P19 on the opening lap, this was the pass – a stunner around the outside into Turn 1 – that took Lewis Hamilton into fourth place in the closing stages of a thrilling Spanish Grand Prix. Okay, car problems meant that he had to surrender the place back to Carlos Sainz soon after, but it was a move that encapsulated the Mercedes man's battling recovery drive.
Round 5 - Miami: Fernando Alonso
Fernando Alonso may have come away from the inaugural Miami Grand Prix with nul points – but the Spaniard put on a hell of a show on track. And it's Alonso who takes the plaudits, having pulled off a beautiful move on Lewis Hamilton on Lap 1 – and telling the media afterwards that a slow drivers' parade had allowed him to get a read on the asphalt at Turn 1 and plot his overtake.
Round 4 - Emilia Romagna: Max Verstappen
There was no shortage of gutsy overtaking manoeuvres at Imola – given the trying conditions, gutsy was usually the only way to go. Your vote went to this masterclass of a pass from Max Verstappen, skilfully seizing the lead late on from Charles Leclerc to triumph in the F1 Sprint.
Round 3 - Australia: Sergio Perez
Sergio Perez looked like a driver on a mission at the Australian Grand Prix, pulling off some beautiful moves. Top of the pile, though, was this opportune pass on Lewis Hamilton going into the fearsomely fast Turn 9, allowing Perez to ultimately claim his first podium of the season.
Round 2 - Saudi Arabia: Kevin Magnussen
The second Formula 1 race at the Jeddah Corniche Circuit had no shortage of spectacular overtakes - including an intra-team dice between the Alpine drivers and a thrilling duel for the win - but this multi-corner stunner from Haas man Kevin Magnussen rightly took your plaudits.
Round 1 - Bahrain: Charles Leclerc
On-track opponents don't come much tougher than Max Verstappen, but Charles Leclerc had the measure of the world champion, repassing the Red Bull not once but twice on successive laps, with the second overtake below all but sealing the Monagasque driver's third F1 victory for Ferrari.