Feature F1 Unlocked
David Tremayne on Mexico '86 – the day Berger and Benetton became F1 winners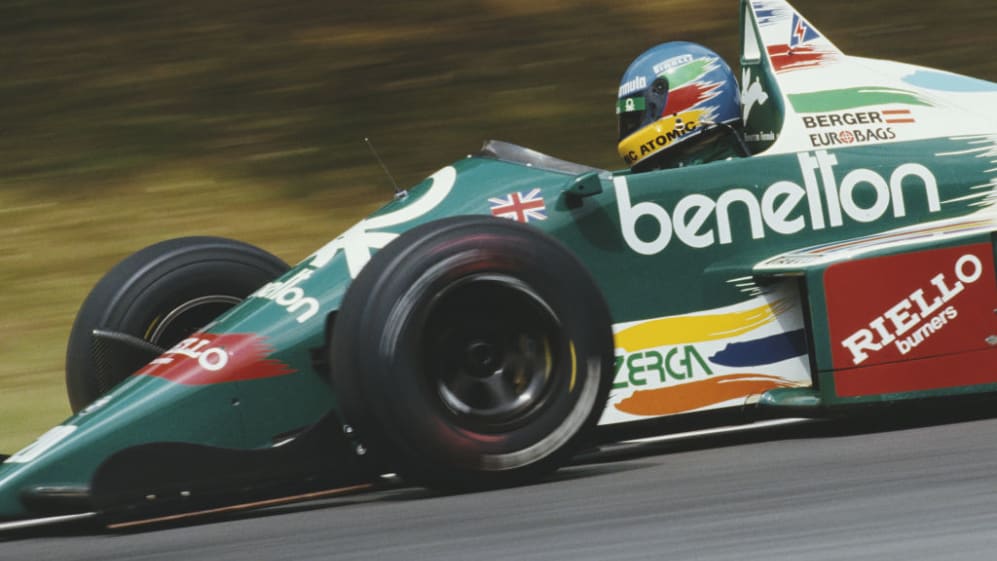 This week marks the anniversary of Gerhard Berger and Benetton sealing their very first Grand Prix win, back in 1986 in Mexico City. Hall of Fame F1 Journalist David Tremayne looks back on that moment and explains why it holds such a special place in his memory...
October 12th, 1986. A date, like March 27th, 1983, that I have never forgotten.
On the latter I attended the US GP West at Long Beach and wrote my first pukka piece from a Grand Prix for Motoring News. But the former was the first time I'd actually covered the whole event for the newspaper. Next weekend in Texas I'll attend my 590th Grand Prix, and it will be the 646th that I've reported on.
Doubtless Gerhard Berger remembers the latter day fondly too, as well he might, because that was when he scored his and Benetton's first Grand Prix victory, at the Autodromo Hermanos Rodriguez.
It was his future team-mate Ayrton Senna who took pole position for the Mexican Grand Prix in a Lotus 98T, from fellow countryman Nelson Piquet and Nigel Mansell in their Williams-Hondas.
But Gerhard was up there too, fourth on the grid in the BMW turbo-powered B186. Riccardo Patrese and Derek Warwick in the tricky lay-down Brabham BT55s sandwiched Alain Prost's McLaren MP4/2C behind this quartet, with Patrick Tambay in his Haas Lola THL-2 eighth ahead of Teo Fabi's Benetton and Philippe Alliot's Ligier JS27.
READ MORE: 'Today was a little present to myself' – The story of Michael Schumacher's 91st and final F1 win
As I recall, there was quite a bit of fuss in practice concerning the flexibility or otherwise of the floor of Ayrton's Lotus-Renault, with rivals claiming that it deformed and enhanced the car's downforce at very high speeds.
This was to be a race that was all about ambient heat, and tyres. Back in those days Goodyear had all the main runners – McLaren, Williams, Lotus and Ferrari, plus Tyrrell, Arrows, Haas Lola and Zakspeed. Pirelli supplied Benetton, Brabham, Osella, Minardi and Ligier.
And it began with drama, as Our Nige faltered at the start. It was thought he may have started in third rather than first gear; he was adamant that first had simply refused to select.
READ MORE: 'He had to fight for it all' – David Tremayne on how 'people's champion' Nigel Mansell finally tasted F1 title glory
This was a massive blow, as his world championship quest was finely poised. Coming into the race he was leading with 70 points to Nelson's 60 and Alain's 59…
Whatever the true reason, he paid a horrible price. As his Williams failed to move, title rival Nelson's did not. Doubtless chuckling into his helmet – relations between the two were getting increasingly strained, as we shall see later – the Brazilian jumped into the lead from Ayrton after a bit of wheel-locking resistance from the latter in the first corner, with Gerhard and Alain chasing hard.
After stuffing his car into second gear and limping away, Nigel had slumped to 18th in the 25-car field.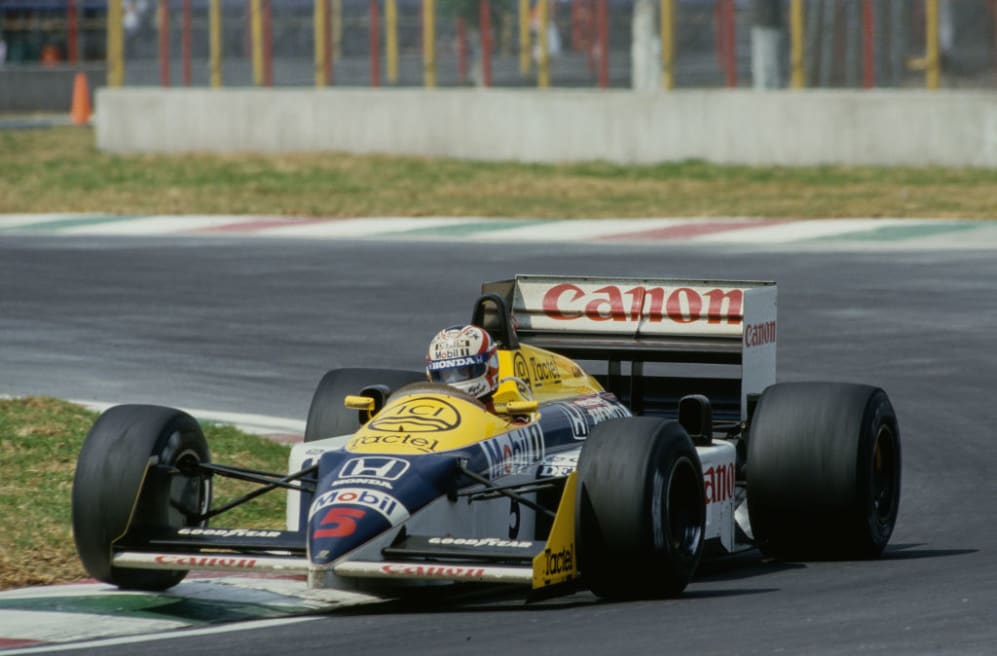 He battled his way up to ninth place by Lap 11, but the progress came at a price as his left front Goodyear soon blistered and he pitted for a new set on Lap 12, dropping back to 17th and starting all over again.
Alain had slipped ahead of a careful Gerhard on the seventh lap and was keeping Ayrton company until the McLaren headed pit-ward for fresh tyres on Lap 30 and dropped down to sixth. Nelson ruled the roost until Lap 31, then dropped to third with his stop on 32. That briefly put Ayrton ahead, before he was obliged to do likewise on Lap 36.
READ MORE: 'He was walking on water' – Senna's magical Donington 'Lap of the Gods' remembered by his fellow drivers
This gave Gerhard the lead, and interestingly he had been quickest in the race morning warm-up, courtesy of a special set of soft-compound race tyres which Pirelli had flown in the day before. And in another preview of what was to come, Alain had been second with Ayrton third.
Now the Austrian seemed quite content out front but as Ayrton, Nelson and Alain gave chase in that order, would he, like his Goodyear rivals, need to stop for fresh rubber in the 25 degree C heat?
The answer, it seemed to him in the cockpit, was going to be no. "I wasn't sure to begin with," he said later, "but when I made it to the halfway point I thought I was in with a chance."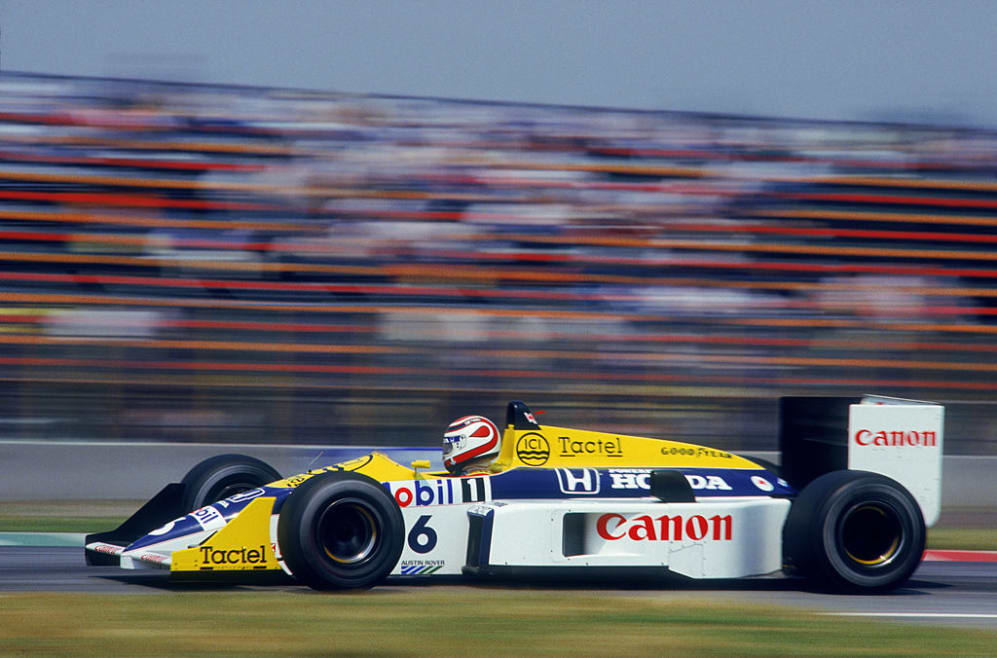 Confirming that view, Ayrton and Nelson soon found their replacement rubber once again beginning to blister. Alain, renowned for his smoothness and how little he took from his tyres, passed Nelson for third on Lap 42 and Ayrton four laps later.
But by then Gerhard was so far ahead that, barring the sort of misfortune that had frustrated him on previous occasions that season, Benetton were going to pull off their first victory. And so it proved. He beat Alain to the chequered flag by exactly 25.438s, with Ayrton some 53 seconds further back.
READ MORE: Remembering the Rodriguez brothers: Mexico's first F1 superstars
It was quite the upset, and there were moments of indecision and, to viewers of that, mirth, as Benetton team boss Peter Collins had to decide which national anthem should be played for the winning constructor. Benetton, after all, was an Italian company even if the team in its initial guise as Toleman had been British. He was rescued when Luciano Benetton plumped for the British variant.
After a gutsy drive, Nigel had hauled himself into fifth place behind the delighted Gerhard, Alain, Ayrton and Nelson, so as far as his team mate was concerned the damage had been limited.
But while the result left him still leading the points table with a net score of 70 from his best 11 results (which meant his Mexican afternoon's damn hard work didn't actually count), Alain now had 64 to Nelson's 63 and Ayrton was out of contention with 55. The fight would thus go down to the wire in Adelaide a fortnight later.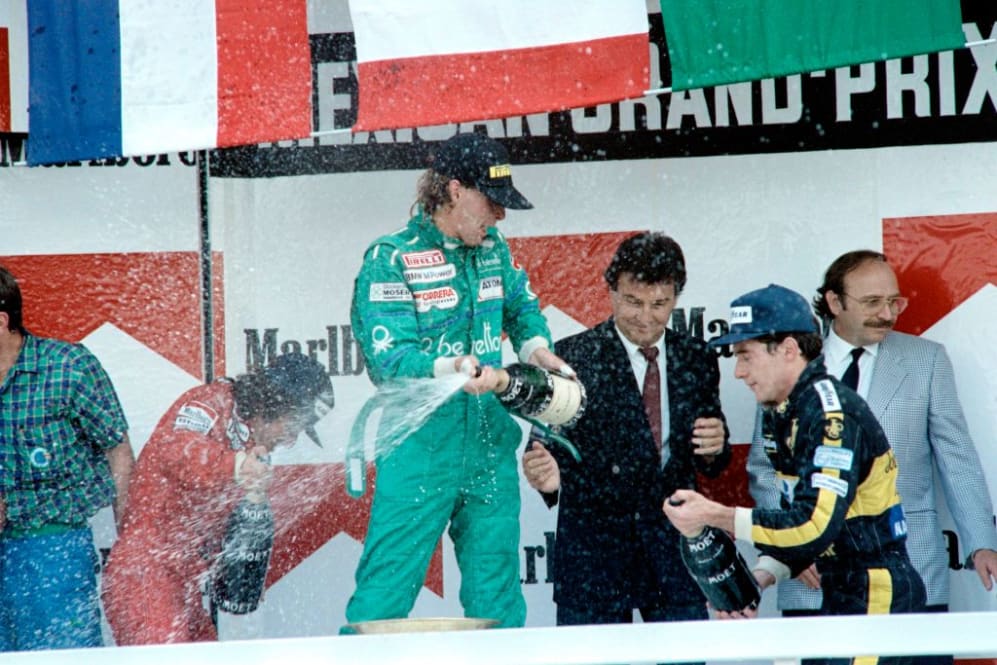 Meanwhile, Gerhard and Peter Collins celebrated their surprise but excellent first triumph. Gerhard was always somebody it was impossible not to like, with his boyish looks, joie de vivre and infectiously juvenile sense of humour, while PC and I were becoming increasingly good friends, so it was a happy occasion as they stood on the rostrum.
There was hair on the cake for PC and Benetton however, as Gerhard had just one more outing for the Witney team before leaving to join Ferrari for 1987.
PODCAST: Gerhard Berger on partying, practical jokes & more
I seem to remember that he boarded the flight to Los Angeles some time later that evening in his green Benetton jacket, smirking happily and still clutching his trophy. Everybody on board cheered and applauded, and he looked like a cheeky schoolboy who had just been caught doing something wrong as he took his seat up the sharp end.
It was a neat postscript to a race I had only attended because I was duped into it.
One day some weeks earlier my esteemed (and now much-missed) Motoring News colleague Alan Henry (AH) had wandered into my office.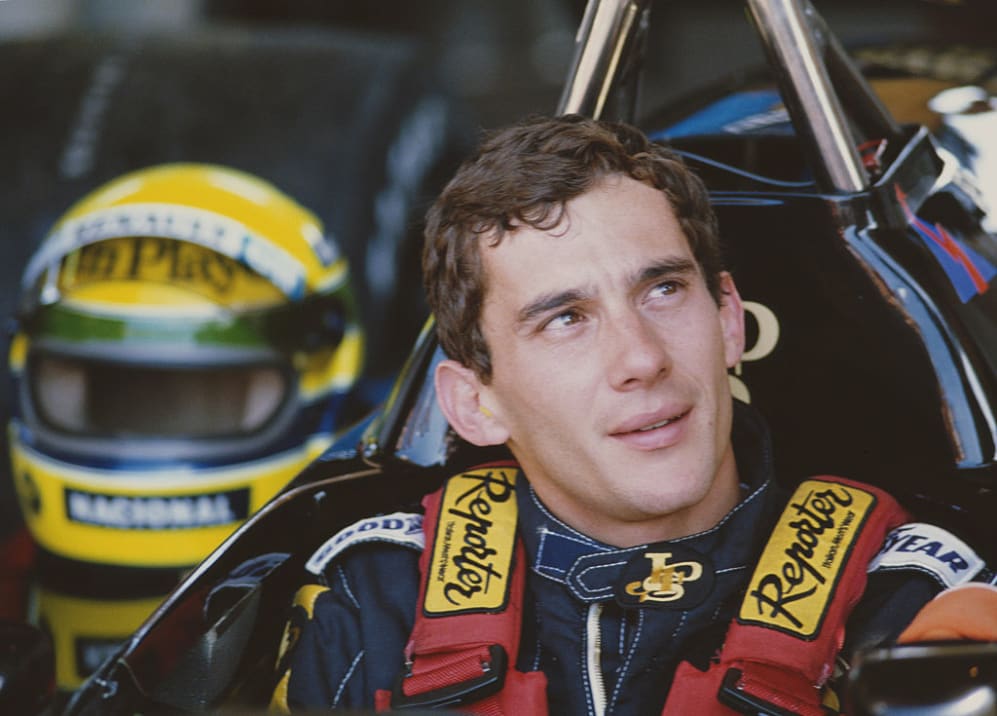 "I say chap, do you fancy covering the Mexican GP for me? Only Ann's about to give birth…"
It took me just a couple of seconds to say yes, and thus I came to visit the Autodromo Hermanos Rodriguez for the first time. That was super-cool because after Donald Campbell, Pedro Rodriguez was my first racing driver hero. I watched him drive from the back to second place in the first race I ever attended, the 1968 Race of Champions at Brands Hatch.
READ MORE: The day John Watson took America to the top step in Formula 1 by winning for Penske in Austria
Writing up practice and qualifying, the race report and all the associated news – call it 25,000 words – made it quite a busy weekend. But it was fun.
I had first interviewed Nigel for the paper early in 1981, and was chuffed when he included me in the group of hacks he invited out for dinner on the Thursday evening to celebrate dear old Murray Walker's birthday the following day.
I deliberately chose the chocolate lard soup as a starter out of curiosity, and it was exactly what it said it would be, tomato soup with a dash of chocolate, and a lump of white lard sat in the middle. Interesting…
Unfortunately, it turned out that Nigel had become rather poorly after our feast out, and over the weekend his impish team mate and title rival had allegedly taken delight in removing some key items from the facilities in the team garage that he would undoubtedly have wished to avail himself of…
Years later, I mentioned to AH that it was interesting how his daughter Charlotte had actually been born six months after that Mexican race, and his face went a gratifying shade of Ferrari red. "Sorry, chap," he smirked. "I just didn't fancy going to Mexico…"
I couldn't have cared less. That race was my big break, the preface to a full time start in F1 when Al left Motoring News at the start of 1988. It's been a wonderful, if busy, life ever since.
To read on, sign up to F1 Unlocked for free
You'll unlock this article and get access to:
Live leaderboard data
Epic experiences and rewards
Money-can't-buy competitions