F1 in Schools trophy presented to winning team 'Britannia Red' by Stefano Domenicali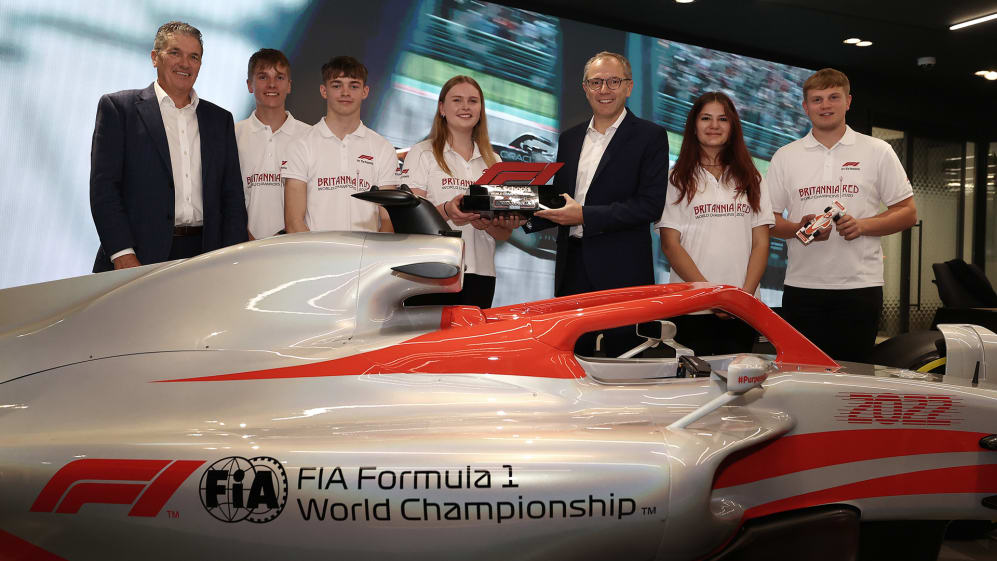 A team of 16 and 17-year-old students from Hampshire, UK, received their Aramco F1 in Schools 2021 Trophy from Formula 1 CEO and President Stefano Domenicali.
F1 in Schools was launched in the UK in 2000, and aims to engage, motivate and inspire students in the field of engineering. It now operates in 54 countries, helping change perceptions of STEM careers for students aged nine to 19. Teams of between three and six students research, design, produce and race a scale F1 car of the future – on a 20-metre racetrack – to develop key skills, and former participants have found careers in Formula 1 teams and related companies.
READ MORE: Formula 1 announces scholarship, apprenticeship, and intern placements for underrepresented groups
This year's winners are team 'Britannia Red' from Robert May's School in Hampshire: Team Manager Amelia Doward, Callum Green, Zachary Taylor, Edward Hodgson, Caolmhe Thomas, and Abigail Bessant. They collected their trophy from the F1 CEO at the F1 offices in London, presenting their body of work and giving an overview of their F1 in Schools journey.
"I was very happy to present Britannia Red with their trophy and meet such a wonderfully talented group of young engineers and see their winning car first-hand, I hope to see them one day in the F1 paddock," said Domenicali. "It is great to see F1 in Schools encourage children to get involved and learn about STEM subjects, which is one of the most important aspects of our sport."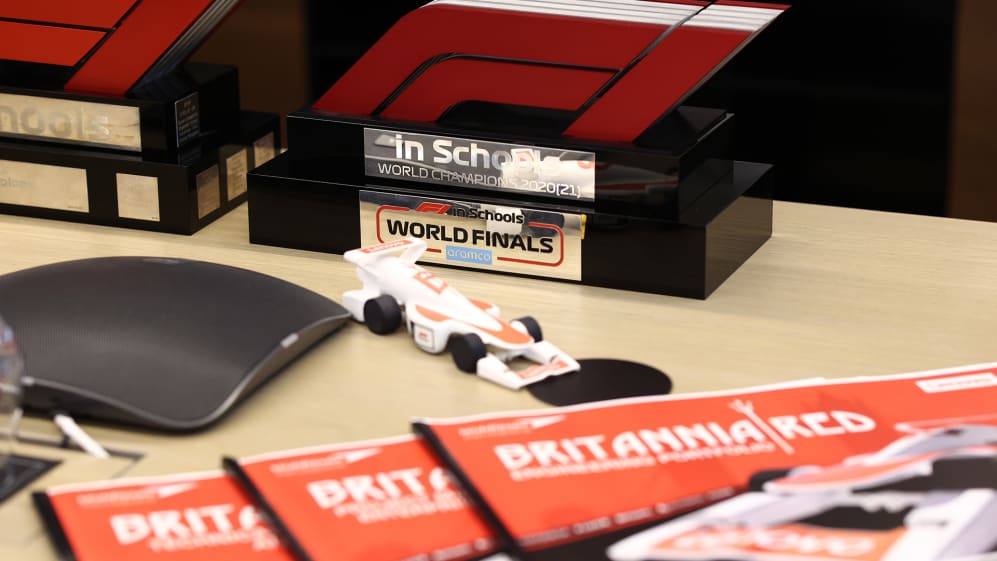 The team clearly enjoyed their visit too, as they said: "Coming to the Formula 1 offices has been amazing. We were blown away by the 2022 car in the foyer and all the helmets on display, it's been very inspiring."
"The highlight has been talking to Stefano on a personal level and him giving us advice about our futures in Formula 1, which is where we all want to be. We're not ready right now to go into a career in F1, this is just a stepping stone and we have to use this as a springboard to our future learning and we need to continue to work hard to get there.
"F1 in Schools has really benefited us, not only with the academic learning and the life skills we've gained but also the contacts we've made and people we've met, it's so much more than just a STEM competition."