Feature
F1 INBOX: Your questions on Vettel's crash, Steiner's rage and Albon's electrifying British Grand Prix answered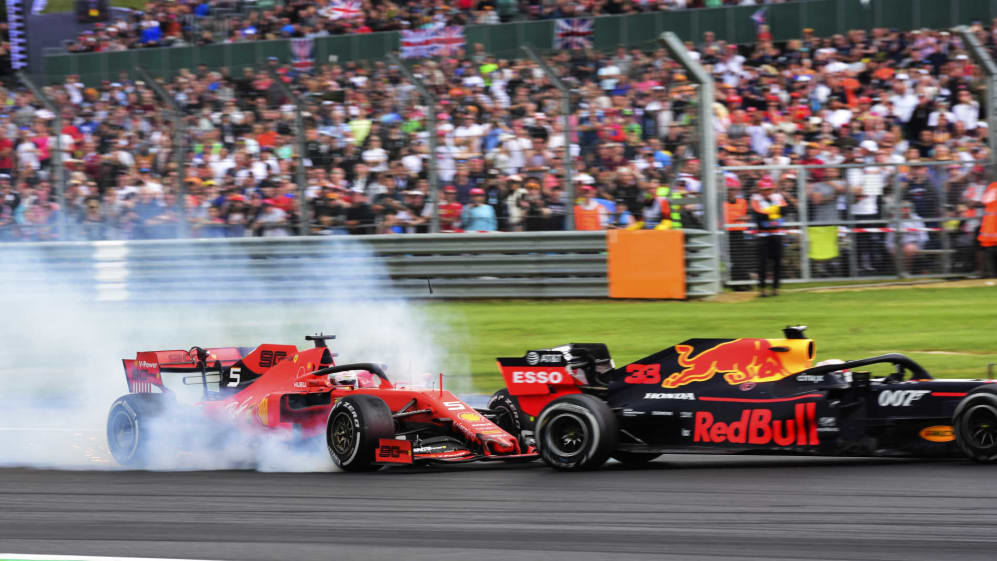 After a cracking British Grand Prix, we asked you for your questions from the 70th running of the historic race – and then got paddock insiders Mark Hughes and Will Buxton to answer them for you…
Did Leclerc and Verstappen play it safe?
Oops! Error retrieving Twitter post
MARK HUGHES SAYS…
Any cars intending to do a practice start at the end of the pit lane must use the slow lane. But with no-one about to do practice starts in the race, that lane is available to use for the purposes of racing. There's no actual difference in the speed limit of each lane. They are termed 'slow' and 'fast' just to signify which is for the practice starts.
Time for Seb to take a break?
Oops! Error retrieving Twitter post
WILL BUXTON SAYS…
It's a really good question John and sadly I don't think this answer will go anywhere near addressing the full complexity of the apparent enigma that is Sebastian Vettel. Was 2014 a result of four consecutive seasons fighting for and winning world championships? A necessary breather, if you like? Perhaps. As such, you could argue 2019 is vastly different. Are the mistakes Seb's? Are they Ferrari's? Is the pressure to succeed in a season which had looked so positive but has unfolded so catastrophically too much for him to handle? Is his impressive young team mate an added frustration he could do without?
One could argue that these cracks haven't simply been apparent in 2019. One could argue he's been off his game for a year. One could find reason to argue it goes back even further. One could claim he's always struggled when things have been difficult. One could find evidence that he's regularly cracked under pressure. And yet, one could counter all of that with examples of his extraordinary craft and brilliance behind the wheel.
What is certain is that Sebastian Vettel, his abilities and his racing acumen are currently being not only challenged, but in some corners completely reappraised in light of what some people argue is not a slump but a reflection of a weakness which has always existed. The coming races will, I feel, come to determine not just whether he stays in Formula 1, but the very nature of how his achievements in the sport, and thus his legacy, will come to be viewed.
Leclerc to the forefront?
Oops! Error retrieving Twitter post
MARK HUGHES SAYS...
No, not in any material way. I think the team will still endeavour to support Vettel, but they are free to race. Given that they do not look like contending for the championship this year, the potential heat has been taken out of that situation. In situations where one is being held up by the other and a car from a rival team is getting away, they will instruct the leading driver to allow the other through, as they've done already this year with both of them.
Steiner on the warpath
Oops! Error retrieving Twitter post
WILL BUXTON SAYS...
Don't sugarcoat it Benny! Ha!
Let's be honest, I'd imagine they were both verbally slayed by Guenther after Silverstone, and that's something I don't think anybody would envy. On a weekend when Haas needed both drivers and both very different cars to complete the race to give them verifiable and usable data on what the core differences were between their original design and their upgraded spec, to have their racers collide and put each other out was unforgivable.
I've seen a lot of rumours that Romain will be replaced either in 2020 or before, but to my mind he is doing a good job and has rebuilt himself from the difficulties of last year. Kevin is driving well but can still, at times, be a touch forceful. I don't really see the need for the team to change their line-up but with the likes of Hulkenberg, Perez and Ocon potentially being in play this silly season, there are some hugely strong alternatives should Haas grow tired of either or both of their boys.
Albon's (electric) shocker
Oops! Error retrieving Twitter post
MARK HUGHES SAYS…
A malfunction within the battery meant that the car was 'live' - i.e. anyone touching it would have received an electrical jolt. The battery has to be discharged in such situations to make it safe for the car to be handled. This is what the ERS red/green light is for. Hence there was no point in making a pit stop and so poor old Albon had to persevere with his ancient tyres.
Got a question for our experts? Tweet us using the hashtag #F1Inbox and we'll try and answer it for you!