Feature
F1 POWER RANKINGS: Bottas takes control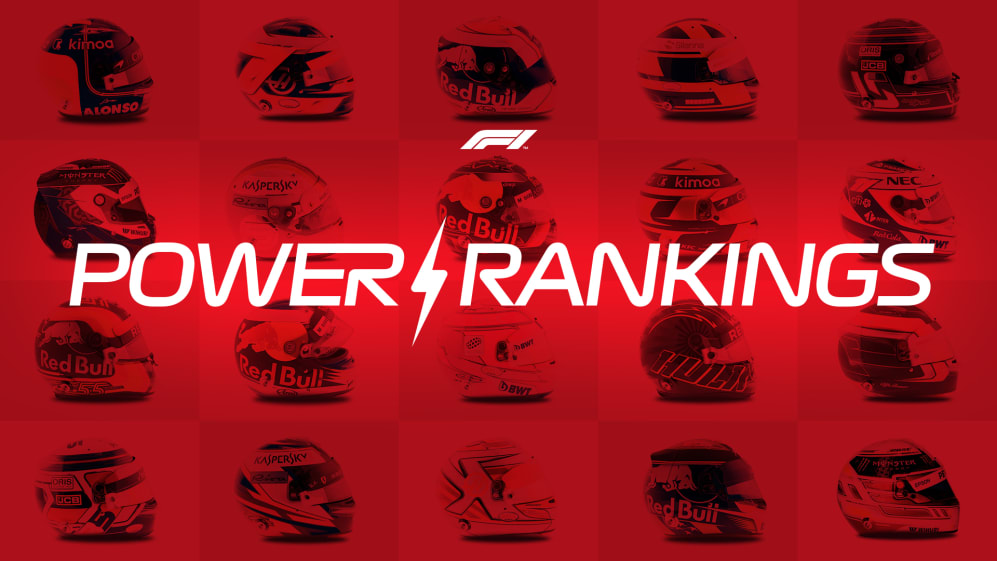 He may have had victory cruelly snatched from him at the death in Azerbaijan, but Valtteri Bottas can at least take solace from leaping to the top of our index of driver form...
HOW IT'S DONE
In a brand-new feature for 2018, our team of experts assess each driver after every Grand Prix and score them according to their performance across the weekend - taking machinery out of the equation

Our experts' scores are then combined to produce an ongoing overall ranking which reflects driver form - taking only the three most recent races into account
This week's Top 10

Ladies and gentleman, we have a new number one. He had a miserable opening race in Australia, but over the last three races, has anyone driven as well as Valtteri Bottas? Not to our experts' minds. Having outpaced and outraced team mate Lewis Hamilton in Bahrain and China, the Finn brilliantly extended his opening stint in Baku, looking after his tyres before ramping up the pace when necessary. Having rolled the dice he then got his reward when the Safety Car was thrown - even if his luck ultimately ran out quickly. On this evidence, can Mercedes afford not to keep him?

Vettel drops one place in our rankings this week, with his three-race score only marginally below Bottas's. In truth, Azerbaijan was another very solid weekend for the German, though not his best of 2018. He took his third straight pole on Saturday, but barring a late mistake by Kimi Raikkonen in Q3, he would have been beaten by his team mate. He then threw away a podium with his misjudged overtaking attempt on race leader Bottas at the Safety Car re-start. But we're nitpicking - it's hard to criticise someone for having the guts to go for the win rather than settle for second (even if it did cost him the championship lead).

As he limped back to the pits with punctured tyres and a damaged floor after getting involved in a contretemps on lap 1, it seemed ludicrous that Fernando Alonso would extend his point-scoring streak. But the Spaniard is no ordinary driver. Yes, he benefitted from others going out ahead of him (hello Red Bull) but you've got to be in it to win it, and that's why the hard-charging, hugely consistent Alonso remains so high up in our rankings. Spare a thought for Stoffel Vandoorne right now - these are high targets to aspire to.

A penny for Daniel Ricciardo's thoughts as he skidded out-of-control into the run-off on Sunday afternoon, having just clattered into the back of his Red Bull team mate. On a high after his epic win in China, Ricciardo's pace all weekend suggested he was in with a shout of victory. Max Verstappen had other ideas, with the duo spending most of the race squabbling among themselves. You could argue a crash was coming. It's a shame given Ricciardo's potential, but his performance was enough to keep him fourth in our index of driver form. His stock took a hit, though. A big response is required in Barcelona, not only for his own confidence but for his future career prospects.

China wasn't Lewis Hamilton's weekend, and neither was Azerbaijan. On neither occasion did the Briton look truly in contention pace-wise but - and it's a big but - in such situations he has a knack for keeping himself in the mixer, ready to pick up the pieces. That's an admirable quality, especially as other drivers in similar situations often become anonymous. Yes he got lucky - and was the first to admit it - but if you can take the championship lead when you're not at your best, the rest better watch out when he is.

Always the bridesmaid, never the bride - that sums up Kimi Raikkonen's season, such has been the Finn's almost magnetic attraction to second place. Once again, Raikkonen's speed was there in Baku, but scruffiness cost him the chance to really push for victory. First there were the mistakes in qualifying - locking up in Q2 and ruining a set of tyres, losing pole to a late mistake in Q3 - then there was the clash with Esteban Ocon on lap 1. He blamed the Frenchman, but did Kimi need to take such a risk so early, at a corner where we've seen such trouble before? That being said, his recovery drive was excellent and keeps his three-race score high enough for sixth.

It says something about Sergio Perez's season that the driver who finished best of the rest in seventh in last year's drivers' standings is making his first appearance in our index this season. The car has not been up to scratch, admittedly, but even so he didn't appear quite the same performer. In Baku, though, Perez did what he does best - take advantage of the chaos. Hit from behind by Sergey Sirotkin, which pitched him into Kimi Raikkonen and broke his front wing, Perez found himself in the pits on lap 1. But from there, he did not put a foot wrong passing six cars on track - including Vettel's Ferrari. A podium for a non-top three team is like gold dust these days, but Perez got his hands on one in Baku and deservedly so. All he needs, it seems, is a sniff.

Nico Hulkenberg has done almost nothing wrong this year. Points in every race before Baku, he earned his lofty position in our index. All of a sudden, that first podium – after 140 races – didn't look too far away. Early on, the Renault driver was at his ruthless best, navigating the chaos and making the most of the extra grip and performance his ultrasoft tyres offered to climb up to fifth by lap nine, just behind team mate Carlos Sainz. He could sniff a podium. But then it went wrong. Hulkenberg thumped the wall on the exit of Turn 4. His race was over. It was a case of deja vu, having done the same, when running fifth, last year. A costly mistake. The wait for a podium goes on…

This was not Pierre Gasly's finest weekend in F1, but he still negotiated the Azerbaijan weekend more efficiently than his rivals according to our experts, as he moves up one place this week. The Frenchman was inside the top 10 after the first lap, having started 17th, and even ran as high as seventh. But he was a sitting duck on the long straight, the Honda engine still not up to scratch, and he gradually dropped back. There was a chance of a point in the closing stages, but those hopes were extinguished when he clashed with Kevin Magnussen at high speed.

A new entry in our rankings, Carlos Sainz has so far this season struggled to escape the shadow of his ultra-consistent Renault team mate Hulkenberg. But in Baku, Hulkenberg slipped up. Sainz was already ahead on the road, having brilliantly overtaken both Red Bulls when running the ultrasoft tyres and then pulling away. The stint on the soft was tougher, but the hard work had been done. Fifth was just reward for a driver who appears to have made something of a breakthrough with the car.
On the bubble
Two drivers to slip out of the rankings this week are one-time leader Kevin Magnussen and Sauber's Marcus Ericsson. Both had impressive starts to the season but saw their form slip somewhat in Azerbaijan, lowering their three-race totals. But as that duo drop, so another driver's star rises. Charles Leclerc had a difficult start to the season, often looking like he was overdriving the car. But in Baku he was absolutely impeccable, earning perfect scores across the board from our panel. A good race in Barcelona and he could crack the Top 10. Watch this space.
Disagree with our ranking? Tweet us your Top 10 using the hashtag #F1PowerRankings