F1 TRACKS: Check out Wisin & Yandel's amazing playlist ahead of the Sao Paulo Grand Prix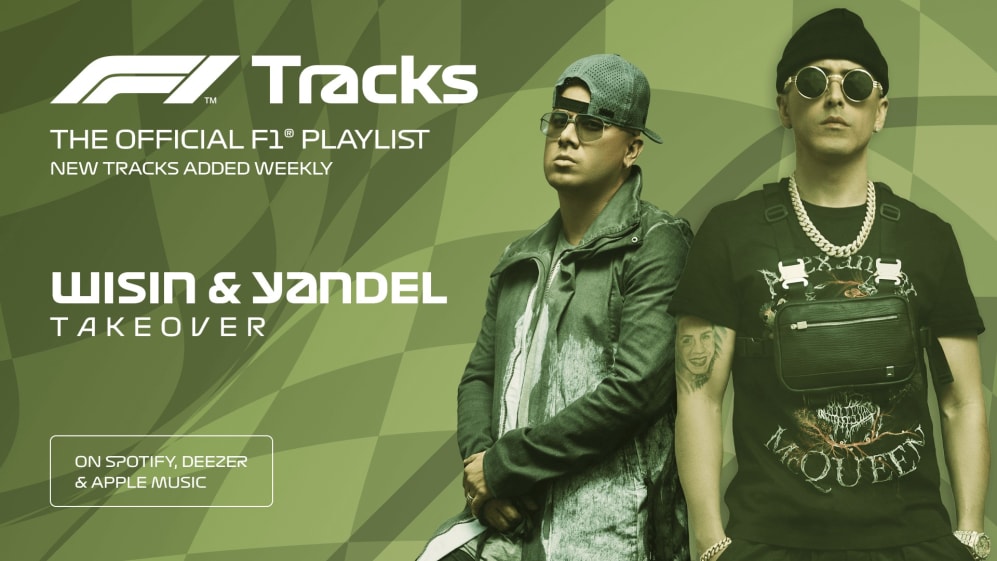 Puerto Rican reggaeton duo Wisin and Yandel are taking over the official F1 Tracks, putting together a unique playlist ahead of this weekend's Sao Paulo Grand Prix.
You can listen to the playlist here and scroll down for an exclusive Q&A with the award-winning musicians, in which they reveal their favourite drivers and teams, as they also talk about their upcoming last project together.
What's the best thing about F1?
There is no margin of error in any race. If you commit the slightest error, you will lose.
Any similarities between the buzz of F1 and the buzz of live music?
The fast pace of all the things that happen around the races is pretty similar to everything that happens around our shows. Everything is 200mph ALL THE TIME.
Favourite Driver?
Wisin – Max Verstappen
Yandel – Checo Perez
Favourite Team?
Wisin – Red Bull
Yandel – Ferrari
Favourite F1 Track?
France
If you could pick one of your songs as the new theme tune for F1, which would it be and why?
Besos Moja2 is the perfect combination of innovation in our sound but also maintaining ourselves close to our roots and original sound.
What are your favorite memories from following Formula 1?
When Checo Perez won his first race of 2022. It is a beautiful moment for us as Latinos. We are always happy to see another Latino win at big stages such as F1.
Which F1 driver do you think would make the best music artist and why?
Probably Checo Perez. Latin Music is a worldwide phenomenon. Checo is a representation of that.
Tell us about your new music?
Since this will be our last run together, we want to visit fans in every corner of the world. It's the last mission, but we haven't said when it's going to finish.
We feel this is the culmination of more than 20 years of hard work and are super happy to create such a historic album with other colleagues, such as Rosalia, Rauw Alejandro, Chencho Corleone, Sean Paul, Jay Wheeler, Ozuna, J Balvin, among other artists. This is our gift to our fans for always being there with us and for allowing us to create La Ultima Mision for them.