Feature
F1 TRACKS: Magnussen, Schumacher and Steiner pick the tunes as Haas take over the playlist for the US GP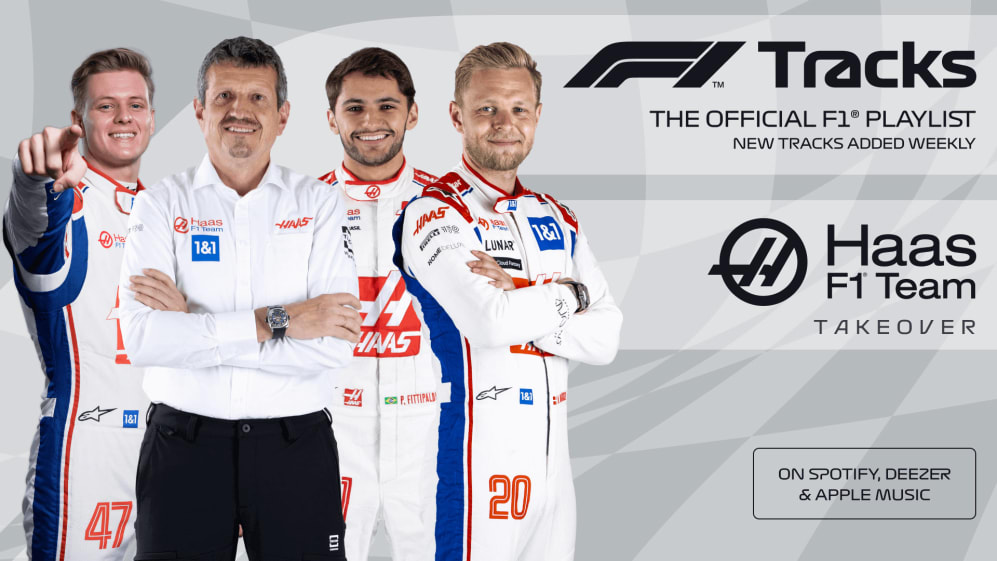 Guenther Steiner, Kevin Magnussen, Mick Schumacher and their Haas team mates pick the tunes as they take over the F1 Tracks playlist ahead of next week's United States Grand Prix.
In this unique playlist, not only do the Haas drivers and personnel provide their favourite tracks ahead of the team's home race, but they also back up their choices.
Scroll down to read their picks and head here to listen to the playlist in full.
Guenther Steiner – Team Principal: Shine On You Crazy Diamond – Pink Floyd
"When I was young I was into a lot of different music, but rock was one of the main genres. Now my daughter is into it herself, but without my influence!"
Kevin Magnussen – Driver: Johnny B. Goode – Chuck Berry
"I play it a lot. My daughter loves the guitar – at the beginning you can see her face light up and she starts dancing. That's my favourite song to play at the moment."
Mick Schumacher – Driver: Life is a Highway – Rascal Flatts
"Life is a highway. We spend so much time on the road travelling from country to country… and I'm a big 'Cars' fan."
Pietro Fittipaldi – Test and Reserve Driver: Krazy – Pitbull featuring Lil' Jon
"Growing up in Miami, it was around the same time that his music got really big and famous. He was called Mr. 305 which is the area code for Miami and as it's the US Grand Prix, that song reminds me of my childhood and the sort of music I used to listen to with my friends. I listen to it to get hyped up before getting in the car sometimes."
READ MORE: Haas to field Fittipaldi in Mexico and Abu Dhabi FP1 sessions
Peter Crolla – Team Manager: Superhero – Jane's Addiction
"It's the theme song to the best-ever TV show – 'Entourage' – and sums up what we, the team, are perfectly!"
Ayao Komatsu – Director of Engineering: Kickstart My Heart – Motley Crue
"When I was an angry kid growing up, playing drums, Tommy Lee's drums really resonated with me."
Mark Slade – Race Engineer for Kevin Magnussen: Rush – Tom Sawyer
"It's a noisy, powerful song about being free-spirited, which I think fits quite nicely with my perception of F1 (rightly or wrongly!)."
Ed Brand – Driver Performance Engineer: Pepas – Farruko (David Guetta remix)
"It's a song I first heard on the way back from the track one day and then had it on repeat. It's become a bit of a team song before the races to get in the mood."
Matt Scott – Chief Mechanic: Fast Car – Tracy Chapman
"To me, it's about the opportunities a fast car can bring to your life!"
Toby Brown – No.1 Mechanic: Horse With No Name – America; Nuthin' But A G Thang – Dr. Dre
"They just make me think of America when I hear them."
Ryan Ginns – No 2. Mechanic: California Dreaming – Chris Lorenzo
"It's one of my favourite songs right now and always sounds good in the garage."
Stuart Morrison – Head of Communications: Everybody's Free (To Wear Sunscreen) – Baz Luhrmann
"Something a little different with life lessons for everyone. Also linked to a great car ride home from the circuit one night with good people and lots of laughs."
Mark Rawlinson – Digital Media Coordinator: 2am - Foals
"Foals for me are the perfect mix of indie and electronic - my two favourite music genres. The track 2AM came out at the start of the 2022 Formula 1 season and was a regular in our PR & Comms office and hotel to track commute playlists, so whenever I hear it, it takes me back to those first few races of the year."
Jessica Borrell – Communications Manager: Typhoons – Royal Blood
"If I ever need a hype song to get me in the zone or excited for a race, this is it. I listen to it every race weekend and the final 30 seconds of the song are hypnotic."
Dane Woods – Electronics Technician: Moo Moo – Party Bus
"As we're racing in Austin, it would only be right to show love to local Austin band Party Bus, with their track Moo Moo. A must listen for any Alt/Garage/Shoegaze fans."
Troy Bull – Electronics Technician: Mind Mischief – Tame Impala
"One of my all-time favourite bands and saw them in Amsterdam when we raced in Zandvoort and they were massive! It's one of their lesser played tracks but has such a good riff and was mega live."
Ryan Cottee – Garage Technician: I Like It, I Love It – Tim McGraw
"I love it because it reminds me of my holiday in America with my fiancé."
Tom Bates – Garage Technician, Electrical: Check it – Ewan McVicar Organ mix
"I chose this song because it is full of energy and is perfect to get the team hyped for those quick qualifying turnarounds!"
Lewis Raybould – Factory Operations Team Leader: Times Like These – Foo Fighters
"Just because it's a banger, everyone knows it."
Kimi Hillsdon – Stores Parts Supervisor: The Well – Marcus King
"This is on my Route 66 playlist for when I finally get around to going!"
Cameron Brewster – IT Systems Engineer: Buck Rogers – Feeder
"Love listening to it when driving, it's from back in the days of the Gran Turismo 3 game which got me into racing games, sim racing and lead to my stint as Esports manager. It never gets old and brings back good memories!"