Feature
F1 TV – Your Winter Guide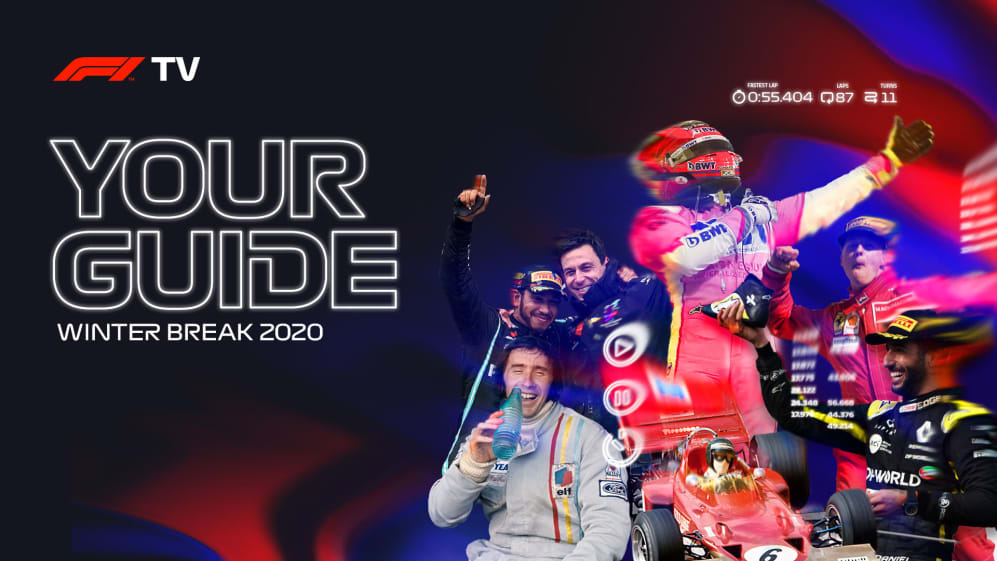 Back at the start of 2020, it looked like we might not have a season at all. Yet 9 months later, here we are. Four different pole sitters, 13 different podium sitters, five different winners. We dusted off old tracks, tore around new ones and witnessed heroic escapes. It's been all-round remarkable.
Now the engines are off. And the silence begins. But fear not, to satisfy your F1 fix until we're back on track for testing, we've rustled up some rip-roaring content to keep you entertained over the winter break.
Available to F1 TV Pro & F1 TV Access subscribers:
JOLYON PALMER ANALYSIS
Jolyon Palmer takes us through his top three races, his best moments and drivers of 2020, and reveals his pre-season predictions. After a not-so-predictable year, how many did he get right? Find out here.
SKY WATCH-ALONGS
Brazil 2019
Pierre Gasly and Carlos Sainz join Martin Brundle and David Croft to relive a hectic Brazil 2019. There are penalties, promotions and perfect endings… Strap in for an intense classic. Available from 22nd Dec.
Belgium 1995
Join Damon Hill, Johnny Herbert and Martin Brundle as they recount their experiences at the wet and wild 1995 Belgian GP, with David Croft. Just how difficult was it negotiating Spa's 4.4-mile slippery circuit? Available from 22nd Dec.
Canada 2011
This was one epically epic race. Jenson Button joins Paul Di Resta, Ted Kravitz and Martin Brundle to relive that legendary win. It's setbacks, bounce-backs and wet tracks at the 2011 Canadian GP. Available from 29th Dec.
Hungary 1997
Damon Hill and Johnny Herbert join Ted Kravitz and David Croft to re-watch the 1997 Hungarian GP. From overtaking Schumacher to a last lap failure, it's a bitter-sweet watch for Hill. Available from 29th Dec.
ARCHIVE PICKS
Arch-rivals in Australia 1993
Australia, 1993. Iconic, and for good reason. Not only did it signal the end of the technical era, it was also the last time arch-rivals Ayrton Senna and Alain Prost would go wheel-to-wheel. Revisit the classic duel and the heart-warming podium that followed. Watch now.
Hungry in Hungary 2003
Alonso's back to tear up tarmac in 2021. So to celebrate, we take a look at his first-ever F1 win – which quite aptly, was with Renault. Relive Fernando's record-breaking run as he stormed away at the start oblivious to the chaos that ensued behind him. Watch now.
Bossin' it in Brazil 2008
It was the last lap of the last race of 2008. The teams were on the edge of their seats. And after a tighter than tight on-track tussle, Lewis Hamilton snatched his first championship... by one point. Relive the crowning moment and see the Briton clinch #1 of seven. Watch now.
Coming in January 2021 to F1 TV Pro & F1 TV Access subscribers:
INSIDE TRACKS
Turkey 2020
The Turkish GP will go down in history as the race that saw Lewis Hamilton sensationally clinch a record-equalling seven world titles. Relive this iconic race from the drivers' perspectives with Inside Tracks. And settle in for unheard radio, unseen onboards and unmatched epicness. Available from 8th January.
INSIDE STORIES
Red Bull - Hungary 2020
Under pressure. Remember when Max Verstappen crashed on his way to the grid in Hungary? Watch the Inside Story of how the Red Bull mechanics managed to repair his car whilst it sat on the track with the clock counting down to lights out. Available from 15th Jan.
AlphaTauri - Monza 2020
"Honestly, it's unbelievable." Watch the Inside Story of how Pierre Gasly and AlphaTauri delivered an unlikely victory at a chaotic Italian Grand Prix. Get inside the jaw-dropping drama with all-new onboards and exclusive team radio. Available from 22nd Jan.
Perez & Russell - Sakhir 2020
A day Sergio Perez and George Russell will never forget. Watch the Inside Story of the Mexican's miraculous recovery to secure his first-ever victory. Contrasted with Russell's race which saw the win slip through the fingers of the young Brit… Twice. Available from 29th Jan.
CHASING THE DREAM RETURNS
F1's had one fierce year. But F2's been just as fast and furious. And now, the next season of Chasing the Dream is about to hit your F1 TV screens. Buckle up as we follow the uncomfortably close championship battle between Mick Schumacher, Callum Ilott and Yuki Tsunoda. Available from 1st Feb.
Not subscribed to F1 TV but want to feast on the content? Here's how you can be in on all the action. After all, there's no better way to power through the winter slumber until… lights out 2021!