F1 Vision and Fanatics deals to boost your race experience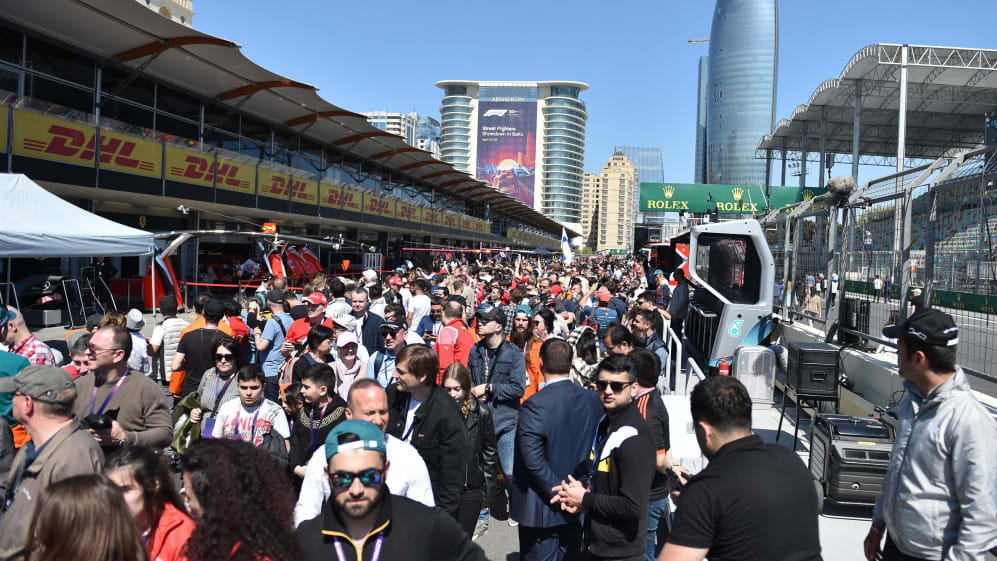 There was great news for F1 fans attending 2018 Grands Prix on Wednesday, with the announcement of two new Formula 1 initiatives that will make visiting races this season even better.
In the first, Formula 1 have partnered with FanVision Entertainment to create F1 Vision, the most immersive spectator technology, which allows Grand Prix attendees to dive deeper into the event experience with a state-of-the-art handheld device.
F1 Vision combines the Formula 1 race live broadcast and replay highlights, direct audio feeds allowing the user to listen to live driver and team communications, and the Grand Prix radio broadcast. F1 Vision also taps directly into the Formula 1 timing system, providing fans with real-time race data and statistics.
The F1 Vision device is a compact and powerful handheld controller, featuring a five-inch high-resolution touchscreen display, rugged exterior, kickstand for hands-free viewing, and includes earbuds for listening comfort.
Its content is delivered via FanVision Entertainment's dedicated digital transmitters, meaning the devices aren't dependent upon venue WiFi. This technology ensures a consistently high-quality interaction with the F1 Vision device from any grandstand location at the Grand Prix. For more information and to reserve your device at a Grand Prix this year, click here.
In the second initiative, Fanatics, the global leader in licensed sports merchandise, will become the Formula 1's exclusive merchandise retail partner at Grand Prix weekends and online from the 2018 season onwards.
A mobile-first, multi-channel company, Fanatics operates more than 300 online and offline stores, including the e-commerce business for all major American professional sports leagues, (NFL, MLB, NBA, NHL, NASCAR, MLS, PGA), major media brands (NBC Sports, CBS Sports, FOX Sports) and more than 200 collegiate and professional team properties, which include several of the biggest global football clubs (Manchester United, Real Madrid, Borussia Dortmund and Manchester City among others.)
Fanatics will elevate the merchandise assortment by offering a wider range of premium products from Formula 1 and the ten teams participating to the FIA Formula 1 World Championship, and items specific to each Grand Prix.
These products, along with a wide variety of items from other top brands, will all be made available at the majority of the 21 Grand Prix this season, starting with the Formula 1 Gran Premio de Espana Emirates 2018 on May 10-13. The new retail experience will make it easier for fans to purchase souvenirs over the course of the weekend, with additional vending locations around the circuit, as well as the enclosed Superstore location in the Fanzone. Premium storefronts will be also introduced for supporters at the Paddock Club.
All Fanatics locations will be integrated into F1's digital concierge app for fans at the circuit, called F1 Grand Prix (available free on Apple and Android app stores.) The agreement also includes an extension of Formula 1's online store partnership with Fanatics – operated at www.F1Store.Formula1.com.