Feature
F1's most memorable car launches: Honda RA107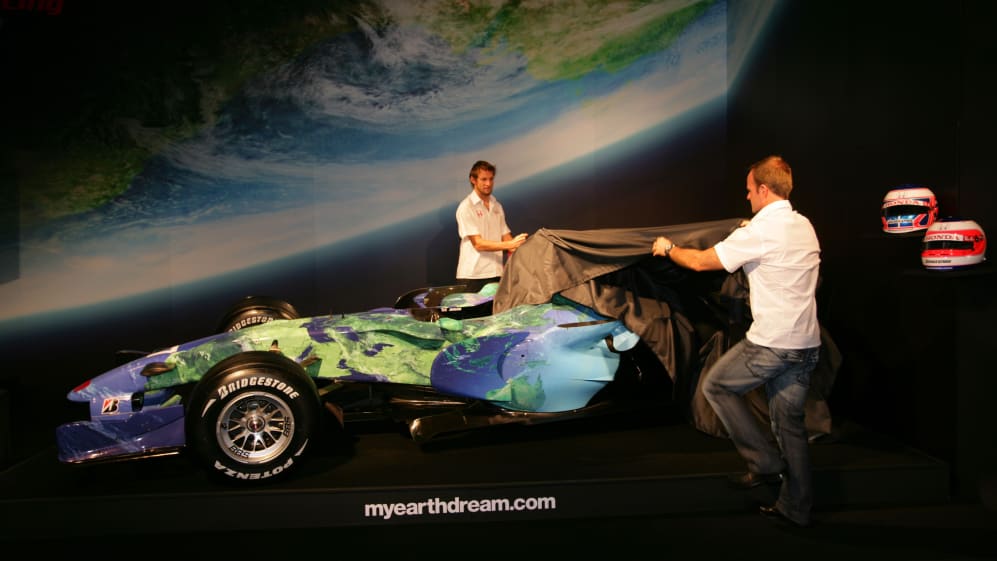 After a long winter, the F1 car launch season is the reviving tonic that puts the pep back in the steps of Formula 1 fans the world over. But before the covers start getting pulled off the latest generation of contenders, we wanted to look back at the most shocking car launches in F1 history. From parading pop stars to some truly eye-catching (read: eye-watering) liveries, we bring you the reveals that have made the front pages as well as the back pages over the years. Today's offering: the Honda RA107.
When?
February 26, 2007
Where?
Natural History Museum, London, UK
What?
'Oh fuuu' launches don't come much 'Oh fuuu-ier' than when Honda drivers Jenson Button and Rubens Barrichello pulled off the covers on their 2007-spec RA107. Underneath lurked the team's now famous – or is that infamous? – 'Earth Car' livery. Rather than the standard corporate colours seen on F1 cars, the RA107 wore a paint job depicting the Earth as seen from space, a well-intentioned move designed to highlight the issue of climate change and motorsport's role in it.
For their part, Honda's 30-odd sponsors all gamely forewent the right to have their names on the side of the car. Turns out that might not have been such a bad move, given that the on-track performance of the RA107 wasn't exactly, ahem, Earth-shattering. "We're positive we've got a good car," Button told the media at the Earth Car launch, "[although] maybe not as good as the top two teams, which are McLaren and Ferrari." Turns out they weren't as good as BMW Sauber, Renault, Williams, Red Bull, Toyota or Toro Rosso either, with Honda finishing the season a lowly eighth place in the constructors' standings with six points, just two more than their supposed 'junior team' Super Aguri.
Enjoy these other memorable F1 car launches…