Report
F3: Franco Colapinto wins rainy Silverstone Sprint Race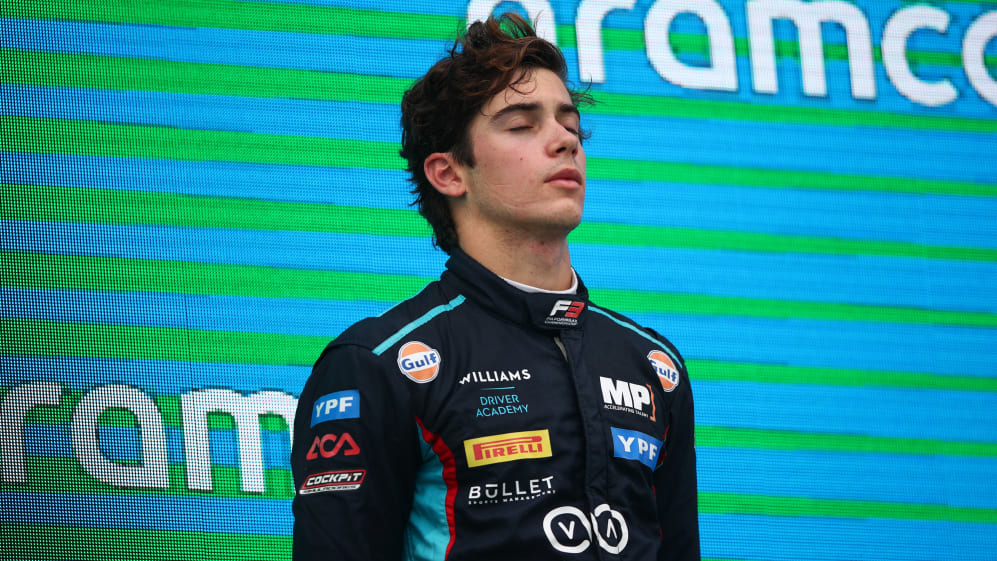 Franco Colapinto secured his and MP Motorsport's first victory of the 2023 season amidst rain and sunshine in the Formula 3 Silverstone Sprint Race.
The Williams Academy driver rocketed up to second from fourth on the grid at the start and his team judged the conditions perfectly, calling the right strategy as others fell by the wayside after a mid-race downpour.
F2: Martins on pole once again for ART Grand Prix in Silverstone qualifying
Light rain just ahead of lights out wasn't heavy enough to convince teams to start on the wets, but a shower on Lap 8 changed the complexion of the race. Drivers and teams were split on what to do with tyres, with several outside of the top 10 opting to fit wet tyres under Safety Car.
Racing resumed on Lap 13 with half of the Silverstone circuit wet and half dry enough for slicks, and there was immediate drama. Contact at Turn 1 between then-race leader Sebastian Montoya and second-placed Taylor Barnard dropped them out of contention, allowing Colapinto to take a lead he never relinquished.
Oops! Error retrieving Twitter post
The MP driver was one of those to persist on the slick Pirelli tyres, which turned out to be the correct strategy call. As the track began to dry up once more, he was in prime position to streak clear, as those who made initial gains on wets began to overheat their tyres on a drying track.
Gabriel Bortoleto was another driver to stay on the dries and he continued his incredible consistency, finishing second for Trident having started the race eighth on the grid. He increased his lead in the Drivers' Championship to 44 points over Josep Maria Marti, who ended the Sprint in P10.
Christian Mansell rounded out the podium finishers for Campos Racing, earning his best result of the 2023 season in third.
For an in-depth report of the FIA Formula 3 Sprint Race, visit the official website here.