Ferrari duo hoping to fend off McLaren on race day after Leclerc qualifies a brilliant P4 in Spain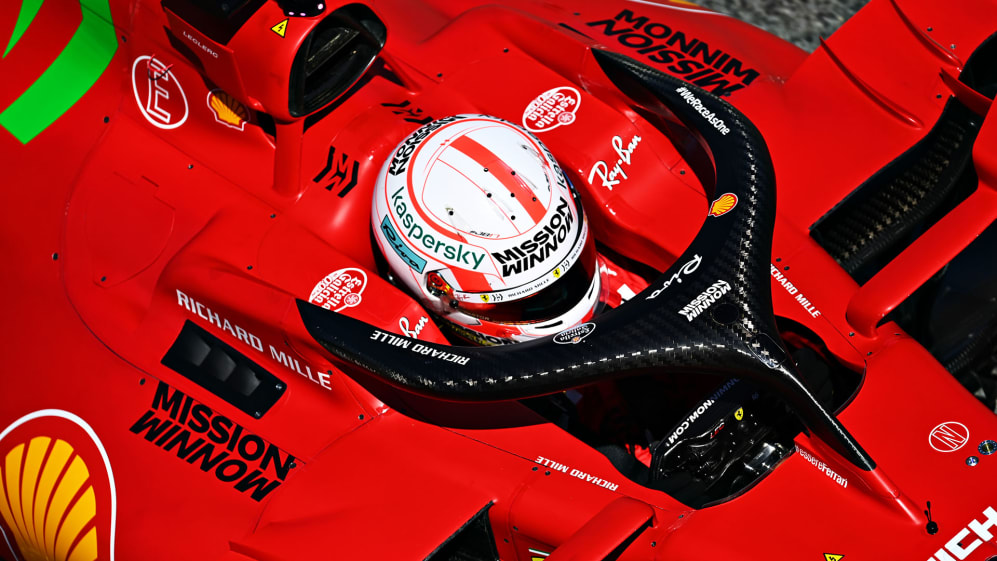 Ferrari demonstrated once again their improved form in 2021 during qualifying for the Spanish Grand Prix, Charles Leclerc and Carlos Sainz claiming P4 and P6 on the grid respectively – and with both drivers hopeful of closing the gap to rivals McLaren in the constructors' fight this weekend.
With Leclerc having been Ferrari's best qualifier in P9 last year, a full 1.5s off the pace, 2021 qualifying saw the Monegasque take a fine fourth on the grid, 0.769s off Mercedes' Lewis Hamilton's (100th) pole lap – as Sainz claimed P6, a further tenth back, with Alpine's Esteban Ocon sandwiched between the two.
READ MORE: Hamilton beats Verstappen to take 100th career pole in Spain
And Leclerc said the result was the maximum Ferrari could have hoped for on Saturday – while with McLaren's Daniel Ricciardo and Lando Norris only managing P7 and P9 in qualifying, Leclerc was hopeful of closing down the 11-point gap to third-placed McLaren in the constructors' fight on race day.
"I'm happy with P4 – that's the best we could have done today so happy with that, and looking forward to tomorrow," said Leclerc. "I feel like we can [beat McLaren tomorrow]. We are in a good position; we are starting both of us in front of both McLarens… It's an important fight for us, because realistically we are fighting against [McLaren] for the constructors' championship, with Alpine too, so points will be very important for tomorrow."
Sainz, meanwhile, said that he was feeling more "at home" in the Ferrari SF21 – but remained wary of how much the team have suffered with tyre degradation on Sundays this season when asked how confident he felt of outpacing his former team McLaren in the Grand Prix.
"I think we're starting in the best position possible," said Sainz. "We're still honestly quite a bit worried about our tyre degradation. We saw again in the long runs on Friday that we are still lacking a bit in there, but at the same time, we are trying to solve it. It's going to take time, we need to get better in this car. Let's see what we can do tomorrow, but races are normally tougher than Saturdays for us.
READ MORE: Verstappen happy 'to be that close' to Mercedes with P2 on the grid after Q1 struggles
"We didn't know how we would perform at this track [in qualifying]," added Sainz. "What is clear is that the car is quite decent in the corners. We are managing to put together some strong laps. Happy with the balance in general all weekend, I've just been fighting a bit some understeer and trying to get rid of it.
HIGHLIGHTS: All the action from qualifying for the Spanish GP as Hamilton takes his 100th pole
"But I managed to go through Q1 with one set [of tyres], which is normally a good sign of confidence with the car. Then in Q3 I didn't do the best of laps, but still quite happy, starting to feel a bit more at home in the car and putting in some strong laps."
Sainz in particular will be keen for a strong result at his home Grand Prix, having fallen from P5 on the grid to P11 at the last race in Portimao – while Leclerc was left dissatisfied after climbing from eighth on the grid to sixth, as Norris claimed P5 for McLaren.