FIA Friday press conference - Abu Dhabi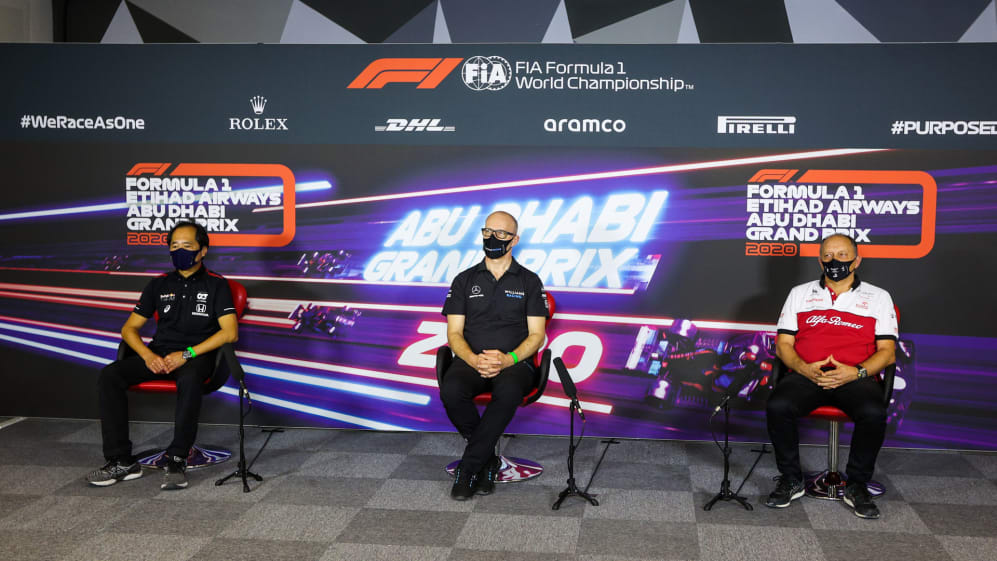 TEAM REPRESENTATIVES
(Part One): Zak BROWN (McLaren), Otmar SZAFNAUER (Racing Point), Cyril ABITEBOUL (Renault – via video link)
PART ONE
Q: Cyril, perhaps we could start with you. How come you're not able to join us here inside the paddock?
Cyril Abiteboul: I guess… well, first I'm not very far because I'm just sitting outside the paddock in a room. I guess maybe a sign of these times and of this year, I arrived a bit late so I have to go through the process of waiting for some results to come to be able to join my comrades for the last race of the season.
Q: But I'm sure you kept up to speed with what was going on during FP1. Could you just confirm for us what the problem for Daniel was please?
CA: My understanding – and I was not in the garage – is that it's a fuel pump, so not related to the power unit even if obviously it cut fuel flow – so no damage to the power unit that was anyway going to be changed for FP2 or for tomorrow. So I'm still waiting to hear back from that. It's unfortunately a problem that happened before but a problem that should have no further impact for the remainder of the weekend.
Q: And while we're talking Daniel Ricciardo, this is of course, his last weekend with the team. Can you sum-up what he's given you and what you'll miss about him?
CA: Well, he's given a lot. What he's given first and foremost as a driver, he's been remarkable, in particular this year. I think there is no doubt about the progression of the team this year. It's very much a credit to Daniel who's been clearly leading the charge of the team and behind him a group of people and a group of mechanics and engineers who are doing a remarkable job on track. Off-track, obviously we know Daniel is a great ambassador, is a team leader. He has clearly been instrumental to the changes that we've done last year when we had altogether a disappointing season. So, I'll say that frankly when he joined we knew that it would take a bit of time, that he was not coming into a turnkey organisation. I think I remember those exact words said to Daniel back in the first meeting back in 2018. It was not a turnkey organisation but he made an impact and we are so different today to what we were two years and a half ago when we decided to form this partnership. So, in that respect, frankly, it has delivered. It has delivered positively and the irony in all of this is that I believe we are a much stronger team now and he will have to race a much stronger team next year and obviously all of that we will be missing but y'know, we're also glad to see him in a great team and we look forward to an exciting battle against McLaren and Daniel next year.
Q: Zak and Otmar, a great battle for P3 in the Constructors' Championship is going to be settled this weekend. Zak, perhaps we could start with you. McLaren ten points behind Racing Point. How confident are you of overturning that deficit?
Zak Brown: I think it's going to be very tough. I think they've had a faster car all year. The points swings in the last few races have been quite big but I think on outright pace it will be difficult. I think all the men and women at McLaren this year have done a fantastic job of designing and building and manufacturing a competitive race car and I think our goal coming into the year was to just take a step forward on performance from last season. I think we've done that – and whether that ends up third, fourth or fifth in the Championship – Renault's very close and and also very competitive – we'll see what happens this weekend, but regardless of the final Constructors' Championship, I think the team's done an outstanding job and all credit to them for another step forward in our journey to try to get back to the front of the field.
Q: Otmar, if I could throw this question to you as well, what would it mean for Racing Point to finish P3?
Otmar Szafnauer: Well, it's not going to be easy. I think Zak is absolutely right, we've had great points swings in the last two races and that could very well happen here. We just have to keep our heads down and do a good job this weekend, make sure we have a normal race weekend and we'll see where we finish. It would be a tremendous accomplishment if we could finish P3 but by no means will it be easy. It will be tough.
Q: And Otmar. If I could just throw it back to last weekend. You've had a long career in Formula 1. Was that one-three at Sakhir your greatest moment so far?
OS: I think so. Second race win, first time ever of a double podium. Absolutely. For some teams it's a regular occurrence, for ours it isn't, so when it does happen, for sure it's a great moment.
Q: Zak, just coming back to you, Carlos' last race with McLaren. How would you sum-up his contribution over these past couple of years?
ZB: Carlos has done an outstanding job I think. We would never have signed him if we didn't think he was an excellent grand prix driver. I think it's fair to say he exceeded our expectations. I think he really came into his own in our environment. He's done an outstanding job and he and Lando have helped lead the way these last couple of years – but as you know, in a racing team, your drivers are the superstars, they've been big contributors, so have everyone at McLaren to give them a good, reliable race car. Renault's been a good partner, so it's all really coming together and Carlos and Lando have made the most of the opportunity.
VIDEO CONFERENCE
Q: (Edd Straw – The Race) Question for Cyril please. Obviously there's been a of talk about Alonso driving in the test but setting that discussion aside, how much benefit do you think he'll get from a day in the car. I guess he'll – as well as learning more about the car itself, he'll be working with what will largely be his car crew for next season, so quite a useful exercise in gathering information for him and also you about him.
CA: Yeah, absolutely – and I appreciate there has been lots of buzz around that. We started the year with some controversy, we finish the year with another type of controversy but it's good. It keeps the sport alive also. It's very much a human thing that we're doing for Fernando. When we decided with Fernando and Fernando also decided to come back to Formula 1, he's been very clear that he wanted to have as much mileage as possible under his belt before next year. As you know, the regulation put a clear limit to that, so we've done quite a lot, four days with a two years old car and also we thought it would be a nice thing to be able to do that with a current car. We asked, frankly, and the FIA approve it, as simple as that. And that will be an opportunity for him to so see the evolution in two years because a two-years old car we've also spec'd a detuned engine, with tyres that are demo tyres, that are not really representative. It's good – but that will be much more representative of what we expect next year. So, y'know, the car will be changing more than people tend to report for next year with a small change to the aerodynamics which is something that we can't test next week. So, that will be the same for everyone. Now but for the rest it's about him getting into the team, understanding our process, our procedures, the steering wheels and also getting familiar with his engineers and I understand that the dynamic is already very, very good, very, very strong to have as much as possible a good start next year. Bearing in mind we have only three days of Winter Test in February or March.
Q: (Dieter Rencken – Racing Lines) To all three of the representatives please. Red Bull and AlphaTauri have got a very close cooperation through their Technologies department. Mercedes and Racing Point are increasingly forging a closer relationship and now Ferrari and Haas are entering into some form of technical partnership whereby the cars will be designed and developed in Maranello in a separate office. Is this the right way forward for Formula 1? And then, specifically to Zak and Cyril, is it a matter of 'to beat them, you've got to join them'?
ZB: There's obviously seen a lot on this topic this year. I think we've seen, at the extreme, what it's capable of producing. I think we feel strongly that it's a Constructors' Championship: you need to design, build, manufacture your own race car. That's what all the men and women at McLaren do. I think McLaren continues to monitor the situation and we need to kind of rely on them to define what those boundaries are. It's clearly a competitive advantage for the teams that are passing along that information or those parts, both financially, sporting and politically, and at the same time the teams that are on the receiving end are able to short-cut and inherit the work of others. As you say, there's many teams doing it now. We'll just have to monitor the situation. I think the FIA has stated that their intent is everyone should be their own independent entity. So that's how McLaren wants to go racing, will continue to go racing. But hey, this is Formula 1. It's tough and so you've got to beat everyone within what the rules are.
Q: Otmar, your thoughts please.
OS: I think we've taking a step forward this year in defining the rules. They're much more clear. We continue to hire people, expand our manufacturing capability, expand our design and development capability. We started at a smaller base than some of the others but with Aston Martin coming in, we too are growing and will right-size the business. I think we're going to grow by another twenty-thirty per cent and we too will work hard to design, develop and construct our own car to do the best we can.
Q: And Cyril.
CA: Yeah, well not so much to add. I guess that what is interesting in this press conference is that you have three teams fighting for that third position to a lesser or better degree, but we all have our own models: from Renault being a complete manufacturer building every single thing from the engine to the chassis, every nut and bolt has been designed, manufactured and built by our team, so we are a true constructor. Then you have the other extreme that we have seen this year. It is not a controversy but it is clearly no secret that Racing Point have the model of buying as much as they can from Mercedes. And you have McLaren sitting in the middle and doing a great job at what it is responsible for, which is chassis design. And frankly, to a certain degree, that's fine, that's good, that shows we have an interesting battle that's possible with very different models but we should not lose sight of the fact that we are all still one second or more from the team that is leading the championship. I'm really concerned that we are still no doing enough to bring the sport to a level playing field. There is a lot of progress that has been made with the budget cap but also with clarification to the regulations, but all of that will be as good as the monitoring and enforceability of the system and frankly for that it is only time that will tell us if what we have done is good enough and we also need to be careful in particular with all the movement of personnel between some teams that will have to downsize. Some teams, as Otmar pointed out, that are going to increase their operation, and that's the sort of thing where we need to stick to the regulations for these. We just need to make sure they are enforced properly.
Q: Otmar, you were shaking your head while Cyril was talking.
OS: Well, I don't see us as one of the bookends. Although we don't have the manufacturing capability of some of the others we do have design and development capability and we mustn't forget that very similar to McLaren, when we were renting a Toyota windtunnel it was as capable. We had 400 people designing and developing everything and with that we finished fourth in the championship twice, it should have been three times. With our financial capability now and growing we should be able to compete with those at the midfield and maybe even move up. But I don't think our model is much different to a McLaren model.
Q: The FIA has just released its report into the contribution of motor sport towards health, safety and the environment. F1 played a significant role in the prototyping of ventilators during the early stages of the COVID pandemic. Can those involved talk a little bit about that, and more broadly, give your thoughts on how motor sport can contribute towards environmental protection in the future?
CA: I think it's actually been one of the positives of this crisis, the fact that we all had some time available and facilities and capacity available to do something else than what we normally do, has shown what actually we are capable of doing. It's great, because I guess the problem – the good thing and the bad thing about Formula 1 is that we've got amazing facilities, people, skills, you name it, but we are all focused on what we need to do best which is building a fast car and anything else that we do would be detrimental to our competitiveness, but on this very particular occasion, when the world stopped, we could do something else and advertise, basically, what we are capable of doing. I wonder in the future, if we should not have some form of obligation to allocate a part of our time, a part of our resources, of our facilities to a greater cause, to a different cause, other than Formula 1. Frankly, if we are not forced to do it, I'm afraid that simply it will be extremely marginal or occasional. The one other thing that I am going to mention, that I think that there is a very interesting sort of area that is going to open for energy development. I think Formula 1 will become a sport all about energy, what type of fuel do we want, what type of battery do we want to use also and I see that these things will be very important in terms of breakthrough for the industry and in my opinion, Formula 1 has a great role to play, to lead the way in that respect and clearly these things will have an impact, not just on the sport, it means not just on the automotive but frankly at the very large scale to really look forward, this type of contribution of Formula 1.
Q: Zak?
ZB: Yeah, I think, Formula 1 can have a lot of contribution to the world. I think it has. I think at McLaren we play a big role in that and it's very important to us. The ventilator, which you mentioned was a great experience for the industry to come together. We produced 10 years' worth of ventilators in a couple of months. I think that shows what Formula 1 and grand prix teams are capable of doing. I think it's great. All the men and women were very proud that not only have we historically entertained lives, but in that instance we actually helped to save lives. Mental health is very important to McLaren. That's something that we done a lot with our drivers and our team. I think Formula 1 has this great ability to magnify issues around the world. Mental health is very important to us. Sustainability. Safety. Motorsports in general have always been a leader in developing safety, which you see in today's road cars. We take some of our technologies and work with our marketing partners and share those technologies on how they can pull those through their business from a manufacturing standpoint, to help lower carbon footprint. It's something Formula 1 should be very proud of and we will continue on this journey and not only entertain people around the world but contribute to society to make it a better place.
Q: Otmar?
OS: Well, I tend to agree with both Zak and Cyril. We were fortunate that our location is near one of the ventilator manufacturing facilities so we were able to help with design engineering resource as well as our technicians helping to build the ventilators, which is what we did specifically. I tend to agree, our engineering capabilities and resources are great but we generally tend to focus on making cars go quick and when we do put our efforts into doing something else we can do it very quickly, very efficiently and to a high standard. It's great when Formula 1 gets the opportunity to do those things.
Q: (Luke Smith – Autosport) I think we've seen the two side of F1 politics illustrated in this press conference: we've got the ventilator project where all the teams worked together nicely and then also the some of the controversies Cyril spoke about? I asked Zak this last week, so for Cyril and Otmar, how do you think F1 has worked together this year? Do you think the teams have worked together more are you still fiercely competitive and willing to do anything to get an edge on your rivals?
CA: Yeah, as you mention I think we have seen two extremes. I think what we have been able to demonstrated is that when things became extremely serious, for the world, for the economy, for the sport, for the health and safety of our personnel, the community, the camaraderie and spirit is here. There is no question about that. There is something that pulls us together, the greater good of the sport and sometimes also of the world, as per the initiative we mentioned, it's there. But for the rest, let's not be under any illusion, we are all fierce competitors. If we are in this position, there is no coincidence; it's simply because we want to win. Maybe our aspirations are different, our brands are different but we are all extremely loyal to our brands, our teams and to our desire to win, which means to beat the guy who is next to us. It's as simple as that and I don't think we should expect much more than that.
OS: I tend to agree. When we have a common goal, we come together and work realty well together towards that common goal but when our goals are a bit disparate because we are both trying to beat each other on track, for sure will work very hard to achieve the competitiveness that we need to track. It all depends on the situation. If our goals are the same then we work very well together.
Q: (Laurence Edmondson – ESPN) A question for all three. All three teams will new driver line-ups next year. You are all losing pretty talented drivers from your respective line-ups, so how confident are you that the trade you're getting is a trade up and that you will have stronger line-up next year?
ZB: Well, Daniel is someone that we're very excited to have join. He's obviously a proven race winner. He's somebody we tried to get into our car a couple of years ago. Lando continued to mature. He has had a great second season and I think the combination of our driver line up is awesome and looking forward to both of them working together and I don't think there is a combined driver line-up that will be more exciting next year on and off the track. I'm very confident we have got a very strong driver line-up.
OS: Well, we've got a good combination of youth in Lance and good experience in Sebastian. As a four-time world champion we look forward and welcome him to the team and we'll learn from his experiences of winning world championships. Lance is a talented driver. He has great car control. He is still quite young, so I think the combination of youth and talent and experience and all the world championships that Seb has won will bode well for our team next year.
CA: Yeah, I would I think connect the driver line-up to the team's situation. There is no point in having a driver line-up that is inappropriate for where you stand as a team. As far as Renault is concerned we feel extremely comfortable with our line-up next year, given, again, the situation of the team, what it needs to achieve. The mix of experience with Fernando, his desire to come back, a very fierce desire to be back in the sport and also his ability to plan ahead. Fernando knows that the only way to win is to plan in advance and to build in advance and 2021 being a particular year where we need to balance our effort between '21 and '22. We have all together, with Fernando, clearly an eye on '22 and he understands that and he will be completely part of that process and that journey. On the other side we have Esteban. We have also a driver who will be in his second year. We have seen with Daniel the benefit of the second year versus the first year and I hope that the momentum from the podium that he had last weekend in Sakhir into hopefully this weekend first and the next weekend will make him strong and able to deliver more than we have altogether in 2021. So I feel very comfortable with our line up, even obviously if Daniel has been a remarkable asset and we wish him well with McLaren.
Q: (Scott Mitchell – The Race) Otmar, we know that Checo has had to have a new engine for this weekend after and issue was discovered after last week. How close did he come to losing the win and while the victory was obviously huge was it worth the penalty here and the threat that poses to third in the Constructors' Championship?
OS: To answer the first part of the question: I don't think there was a huge risk in that race. We deliberated long and hard what the risk would be for that powertrain to do an even further. Time will tell. Well, it's not a controlled experiment, you don't know if had we not taken a new power train, if that would have lasted. But on the balance of probability we thought it was best to go for a new powertrain and take the penalty. Now, the second part of your question, for sure it's going to make it harder starting towards the back but at the same time we saw what Checo could do last weekend. He will was in last place at one point and he came through the field to win. Might be a little bit more difficult overtaking here but we'll do the best we can with our starting position.
Q: (Christian Nimmervoll – motorsport.com) Zak, how is the sale part of the sale and lease back going? And in terms of your financial restructuring, I mean I understand you are restructuring a lot of debt but it still remains debt in the end, strictly speaking. Are you confident that you will be able to operate on the budget cap which has to be a target in order to be competitive?
ZB: Yep, very comfortable that we will be operating at the budget cap. We will have all the resources we need. Our chairman is, as your know, restructuring the business. He is very experienced in that so everything is going according to plan and very comfortable and excited about our future.
(Part Two): Simon ROBERTS (Williams), Frédéric VASSEUR (Alfa Romeo), Toyoharu TANABE (Honda)
PART TWO
Q: Simon, must good to have George back in the garage this weekend?
Simon Roberts: It's great to have him back. Feels like he has come home for the weekend, which is really nice.
Q: Tell us a little bit more about the impact he has had today. What sort of feedback did you get from him in FP1?
SR: I missed the engineers' debrief from FP1, but he came back in a really good place. He had a fabulous weekend last weekend. I'm sure he's a bit disappointed inside but we gave him a really warm welcome back ands we are genuinely pleased to see him. His programme went according to plan. We were running a few rakes and things, looking at stuff for next year. But he settled in the car really quick. I'm sure maybe on that first lap he was trying to find his braking points again in our car but yeah, he didn't put a foot wrong and got everything out of the car we expected. We move on to FP2, so we are looking for a good weekend again.
Q: Yesterday, George said he will be a Williams driver in 2021. After his strong showing last weekend, how confident can you be of that?
SR: I guess from the inside we've known for quite some time what a talent he is. Last weekend he got a chance to show that talent on the world stage, and we are really pleased he got that opportunity. We've got Nicholas and George signed for next year and the main thing we are working on right now is making sure we give them the best car possible, so yeah, I'm as confident as I can be given that.
Q: Just a few words about Jack Aitken's debut last weekend. What impressed you most about him?
SR: Jack, we'd seen him in the car in Austria and he adopted a similar approach. He starts well; he builds through the weekend. He's very competent in the car. He gave us good feedback. It wasn't like we had a complete rookie in the car; he's been in our simulator, he knows the team well, so he slotted in really well. In a way, it's a shame couldn't see him again this weekend, just as it's a shame we couldn't see George in the Mercedes again this weekend, because I think it's a big ask. We didn't overload Jack, we were careful with him and we made sure we built up the way the car works through the weekend and we gave him just enough to get the job done. But by the time we got into quali and the race he was as up to speed with our car as we expected and delivered a good result. We wanted him to push and he did so we were really pleasesd with what he achieved over the weekend.
Q: And what can you tell us about Jack's future with the team?
SR: At the moment we're still looking at what we do for support drivers next year. It's an open question and I can't really say any more than that right now.
Q: Tanabe-san, can you sum up 2020 for us? Your target was to win the World Championship.
Toyoharu Tanabe: Because of the COVID-19 situation, it was a very unusual season. But everybody who took part in the season did well to maintain the situation in the paddock. So this season is one people will remember for a long time. Formula 1, the FIA and the organisers and all teams did very well in a very stressful season and to get to the end of the season. It was good. In terms of Honda's point of view, we did not get the result we wanted, but there were some highlights, like Max winning the 70th Anniversary race in Silverstone and then Pierre got his first win in Monza, the team's home race, which is the 15th race as a team. So we keep pushing hard this weekend to end the season the best possible. Also, after that we will start preparing for next year.
Q: This morning during FP1 we saw Yuki Tsunoda walking around with Alpha Tauri clothing on and of course he's secured his super licence for next year as well. He's had a very strong end to the season in Formula 2. Do you think he's ready for Formula 1?
TT: Yes. We will see his talent in Formula 1, well, we hope to see his talent in Formula 1 next year. He did a very good job in Formula 2 this season and then he learned a lot the previous test in the Alpha Tauri car at Monza and he keeps working hard to learn Formula 1 and then should be a competitive Formula 1 driver.
Q: Fred, can we look back on the year with you as well? How much progress do you feel Alfa Romeo has made this year?
Frédéric Vasseur: We had a very tough season overall, but I think we understood quite soon, into the season in Barcelona and then in Spielberg that the season will be difficult with the tight schedule we had but after the first couple of seasons, when I think we had a good reaction of the team, we put two cars into Q2 a couple of times, the drivers into the points and we did some good improvements and good step forwards, even if we had to fight with the COVID situation and financial crises so that we were not able to do all the development expected but it is like it is. I think it was the same for the teams around us but the team had a good reaction. Very often we were fighting with Ferrari on track and it was (unclear). Now let's see what could happen next year and the step forward that we can do.
Q: Let's talk about next year. What have Ferrari told you about the new power unit you're going to receive?
FV: It will be better!
Q: Have they given you any numbers? How confident…
FV: No, no. For sure if I have numbers I won't give them to you!
Q: Well Fred, there's been a technical re-shuffle at Ferrari ahead of next year's cost cap. Your former chief designer, I think he was, Simone Resta is off to Haas as part of their technical partnership. Can you expect something similar at Alfa Romeo?
FV: No. We don't have the same approach as Haas and I don't want to make any comment on the Guenther project and Gene's project. We are independent. We have a good collaboration with Ferrari on the engine and on the gearbox but that's it. We want to develop the car by ourselves and to continue like we are doing the last couple of years.
VIDEO CONFERENCE
Q: (Dieter Rencken – Racing Lines) For Tanabe-san, the power unit for next year, what areas will you be focusing on? Will it be more the hybrid area or will it be the ICE or both? What weaknesses have you picked up this year that you need to strengthen for next year?
TT: So, we have been learning our weakness in the past and then we try to improve every single area, not only engine, ICE but also ERS and then we try to make them as a pack for next year's PU.
Q: (Scott Mitchell – The Race) Simon, as well as what you were saying about support drivers for next year, there's obviously the long term situation in terms of the leadership of the team. Where do stand on that and how important is it to have things in place because I guess to define the team's long term direction, which is important, you obviously need to know who's going to be leading that direction?
SR: Yeah, absolutely, and we're working on that right now but I can't say anything about it this weekend so yeah, situation normal, lots of discussion with Dorilton and when we're ready we'll be able to announce how we intend to move forward.
Q: (Scott Mitchell – The Race) Simon because you've had the change in ownership, just wondering sort of how, sort of, the direction that had been laid out before in sort of Claire's time, sort of how much has that sort of been reaffirmed as basically the way you want to proceed? How much has it sort of changed in the last couple of months behind the scenes?
SR: That's a really good question. So from the cultural fit, with the team, there's a lot of synergy between the road map that Claire had laid out and we're staying very true to that. We want to be a great place to work. We want to make sure we're caring and kind to all the people who work for us and we want to just do all the right things. In terms of the technology though, we now have the opportunity to invest and that's what we're doing. That's started already. There's not much impact of that on the car we're racing on now but we will start to see that next year. Really this year is part of a long-term strategy, I always say, and that will build slowly over the next five years. The main thing is, we want to invest wisely, we don't want to make mistakes and we want to play the long game and that's what we're doing.
Q: (Luke Smith – Autosport) Simon and Fred, it's been quite an interesting year for F1 politically. I think we had a lot of collaboration between the teams in the early part of the year on things such as project pitlane and getting all ventilators to fight the pandemic but then when we did return to racing, the old controversies and the infighting seemed to return again. I just wondered, how do you look at this year politically? Do you think F1 teams have learned to work together a bit more or are they still as fiercely opposed and competitive as always?
FV: For sure, at the end we will stay competitors but I think honestly that the reaction that the F1 – when I say, F1, it's F1: FOM, the FIA, all the teams – had together in March and April when we were in a very tough situation was an excellent move, compared to what happened in the past and we were able to correspond the regulations, to build up a new calendar, to sign the cost-cap, even to reduce the level of the cost-cap and I think that at this stage the reaction was very, very positive for F1 in general. Now we have to keep this momentum for the future and even if the competition is coming back each time that we are sitting around the table, but I think we have to keep it in mind that we were able to have this kind of reaction and to stick to it for the future.
SR: Yeah, I think we have to remember, we are all human beings and when you get a global crisis, it's a great opportunity for everyone to step up together and work collaboratively on that but as Fred said, when we're racing, we're fiercely competitive. We employ competitive drivers, we are all competitive engineers and managers of the teams, so we shouldn't forget that but behind the scenes there are always lots of discussions in Formula 1. Some of spills out to the public, some of it looks political but we race together and we need to race together, so I think it's situation normal.
Q: Simon, staying with you, Luke mentioned project pitlane just then. The FIA has just released its report into the contribution of motor sport towards health, safety and the environment. Could you tell us a little bit about William's contribution during the COVID pandemic and also give us your thoughts on how the team and maybe motor sport more generally can contribute towards environmental protection in the future?
SR: Yes, we had 136 of our staff and around 60 people from Williams Advanced Engineering step up to help with the Penlon and the Smiths ventilator project through project pit lane. It was a fabulous thing for them to do as individuals but it was great that we could support that too. I think that just shows… not only the spirit that exists in motor sport but the fact that what we bring is a mindset, we bring a mindset where we will take on immense challenges and try and find solutions in the shortest possible lead time and in the face of the pandemic, that's what the world needed and that's what we and the people who work for us and people from the other seven teams in the UK that supported were able to do. So that was great and we're really proud of all that. I think, moving forward, we take a lot of stuff for granted. These are super efficient, the most efficient hybrid engine systems in the world that we're using and we're all very secret about them. We won't talk about the power numbers or how they work and stuff, which is what you'd expect, but there's a fantastic opportunity to take some of that knowledge, some of that learning and the experience that the engineers have and apply it to other sectors of the motor industry or other sectors of industry or life in general so we shouldn't be afraid of that. We have, through Williams Advanced Engineering, great examples of things we've done, using F1 technology as the backbone to improve refrigerators in supermarkets and stuff like that and create pods for carrying babies in ambulances. So there's lots to do, but I think the danger is we focus internally on the next race, the next season but people shouldn't be afraid of coming to the teams and asking for help and support. We've got great engineers, we've got great simulation tools and we use the most advanced materials in the world so we know some stuff and we can really help.
Q: Tanabe-san, if Red Bull were to take over your engines in 2022, can you tell us a little bit about what they're taking on and also, what you have in Milton Keynes at your factory? Does it have everything you need to run a Formula 1 programme there?
TT: In Milton Keynes, we mainly develop and then manufacture the ERS system area, so the main ICE is developed in Sakura R&D in Japan. Anyway, it's a very complicated situation, especially in Honda Formula 1. The discussion ongoing now, so we haven't got any conclusion yet so we will consider every circumstance in our project…
Q: And regarding your future Tanabe-san, you've been a Honda man throughout your career but also on the racing side in both Formula 1 and IndyCar. If Red Bull offered you a job, would you accept it?
TT: So, it's very much an unexpected question for me. At the moment I focus on this weekend and then next 2021 season. If something happens in the future, I will take time to consider carefully, for my future.
Q: Is that a no comment?
TT: No comment!
Q: (Dieter Rencken – Racing Lines) Tanabe-san, I'm terribly sorry that I'm focusing on you but could you clarify please whether the ICE for next year and the hybrid system will be completely new or a development or evolution of this year's versions?
TT: In the ICE, so not everything but pretty much new, updated. The ERS area, some of the parts will be updated, some of the parts will be carry over from this year. I can say a kind of mix. I cannot tell exactly brand new, but some areas new, some areas carry over, a combination.
Q: (Luke Smith – Autosport) Fred, I wanted to know what the plans are for Robert Kubica, heading into 2021? Obviously he's served in a reserve role this year, made a lot of FP1 appearances. Are you looking to continue that relationship going into next year?
FV: I hope so, but for sure the season was difficult and mainly for Robert because he has to do, in parallel the DTM project and the Formula 1 and it was a crazy season, at least, a crazy six months but we would like to have him a little bit more into the car, a little bit more into the simulator to develop our tools and he's fully committed with us, he's doing a very good job and he showed us last week that the pace is still there and I'm very happy to keep Robert in the team for next year.
Q: (Dieter Rencken – Racing Lines) To Fred and Simon please, reference the earlier question from Tom about the Ferrari/Haas co-operation going forward, 2022, Fred you said you weren't considering it. Could you give us the reasons why you're not please, and then Simon, is it something that Williams would consider, particularly given the fact that the alternative is to invest an awful lot of money in your facility?
SR: So we can see advantages but we don't want to become a B-team, so we want to retain our independence but we want to be more competitive so for us, looking forward, we're open to extending a relationship but the specification of that would depend on what we think we're strong at, internally, and where we think we need help and support. In simple terms, if we're good at something and we can do it - quicker to the market, quicker to the track – should focus on that. If there's something we can't do very well, then we should be prepared to buy that from whoever's got it available and under the cost-cap, you can't afford to be inefficient and that's what we're focusing on. We need to make sure that if we're making chassis, we're really good at making our chassis and we apply that to everything in the car. But we are independent, we're going to remain independent but there is scope for collaboration.
FV: Yeah, the projects are different from teams to teams and I think one of the big assets of the Sauber company today is the wind tunnel and we want to continue to invest in this and now, for sure, the plan is to stay independent with the system, with the budget cap and it makes also sense to develop more technology in house and to continue in this direction. But now I don't want to make any comment on the project of the others. I think that the philosophy of F1 is like this, the rule is on the paper now and we can have different approaches but I think that from our perspective, we have to continue to stay independent and even more independence in the future, even if the collaboration with Ferrari is good and we want to develop this kind of collaboration. But it's our project.