FIA post-qualifying press conference - Abu Dhabi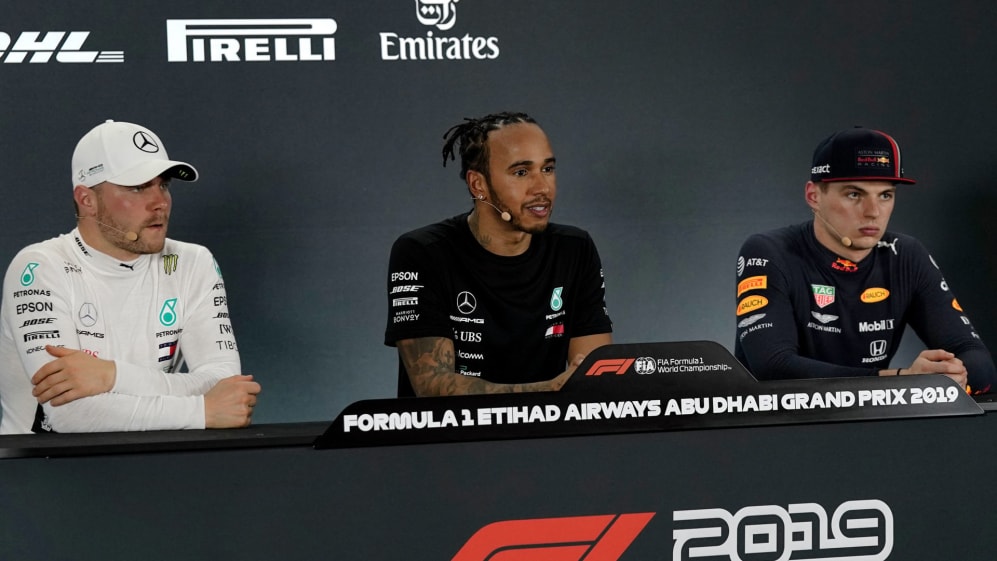 1 – Lewis HAMILTON (Mercedes), 2 – Valtteri BOTTAS (Mercedes), 3 – Max VERSTAPPEN (Red Bull Racing)
Q: Lewis, an emphatic performance by you, the car seemed to be performing well, how good was the lap?
LH: Thank you. It definitely was a very good qualifying session for us. It's not been the easiest in terms of qualifying for us throughout the year. It's been something we've just been chipping away at. Considering we're not developing the car currently I think we just really tried to see what we could pull out of the car this weekend and it's well suited to the track and it's been feeling good. Yesterday was a little bit difficult. I had to re-centre myself for today. Yeah, I think the best thing is when you get to Q3 and you pull out two good laps. I think my first lap it felt special and then the second one obviously was an improvement, so I can't complain. Just a big thank you to all the team for their continued efforts and even though we have both titles won they continue to push and strive for better and that's inspiring for me, so I've been doing the same thing.
Q: It's been a while for you, since the German GP your last pole. How much satisfaction does this give you?
LH: Yeah, of course. It feels longer than the German Grand Prix. If I'm really honest I don't even understand how I got the German Grand Prix pole. But yeah, it's been really hard, particularly since we have come back from the break. The competition has been spectacular; all drivers have been doing an amazing job. I don't think my qualifying has been terrible but it's just not been at my usual standard perhaps, so of course it's incredibly satisfying to know that we have put the work and to end my last qualifying session with this car, which has been a real incredible journey with this car this year, so to finish it off on the front row, there's not a better feeling really. Obviously that's not even half the job done. Tomorrow we've got to battle with the Ferraris and the Red Bulls but I think we put ourselves in the best position possible so incredibly happy. Honestly, it's really strange, you say it's 88 [poles] but it honestly feels like the first, I don't know why. It feels super-fresh. Maybe because it's been so long since earlier on in the season and I'm glad to finish on five poles in the year.
Q: Valtteri, great lap. The car seemed to improve as the session went on.
VB: Yeah, the lap was OK. I think still it felt like Lewis was a bit too quick and I think we were slightly different with set-up as well by the end of the qualifying. Honestly, I felt a bit more comfortable yesterday with the car overall. But obviously for me, anything I was trying to keep in my mind was for the race because, in any case, whatever happens today I knew I'm going to be starting last with my, I don't know how many place, grid penalty, 40, or something. So, I mean, I tried, obviously, as hard as I could. In Q2 I did only one run to save a new tyre set for the race, one set of Softs, if needed. But yeah, Lewis did a very good job, so congrats for the 88th – it's a big number. Massive respect for that. But yeah, I'm just really already looking forward for tomorrow, because it is going to be compromised.
Q: Valtteri, what is the plan for tomorrow. Can you plan your race, or are you going to have to react to what's going on around you?
VB: For sure, we've tried to make a plan and the whole weekend, trying to optimise for the race because, like I said, qualifying result doesn't really matter for me today. So, everything we've done with the tyre choices, and everything we've tried to optimise that. We've had many ideas for the strategy, and obviously it's going to be a challenge, coming up from there – but I do look forward to it. I'm sure it can be fun trying to come up.
Q: Final thought Valtteri. How are you feeling? You're not sounding great.
VB: Feeling better already than a couple of days ago. I've been quite ill this week, I think since Monday night, so when I travelled here it got worse – but in the car it doesn't matter. The adrenaline kicks in and you feel normal.
Q: Max, at one stage during the session you reported suspension trouble. Was there any problem with the car?
MV: No, it was just to check. Because I hit one of the orange inside – the high ones. So they would have a look at it, not that it would catch us by surprise, or anything.
Q: And just tell us about your Q3 session. How good was the lap? How was the car performing?
MV: I think the lap was really decent. There was not much I could do better, I think. I mean, there is never a perfect lap. It was good. I mean, I was just driving to the limits. We just seemed to lack a bit of grip, compared to them. Especially, they are very quick in the last sector. And there are a lot of off-camber corners. They are always very dominant here on this track, and we tried to be as close as we could and unfortunately we were just lacking a bit too much in that last sector. But overall, I think I'm pretty pleased. To be third in qualifying, second on the grid. Of course, I would have preferred to be there on pure pace but for us I think it was a pretty positive weekend.
Podium here last year. Do you fancy your chances of getting on the top step tomorrow?
MV: I guess you will always try but you also have to be realistic and I think Mercedes is very quick – but we'll give it everything we have, tomorrow in the race.
QUESTIONS FROM THE FLOOR
Q: (Scott Mitchell – Autosport) Lewis, you said that it felt like it'd been longer that Germany since you were on pole. Just wondered if it's a weight off in any way? If it's something you've thought about through the season, or is it a case of you get the pole now and only then you realise, 'damn, it's been however many races'?
LH: No, there wasn't a worry through the season. Of course, I'm well aware that you can't win them all. I've been extremely fortunate and done a relatively decent job over the years – but yeah, I think just with understanding the car and ultimately just squeezing out the best: not over-driving; not under-driving; trying to find the right balance throughout the year. And plus, obviously we've had some great opposition. Opponents that are doing a great job – but yeah, I think Austin was probably the last time the car was able to be on the front row, which Valtteri did but I just wasn't there, so it's frustrating when you miss those sessions. I think it was the same in Japan. But, it's great, as I said, these last two races particularly, I've done a lot of experimenting. With my driving style and with the car. Just trying to see if I can eke out a little bit more. And I think I'm closer to it. Not 100 per cent but I'll apply what I'm like this year into next.
Q: (Christian Menath – motorsport-magazin.com) Question for you Max. You said you have to be realistic tomorrow. So, you're starting on the Medium tyre. The gap on the Medium seemed to be a bit bigger than on the soft to Mercedes. It's probably going to be a one-stop race. The track is not fantastic for overtaking. Do you see any chance of getting first tomorrow?
MV: Sounds positive! No, my lap was not fantastic on the Medium. In Q3 it was almost half a second and on the Medium it was sixth-tenths. So, its not a big deal. It's going to be hard. I'm not going to lie but like I said, we'll try everything we can as a team and we'll see where we end up.
Q: (Heikki Kulta – Turun Sanomat) Valtteri, with this car in this circuit, is it possible to be in the top three tomorrow as well?
VB: Everything is always possible. There's no point for me to set any limit really for tomorrow. So for sure, we'll have a good fighting spirit. Take every opportunity there will be tomorrow and for sure there will be some. We've seen crazy races this year – look back two weeks in Brazil. So anything is possible. Look forward to coming up and taking those opportunities and most important having fun in the car.
Q: (Phil Duncan – PA) Lewis, yesterday Mattia Binotto said that you were an outstanding driver and the fact that you might be available in 2021 to sign can only make him happy, so just your reaction to that, and whether that might give you something to think about over the winter?
LH: Well, this is the first time I've heard of that. I think that's the first compliment I've had from Ferrari in these thirteen years.
MV: It's because you're beating them.
LH: I honestly don't remember them ever mentioning me ever so thank you, I'll take it, doesn't really mean anything, it's all talk but yeah, it's nice that finally… it's taken all these years for him to recognise maybe but I'm grateful.
Q: (Andreas Haupt – Auto, Moto und Sport) Lewis and Max, from what you've seen so far this weekend, do you see Ferrari as a potential threat or are they just too weak here this weekend and is it all between you tomorrow?
LH: Yeah, I think their long run was good, huh? I think their long run was strong. I don't actually know where they are.
MV: Charles will start third.
LH: His Q2 run was good on the mediums, wasn't it, so they've obviously got pace. I think it's going to be close between us all. Not to be negative, but I just wonder if… this track is awesome and this event is awesome but I wonder if it's time they did a subtle adjustment to it to make it a bit easier for us to overtake, maybe. I don't know. It's a hard place for us to follow. We've got these great long straights which are good.
MV: Yeah, the atmosphere is great…
LH: I don't know what they have to change but…
MV: Less off-camber corners.
LH: Yeah, maybe. Banked corners would be good.
MV: Yeah.
Q: Your thoughts on Ferrari, Max. Leclerc fastest in Q2 on the medium tyre?
MV: Yeah, of course he also went for a second go at it but yeah, they will be there. I don't worry about it too much, you just find out during the race. Go to bed, sleep well and have fun tomorrow.
Q: (Ben Hunt – The Sun) Just following up on Phil's question to Lewis: it's all very nice, compliments, but are they wasting their time being nice to you? Are you going to turn them down or are you listening to anything that they have to say, positive, negative? Would you be interested in talking to them about your future with regards to Ferrari?
LH: No, it's positive. What was the first part, sorry? I think it's never a waste of time to ever being nice to someone. As I said, it has been a long, long time and a team that I've always appreciated over the years, so to earn their respect from someone from there who's obviously very high up is obviously not a bad thing. I think they've got two great drivers as is so who knows what the driver market's going to be doing over the next year. But if I'm really honest, I'm not really focused on that right this second: trying to make sure I finish off strong. I've got this incredible group of people who hire me where I am and I feel like I just continue to owe it to them to give my heart to them and my energy 100 per cent to them, particularly as I'm still in contract and negotiations haven't started yet. I honestly don't know how the next phase of the months is going to go when it comes to contract. It's very odd that you have to do it almost a year before it ends and it can't be done towards the end but that's just the way it goes but we shall see.
Q: (Beatrice Zamuner – Motorlat) Fernando Alonso earlier said that he's going to keep the door open for 2021, so what would your reaction be to a comeback of a driver of his calibre?
LH: I'd be more just happy that I won't be the oldest here! So welcome an older dude, he can come along. Fernando's obviously a well-accomplished driver. It's interesting to see in the past, obviously, with drivers wanting to come back, like Michael, and it's something you've done your whole life so… I haven't spoken to Fernando so I don't know how he's been feeling or how much he's missed it, but I don't think it would be bad for the sport. Ultimately, there's a lot of young kids on their way up and there's only 20 seats, so he has also had his period of time there, but if there's no other good youngsters coming through then… there definitely is space for some that are currently here that probably could be replaced. So I would welcome it.
VB: Agree with Lewis, nothing really to add. Same thoughts.
MV: Yeah, absolutely, I mean Fernando's a great driver but you should only come back…
LH: You said something about him coming back.
MV: Me?
LH: Yeah. You said that… come back… with me.
MV: Is that so?
LH: You know, in my first season.
MV: You were equal on points, wasn't it?
LH: In my first season.
MV: Yeah, that's right. You did a great job. No, but he's a great driver, I think you can agree on that, right?
LH: Of course.
MV: And it would be good to see him… if he could come back but only in a competitive car otherwise I think it's just a waste of time for him. But I think he knows that himself so…