FIA post-qualifying press conference - Azerbaijan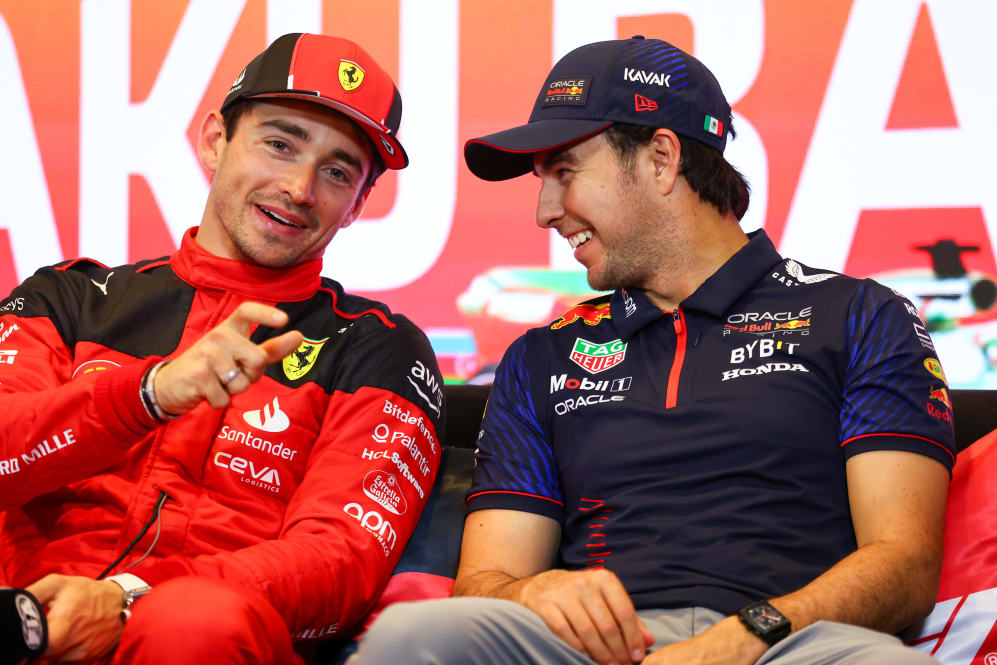 DRIVERS
1 – Charles LECLERC (Ferrari), 2 – Max VERSTAPPEN (Red Bull Racing) , 3 – Sergio PÉREZ (Red Bull Racing)
PARC FERME INTERVIEWS
(Conducted by Mark Webber)
Q: Well Sergio Pérez, that was an interesting evening of qualifying. It was a tight session, as always here in Azerbaijan. You've had a great run here in the past, how was your session tonight?
Sergio PÉREZ: Yeah, it started really tricky, with Q1, with the amount of red flags that we had there. And then sticking to the same set, you know, you don't want to waste any more sets in Q1. So that was difficult, the warm-up. And just to get through, without making mistakes, without much practice, it was pretty challenging, I think the team has done a great job. I'm a bit disappointed to be sitting in P3, because I felt there was more in it. My lap wasn't that clean. But I mean, if there is a circuit where you can race then it's definitely here.
Q: Were you surprised by Ferrari's pace? Charles, a pretty solid lap from him.
SP: We knew they were going to be very strong, they're very efficient, so we knew coming here that Ferrari was going to be the biggest threat to us. I think Charles has done a tremendous lap as well.
Q: Max, that was a very interesting qualifying mate, very, very tight. After the first set an identical time to Charles, and then not quite enough at the end. Did you feel you got the most out of it? I know it's a tough venue to put it all together but it looked tight.
Max VERSTAPPEN: It's always tough around here, you know, to really put the whole lap together. I think, also, the second one, we tried something different on the lap, which maybe was not ideal for the lap time at the end. But around here it's just really hard, you know. In Q3 you're on the limit and then trying to make everything perfect is not the easiest. But nevertheless, I mean, we're P2. We know that we have a very good race car. So all in all, it's not bad, because you always want to start ahead but we'll have to pass one car.
Q: Yeah, and quite extraordinary. I mean, this is qualifying for Sunday's race. Tomorrow, the next lap you do is straight into qualifying again, ready for the Sprint race tomorrow night. So it's a very strange format, but are you looking forward to going straight out of the box in the morning and going again?
MV: Yeah, looking forward to it, to see what we can do there and maybe we can find a few little things to do better. But overall, it's all about just keeping it clean, you know. It's super easy around here to make a mistake. So that's definitely what we don't want to do. Then we'll see what happens tomorrow.
Q: Charles, pole position! That was a very impressive lap. It was a tight qualifying session, as always around here in Azerbaijan. Concentration to the absolute maximum. To see you guys brushing the walls and really threading the needle. Not easy to get the tyres in the window. So were you surprised with pole? Did you think you'd get it tonight?
Charles LECLERC: For sure, I'm surprised. I mean, we came into the weekend thinking that it would be a great weekend if we are in front of Aston and Mercedes in qualifying and in the end we are on pole, so it's a really good surprise. We must not forget that our race pace maybe still behind the Red Bulls, so it's going to be difficult to keep the lead, but that's the target. I'm really, really happy with the lap. I mean, it's a very challenging weekend overall for us drivers, because we had very little time to practice. We only had one FP1 and then you need to be straight on it, but the feeling was good since the start so I was really, really happy.
Q: We saw the Ferrari, a little bit both you and Carlos, down the escape roads, just trying to pick those braking points off, to get the confidence up in those braking points. Obviously you put it together when it counted, but going out of the gates tomorrow, first thing into qualifying, are there any challenges in those braking areas you've got to try and work on overnight?
CL: It's going to be challenging because we haven't run the Medium yet. So, tomorrow in qualifying will be the first time, and we need to be on it because we only have one set, so no room for mistakes. But again the pace seems strong, so hopefully we can learn in SQ1 and SQ2 and then push in SQ3 and there we know the car is good.
PRESS CONFERENCE
Q: Charles, many congratulations. You continue your fabulous record here in Baku? How good does this pole feel?
CL: Really good, especially considering the beginning of the season I've had. I mean, obviously, we haven't had the greatest of beginnings. But it's great to be back on pole. Honestly, I did not expect it. I think we came into the weekend thinking that it would be a great result if we were in front of the Astons and the Mercedes, and we find ourselves on pole. So really, really happy with that. We need to see obviously tomorrow for the Sprint race and for the race on Sunday, as I think we are a little bit more on the back foot there. But anyway, a really good surprise and extremely happy with my lap.
Q: It needed a second run in Q3 after you and Max set identical times early on, where did you find the time on that last lap?
CL: Well, I think on street circuits, you always try and do one lap in Q3, pushing obviously more than any other laps before. But then for the last attempt you just put everything in and see how it goes. So it was a close call in Turn 1. But overall it was quite a clean lap and yeah, again, really happy with the lap.
Q: Clean lap. You're happy with it? Was it one of your best polls in Formula 1?
CL: I felt like whenever you have the excitement of pole, you want to say yes. But it was definitely a really, really good one. Whether it was the best or not, I don't know. I remember in '21 here, it was also a pretty good lap and I think it was even more of a surprise. But it was definitely a really, really good lap.
Q: Only the one on-track session prior to qualifying. How did the track conditions change during qualifying itself?
CL: Quite a lot. But I was surprised in FP1 with the grip there was. I think the new tarmac helped it a little bit and the grip was good. Then there's, of course, a lot of track evolution, a lot of driver evolution, especially on a track like this, but it was much better than what I thought.
Q: All right, very well done to you. Max, coming to you now, your first front-row start here in Baku, so very well done for that. You've had two poles in 2023, just how do you feel about this front-row start?
MV: Well, it's not bad. I mean, it's better than last! No, I mean, it's been alright. It's just, it's tough to put the whole lap together around here. And yeah, also, the last run in Q3 was maybe not the cleanest. We also tried a bit of a different out lap. And I didn't really feel it was better. And when you have that feeling already, then you are on your lap, not as confident as the lap before. And I think that's why also the lap time didn't really come out of it. But I mean, at the end of the day, it's also not really bad for us. I mean, we know that we have a quick race car and, yeah, we have to try and of course use that, mainly on Sunday. But first, of course, we'll wait and see what we can do tomorrow.
Q: Issues on the second lap of Q3. But what about the first lap of Q3? Were you pleased with that one?
MV: Yeah, it was alright. It was, yeah, fine. You know, you just keep it out of the walls, keep it clean.
Q: What have you learned in qualifying today that might help you in the Sprint Shootout tomorrow?
MV: Well, in qualifying, not so much. I mean, I think the race is a bit different, you know. You cannot attack like you do in qualifying, and also the way the car behaves on the tyres is completely different. So, you know, on street circuits like this, I think qualifying and the race are quite different.
Q: And are you surprised by the pace of Charles today?
MV: Not really of Charles. I mean, we know that he's been really good around here. Otherwise you don't get three poles in a row, right? So, yeah, he felt good today, he had a lot of confidence. I think he always has a lot of confidence, which is good. And then around here, you know, you really get everything out of it. And that's why he put it on pole.
Q: And with just the one practice session today are there still a lot of question marks going into Sunday's race?
MV: Not so much. I mean, I felt quite good in FP1 with the little long run we did. So I think we'll learn a little bit more tomorrow during the Sprint race, which probably gives you even more of an idea for Sunday?
Q: Checo, coming to you now. Just point two of a second off Charles. Can you picture where you lost that time today?
SP: I think in Turn 3 I lost more than a tenth. I went really deep. And yeah, just in general not putting a clean lap, with so many corners around. And there's always a combination if you don't get the, like, one corner right, like Turn 6, then always Turn 7 can be a bit tricky. Five and 6, there is a combination in that corner. So I think all in all, it wasn't a very clean lap. I think certainly, I had more pace than what I've shown today. But I'm still in the fight, you know. I think with this tricky Qualifying and very little time to get ready for Quali, it was just important to make sure that we are in a good position for Sunday.
Q: And given where you were on the Saturday of Melbourne. Are there a lot of positives that you take from this session today?
SP: Well, it's much better being P3 than not even making it through Q1.
Q: Are you happy with the car?
SP: I think I'm getting back my confidence. It really knocked my confidence quite a bit, if I'm honest, what happened in Melbourne, especially with, you know, we had a three-week break and then you go straight into Qualifying pretty much. And it's all about braking here, having that confidence on the barking and I think I'm getting there.
Q: How was the visibility during Q3? It didn't start till 6.15pm local time here in Baku, was the sun issue?
SP: Yeah, it was pretty much blind going through to the chicane, through the castle. It was pretty difficult. But I had a reference, so I knew where to stick it. So it worked out alright.
QUESTIONS FROM THE FLOOR
Q: (Jon Noble – Motorsport.com) To Max, what was different about that second out lap? And what was the consequence? I guess the tyres went out of the window, either too hot or too cold for the final run?
MV: Yeah, I was just trying to put a bit more temperature in them. It was just, you know, after FP1, I think sometimes you're not fully understanding what you want to do in Qualifying. And I mean, the first run was good, but it was still not perfect. So we tried, and I mean, it could have worked and then it looks amazing and that's a bit what happened in Australia. And this time, I guess it didn't work. But it's not the end of the world.
Q: (Scott Mitchell-Malm – The Race) Charles, do you think that this is a continuation of the progress that Ferrari seemed to make in Australia? This seemed to be a bit of a different approach there to get more out of the car overall. And do you think that this can be more than just a good qualifying result, that it can also be a fight for the victory on Sunday?
CL: For the second question, I hope so. I don't have the answer yet. But one thing for sure is that I think we did a step forward in Australia. On my side obviously I couldn't show it. But on Carlos' side, I think the feeling was much better during the race. Then how much better, we still need to see on Sunday. So I think on that we still have some question marks. But I am absolutely sure that we did some steps in the right direction. I'm not sure whether it's enough, though.
Q: (Luke Smith – The Athletic) Charles, we heard you, after qualifying, on the radio paying tribute to the team over the radio and also pointing to the Ferrari badge on your chest when you were getting out of the car. After the start of the season how much of a boost is this for Ferrari, particularly after quite a turbulent week in terms of Laurent [Mekies] and rumours about Mercedes and things like that?
CL: I mean, it's good. It feels good. I think the whole team needed it, because we arrived here where… It's part of our job in teams in Formula 1 you need to deal with rumours and pressure, but it's obviously sometimes a bit more difficult to perform under those circumstances and we did really well. So, I think it's good for the whole team.
Q: (Jon Noble – Motorsport.com) To Charles, you weren't anticipating getting pole position here but what do you put this kind of step forward down to? We know you've got a lower drag rear wing here and your top speed's been very good – but has there been progress in the setup, does this track play more to the characteristics? What do you think the elements have come together to make it happen? CL: I think there's been a good step in terms of set-up. Then the qualifying since the beginning of the season hasn't been that bad. I think in Australia, we didn't do a great job, I think I did not drive well, and before that we weren't that far off. So, I think we gained a little bit in qualifying, I expect the gain to be more in the race, but we will also be much further behind in the race. But I think it's mostly set-up.
Q: (Scott Mitchell-Malm – The Race) To the two Red Bull drivers, please. Have you found the front tyre warm-up on this car a little bit trickier at all this year? And did you feel that you might be vulnerable to Ferrari or someone else coming to this track because of the unique challenge that it poses?
MV: No, I don't think so. But if you look at all the qualifyings, I mean, I think, in general, it's been quite close, the first three rounds. We have a really good race car, I think, but it's never really been, let's say, super-dominant over one lap. I don't know why that is. It was the same last year, of course, it was also a bit down to being overweight. But then at one point we started to trim that down and it was still not our, let's say, best day on the Saturday. So, sometimes just the way the car works – but of course we all know that the points are on Sunday, so I don't mind if it's a little bit slower on Saturday and quick on Sunday. Or whatever – I've lost it with the formats now. Can I say that? Quick on Sunday, Saturday?
SP: Yeah, I think the whole qualifying sessions this year have been really close. And if we were not perfect on Saturday, then you will be just not possible to get pole because the margins were always within a tenth, two-tenths maximum. So, that really requires being perfect, having a good quali session. And today I think we didn't maximise it and the result is that we got beaten by Ferrari. So, I think no surprises there because qualifying has been extremely tight already this year.
Q: (Luke Smith – The Athletic) Charles, another one for you. Max mentioned the confidence that you have around here. What is it about this track that you like so much, and why are you so good around here?
CL: Well, I don't know. I don't know. I mean, it works well for me here. There's been also years where it worked less well in Qualifying also. But yeah, I don't know. I love street tracks in general, not only here, but Singapore, Monaco. These are probably my three favourite tracks of the season. So, I enjoy this challenge of pushing the limits but you cannot go over it obviously otherwise you pay the price of it. So, this is something I enjoy then. It's not like I do anything particular that I can pinpoint for being so quick in street tracks.
Q: (Scott Mitchell-Malm – The Race) Question to Charles. Because you came into the season with, obviously, hopes of fighting for the title and then you started the year on the backfoot compared to Red Bull, how difficult was that to recalibrate mentally for you and the team and adjust expectations? And then coming here and getting pole? How much sweeter does it feel having gone through that in the first few weeks of the season?
CL: I think we realised it already from testing, which was not easy, but at least it helped us for a week to basically understand that we probably wouldn't be fighting with Red Bull, at least in the first part of the season. So, we were aware that we just had to take the maximum points possible in those difficult races. Unfortunately for me, we've been pretty unlucky in the first two races and then the incident with Lance in the last one. So very, very few points. But yeah, I just hope this weekend can be a clean one that we can get the points we deserve. And yeah, then we'll see. We know that for now in terms of race pace, we are a bit behind but, as I said, our job is to maximise the points in those situation for later in the season, if we are strong enough, go and get the wins.