FIA post-qualifying press conference - Mexico City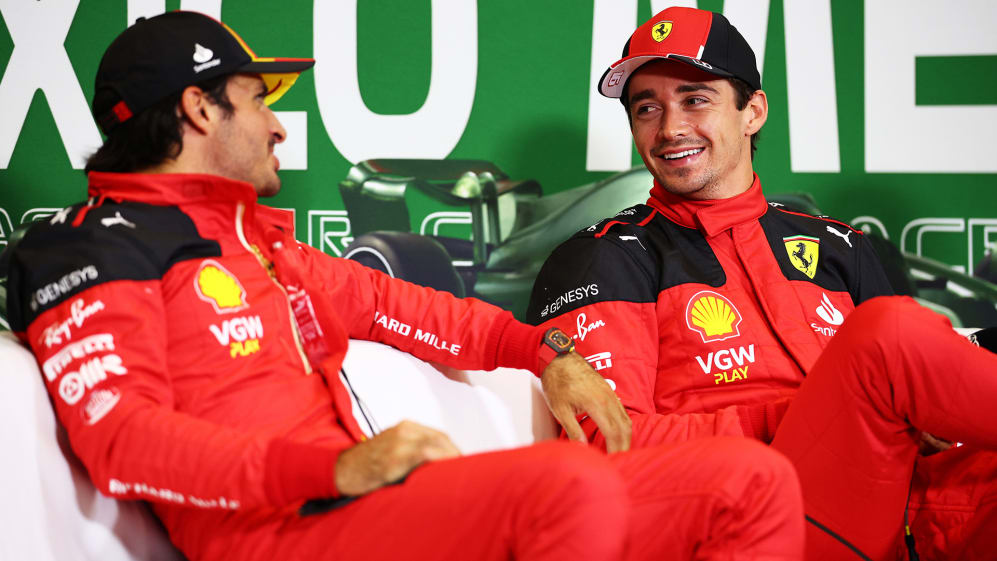 DRIVERS
1 – Charles LECLERC (Ferrari), 2 – Carlos SAINZ (Ferrari), 3 – Max VERSTAPPEN (Red Bull Racing)
TRACK INTERVIEWS
(Conducted by James Hinchcliffe)
Q: Charles Leclerc, incredible result for you and Ferrari, back-to-back pole positions. I don't think after practice there are many people in the paddock that would have put money on an all-Ferrari front row. Do you include yourself in that group? Did you guys know you had this kind of pace?
Charles LECLERC: Absolutely not. Then, it's been two weekends in a row we say that, so then people will start not believing us anymore. But to be honest, I did not expect to be on pole position today. We thought we were lacking quite a bit after FP3. But for some reason, once we put everything together, it went well, with the new tyres we gained a lot. But I'm already focusing on tomorrow's race, because while I'm in pole position, but now we need to convert it into a win tomorrow. And of course, it's going to be very difficult.
Q: So obviously that wasn't the case last week, strategy maybe not going your way. What do you have to do differently tomorrow to convert this pole to a win?
CL: Well, just focusing on ourself. We've had a pretty good pace all weekend. I'm not sure whether it's enough to be challenging for the win, but we'll try everything in our hands to try and get it. And let's see tomorrow.
Q: Longest run from pole position down to Turn 1 here, over 800 metres. Does that mean you have to approach the start or approach Turn 1 any differently to try to maintain the lead out of the first corner?
CL: Ah, first place here, I'm not sure it's the best starting place. But anyway, that's fine. I'm happy. I'll take that pole position. I'm really happy with today. And now let's, as I said, finalise it tomorrow.
Q: Excellent. Congratulations. And keeping the theme with all the drivers in red on the front row, Carlos, incredible qualifying performance from where you guys were in practice, talk us through your session?
Carlos SAINZ: It was a very strange one. Honestly, the whole weekend, I struggled to put a lap together and the first lap that I put together was that Q3, run one and suddenly I was P1 at the time then Charles beat me by half a tenth, one tenth. But I just struggle to understand where suddenly we can find half a second and then go half a second slower on the next lap. It's very tricky with the tyres. The feeling with the car is very strange around this circuit. But we managed to put a good lap when it counted and it puts us in a good position for tomorrow.
Q: So, you got it done in qualifying. Are you confident in your race pace? How was practice on full fuel? And what do you think you guys can realistically get done tomorrow?
CS: Well, clearly we are not as strong on high fuel as we are in low fuel. I think our car benefits a lot from that new tyre, that soft tyre peak at the rear. We're going to see how we can do tomorrow to keep those tyres alive, to keep that Red Bull behind, because having two cars in front it's a good advantage. So yeah, we're going to try our best.
Q: Great result for you, great results for Ferrari. Congratulations on the front row. Max, how are you? Difficult session out there with these track conditions. It's a low-grip circuit, lowest downforce that these car see all year, how tricky is it to get that perfect lap here in qualifying?
Max VERSTAPPEN: It's very difficult, you know. It's very low grip around here, of course, because of the altitude. So when you try to push a little bit more, it just tries to go away from you. And I think that happened a little bit in Q3, where we just couldn't put it together, especially also the last sector seemed like we're struggling a little bit more than I would have liked. But nevertheless, it was still close and it's still a very long race and a lot of laps to be raced and that's where, of course, you score the points.
Q: You've won from a various number of positions on the grid, so I've got to think you're still pretty confident going into tomorrow with your race car?
MV: I am. I mean, of course, I would have liked start first, but we'll have a good slipstream to Turn 1 and we'll see what happens.
Q: Alright, odds that you're leading coming out of Turn 1, what do you think?
MV: I'll give it a good go!
PRESS CONFERENCE
Q: Charles, many congratulations, two poles in two weekends for you. But how much of a surprise is this one?
CL: I don't know. As I said earlier, it's again a really big surprise. But we keep saying that every time we do a pole position, so people will stop believing in what we say. But I did not expect it. And this time until really late in the session. I think in most of the other sessions from Q1 we were on it and then we saw that there was a potential for pole position. There, until Q3, we had no idea that it was inside the car. And yeah, for some reason in Q3 I managed to put more or less everything together apart from the last sector. And straight away the lap time came straight away. So that was a good surprise. But I think it still shows us that our car is still a bit peaky. And we need to work in that direction for it to make it better in all conditions.
Q: Did you make any changes to the car prior to the session?
CL: No. Actually, this weekend, I did not change the car that much!
Q: OK, well, you found I think it was eight tenths of a second between Q2 and Q3. Where did you find that time?
CL: Just having a cleaner lap. In Q2, it was a bit messy with the traffic exiting the pit lane. The warm-up is super important and it's very, very difficult to put the tyres in the right window here. So everything makes a difference. It was a very bad on the out lap and then I had a bit of traffic also in my lap, and all of that made a huge difference. But it made a much bigger difference than what I thought, because even though I knew there was a bit more time coming, I did not expect to gain eight tenths.
Q: So the car surprised you in qualifying. Can it surprise you in the race tomorrow? Just how much confidence do you have?
CL: Well, I hope so. It's a very difficult race here. Everything can happen, especially with the cooling. Whichever car is behind will do a bit more management, so that can play in our favour. But for that we need to do a good start. And starting first here, it's always tricky to keep that position into the first corner, but we've had pretty good starts this year. So I'm confident we can keep that first place into Turn 1 and then we'll try and do our best race.
Q: Where do you see the main danger coming from? Do you think it's Carlos? Or is Max still favourite as we go into tomorrow?
CL: I mean, this year, clearly, Max has been extremely strong on the race pace. So at the moment it's Max. We still have a lot of work to do as a team, I think, to match them with our race pace.
Q: Alright, very well done today. Thank you. Carlos, coming to you. You found more than a second between Q2 and Q3, where did you find that time?
CS: Honestly, it's been a tricky weekend again. Putting laps together has been extremely difficult for me on the Soft tyre. And yeah, up until Q3, run one I hadn't done a good lap all weekend. And then suddenly that lap, even though it had a snap in Turn 8/9, that I nearly lost the car, it was a pretty good lap. But when I saw 17.2 on the dash, I was like, 'yeah, I don't know where this is coming from right now'. But it just shows, like Charles said, that there's still something that we need to understand, something that we need to look at – why our car suddenly, when it comes to low fuel and Soft tyres and Q3, high grip, it comes alive and then suddenly, in some sessions, or on higher fuel, more worn tyres, then it's a trickier car. It's something that we're working on and something that sometimes gives us some very good surprises and sometimes some other not so good ones, so we'll work on it.
Q: Looking ahead to the race tomorrow, Pirelli have gone one step softer with their compounds this year, how much more strategic is this race going to be?
CS: I think last year everyone did a one stop anyway with a C4 and a C3. I think this year, which is the same tyres that we have available for tomorrow, so it doesn't change much the picture – but I feel like this year the tyres are trickier to manage. We saw FP2 and FP3, more graining on both front and rear axles and I think it's going to mean that the race is going to be a lot trickier than what it was last year, no? And yeah, it will be all about the management of the temperature of the tyres, but also the temperature of the engine and how we can put together the most consistent, trouble-free race.
Q: How confident are you? Podium possible or do you think you can win this race?
CS: I don't know. I think it's impossible to tell around Mexico. Obviously if we do laps like we do today we can aim for the podium or the win but to do that for 71 laps in our car is a bit trickier. Also, with our tyre management, it's trickier and 71 laps, I think, normally that is where Red Bull makes a difference but together with Charles, we will try and do everything we can do to keep him behind and try to challenge that win.
Q: Max coming to you. How surprised are you by the pace of the Ferraris today?
MV: Yeah, I mean, it's always difficult to tell, you know? I'm not part of their team, so I don't know what's going on. But yeah, I personally just expected it to be a little bit better in evolution through Qualifying from our side. And I think that's what we were lacking a little bit. I think Q1 was okay, Q2 wasn't too bad but then it just seemed to like, fall away from us, like the improvements were not big enough, coming into Q3. But this track is also extremely difficult in qualifying, to basically almost, let's say, hit the perfect lap. Because it's so low grip, if you tried to push a little bit more, you might overheat the tyres, or you have a little slide. And that's, I think, what happened to me today, where I tried to find a little bit more time, but then the balance wasn't exactly there. And then you're sliding, you overheat your tyres, and then in the last sector, you have no tyres left. And that's basically a bit I think what happened. Yeah, it's just this track is very, very difficult to put a perfect lap together.
Q: Max, you were blindingly quick through the middle sector on that final lap. In hindsight, do you think you pushed too hard, which is why you had the problems in the final sector?
MV: I still felt quite bad in the middle sector! I was sliding around quite a bit. So again, yeah, I mean, I tried to get a bit of time back. My first sector wasn't probably ideal. I mean, I improved a bit but not enough. But yeah, it's just feeling, and then around here, when you slide a bit too much, like I said, it doesn't come together. And yeah, when it's so tight, you know one or two tenths can be easily found or lost and I think that's what happened in Qualifying.
Q: What about the race pace? How much confidence do you have ahead of tomorrow's Grand Prix?
MV: Good. Yep. I also have two Hard tyres. So, nobody else has them, really around me. So that's also maybe an advantage for tomorrow. But yeah, again, I mean, a lot can happen into Turn 1 already.
Q: Okay, Max, final one from me if I could. You are being investigated by the stewards for impeding in the pit lane. Can we just get your take on what happened there?
MV: Just everyone is trying to make a gap. I saw a car passing five cars behind me. And then he tried to pass me as well, but I'm just trying to make a gap out of the pitlane. And that's basically what everyone has been doing, so I'm surprised that… yeah, I'm quite surprised. Normally, I think, everyone should then be called up for impeding because everyone, with this new rule, is driving very slowly in the pitlane. Yeah, I don't think I did anything weird or wrong.
QUESTIONS FROM THE FLOOR
Q: (Jesús Balseiro – Diario AS) Question for the two Ferrari drivers. How do you imagine the start? Because, here also the starting point is a bit far from the braking point, so the slipstream can be effective. What's the plan, considering Max is third and you cannot fight, you may have problems behind?
CL: Like in karting! Well, to be honest, we haven't discussed yet and we'll discuss about it but at the same time, it's very difficult to predict what's going to happen. It's basically a result of how good a start one will have. And then we'll adapt. I think, obviously, we won't take too many risks in between cars. But apart from that, it's difficult to plan what's happening at the start. It depends if I have a good start, if I have a bad start, so difficult to plan that.
CS: I think it's impossible to predict these kind of things. Only thing I can say is I'm starting, maybe, on the dirty side, which here is quite a big difference. I was almost kind of expecting Max to beat me a bit and maybe put me on P3 to have a better launch tomorrow. But even like that, I think it's impossible to say…
MV: You want to swap?
CS: You know, I'm considering it! But yeah, I think it will be a fun start, a fun run down to Turn One. I think Max will be on the attack. We will all be trying to get slipstream, so it's always a good run down to Turn 1 here.
Q: (Ronald Vording – Motorsport.com) Question to all three, starting with Max please. Nowadays we have the maximum time between the Safety Car lines for an out-lap but it seems the mess is now in the pit-lane, with drivers trying to create a gap there. Do you think the maximum lap time between the Safety Car lines is actually a good thing, or is there another way to improve the situation? Thank you.
MV: I think it's all imperfect at the moment. So, we need to come up with something else, but it's hard. Yeah, I just… the thing I don't understand is like everyone is trying to make a gap now in the pit lane, which is the only place where we can do so. So, I don't really understand how you can be impeding someone. So, this is for me, I think we have to be a little bit more lenient with that, knowing that it's a safe environment. I mean, we're driving really slow, it's the only place where we can make a gap because, I mean, we drive out of the box and, of course, we in the beginning of the pit-lane, we didn't know, of course, what other people are doing. So, you are constantly, of course, then trying to judge a gap. You don't want to start a lap within three four seconds of someone, because that's really bad for following. But, on the other hand, if we wouldn't have had this kind of minimum lap time, then maybe you have some impeding into the last sector again, so it's just all quite tough, I guess, to find a good compromise
CL: Yeah, very similar thinking. I think the biggest thing that we got rid of is dangerous situation especially in last sector. Not necessarily for here, because the last sector is pretty low speed but in Spa, for example, sometimes we will have difference of speed between cars that will be crazy. And with that, I think it's been quite a good solution for that. On the other hand, it has created other problems that are not great. Obviously the end of the pit-lane – but this is, I think, the least of the problems, but the biggest one that I find myself quite a lot in, in whenever, especially in Q1, you've got two cars that are in a different sequence and if you get out the pits and you pass the Safety Car line 2 at the same time as a car out on track, then you are basically done, because you have to… both of the cars are respecting the minimum lap time and you cannot open the gap, and you just have to either fight the car like I did in Qatar with Fernando, or your lap is done. So, this is something that it will be good to look at it, because there is a bit of randomness in that which is not great. And again, on the thing at the end of the pitlane, it is the only place where we can open the gap so difficult to do otherwise.
CS: Yeah, I agree. I think we just need to sit down now and find even better solution for next year and for the future because this one has just moved the problem to the pit lane but we're still not happy with the situation at the pit lane. We already had a couple of ideas to improve it for next year, but it needs some changing regulations and stuff like that that requires a different year and a change from the FIA rules.
Q: (Alex Kalinauckas – Autosport) The same question to the two Ferrari drivers please: you're obviously quite surprised by the pace you found between Q2 and Q3. Were you also surprised not to gain more time on your second runs in Q3? What were the difference between your two respective laps?
CL: On my side, I didn't gain much from the first to the second lap just because I locked up in turn four I think it was, so from that moment onwards, I knew my lap was basically done. So it wasn't that much of a surprise that I was unable to improve on that second lap. So not much more to add on that.
CS: For me, it was a bit of a weird one because the second lap felt a lot cleaner than the first one. And it felt like it was my second clean lap or my second good lap of the weekend. And like always at this track, you look at the lap time and then I went a tenth slower which is… I don't understand why the lap felt a lot cleaner and a lot better. So yeah, just same thinking as a whole weekend, not really understanding why some laps come better than the others, even though some laps feel better than others. So it's something to do with the tyre preparation, the tyre grip that it gives you even if it's a cleaner lap, you just have a little percentage less of grip during the whole lap because of the tyre preparation and just the lap doesn't click so this is a bit what happened to me in the last lap.
Q: (Fred Ferret – L'Equpe) To the two Ferrari drivers: would you do the same thing as Max at the end of the pit lane, slowing your car and would you understand that you wouldn't be penalised for that?
CS: I don't want to cover a rival here because he's starting next to us and he's the favourite for tomorrow but we all do it, we all actually slow down at the end of the pit lane to create a six to eight second gap to the car in front. And yeah, you expect everyone behind you not to overtake you because they also need to open an eight second gap to you, but I haven't seen what he did. Maybe he was even naughtier than that. But yeah, I think we are all in in the same boat when it comes to pit exit.
CL: Yeah, again, I haven't seen the situation, I cannot judge. We all do kind of the same thing where we are trying to take the gap at that point because it's the only place where we can do it.
Q: (Louis Dekker – NOS) Charles, I just wondered, do you prepare for start like this by looking at the videos from last year, for instance, because the start is different and you might agree that maybe the best place to start is P3?
CL: I agree but I will check the starts where the first keep the first place into the first corner mostly and focus on that. We've been good on starts since the beginning of the season so I am not too concerned for that. Then of course there's the game of the slipstream on the way to the first corner and we'll try to use that in our advantage. But yeah, then there won't be any special analysis for this track because we always do an analysis on every track we go to so we'll just do the normal preparation for tomorrow.
Q: (Carolina Figuerosa – Mas Por Mas) My question is for the Ferrari drivers. First Charles, you have been having a good qualifying streak in Austin and Mexico so tomorrow what is your strategy to Mexico and Sainz, you have Verstappen behind you. We know he's a strong driver, what are you doing to do to prevent him overtaking you?
CL: Well, I'm not going to say to the whole world our strategy for tomorrow but we'll look into it. Obviously, it is a very special track for strategy, especially with the high altitude, tyre management is going to be a huge thing, so we'll have to be on top of this. And then for the strategy we'll adapt on the go in order to try and keep that first place.
CS: How will I keep Max behind? Well, we will see tomorrow. Also it's obviously a very difficult guy to keep behind because of the race pace they have over 70 laps. Normally one way or another with strategy or simply by offsetting their pace with tyre advantage, they can finish ahead. So it's 71 laps tomorrow and given the race pace, at one point or another he's going to have a chance at overtaking us and I think it's up to us how we manage the strategy and the situation to try and keep him behind.
Q: (Alex Kalinauckas – Autosport) Max, two years ago you had an amazing pass on two drivers from the same team when you went around the outside of the two Mercedes cars. Will you take inspiration from that tomorrow or is the situation so different that you can afford to be a little bit less aggressive at turn one tomorrow?
MV: I always learned that you can never repeat the same start from when I was little. Of course, you can look at it but every year is very different. It depends on how good your actual start is, then the line to the first corner… there's a lot that comes into play. Track conditions as well, for example. So it is more just an instinct and once you do your start, you make your mind up of what you're going to do.
Q: (Matt Coch – speedcafe.com) To all three, if I may, just on the pit lane stuff, is that a legacy of the way you guys need to prepare the tyres with pressures and things and is the underlying issue not need to go slow, but the actual need to preserve and manage the way you bring those in so that the tyres are actually the crux of the issue?
CL: I think so because whatever the operating window the tyre is we'll always try to be as close as possible to this operating window and so I don't think it's a tyre-related problem on that.
CS: Yeah, I don't think it's tyre related unless we would qualify with harder tyres and we could do a lot faster out laps. And obviously the minimum lap time doesn't come into play. But the problem would still be there because there's too many cars for the six to eight second gap that every car chases. If you multiply 20 cars by eight seconds, you're always going to have traffic at some point in Q1 or Q2, so yeah, it's not an easy situation.
MV: I agree. It's just that we need that gap, the six to eight seconds. That's why now it's moved to the pit lane instead of the track, which in most cases, of course, is a safer scenario but clearly it still brings some kind of problems as well.