FIA post-qualifying press conference - Monaco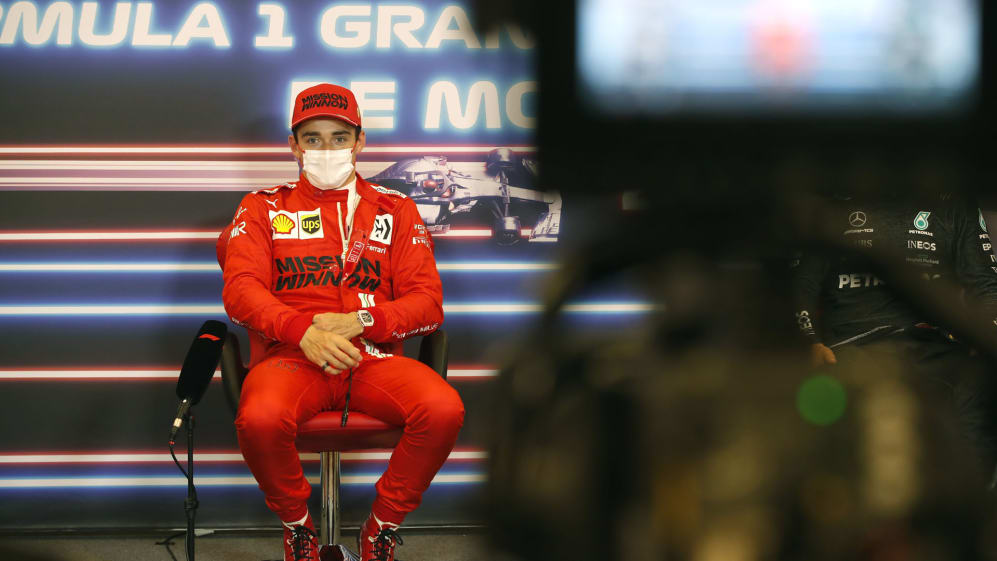 1. Charles LECLERC (Ferrari), 2. Max VERSTAPPEN (Red Bull), 3. Valtteri BOTTAS (Mercedes)
TRACK INTERVIEWS
(Conducted by Paul Di Resta)
Q: ….Obviously your last lap didn't count but lining up P3, could be P2 depending on Leclerc's damage?
Valtteri Bottas: To be honest I didn't hear anything you said, but for me it's disappointing that I didn't get my last run with the red flag, but that's how it is sometimes. But I kind of left everything out there for the last run. The first one wasn't really enough for pole but in the second run, with the prep laps we did, actually I was feeling good and I was quite a bit down on my lap time. I'm gutted.
Q: It looks like it's been a very difficult weekend for you and Mercedes; you've been trying a lot of different set-ups. Did you get the car how you wanted it for qualifying?
VB: I think we made good progress throughout the weekend with the car and definitely happier with it in qualifying and we should have had a shot at the pole in the last run. Yeah, we will try everything we can tomorrow in the race. It's Monaco and anything can happen.
Q: Max, lining up on the front row tomorrow. You looked like you were on a lap that was going to be for pole position. How did you see it?
Max Verstappen: Yeah, it was unfortunate with the red flag, because I felt really comfortable in qualifying, just building up to it. I think nobody was really putting a lap time on the first lap and that's how we basically planned it out, to do two laps and then your third lap was the fastest. It was all going really well but of course the red flag ruined the chance for pole. We'll see. Nevertheless, so far I think a very good weekend. We recovered well from Thursday, so not too bad.
Q: Do you feel like the strategy in qualifying… because I think you only did one lap on the first run and you obviously planned for the end. There's always a risk when you take that isn't there?
MV: Yeah, but you don't expect… I mean it's easy to have a red flag here but you don't expect it, so you always plan around the best possible strategy and it was working out well. It's just a shame about the red flag.
Q: Charles, the grandstands went a bit mental there. Home race, on pole position, it's been a tough weekend. Talk us through it?
Charles Leclerc: It's a shame to finish in the wall – it doesn't feel the same. At the same time I'm incredibly happy about my first time lap. The first corner was quite tricky. I didn't do a great first corner but then second and third sector I nailed it. So very, very happy to be on pole. It was very, very difficult to manage myself mentally after Q2. I could feel I was quite emotional in the car but I told myself now it's Q3 and now it's time to put everything together and I managed to do so, so I'm incredibly happy. But it's tomorrow that we score points but I have to say that it's a big surprise to be on pole and on fourth place for the race tomorrow.
Q: You've a real, genuine chance to win this race for Ferrari?
CL: I've always been very unlucky here, so let's wait and see.
Q: A final one, how worried are you about the gearbox?
CL: I am. But let's wait and see.
PRESS CONFERENCE
Q: Charles, many congratulations, pole position at home. But first up, tell us how you feel after what was a very eventful session?
CL: I have mixed feelings a little bit, because with the crash I don't know where I'm starting tomorrow yet. It depends on the damage on the car. I really hope that the car is not damaged enough that won't be starting from the back but if it's not the case then I'm incredibly happy with whatever happened before the crash. Then I've seen… it wasn't a great lap I was on in the last one and I tried to do a bit more in the last sector but obviously there was too much time to recover and I just did too much and I just touched the wall on the inside and went straight into the wall so it's a shame how it ended up but obviously it was very difficult for me to manage the whole session. I was very emotional after Q2 obviously because I've seen that there was an opportunity to do pole position here and then I calmed myself down and did a great lap in Q3 run one but then what happened, happened.
Q: The car has been competitive from the outset here in Monaco. How much of a surprise is that?
CL: It is quite a big surprise. Actually we were very competitive but again it's quite different. They are very different tracks and maybe we were expecting Red Bull and Mercedes to have something more for here but apparently they didn't and we were just very competitive from the start. So it was good but until quali we didn't believe that we could fight for pole, so yeah it's a surprise, even in quali.
Q: And of course you missed the whole of the first practice session. How much did that hold you back?
CL: It wasn't great but at the end in FP2 and FP3 I had plenty of laps to get back to speed. I was a little bit inconsistent pushing at the limit and yeah you always want to have more laps around here but I don't think it cost too much looking at the lap times in quali.
Q: It's the first time you've got through to Q3 here in Monaco. Can you just describe what it feels like that first run?
CL: Well, it didn't feel great to go Q3. At least we were expecting to go through to Q3. It would have been a big disappointment if I was not going into Q3. 2019 was a hard one to take as we definitely had the potential to be up there but we couldn't finalise it after the mistake we have done in Q1. Hopefully we will end up this weekend on a high, which never happened at home.
Q: I meant the thrill of the driving really – on the limit, Q3, light fuel?
CL: yeah, it's incredible. You are pushing the limit, you can really feel the speed because the references are very close to you, which are the walls, so it is just incredible. Adrenaline running very, very high and you cannot afford to do mistakes but obviously in Q3 you need to go for it.
Q: Max, coming to you, that was a thrilling session. You were on a very good lap right at the very end. Do you feel this is one that got away?
MV: It's always 'if'. The red flag came out and that's what it is but for sure for us, what worked today, was going fast, slow, fast and I did a quite decent lap on my first set, like because I only had one lap so was out of the box, straight in, and that was very satisfying, so I knew that, of course, on that second set the last lap was going to matter and I was on a really good one into the tunnel and yeah, of course, I couldn't finish it but nevertheless I think we had a really good recovery from Thursday where we were struggling a lot with balance and today we were very competitive. It's so narrow around here and you just build up to it, of course, through practice, through qualifying. I felt really comfortable in the car from Q1, Q2, Q3. I knew pole position was on. It was, of course, going to be tight with Charles, who is, of course, driving really well but nevertheless, second, I can be quite happy with that.
Q: And Max, can you tell us a little bit about the recovery since Thursday – because you said on Thursday evening "we're not fast enough". Have there been big changes to the car since then?
MV: Yeah, pretty big. I think everyone back at the factory and here at the track, they did an amazing job to basically give me the car I wanted. Because, we were quite far out on Thursday, which I didn't expect, I really felt from the start, just with the characteristics of our car, really from the whole year, it should be quite good around here, but luckily we found it today. We'll see. I mean qualifying was a lot of fun.
Q: And Max, with Mercedes seemingly on the back foot here, how important is it to bring home some big points tomorrow?
MV: It's always important to score a lot of points! But of course you need to be ahead of your main rivals as much as you can. So today was good – but of course we need to finish that off tomorrow.
Q: Valtteri, I've just said that Mercedes are seemingly on the back foot this weekend in Monaco. Is that true?
VB: I would say, yeah. We've seen since the practice on Thursday and still this morning that our relative performance to Red Bull and also Ferrari is not quite what it has been in the recent races – but it's a unique track. Different kind of characteristics from the car. What I'm proud of is the progress that we've managed to make. By the time of qualifying, the car was feeling a lot better than it did in practice and even since this morning I was more comfortable with the car and actually I really felt there was a shot for pole position, which was completely out of reach in practice. That's why it was disappointing at the end with the red flag, because I felt there was a good lap on the way.
Q: What have been your main issues with the car?
VB: We've struggled a bit with the tyre warm-up and in the end decided to go for prep lap and then timed lap and that felt to be the best and ultimately I couldn't try that in the end. But, yeah, I would say tyre warm-up is the biggest issue we have and still balance-wise, a bit of understeer in Sector Two. It's not big things but the gaps are small and small things matter.
Q: And do you think you've got the long-run pace to challenge these guys tomorrow?
VB: I think we have a good race car. I think so. Not that it helps here! If there's a train, we'll see.
QUESTIONS FROM THE FLOOR
Q: (Andrew Benson – BBC) Charles, this is for you. Just about that final lap. I was just watching your times on the mini-splits. It was going green, grey, green, grey. I just wanted to make clear, was it a flying lap or was it a second-build lap that you were on at that time. Secondly, if it was a flying lap, could you just explain exactly what was happening through Tabac, Swimming Pool One into Swimming Pool Two? What happened exactly in the accident?
CL: Oh yeah, it was definitely a flying lap. I mean, I was one-and-a-half tenths off, something like this. So, it wasn't a second build-up lap. And, well, it didn't happen much. I basically took too much the inside on my fast lap. If you watch it, I think I touched the wall too but not as hard as on the second timed lap. I tried to go for a bit more on the second timed lap and I basically bounced it off. It was a misjudgement. So yeah, that's what happened.
Q: (Scott Mitchell – The Race) Question to all three please, because this kind of incident usually triggers these kind of questions from fans. In IndyCar, if a driver causes a red flag in qualifying, they lose their best two laps from that segment. To all of you, would it be fairer to have that rule in F1, or is it just part of the game that this happens and would therefore be unfair to punish a genuine mistake like the one Charles made?
MV: I think there is a difference when a guy makes a mistake and hits the wall, or doing it intentionally. I think had Charles just parked with a broken front wing, it's a different story. But of course he just clipped the wall, initially, and then ended up where I've ended up twice! So, it's just unfortunate. Of course, I'm disappointed to not have a shot at pole but that's life. Sometimes you can't do it. It's fine. I don't think his lap should have, or should be deleted in the future if possibly they want to make rule changes. I don't think that would be fair – because we're all trying so hard – and it's not so easy around here, especially on the limit. It's easy to make a mistake.
CL: Yeah, as Max said, I can get where it's coming from. And surely if I was doing it on purpose I would make sure to hit the wall a bit less hard but that wasn't on purpose, obviously. I was pushing the limit and, for now, I'm just worried about the rear of the car. I hope it's OK. It doesn't look OK but let's wait and see. As Max said, on a city track like this, where we are pushing the limit, it happens to do a mistake. It's a different story when it's done on purpose but I think it's pretty obvious for today.
VB: I think the regulation is fine. I mean, it is what it is. Sometimes in sport things don't place into your hands. Sometimes you get lucky, sometimes unlucky and that's what happens.
Q: (Christian Menath – motorsport-magazin.com) Question for Max and for Valtteri. Max, we've seen you have a proper Sector 1. What did the delta time on your dash say until the red flag came – were you still ahead. And also for Valtteri, what did your dash say until that point?
MV: Yeah, I was one-and-a-half tenths up before going into the tunnel, and I knew on the previous lap I made a mistake in Turns 10-11, where I lost more than a tenth. So, I knew that pole position was on, especially on the second timed lap. I had a lot more grip on the tyres, so even the last sector normally would have been an improvement – but that's would-have, should-have, could-have. I don't' really care about that. The fact is there was a red flag. It is what it is.
VB: the same thing for me. I think I was in Turn 6 or 7, one-and-a-half tenths up. If and If. That's what it is.
Q: (Alex Kalinauckas – Autosport) Question to Charles. You spoke about feeling emotional after Q2. Was that because it was an improvement you made to top that segment and maybe you thought it was possible to get pole, as you said earlier on. What exactly were you thinking at that time and how did you calm yourself down ahead of Q3 to carry on?
CL: Emotional is probably a big word. I probably exaggerated a little bit, my feeling into the car – but I was definitely happy to see myself in P1, in Q2, knowing that I will finally get to Q3 here at home and have a shot for pole, because we were competitive. So, I was just excited for Q3 and excited to go back on track, try to put everything together and, as I said, have a shot for pole, so it was probably more excitement than emotions.
Q: (Frederic Ferret – L'Equipe, via email) Charles, we know that you love celebrating by jumping in the sea outside the harbour. If you finish on the podium tomorrow, would you celebrate by doing that, or if you stay on pole, would you do that?
CL: I think I said I was going to do that if we finished on the podium – but that was before the weekend!
MV: Different story now!
CL: Yeah! It depends where we start tomorrow. I will definitely jump in the sea if we're starting last and finish on the podium. If I keep my pole position, I will probably not be very happy to finish second or third.
Q: Just a question about your pace as well. Do you think it is track-specific, or do you think Ferrari can maintain this level of competitiveness going forwards?
CL: No, we have the same car as in Barcelona and you know where we were in Barcelona. I think that's more where we are at for the rest of the season. We are especially competitive in the slow-speed corners, which sticks well with this track but I believe that already from the next race onwards we will be back to where we were before.
Q: (Andrew Benson – BBC) Charles, you've got a bit of a reputation for mega qualifying laps in Q3. Where does this one rank for you? How good was it?
CL: It was very, very good. I am… it wasn't great in the first sector, so I took it maybe a bit too easy but I've been struggling in the first sector the whole weekend. After that, I put every one of my best corners into that lap, so it felt very good and, again, at home feels even better – but it's not the same feeling as normal, as I described earlier, as my head is somewhere else at the moment.
Q: (Scott Mitchell – The Race) Charles, I know you're worried about the state of the car and where exactly you will start the race from, but if you do get to keep your pole position, this is very much one that has been earned rather than one that's come about through fortunate circumstances – so, given how quick the car does look here and how in tune with it you are, how serious a chance do you have of converting this into a win?
CL: In Monaco, we actually have quite a lot of chances. And then, of course, if we are quite a lot slower than the guys behind will put us under pressure, whether to undercut or overcut us – but if we have a reasonable pace as we've had all weekend, then I'm pretty sure it's possible.