FIA post-race press conference - Japan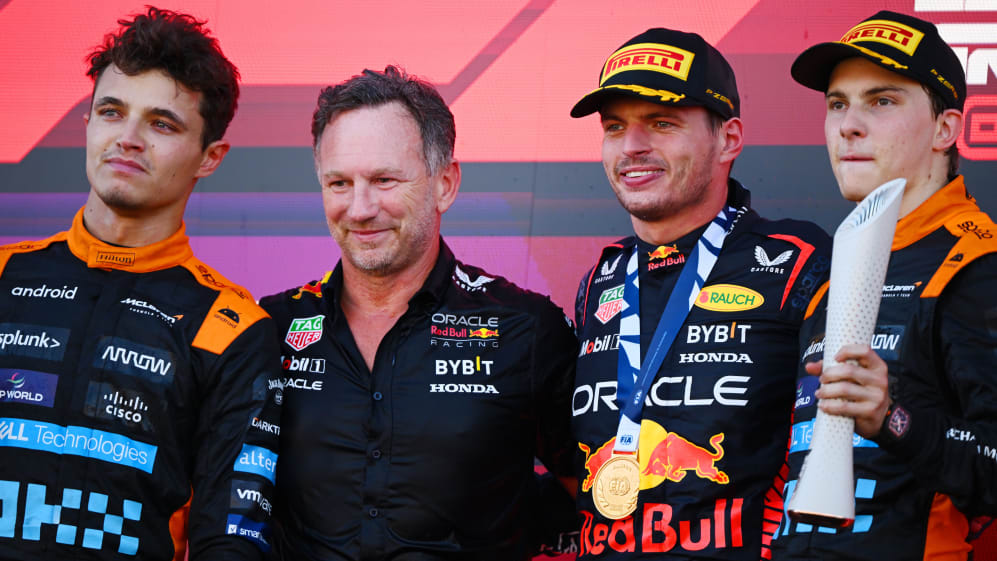 DRIVERS
1 – Max VERSTAPPEN (Red Bull), 2 – Lando NORRIS (McLaren), 3 – Oscar PIASTRI (McLaren)
TRACK INTERVIEWS
(Conducted by Damon Hill)
Q: Oscar Piastri, congratulations, your first ever Formula 1 podium. You put yourself, Melbourne and Australia up there. What have you got to say?
Oscar PIASTRI: Yeah, thank you very much. It feels pretty special. Definitely. I'll remember it for a very, very long time. So, I can't thank the team enough for giving me this opportunity. There's not many people in the world that get this opportunity in their whole life and I've managed to have it in my first season, so thank you very much to the team. It wasn't my best race ever but it was enough to get a trophy at the end. So, super-happy.
Q: A little bit disappointed perhaps to come second to your team-mate but some tight racing there. It was exciting for us, anyway. Any moments of concern during that?
OP: The move on George. I knew I had to try to get past, otherwise I was going to get stuck for a while. So, yeah, that one was a bit close – but our pace after that was very strong and I think in the second half of the race I got more into a groove, more into a rhythm and the pace was a bit better. So yeah, very, very happy, and excited to try to get some more.
Q: Well done Lando, you managed to pip your team-mate and very nearly Max Verstappen at the start there. Some tight moments but some great racing – and it worked out tactically as well for you.
Lando NORRIS: Yeah, another amazing day for us. A P2 and a P3, couldn't have asked for any more, the team did an amazing job. My start was very good, I almost had Max – but Max is Max as well, so I didn't have a lot of chance into Turn Two. I tried, but the pace was extremely strong today, comparing to everyone. We're not close to Max but we're not miles away either, so it was a very good day, I'm very happy. Also for Oscar, his first podium in Formula 1, so congrats to him.
Q: You're getting closer all the time so maybe the next one is going to be one better than that position you got there.
LN: We're pushing. We're getting there. The progress we've made is pretty outstanding. Like I said, I'm very proud of the team, the steps forward we're making every weekend. I'm sure there's going to be some tough times to come but we're getting there step-by-step and our first double podium together with Oscar, so yeah, a good moment for us.
Q: Max, back to winning ways. Absolutely superb performance all weekend, totally dominant, emphatic, and also, you've helped your team secure its sixth Constructors' title. Congratulations.
Max VERSTAPPEN: Thank you very much. I mean, unbelievable weekend, of course. To win here was great. I think the car was working really well on every compound, but of course the most important was also to win the Constructors'. So, very proud of everyone working at the track but also back at the factory. I mean, we are having an incredible year and I'm very proud of everyone.
Q: It looked very smooth. Were there any moments of concern? You had a bit of a tight one at the start there going into Turn 1.
MV: Yeah. Only the start probably. A bit too much wheelspin but after that, it was quite a straightforward race, luckily.
PRESS CONFERENCE
Q: Max, you've won a lot of races this year, you've dominated a lot of races this year. How sweet was this one?
MV: Yeah, I think it was a good race. Of course, the start was a bit tight in the first two corners, but after that, yeah, the car was very nice to drive again. I could really look after the tyres well, the degradation was quite in control. Of course, I knew that our strategy was going to be a little bit different with the Medium tyres, compared to two times Hard for some others but it was still OK, I think. The balance was still quite OK, traction and stuff for the whole stint. So, yeah, honestly, like no real issues throughout the race, and I think that just sums up the weekend as well. It's been an incredible weekend to drive the car.
Q: Is this the best that the car has been all season?
MV: Difficult to say. It's been a really good weekend but I've had some other weekends I think also where the car has been really nice to drive. I mean, sometimes it's not only your car but it also depends on the competition of course, how big of a gap it is.
Q: You referenced the start there. Can you just talk us through it. At one point I think you were three wide going into Turn 1.
MV: Yeah, I saw on the right mirror that of course Oscar had a little bit of a jump on me but at the same time I saw in my left mirror that Lando had a real jump on me and then I tried to, of course, close off Oscar but then, I mean, he was still there and I saw on the left-side Lando coming with a lot more speed. He then moved a bit to the right and I was, like, I can't go more to the right! So I was, like, trying to get straight and yeah, luckily of course, nothing happened. It all got quite close but that's racing. That's how it goes at the start, and then, of course, we had a good battle also into Turn 1, into Turn 2. I was lucky, I think, that there was a bit more grip, I think, there was a bit more grip in Turn 2, just on the normal line, instead of trying to go around the outside.
Q: And what about this Constructors' Championship Max. The team has won it with six races to go. Does this title feel different to last year?
MV: It's better, for sure. The car has been more dominant this year, apart from Singapore – but all the races we've had a really, really good car. It's just an incredible season for everyone involved within the team and yeah, just very proud to be a part of it but also very proud to be working with all of these amazing people here at the track but also especially back at the factory as well. These people you might not see at the track but they are doing also a lot of hard work to make sure that our cars are always in the best shape, get developed throughout the year, and also be best prepared for the year after.
Q: What's been the team's greatest strength this year?
MV: I think just everyone knowing their role very well and, of course, being good at what they do. But yeah, just communication and people working together to achieve a result like this.
Q: Lando, coming to you now. Another fantastic race for you and McLaren. How does this week's second place compared to last week's?
LN: A lot less stressful. Especially the last five or 10 laps. But just I'd say better, because we have two cars on the podium. So from a team side of things, yes, I'm much happier. You know, our first one since Monza a couple of years ago, a few years ago, but probably, in a way, our most deserved in terms of we're there on pure pace. Nothing had to go our way. We're just where we deserve to be, so yeah, an incredible day for everyone but also for myself. Things went, maybe not always to plan, but the pace was extremely strong. Couldn't challenge Max. Maybe for half a car I actually got into lead for maybe half a second so I'll take that. But, yeah, in a way, it feels better, because the pace was stronger. I could push and we were where we deserve to be, so a good job by the whole team to execute a perfect race.
Q: You say you're where you deserve to be. Was the 19-second gap to Max what you were expecting pre-race?
LN: No, I was I was expecting him to probably lap us two or three times! And he didn't, so… I mean, I was expecting probably a bigger gap. I think we all were, as a team. And I think it would have been a lot closer, I lost eight or 10 seconds behind Pérez under the VSC. I don't know how hard Max was really pushing. I'm sure he could have gone a bit quicker if he wanted to. But to be only 19 seconds behind, he didn't get a free pit-stop, which was lovely. And, yeah, I think it's just signs of our progress. It's a track which has suited the car very well. I've been very comfortable since Friday to push and get in a good rhythm. And I think that's probably one of the most important things here, to feel comfortable with the car, get in a good rhythm. And I could do that yesterday. And I could do it today. And that shows with our speed we were able to perform. So yeah, another podium for us. Great result, load of points. So very good.
Q: Now, you mentioned points. Let's look ahead. McLaren is 49 points behind Aston Martin in the Constructors' Championship with six races to go.
LN: How many?
Q: Forty-nine. Can you beat them?
LN: Yes. I didn't think it was that close. But yeah, if it's 49, then I definitely think so. There's not many races left. I'm sure there's going to be a couple where Aston are going to be a bit stronger. But I think our advantage at the minute comparing to almost every team, bar a couple, is we have two drivers who are up there fighting for these positions and fighting for this points. And not every team has that at the minute. So I think that's helping us. We can help one another, we can use one another, and I think that's a good advantage we have over a lot of other teams at the minute. So we're on an upward trend. We're making good progress and days like today prove exactly that. Even though I know there's going to be maybe some tougher races coming up at times and maybe not as straightforward as today but the progress we've made this season has been pretty incredible from my eyes and from where we were, to finishing 18 seconds behind the lead or 19 seconds is I think evidence of exactly that. So I'm proud of everyone and we'll keep pushing.
Q: Thank you, Lando. Oscar, coming to you. What a weekend it's been for you. You re-sign for McLaren. You start on the front row for the first time and you get your first Formula 1 podium. Can you sum it up for us?
OP: Yeah, it's definitely been a pretty special week. Yeah, obviously with the announcement of the extension and then, yeah, qualifying on the front row yesterday. First podium today. It's been a very fun week. So I'll enjoy it. There's still a lot to learn and try and improve on but yeah, I'll enjoy the moment for now.
Q: Oscar, is it sweeter somehow to get that first front row, to get that first podium here at Suzuka, a real driver's track?
OP: Yes, and no. I mean, it's special wherever you get a podium, I think. To get the first one, I don't think it really matters where, it's always going to be special. You know, I think for myself, it probably wasn't my strongest Sunday. So you know, from that side of things, there's still a few things I want to work on. But no, to get the first podium, like Lando said, on pace as well is a very exciting moment.
Q: Oscar, can we just delve a little bit deeper into you saying it was not your strongest Sunday? Were there any particular issues that you can tell us about?
OP: I just wasn't quick enough at certain points of the race, I think. You know, these high-deg races are probably the biggest thing I need to try and work on at the moment. I think it's still quite fresh for me, obviously. In all the junior racing before this there are no races like this. So the only way you can learn from it is by just doing the races. So, definitely a few things, had I had this race again, that I would have done a bit different. But that's all part of the learning. So, yeah, exciting to know that we can finish on the podium, even if I feel like there's more to come.
Q: And would you have done anything differently at the start? Can you just talk us through what happened?
OP: Well, looking back on it now I was in the perfect position to emulate Senna and Prost, like, literally perfect. It's true. But no, I saw I got a good launch, got a bit too excited on the throttle pedal in the second part of the start and at that point I knew I wasn't far enough alongside Max. I could see Lando was coming around the outside. So yeah, I think settling for third was definitely the safest… and just the safest option at that point.
QUESTIONS FROM THE FLOOR
Q: (Jake Boxall-Legge – Autosport) Lando, you mentioned that you lost time behind Perez in the VSC and we did see it on the TV broadcast. Can you just explain what happened because it looked a little bit bizarre from our standpoint?
LN: I have no idea. I don't know what… he must have had a problem, right? But the thing is you can't overtake under the VSC unless it's obvious the guy has a problem and I don't know what was going on, I didn't know if he had a problem, whether he was just backing me up. I didn't know and I couldn't take the risk of just overtaking him. He was going so slowly and then when we get the flashing dash for the VSC ending, he went into first gear and then I was on the outside of him because he was going so slowly, and then he almost crashed into me. So I honestly have no idea. I was shouting in my helmet. I was swearing quite a bit, but just got… I was so confused, I didn't know what I could do. I'm losing time to Max. The Ferrari guys were, I think, 1.4 seconds behind me after being I think 12s or 13s, so I lost 10 seconds. And I didn't know what I could do at the time. If he has a problem, he should pull over and make it obvious that he has a problem. So he didn't and therefore I couldn't take the risk of passing under a VSC so no idea. I don't think it would have changed the world, just made me stress for a little bit more. But it would have been maybe just a bit better to put Max under a little bit of pressure at least, after that. I don't think we would have been quite as far behind. So yeah, a frustrating time, maybe I'll ask next time what you're allowed to do but I think I did the right thing so all okay.
Q: (Luke Smith - The Athletic) Max, you said about this year being a step up from last year in terms of the Constructors' title win. Have you felt internally within the team any big changes, any big shifts, because operationally, Red Bull doesn't seem to have put a foot wrong this season either? It does seem like everything's gone up a level.
MV: I think the car's just better this year. I think the people are pretty much in the same spot and we know that they're good. So it's about just working with an even better car, I think, this year, a bit more predictable, I think as well. Except Singapore, but like all the other races it's been very predictable and just nicer to drive, I think.
Q: (Mat Coch – Speedcafe.com) Oscar, you said this wasn't your best race but is the podium significant to you, or how significant is it to you?
OP: Yeah, it's definitely significant, you know. You never forget your first podium regardless of whether it's been a strong performance or not. So yeah, it'll be a special day and I won't forget it and also ticking the first podium off the list is always a nice achievement to have. So yeah, definitely some things I want to try and improve on and still work on but yeah, for now I'll enjoy the trophy. I've been drowned by Lando in champagne which is a nice problem to have. And yeah, try and work out how I can do better next time.
Q: (Mat Coch – Speedcafe.com) Oscar, just to follow up on that one: you said there's bits that you want to improve; are you able to put some meat on those bones for us?
OP: Yeah, just I think the tyre management and just pace at certain points of the race was not as strong as I would have liked. The first stint it felt like everyone was driving extremely slowly and then when I tried to push a bit more the tyres didn't really let me go much faster. So a few things to work on there and yeah, just pace overall in the races. And like I said, in these kinds of races there's no easy way to learn apart from just going through the races and having an experience where it's good or bad. So yeah, I think pace, I think the one lap pace especially in last few weekends has been a good improvement from the start of the year but definitely, in these kinds of races, the race pace is still an area to improve.
Q: (Luke Smith - The Athletic) Max, I'd like to ask you about the Max Verstappen podcast. He seems to be hosting up after every race now. How do you find those moments in the cooldown room, the three of you all together? Is it a nice chance to talk about what's happened? How do you find the emotions in that moment? And do you really not like podcasts?
MV: Yeah, I don't even know who came up with that because I don't even like podcasts, they make me fall asleep. So I don't know. Maybe we can call it something different. Or come up with something a bit more fun.
OP: Yeah, I don't know, I was just happy to be a guest.
MV: You can be a guest of anything. Yeah, it's nice. I think it's natural, right, when you see some footage of the race and you talk about it as drivers too quickly when you see some shots. Nowadays everything gets recorded. Fortunately when the camera's there can't say everything you want to say.