FIA Team Principals press conference - Bahrain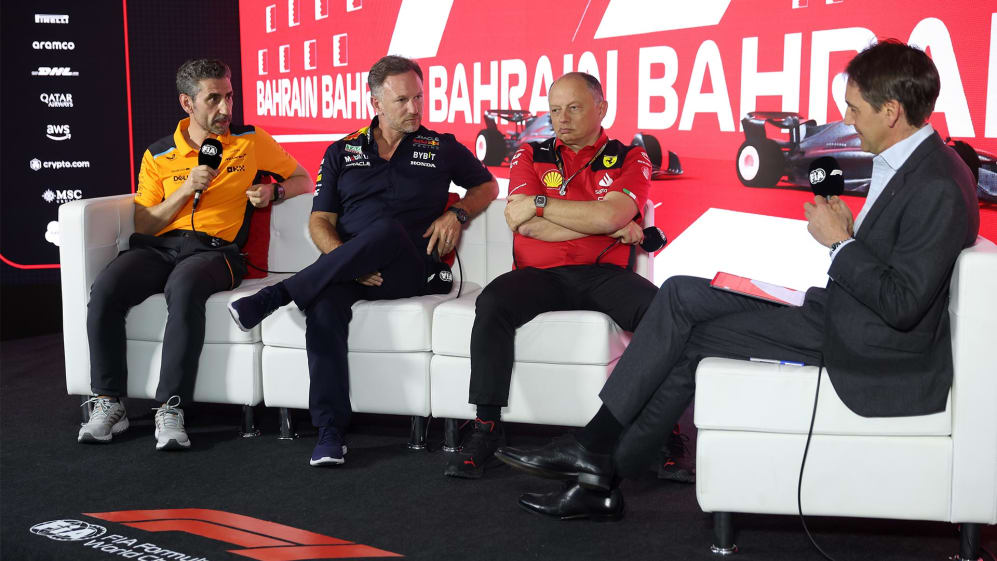 PART ONE - TEAM REPRESENTATIVES
Andrea STELLA (McLaren), Christian HORNER (Red Bull Racing), Frédéric VASSEUR (Alfa Romeo)
Q: First up, Andrea, congratulations on the new job. How are you settling into the role of team principal?
Andrea STELLA: Well, it's been an interesting couple of months. I would say, intense, long hours at work – but also enjoyable in a way. Certainly, my focus at the moment has been on understanding and knowing the place in great details, such that my action can be as effective and as accurate as possible.
Q: After such an illustrious career as an engineer, how difficult is it for you to let go of that side of what you know of Formula 1?
AS: I think I will have to somehow strike a balance – because if I think about the main opportunity at McLaren at the moment, that's performance. My expertise as a performance engineer, race engineer, performance director and then racing director, I think can be very useful in the interpretation of a team principal role, in the current context of McLaren.
Q: So, do you wish you were in the debrief right now?
AS: Erm… yes! Obviously! But pleased to be here.
Q: Before we come on to performance at McLaren, I did just want to ask you to compare and contrast your two experiences in Formula 1: 15 years at Ferrari; you've been at McLaren since 2015. How do the two camps compare?
AS: Well, actually, I think that through the two places operate in a more similar way, then one can think. We are within the same regulations, same objective, so that's not a surprise. The main difference I found is – it actually still persists – I think it's in the size of the infrastructure, the size of the workforce, which is obviously quite a lot larger at my previous team. But we are working on it. There's a lot of investment going on at McLaren, right, to fill this gap in terms of infrastructure and workforce.
Q: Come on, then let's talk about performance. The MCL60. Testing didn't seem to be the smoothest for you. You were telling us – the team was telling us – not to expect too much of the first race. How's it going so far?
AS: I think testing confirmed that, at the moment, we are a midfield car. The midfield is proving to be quite compact, a couple of tenths can move you to the top; a couple of tenths and you can be at the bottom of the midfield. I think, for us, the focus is maximise the package in the short term, but at the same time, focus on delivering our upgrade programme. It is ambitious, it should unleash quite a lot of lap time over the course of the season. So, focus on short term, but also focus on development over the season.
Q: And in terms of development, where are you focusing?
AS: Certainly aerodynamic, performance, like I keep saying is the name of the game in this business. So that's our main focus in terms of development.
Q: And is that where you're lacking the most at the moment?
AS: Yes.
Q: OK. Final one from me. Lando needs no introduction. But Oscar, he's new to the team, he's new to Formula 1. How do you feel he's developing?
AS: Oscar is new to Formula 1, but is proven winning material in junior categories. Oscar has been doing very well, so far. We are very pleased. The level of talent, the level of progress we have seen day-by-day during testing is very encouraging, and kind-of confirms that he is a strong prospect for the future.
Q: Christian, welcome. Pre-season testing for you guys was exemplary.
Christian HORNER: Yeah, we had a good run in the three days last week. We managed to get through… I think it's one of those rare occasions where engineers come up with a big list of things that they want to test and try and I think we managed to pretty much tick most of the boxes in terms of trying the things in the compressed amount of time that they had. So, both drivers got a good feel to the car. But, of course, you never really know where you're at. I think we've got a good basis but it's only going to be during this weekend that we get to see, you know what the starting point is.
Q: You've been with the team since the beginning. 2005. Has this been your best ever pre-season?
CH: Quite honestly, it probably, in terms of mileage, and what we've managed to achieve in a compressed amount of time, probably it is. I can't remember a pre-season, particularly when you've only got three days to rattle through everything. It was a great team performance in terms of… because it's all the effort that goes on behind the scenes, in terms of getting the parts, delivering the parts, getting the cars built and delivered here to a set of regulations. It was similar to last year, there are still subtle differences, so yeah, I'd say it was right up there.
Q: Now, Max said yesterday that the car is better everywhere, compared to last year. Can you just break it down a little bit for us? Where is it better? Specifically, what areas have you worked on from last year's car?
CH: Well, I'm not going to tell these guys that, am I?
Q: What are you most proud of with the RB19?
CH: With the RB19? I think that the weight loss that it's had is impressive. At times last year, we were running up to 10kg overweight. So, I think the whole team have done a great job to get down to the limit. But Formula 1 is constant evolution. It's constantly refining and developing all elements. Look, RB18 was a great car but obviously regulation changes over the winter, the revision to the aero rules, they throw in some curveballs. So, you never quite know: have we done enough? Have we adapted enough? It's only when you see the other cars and then you start to see the lap times come in, that you start to form a picture. But really the first litmus test is here, at the first race.
Q: Does it suit both of your drivers?
CH: The feedback from the drivers, they both got out the car after their stint in testing happy with the balance that they had. So, you know, the circuit has changed a little bit in the last few days, since we were here last, in terms of characteristics of the handling that just need tuning into the conditions on the day. We've got more and different cars running around and stuff like that now, so that's what they're embedded in now, with their engineers working on fine tuning.
Q: Talking specifically about Checo, what is he got to change this year to challenge Max week-in, week-out?
CH: His lap-time.
Q: How does he do that? What does he have to do to be more consistent?
CH: Look, you know, Max is a hell of a competitor and he's a tough… probably the highest benchmark in Formula 1 But Checo is now in his third year in the team, he's confident, he's comfortable and he's got to be on his A-game. And not just with Max. It's, you know, Fred's drivers are pushing each other hard, Mercedes' drivers are hard, we've got looks like a pretty motivated veteran in a green car as well, so it's going to be a really exciting year and I think there's going to be some great racing ahead of us.
Q: Fred, thank you for waiting coming to you now. So Ferrari, it has a certain pull to it, doesn't it? For racing drivers. It's a team that's very hard to say no to? Is it the same for team principals?
Frédéric VASSEUR: Yeah, for sure. I gave the example last week that when you play tennis, you want to do Wimbledon, I think when you are doing your business then somehow at one stage, you want to race for Ferrari.
Q: How long did it take you to say yes?
FV: Honestly, I had to discuss with my wife. Twenty-four hours.
Q: How different is Ferrari to any team that you've worked at before?
FV: Yeah, I think that clearly there is more emotion, passion, and so around Ferrari, but at the end of the day, I think all the racing teams are similar on the fact that we have the same DNA. It's all about technique and performance and continuous improvement and the approach is the same. Passion is a bit higher probably, but this is OK.
Q: You are team principal, can you just tell us a little bit about what that means, in practice. What are you doing differently now, compared to when you were at Alfa Romeo, for example?
FV: I have to walk much less from the parking to the, to the hospitality, first. But no, at the end of the day for sure the expectations are different. What we are doing, it's much more visible for everybody but honestly I love the pressure and the target is to win and, it's a dream.
Q: You love the pressure? What is it about pressure that you love?
FV: I am very keen to have this kind of target and this kind of motivation every day. And I think that the team is used to dealing with it and honestly, I'm not scared at all about this.
Q: Have you got the car to deliver? Tell us about the SF23.
FV: So far, for sure that Red Bull is a step ahead. But the season is 23 races and we didn't do the first one, we did just the FP1, and it's a long way to go. I think last year for the team was a good lesson, the championship is not over after Race One, and we know that it will be a long way. And we have to continue to develop the car over the season.
Q: What do you think is the biggest lesson the team learned last year?
FV: That the Championship is over after race one.
Q: Tell us about the drivers. Your last work was Charles in 2018. How's he changed? How's he evolved?
FV: He's five years older, that he's a bit more mature, a bit more confident about his feedback. But again, we are at the early stage of the collaboration, and I don't want to draw a conclusion too early. But the feeling is the same. And it's a good feeling for me to work with him.
Q: Quick word about Carlos What's impressed you about him?
CS: Carlos, I always try to get him with me in the past. And he never wanted to join me, so I had to do the reverse and join Carlos. But the feeling was always very good. I tried to sign him when I was at Renault and then at Sauber. And I think that we have a mutual trust. And I'm convinced that he will do a very good job. As Christian said before, we need to have this kind of competition into the team. It's part of the performance. And I think it's an asset of the team.
QUESTIONS FROM THE FLOOR
Q: (Dieter Rencken – RacingNews365) Fred, Tom had alluded to the additional responsibilities, etc. But something that you hadn't mentioned is that of course, you're now in the WMSC as a team representative in your Ferrari position, and also that you have control over the Ferrari veto. Could you elaborate on these two please for us, and how and when you'd use the veto?
FV: As you said, it's a team representative and an F1 Commission representative on the World Council. It means that I'm not voting for Ferrari. I'm supposed to vote in function of the decision of the teams. This is crystal clear for me. This morning was quite smooth and we'll have a debrief together about this. But I think we don't have to do the confusion about this.
Q: The power of veto?
FV: Yeah, the power of veto, I think Ferrari never use it in the past also because the level of the work done at the F1 Commission, even if sometimes we are not on the same page, and we are fighting together, but I think the quality of the job done at the F1 Commission level is very good for me. And when we are bringing something, the next step I think it's quite finalised. I mean that honestly I don't see where we could use it, in the short term.
Q: (Scott Mitchell-Malm – The Race) Question for Christian and to Fred. Are you surprised by the step that Aston Martin seem to have made over one winter? And do you think that they could be a genuine podium threat at the start of the season?
CH: Their car looks great. And, you know, they had some really impressive race runs last week, Fernando looks, you know, I don't know what he's taking but he's looking great on it. He looks in looks on fire, so I think they could be a real surprise this year. Bit of a dark horse so yeah, look, it just shows that it is possible to take a jump from the mid-field to potentially further up. But of course, we've only had a small snapshot. Let's see the long runs this afternoon and then qualifying, and then the first sample in the race on Sunday.
FV: Yeah, clearly I think they did a huge step forward compared to one year ago, that if you have a look on Bahrain 2022, and they were performant on the short stint, and the long stint, even a bit more impressive on the long one, and this morning they did well. But now let's see on Saturday and Sunday, and again, it will be a long one. And we don't have to try to have a clear picture after FP1 or after day one.
Q: Andrea, can I bring you in on this. The pace of Aston Martin. I think back to Abu Dhabi and Sebastian and Daniel Ricciardo were having a battle, weren't they? What do you think of them now?
AS: I think this case shows that these kind of jumps are possible. This is what we are on as well at McLaren, in terms of objectives. Like I said before, I'm encouraged about what I see in development, but ultimately, we need to capitalise and bring these developments to the track. So, for us, if anything is even more of an incentive to improve.
Q: (Adam Cooper – Motorsport.com) Question for Christian. Obviously, there's been a lot of talk around AlphaTauri in the last week. Franz has said that he's had good meetings with your boss. Can you give us give us an indication of what sort of discussions have been going on? Have they included the pros and cons of the sale, of relocation to the UK? Is it just a question that the team has to justify its existence commercially and on the track?
CH: Well, as we all know, there's always plenty of speculation in this paddock. And of course, anything like that would be ultimately down to the shareholders, and their commitment has always been absolute. So yes, it's sometimes amusing to see how things get carried away. But as far as I'm aware, there's no changes planned. And, you know, we have synergies and supply agreements with AlphaTauri, where we supply various components, they share our wind tunnel, for example, as well. So, there's nothing planned.
Q: (Alan Baldwin – Reuters) Another one for Christian. It appears that Zak Brown visited Red Bull powertrains the other day. Could you shed some more light on that? And was it a surprise? Maybe Andrea could also chip in with what it means.
CH: I thought he was coming for lunch. It's obvious as that, as a power unit manufacturer for 2026, it's inevitable that discussions are going to be held regarding potential powertrain supply and that's only natural that we would speak with potential customers.
AS: We have a solid partnership with HPP. At the same time, it's obvious that looking far forward, you want to understand what's available. So, I think that's natural. Shouldn't be too much of a surprise.
Q: (Ian Parkes – New York Times) Christian, it's been a few months now working with the budget cap penalty that was imposed late last season, just wondering how that was impacting you so far, if at all, or whether that's going to be a cause for concern, as you go through the season trying to bring your upgrades to the track?
CH: Well, it's great to see the fine being applied, so well. We've got a new FIA couch, and Tom's got a new suit. It's great to see the funding into the FIA being spent very effectively. But, look, I mean, for us, you know, efficiency is a key word, and particularly with the handicap of losing 10 per cent of your wind tunnel time. So, again, that's where the team have done an incredible job to turn up in a competitive manner. But of course, that handicap is for a 12-month period. So, you know, we have another eight, nine months still to go with it. And it means that we're going to have to be very selective and extremely efficient in how we develop this car. And of course, next year's car.
Q: (Ronald Vording - Motorsport.com) It's another one to Christian, basically to follow it up a little bit. Do you feel that the penalty might bite actually more in developing the 2024 car and in this year's car because the basis was so good already going into the season?
CH: It really depends if anything changes in the regulations. So you know, we're expecting stable regulations, but of course it is a disadvantage, a handicap, to have, not only the incremental difference that you have by being first place in the championship, on top of that a further 10%. So we're 15% less time than Fred and 20% less than Mercedes and so on. That's a significant number, so for us it's all about being efficient, being effective in what we apply, and choose to test in the tunnel and how we develop both the 19 and, and the 20 car.
Q: (Luke Smith – The Athletic) Christian, a question for you about Checo. When he came to the team, it did change the dynamic in terms of Red Bull normally having two very young drivers and going with someone a bit more experienced. How did that change things for you within the team? And how was it having a driver who's been to a lot of teams and seen a lot in Formula 1, instead of a youngster such as Pierre or Alex in the past?
CH: Well, I think the key thing in the appointment of Checo was exactly that, it was his experience. And, you know, it had been unfair, perhaps, on the previous two guys to bring them in so soon. And I think that Checo with that experience, he's been through some of the hard knocks, and so on with his career to that point and I think what he's brought to us is, you know, he's a very rounded guy, he's a great team player. And, you know, he's got a good outlook on the development of the car, and he's very easy to work with. So that's what all the reasons were for taking him in the first place. And he's delivering on that.
Q: How do you feel he's risen to the challenge of having a competitive car underneath him?
CH: He won two Grands Prix last year, he won a Grand Prix the year before, he was a key part in us and winning the Constructors' World Championship. It's tough for him having Max Verstappen as your team-mate, I mean, he is setting the barometer in Formula 1 currently. But Checo is mature enough to be able to deal with that and handle that. And I think that he's looking to continue to evolve and improve his own performance, as we've just seen in the last session. So, it's good to see him looking competitive. And of course, it's not just about one race, it's about 23 of them, and that's going to be crucial for him. Because it's not just about Max is it? As I said earlier, it's about Fred's drivers and the Mercedes' drivers and the Aston drivers potentially, so you can't dismiss anyone.
Q: (Filip Cleeren – Motorsport.com) Andrea, we saw you had some issues with a wheel brow in testing and now the mirror in this one. Can you explain what those issues were? And is there a general concern about the fragility of some of your bodywork?
AS: So, the issue at the test was actually with some parts that were a little fragile, we needed to maintain those parts, so that they wouldn't fail. But actually, we are not concerned. They've been reinforced. So I would consider that one as a minor [issue], but impactful in terms of downtime, but not really impactful in terms of concern for the race. And the mirror as well is a really minor one. So not concerned, nowhere near the difficulties we had at the start of the season last year with front brake cooling.
Q: (Claire Cottingham – Racefans.net) Fred, lots was said about Ferrari's strategy last year. Since coming in, what have you highlighted were the main issues and why did you decide to change the personnel coming into this season?
FV: Again, we had the discussion last week. But the strategy, it's not about the person that you have on the pit wall. Strategy is the addition of tonnes of things: the software that you have at home; the team that you have at home; the communication flow is crucial, and then you have a guy on the pit wall. For different reasons we decided to do the move. But the move was also a bit initiated last year. And we will review completely the approach on this strategy, but it's not about strategy, you know. We need to have this approach in every single area of the team, in every single department. And we have to do this job but I'm pretty sure that Christian is doing is doing the same, to try to improve in every single area. If you stay at the same level two weeks in a row you are dead, because everybody is improving. And it's part of the process and we tried to review what was working last year and what was not working. And we took action but it's not about the person.
Q: (Matt Coch – Speedcafe.com) Andrea, we've seen Oscar in the car now during pre-season testing and, obviously, earlier on today. What have you seen that impresses you with him in the car? And in what areas do you feel he needs a little bit of help on?
AS: Yeah, what impresses us is his awareness of his opportunities while driving. He could come back and make comments like, "I think, you know, I braked a little too early in corner one, I didn't go on throttle early enough in four" and then you look at the data, and it is exactly it. So his awareness of the performance opportunities, that's the first point. And then he goes out for the second run, and he cashes in these opportunities. For me, this is a definition of talent. We see a lot of it. And we are also like I said before, pleased with the improvement we have seen it day by day over the test, I think in terms of the opportunity, overall, you know, Formula 1 is a very, very competitive game, so he just has to go through his own trajectory and I'm sure the final destination will be one of the best driver on the grid.
Q: (Christian Menath – Motorsport-magazin.com) A question for Christian: Max was a bit lost in FP1, the car fell completely different to testing. Do you already have an explanation for that? That's the first part of the question. The second part is, can you explain which chassis Max is using? Is he using the chassis from the test? Or did you bring two new ones?
CH: Well, firstly, we didn't bring two new ones. We only have two. So, they both got used in the test last week. So Max drove the chassis… I think that's the question probably after. And of course, conditions are constantly changing. That's one of the challenges of Grand Prix cars and racing and we have more rubber going down on the circuit or different types of rubber and it's just a matter of tuning the car in. So there were certain things that both drivers felt slightly were different to the test last week, but I think that's common up and down the field. So, they're working hard with their engineers. And, of course, this evening, at a time when we qualify tomorrow and race on Sunday, the track temp is going to be 20 degrees less than we had in that session. So you don't want to chase too much in a direction that might significantly change with the temperature drop as well.
Q: (Andrew Benson – BBC Sport) This is for you, Fred. There was a lot of flexing on Charles' rear wing during the first session. You also had problems with a rear wing in testing, I believe? Was it the same wing? Was it the same problem? Do you know what it is? And if you can't run that wing, and can you, will that affect performance for the weekend?
FV: It was a test item that we are not able to do last week during T1. We tried to do it this morning but you as you saw it was not very co-operative so we won't run the wing during the weekend. But it will be back soon.
Q: (Rodrigo Franca – Car Magazine Brazil) A question for Christian. Christian, you joined Red Bull in 2005. It was a midfield Team, ex-, former Jaguar racing. And you happened to transform the team into a world champion. So what are the key points to do that? I know it's difficult, you have to summarise in some minutes, but how was the importance of your work as a team principle, with the mechanics, the drivers.
CH: Everything plays a role in it. It starts with what is the culture of the team? And then of course, your biggest asset is your people. And we've got some wonderful people. And of course, Adrian has been with me a lot of that time as well. But there are so many others as well. And I think we've had great stability, great consistency. And there's got to be a hunger, there's got to be a passion. And everybody's got to share the same goals and objectives. And they are, I would say, the absolute fundamentals to being competitive. You've got to have the support of everyone around you – your partners, your sponsors, your shareholders. And, you know, that's where we've been very strong at Red Bull. Over the years we've been very consistent. We've had great stability. We've got a great team and we've got huge strength and depth. Everybody knows what their role is. And, you know, as Fred was alluding to earlier, you're always looking inward to say where can we be better? Where can we improve? Because you know, for sure your competitors aren't standing still.
Q: (Dieter Rencken – Racing News 365) To Christian and Fred, and if you'd like to come in, Andrea, on the other side of the fence. What we currently have is Mercedes, for example, with four customers for their PU, Ferrari with three. When we look at 2026 there are six registered PU suppliers. There could be a seventh brand coming in. If the FIA doesn't grant one or two additional teams an entry licence, we're looking at seven PUs for 10 teams or thereabouts. How do you see the mathematics panning out from a business perspective?
CH: Obviously, we're under budget cap, so that helps to contain and control costs. Supply costs are dictated. And, you know, from what we see now, there is no money in supplying customer teams; it's not a profitable business. So to have that many manufacturers coming into the sport, I think is great for Formula 1 to have that variance. We're going to be welcoming, you know Audi, we're going to be, as Red Bull Ford, embarking on a new journey as well, plus, obviously, the incumbents, and as you say, if anybody else chooses to join in in the meantime. So I think it's it fantastically exciting Formula 1. It's a halcyon period for the sport and to have manufacturers wanting to be involved, you know, is a testimony to the strength that the sport currently enjoys. And we've just got to make sure that for 2026 we get the product, right, because bringing these, these newcomers and so on in, we've got to ensure that the engine regulations and the chassis regulations they marry up, that the product that we have, isn't compromised, or it doesn't detract from the kind of racing that we've seen these cars starting to achieve. So I think that's a fundamental point that is bigger than the individual interests of the teams and the manufacturers that we need to work collectively to ensure that the product for 2026 is going to deliver on the expectation that there is.
FV: I forgot the question. But to come back on your mathematics, I think for sure we won't be able to have three or four customers per engine supplier, that this is mathematical. And I think we have to be ready for this. But as Christian said before, I think it's not a business, even if I was not always convinced, but it's not a business at all. And we have to take it like this that's for sure. And I think even on the top that it's perhaps that the newcomers, I'm not sure that they will be ready to supply more than one team because it's already a big challenge to do one team when you are joining Formula 1 and I'm not sure that they will be ready to do that it mean that we will have to find a compromise but it will be OK.
AS: I think it's great for Formula 1. It will require even more of a coordinated action by Formula 1 and the FIA. And yes, there's still some work to do on the 2026 regulations, but overall a great opportunity.
PART TWO - TEAM REPRESENTATIVES
Pat FRY (Alpine), Mike ELLIOTT (Mercedes), Dan FALLOWS (Aston Martin)
Q: What were main changes over the winter, how difficult were they to overcome, have you regained any lost performance? Who's going to start with that? Pat, let's start with you?
Pat FRY: I can start. Yeah, I mean, obviously, the main change was the aero regulations, which cost an amount of performance, maybe four or five tenths. But in reality, it has, if anything, stabilised in the flow structures, and we've recovered it and passed that. It's a small change, but it kind of came early enough that it didn't transform anything.
Mike ELLIOTT: Probably a similar story, really. I think, just working out where you want to optimise the car around the new regulations.
Q: And what about the change in the tyre compounds, for example? Has that complicated things?
ME: Everything changes. I mean, ultimately, you're just trying to optimise around what you've got. So I think there are subtle changes in the way the car balance works with the new tyres, but nothing groundbreaking.
Q: Dan?
Dan FALLOWS: So, in terms of the aero regulations, they did have an impact. But as Pat said, they're the same for everybody. So we had to sort of optimise our car around that but yeah, we did manage to sort of gain back the last performance.
Q: Pat, let's go back to you, then. Pre-season testing. It was very difficult to get a read on you guys. How do you feel it went? And what have you learned this morning?
PF: Yeah, I mean, pre-season testing, I guess, you know, with only three days, we decided just to concentrate on the car. So we, we brought the C1, C2 and C3 compounds and we didn't bother bringing anything else. But that was really just so we could learn as much as we can. And I guess it was the same again this morning, really. It's good to have two tyres of the same compound in a session. And if anything, the medium tyre was the weakest one of the three from winter testing. So again, that's why we just did that. So we're learning about the car. I guess, this afternoon, you'll start to get a feel for where people are. But you know, testing was sensible, you know, we were just learning about the car balance. And there's a few developments we've got that we need to learn about, how to tune the car balance to the corner in that. So again, there was a lot of work trying to understand that and work through those.
Q: OK, let's compare and contrast with last year. Do you feel better prepared coming into this season than you were last year?
PF: For us, this time last year, we were in a pretty, what should we say, challenging position, really. You know, just in terms of parts supply and how we'd taken on almost too much to get there. So we were, on the backfoot is the wrong word, but we were still learning about the car as such. I think we're in a better position to understand the car this year and move forward.
Q: And in terms of potential moving forward. Do you feel you've got more than last year?
PF: I'd say it's similar. I mean, we've obviously got upgrades planned, coming through. I guess it'll just be the normal upgrade battle, really. But I can't see why it shouldn't carry on developing like it did for us last year.
Q: A quick word on Pierre. He's replacing Fernando, which is big shoes to fill up. What do you see as his greatest strength so far?
PF: Well, I mean, I think we're learning to work with him. It was good to get him in the team and start working in the simulator before Christmas. And yeah, I mean, he's settling in really well. He's certainly got the pace, which is good. And it's really for us to understand exactly what he needs from a car and tune it for him. So again, that's part of the reason for trying to concentrate on car set-up, rather than getting out of whatever they are purple coloured tyres.
Q: In terms of his needs from a car, are they drastically different to Fernando Alonso?
PF: No, not really. I think all cars have a similar balance, and it's just us fine tuning it really to suit the drivers and the tyres.
Q: Mike, let's come to you next. What should we make of Mercedes so far? Can you just sum up the pre-season test and how things are going here? Is the car performing in line with expectations?
ME: It was interesting listening to Pat, it doesn't sound very dissimilar. I think if you look at where we were last year, we were really struggling with bouncing. I think over the winter, we've got on top of a lot of the issues we had in the car and we've come here feeling like we've got a better package to work with. I think when you look at the three days of winter testing we've done, I don't think we feel we've actually got the best out of the car yet. I think we had a fairly poor day on day two, but we're still learning and I think we learned a lot between the test and coming here. So we're in a similar position this morning to see C2s, trying to do some more testing. And then we'll see what that turns into.
Q: What can you tell us about that day two at testing? What were the issues? Were you surprised by them?
ME: I think this is a difficult track to test at. I mean, we only do three days, as Pat was saying, and when you look at how the track condition varies, sort of hour to hour almost, with wind, and also with the tyre temperatures, because of the track temperatures, it's very difficult to make comparisons and to know exactly where you are. I think sometimes a cold day in some of the places we've been previously, it's actually in some ways easier to make that comparison. So I think on Tuesday, we found ourselves slightly lost in the afternoon and then had a reliability issue that curtailed our running.
Q: Now, a lot is made of your size zero sidepods, if we call them that. How integral are they to this car and could you change your side pods easily? And if you did, how would that affect the overall sort of concept?
ME: I think I've sat here before and talked about the same thing. I think, for us, it's how we developed the car last year. I think we've done a lot of work looking at other types of solutions. And we keep coming back to this one as being the one that favours us. Is that the right long term solution? I guess we're going to find out. As it happens, I think Toto has already said, we've got a different body work coming. It won't be the same as other people's and it won't be the same as what we've got. But it'll be different.
Q: OK, just a quick word on the drivers feedback on this car. What are they saying?
ME: I guess, fitting with the conversation we just had, I think, we've probably not quite got the balance window where we want it. That the car is not quite handling they want it to yet. So that's our job to go and fix up.
Q: Thank you for that. Dan, let's come to you. Look, while we're talking about drivers and driver feedback, how much has Fernando Alonso impressed you so far?
DF: Yeah, but he's clearly very impressive chap. He's incredibly motivated, incredibly competitive and he's brought a huge amount of energy to the team. I think he has been very impressive from the moment he got in the car last year. His feedback is where you'd expect it to be for somebody with his level of experience. But he has the ability to diagnose issues with the car in a way that is, you know, as an engineering team, we're very, very pleased with.
Q: How different is that feedback, is his presence in the team, to the four time champion you had last year?
DF: They are different people, for certain, for sure. But I think, you know, Fernando has still got a huge amount of energy, he is still very, very keen to go racing. He keeps saying that he'll just carry on as long as he can possibly go. And that's very infectious. You know, it's been great for the team for him to come around and say hello to people. You know, we have various Spanish members of the team as well who are incredibly excited that he's arrived. So yeah, it's been great having on board so far.
Q: And what about Lance after missing testing? How big an ask is it for him this weekend?
DF: It seems like a big ask for somebody who's just come away from an accident and has clearly missed testing, which is not ideal for him. But you know, Lance is an incredibly naturally talented driver, you know, and I think one of the things we really hope for is that we can, in the coming sort of months and years, give him a car that sort of shows that he does have that talent. And, you know, he's jumped in the car today and he's immediately got on with it. So, you know, hopefully, he'll carry on in that vein for the rest of the weekend.
Q: Physically was he OK?
DF: Yeah, he seemed to be OK. You know, I haven't had much of a chance to talk to him, but so far, he seems to be seems to be reasonably OK.
Q: So, Dan, what about the pace of your car? Everybody's talking it up? Just how pleased are you with how things are going?
DF: Well, firstly, we are pleased with the car. We targeted making a big step on last year's car. So in terms of the performance relative to that, we're definitely happy that we have made a step forwards. And we set some fairly aggressive targets for ourselves. And we did we did sort of largely hit those. And we came out of testing believing that we did have a car that we could we could work with, you know, but where we sit relative to other people, I know you'd love me to give you a prediction, but I'm afraid we just simply don't know.
Q: But the goal is to finish higher than the P7 you finished in last year?
DF: Yeah, certainly. I mean, we have a huge amount of respect for the competitors around us, you know, and it obviously depends a vast amount on what they've done. The thing we can do is to focus on our own performance. And as I say, the fact that we have made a step on last year's car is gratifying, certainly.
QUESTIONS FROM THE FLOOR
Q: (Adam Cooper - Motorsport.com) Question for all three of you: we're seeing a lot more unpainted carbon on cars for obvious reasons. Can you talk a bit more about that quest for weight-saving? Are you working with your paint suppliers? Is there a constant discussion with the marketing guys over liveries and so on? And secondly, some people say there's a tangible cost benefit, because you don't have to send sandblasted parts back to Europe for repainting between flyaway races. Is that Is that really the case? Is it useful?
PF: Well, I guess yeah, we put a huge amount of effort this year into getting the car down to the weight limit. Obviously, the less paint or less film, whichever version you're using, helps. I mean to say we are now below the weight limit so we're ballasting so for us, I guess, we could have a slightly bit more pink or blue. But it's obviously a key differentiator and if you're overweight, you've just got to strip off everything you can.
ME: Yeah, I think we're probably into the small numbers now. I think when you look at the weight, these cars, in terms of paint, it's not huge, but every little bit counts. And if you can make a small advantage there, then you do it. As for what they'll look like and how they develop once they've been sandblasted as you put, it might actually be hard to deal with a pure carbon than it will be the painted but we'll see.
DF: I think I echo what Mike says really. You're into the small margins, really, but in terms of the cost of painting things, that is a good point. It's not really something I put a huge amount of thought into but I think that's a fair point, actually.
Q: (Christian Menath – Motorsportmagazin.com) Mike, last year, you already mentioned the bouncing that you had, probably until Austin. Toto said it was like an onion, it was masking a lot of problems you also had in the car and once you pulled off a layer you saw another problem. What is the problem now that you don't have the bouncing and the porpoising anymore? Is it just missing downforce, the weakness of the car?
ME: The first question is, Is there a problem? I think we won't really know that till we get to qualifying for definite. I think if you look at what we've tried to do over the winter, we've tried to develop power issues we had in the car and I think, by and large, we've done that. But ultimately this is a relative game so until we know exactly where all the teams pan out, we'll probably have a good idea after qualifying, at least for this circuit. Then we go from there.
Q: Mike, Dan said that Aston Martin largely met the aggressive targets they set. Same at Mercedes?
ME: Yeah. To be honest, yes, exactly. I think in terms of where we're trying to get to with weight, what we're trying to do with aero, we were sort of hitting the targets we'd set ourselves. We'll find out whether they were enough.
Q: (Scott Mitchell-Malm – The Race) Dan, at what point over the winter or maybe even through testing, were you starting to get confident in the numbers that you had, but also the correlation? Once you then got trackside, what started to look possible, because from the outside it's obvious a lot of teams over the last few years have aimed to try and get to the front of that midfield and then maybe even bridge that gap but it's obviously a lot harder to do than it is to say,
DF: It is definitely hard to do. As I said, we've got very strong competitors all around us. The key thing for us going into testing was to make sure that the car on track is doing roughly what we expected from the wind tunnel numbers and from our simulations. I think it's always gratifying as a technical team to have a car on the circuit, which is kind of what you were expecting. And for us that's really what testing showed us, which is good. The car, it's relatively predictable. It's kind of doing the things we want it to do so that was a very positive thing for us. I think in terms of relative performance, it's really difficult to say. I'm delighted there's a lot of excitement around the team, but really, things are done so differently by different teams in testing that it's really this weekend that we get some inclination of how good the car is.
Q: (Filip Cleeren – Motorsport.com) Dan, following up on that, there's obviously, like you said, a lot of excitement about the team, but can you just explain Fernando's incredible pace on his long run in the testing? Obviously, a lot of people got excited about that so how representative was that? And then secondly, when did wind tunnel numbers did started getting in this winter it must have been quite an exciting day for a technical team. Can you just share… you set aggressive targets, but were you surprised you actually hit those? Could you believe what you were seeing?
DF: Well, I don't think we're necessarily surprised that we hit the target system. It just that you always have this sort of niggling doubt that something is going to not quite work or that your correlation will let you down and the car that you produce on track doesn't quite do things as you'd expect. In terms of what Fernando's performance during testing… obviously, he was very pleased with the car, he felt very comfortable in the car from the outset and he was able to put some competitive lap times together at the time, but, at the risk of sounding like a broken record, at the time means on particular tyres using particular engine mode with particular fuel levels that may be completely unrepresentative what everybody else was doing. So we had to approach testing as being something that we did for ourselves, we wanted to gather our own data and we tried not to look too much at what other people were doing, to be honest.
Q: (Luke Smith - The Athletic) Following up on that, Dan, but to all three of you, whoever wants to answer, I know you're not looking too much at the other team but that is really a game that a lot of us in the media particularly like to play, try to rank where people are. How much attention do you guys pay to each other? Do you have an idea in your head of who is where, apart from certain teams maybe far out in front? And when do you finally get the answer to that, is that only during qualifying you'll really know for sure or can you even gain something from FP2 later today?
PF: Well, I think you'll only know really come Q2, Q3 I guess. And even then it could be this track-specific as such so it'll take an average. We clearly look at every single day, every single lap of testing and try and work out as a scatter of where we think people are. You're always doing that but then you're also looking around for all the normal ideas of what people have done, what haven't you done, what can you see? So I think it's always… those three days are interesting on many, many fronts, not just exactly what the lap times are, but also looking at the details of everything.
ME: Yeah, I guess that's really said it. While you can do various statistical analysis, looking at people's runs, trying to work out what fuel load you think they might be on, it's a fairly big window you're operating with so until you actually get to see the car in qualifying and then in proper race pace, you don't really know. You have a reasonable idea but you don't really know.
DF: Yeah and I think picking up on something Pat said, Bahrain is a particular type of circuit. We've got Jeddah and Australia and other tracks coming up which may be very different for these cars. So even though the relative competitive order in the first race doesn't necessarily say what's going to happen over the next few races either.
Q: (Filip Cleeren – Motorsport.com) Mike, the team has already said that you're going to bring an upgraded side pod soon enough. Can you shed some light on when that might be and whether that's part of just a small tweak or if there's like a fundamental upgrade there?
ME: It's just part of the normal development. We have got a very different sidepod that's coming – I say a very different - a different sidepod that's coming. I think Toto said that in the press, but it takes time to bring that. It takes time to make the bits, it takes time to change the bits that go underneath the body work for it to fit so we'll bring it as soon as we can.
Q: (Scott Mitchell-Malm – The Race) To Pat and to Dan, please, can you just elaborate a little bit on the challenge of trying to take a team that is in the midfield and trying to bridge that gap from your experience, at the teams that you've been at before and what you've got now? Where are the deficits? It's obviously not as simple as just throw some money at it and build some nice new facilities. Where are you looking at to get big gains, but also marginal gains?
PF: I always say your Formula 1 team, it's four things, really: it's people, it's tools, its methodology and then it's a culture to work together and it takes time to build all of those really. And to some degree with the cost cap, your middle field teams, as such, are hampered by what we can spend on CapEx to get the facilities to catch the top three. So there's many levels of the problem really, but what you need to do is divide it down and work out… we need to be good at everything, but we need to be exceptional at some, and you need to find those, realise where the performance differentiators are and go all out developing those. That's certainly what we've been doing and we've been building for the last two years.
ME: Yeah, I'm fortunate enough to have seen a relatively recent experience of a top team and how that operates but I think as Pat says, it's sometimes very difficult for the midfield teams to compete on every level that the top teams have, particularly in things like facilities and tools. So it is incredibly important to try to focus on the strengths that you have and try to make the differences where those are. In the case of Aston Martin, I think the people that have been there for quite a long time, but the team that's developed over that is a big strength of ours. We've got an incredibly talented and passionate team around us and I think that, as a team, has shown over the previous years that it can punch above its weight so we need to lean on that. That's something that we can hopefully stand out with.
Q: When are you moving into the new facilities?
DF: It's in a couple of months, so yeah, we're very excited about that. I think we're a team that likes to work collaboratively, we like to be able to have good interactions with the people we work with. It's not so easy with the way that we're set up at the moment but the new factory will allow a lot more people to be in the same site and actually, in the drawing office, everybody will be in the same room so that's a big, big deal for us, it's going to be quite a game changer, I think.
Q: (Adam Cooper – Motorsport.com) For all three of you, McLaren, are running a digital logo panel. Is that something you've looked into at all? Do you think it could be an interesting bit of technology with obvious benefits for sponsors?
PF: Yeah, I think it is of obvious interest. We actually ran it at the end of last year, in testing, just to thought-prove the concepts and it's the next step isn't it really? I'm sure something along those lines we need to move forward in technologies in all areas, don't we?
ME: I'm glad you asked Pat first to be honest. It's probably not my area of expertise but I think anything that we can do to better engage with the fans, better engage with people on TV is a good thing.
DF: Well, again, like Mike, it's not my area of expertise as well but again, I think, anything we can do that improves the show in any way is a good thing really.
Q: (Dieter Rencken – Racing News 365) Primarily to Dan, but Mike, if you'd like to come in there as well, please. A couple of years ago, people were talking about the Aston Martins being the pink Mercedes. We do know that there's a technology- sharing agreement between the two teams, Mercedes and Aston Martin. Could you elaborate exactly what you take from them now? Is it only the power unit? Is it the full powertrain, the hydraulics, electronics, etc, please?
DF: So yeah, we have an agreement, which is powertrain and gearbox and things like suspension internals, the rear which we can… we're allowed to do. Obviously, there's some fairly strict limits in terms of what we're allowed to share now so we know there's no aerodynamic surfaces or any kind of sharing of data in that sense so yeah, that's pretty much the limit of what we do.
Q: (Christian Menath – Motorsport-magazin.com) Mike, do you think there could be a point of no return, where you're locked into an aerodynamic concept because of all the constraints with cost cap, with ATRs, If you want to change the concept completely, you have to start from zero.
ME: I think like I said before, until we know where we are, you can't make that assessment. I think the ATR is definitely a big restriction for teams like us. We are a long way short of where people further back on the grid were and it makes it a difficult decision if you do want to do something very different. But I think you've just got to take a long term view to that and say, if you were on the wrong path, what would you do? And you obviously need to address that but let's see where we are in qualifying and in the race this weekend. It doesn't feel like we're anywhere near trying to make that sort of decision.
Q: (Alan Baldwin – Reuters) Pat, these light panels, the advertising, how much of a weight consideration is there in that? Because it seems strange that when teams are busy getting rid of as much weight as possible to do something that… I know you're not doing it, but when you did try it out was there a weight factor involved?
PF: The weight of that design was relatively minimal really. I can't remember the numbers off the top of my head, but you're talking 100 or 200 grammes or something rather than kilos. So it is within the realms of if you're on the weight limit, it's not a penalty as such. So I guess we all just need to get to that point, don't we?
Q: (Scott Mitchell-Malm – The Race) Mike, the drivers have talked quite optimistically about having faith in this car, the development platform, the fact that it can get to where the team needs to be, but that did seem to be a little bit of an acceptance that you're not starting exactly where you'd want to be right at the very front. How confident are you with what you've seen in the data simulations that whenever you're going to get upgrades and be able to really push this package, it'll be able to make up that deficit? Because if the Red Bull has an advantage, for example, there's no reason to think that will get slower, they'll still be pushing. So where does that confidence lie?
ME: I guess you come to the same point, which is knowing exactly where we are, and where we need to move on from there. I think there's always lots of developments in the factory that's not here on the car because it takes time to bring it and we're doing that big chunk of work and I think you just have to look honestly at where you are in the lap time. So I think we'll see where we are tomorrow see where we are on Sunday, probably need, as Pat said, a race or two to really know where that sort of pans out and I think we've said, if you look at the winter testing times and you try and correct for fuel, weight and engine modes and all the rest of the things you can correct for, there's such a wide band, it's really difficult to know where we are. And so let's just see where we are. You can't take your medicine here until you know what ailments you're trying to fix so let's just see where we're at.