Force India have played it smart on strategy, says Renault's Sainz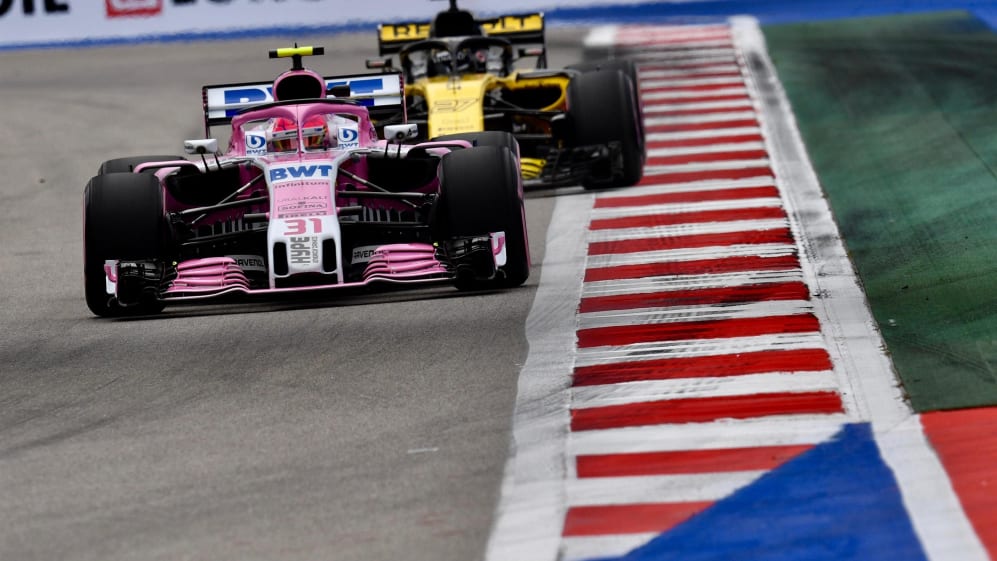 Renault qualified seventh and eighth in Mexico on Saturday. Force India managed only 11th and 13th. But the numbers alone don't tell the whole story, with the slower of the two teams confident their strategy could prove their trump card on Sunday – an opinion their quicker rivals don't entirely disagree with…
Force India's Esteban Ocon and Sergio Perez could almost certainly have progressed to Q3 had they used Pirelli's quickest hypersoft tyre compound. But instead they opted for the slower ultrasofts for their quickest Q2 runs, hence allowing them to start the race on the more durable rubber.
"We knew that going into Q3 on the hyper, we had the pace to do it, but we simply thought that it was not worth the risk," said Perez. "We believe that tomorrow, our strategy is stronger and we believe that we're going to beat the people ahead of us, so hopefully our strategy is right."
Hoping that strategy is wrong, but fearing it could be right, is Carlos Sainz, who qualified eighth on the grid, immediately behind Renault team mate Nico Hulkenberg.
"The Force Indias have really gone for it," he said the pink team's gamble. "I think they have played it smart and try and do an alternate strategy tomorrow. For us, it's a simple case – just keep track position ahead of them and let's see. It's going to be tough with the degradation but we will give it our best shot."
Force India know that the top six aside, the bulk of – if not all of – the cars in front of them on the grid will be starting Sunday's Grand Prix on the more fragile hypersoft tyre. That will allow Ocon and Perez to run a longer first stint is what will be a two-stop race for most – or give them the option of moving to a one-stop strategy if needed.
"We are on the best position we can be," added Ocon. "I think P11 is a good choice. I have to see who qualified on the hypersoft or not, because that's going to have a big impact, obviously, for the race. But so far, all goes to plan."
For Renault's part, Sainz seemed less confident in terms of things going to plan, admitting that the varying track conditions over the course of the weekend had played havoc with his car's predictability.
"It was a different track to this morning, to yesterday," said the Spaniard. "Personally I'm not very happy – a lot of oversteer in the car, so a lot of mistakes in the lap, and I never really got into a rhythm. We need to analyse why the balance changed so much from yesterday to today or even from FP3 to qualifying.
"But I'm very happy to see both cars in Q3, very happy to see the progress that has been made since Suzuka – after Austin and here – and looking forward to a good race and points tomorrow."